Butterflies of Taman Negara and Fraser's Hill in Malaysia.

In May 2019, on a family/birding holiday in Peninsular Malaysia it was Stefanie, my 8 year old daughter who first showed some keen interest in Butterflies. In the same month I also visited family in Belgium and this was an opportunity to go through some of my old slides... now only I realize how much I did on Butterflies, Dragonflies and Wildflowers in Europe as a young boy. Because I ran out of birds perhaps but then I expanded my horizons. Anyhow, I think papa knows where daughter's keen butterfly interest comes from. And it wasn't hard to pick things back up for myself especially also thanks to the 200-500 Nikon lens. I wouldn't go catching butterflies for identification but whenever we got a picture it was fun to check up the butterfly's ID in the evening and my daughter loved some of the names. It all started with a "Chocolate Albatross" when visiting Taman Negara National Park. Later we continued on Fraser's Hill and where else can one do butterflies and see 5 species of primate + some real good birds all in the same day? Oh, of course I managed a bit of birding, not much new after previous trips but it was great to find Large Frogmouth, Malayan Peacock Pheasant, Malayan Partridge, Black Laughingthrush and Malayan Whistling Thush + good photos of Striped and Large Wren Babbler. Anyhow, this page will be about the butterfly photography.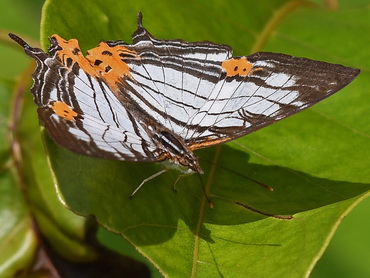 I start with a couple from Fraser's Hill. The Dark Mapwing is real beauty and the Large Tree Nymph must be my all time
favourite butterfly. It is widespread in Asia, big but always on the wing so I did an effort to get a flight shot.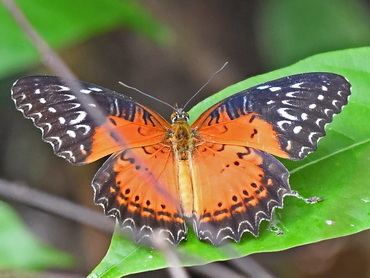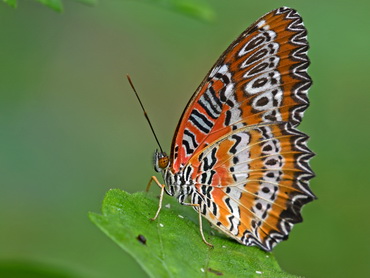 Photo both upperwing and underside worked out well with this Red Lacewing.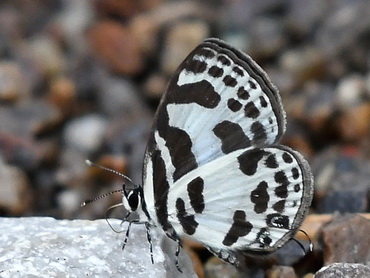 Niceville's Grass Yellow, a subsp. of Changeable, and on the right reminds me of a Pied Kingfisher, eh I mean Common Pierrot.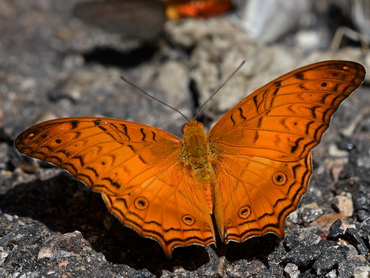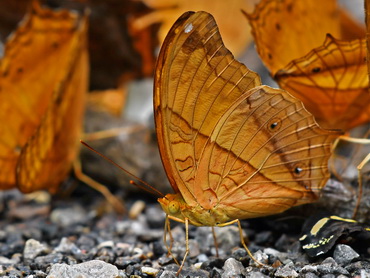 Cruiser, good looking and quite common at Taman Negara National Park.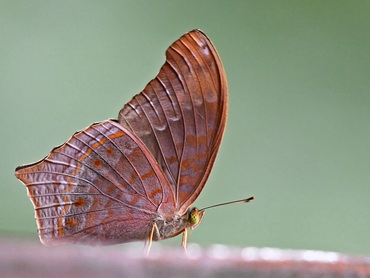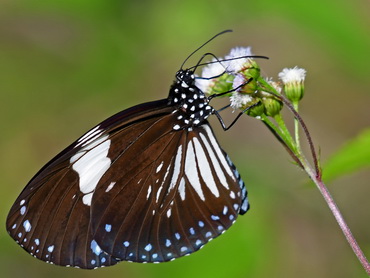 It took me a while to find correct ID of the Malayan Assyrian as it never showed its upperwings. Magpie Crow is an easy one.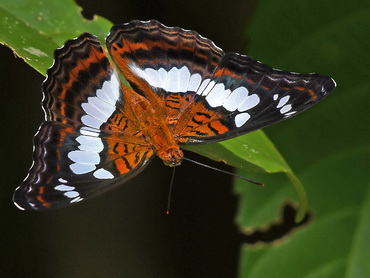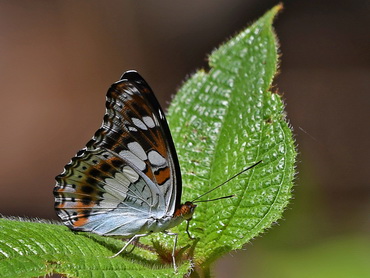 Commander, another fairly common butterfly to bring colour and action when the day heats up and the birding goes slow.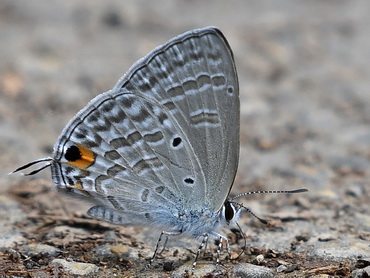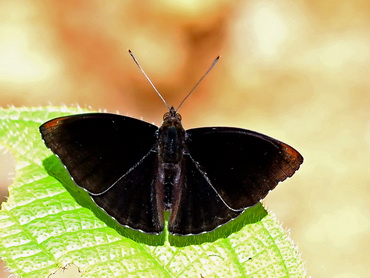 Forget-me-not and the Black Prince! Not real fascinating appearances but surely those names work on a child's imagination!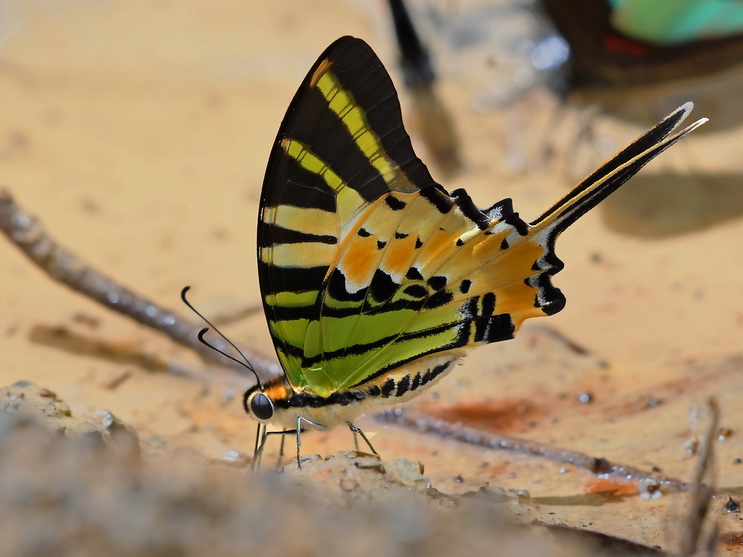 After our first serious butterfly session we had set a target (just as it goes in birding!) for the next day as we came across
photos of the fancy looking Five-bar Swordtail taken in Taman Negara National Park. And indeed, success! What a
mesmerizing beauty we were able to enjoy on our next visit to Sungai Relau at the Merapoh entrance of the NP.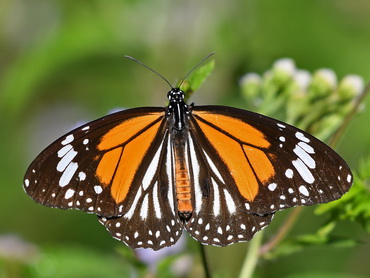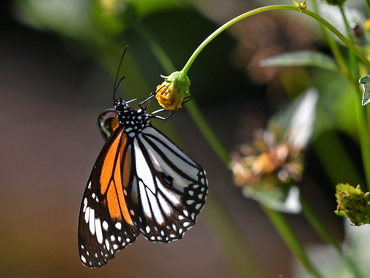 Black-veined Tiger; surely another label nailed... identification may be good fun but for those without any knowlegde
about nature butterflies would still provide great aesthetic pleasure; something special for anyone to enjoy!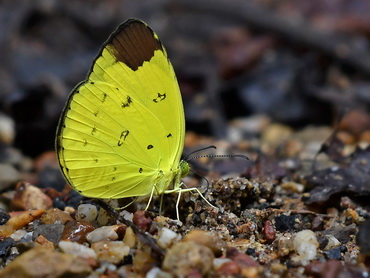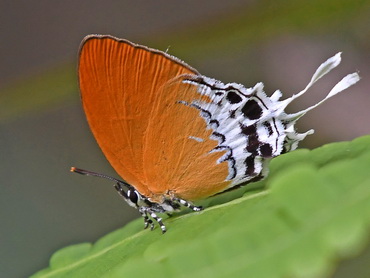 A couple cute small ones. On the left another children's favourite; Chocolate Grass Yellow. Stefanie found the very nice
Branded Imperial along the old Gap road at Fraser's Hill. It doesn't stop there, while photographing the butterfly
we noticed some movement in the trees nearby... a family Siamang, our largest Gibbon species.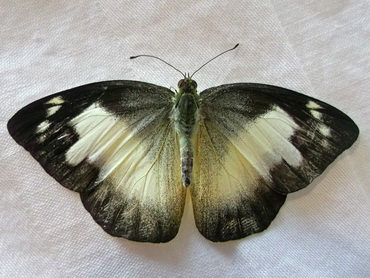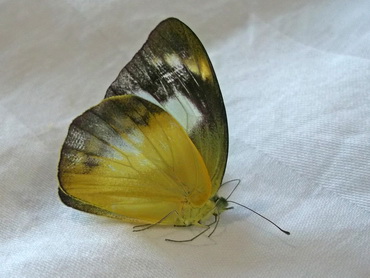 Where it all started. Found on the floor of the hotel reception this butterfly had seen better days. It was still alive and
taken to our room as a friend for my daughter to take care of. It was also our first butterfly identification
job and we pulled out a rather fancy name for this common species; The Chocolate Albatross.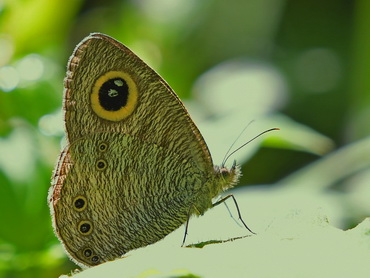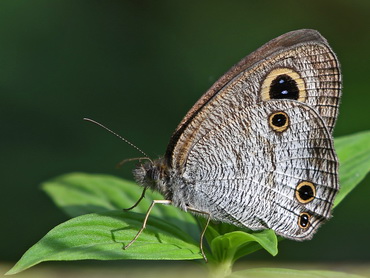 Malayan Six Ring (left) and Common Three-ring from Taman Negara. Nice to compare those.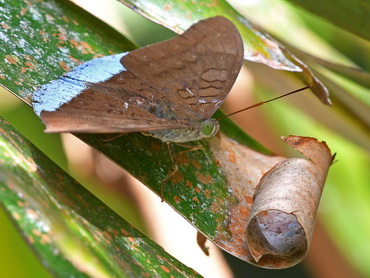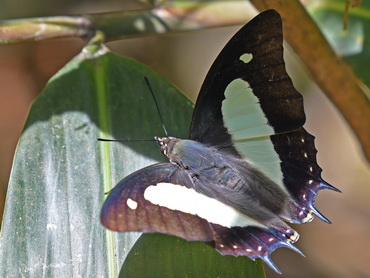 Common Earl and Common Nawab from Fraser's Hill.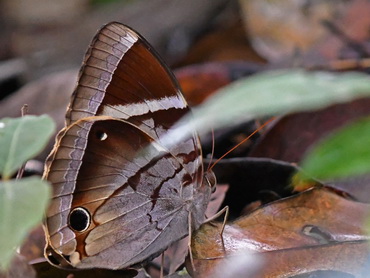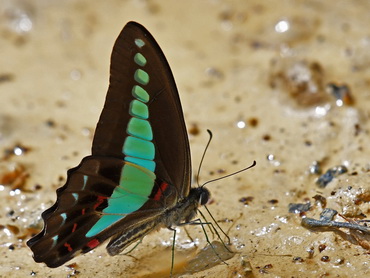 After the "common" ones found in open spaces (above) time for something much harder to find. This Malayan Jungleglory only occurs inside dark dense rainforest. I found it along the Bishop trail on Fraser's Hill. With the wings closed it blends in amongst
the leaf litter absolutely well, that is, until it flies when it will show some amazing flashes of bright blue on the upperwing.
On the right another puddler from Taman Negara; The Common Bluebottle.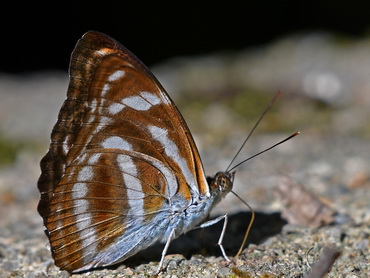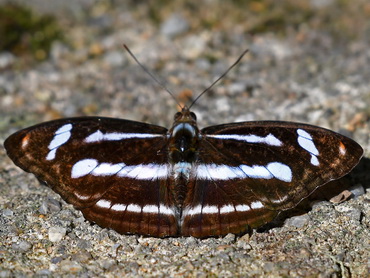 Lance Sergeant both left and right. Good I got both underwing and upperside for identification and hope I got it right;
Sergeant, Sailor, Lascar... a big group of butterfly species with many very similar in appearance.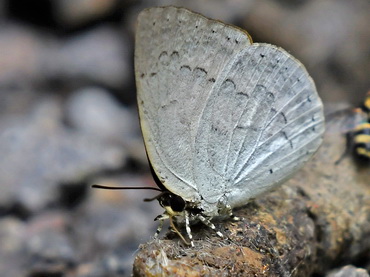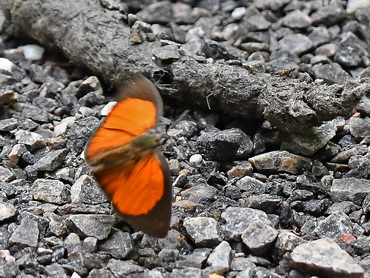 Another ID job... what to make from this? And it will NOT open the wings while perched.
So I needed to add a flight/record shot of this extremely fast fluttering little one as the human eye simply is too slow.
Catch or photo ... that's when it reveals some ID clue; Malayan Sunbeam.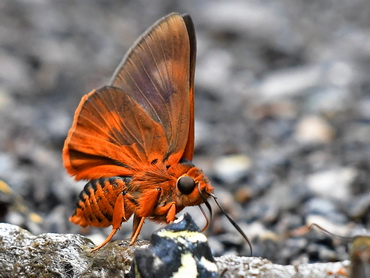 With a thick body and narrow short wings "The Skippers" may not be the most attractive butterfly family. Nevertheless
they are quite interesting and both species above belong to the subfamily Coeliadinae or Awlets, Awl and Awlking.
Photo on the left is the Orange Awlet and on the right is the Orange-tailed Awl.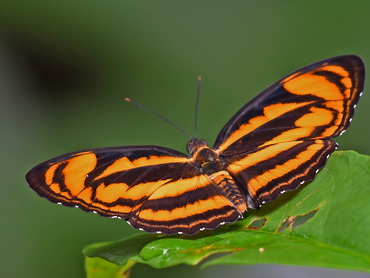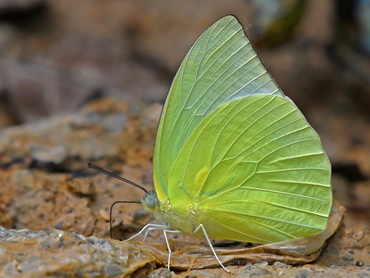 Malayan Lascar and Lemon Emigrant male ssp. alcmeone.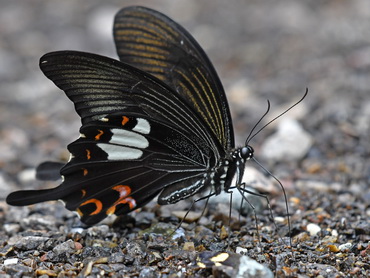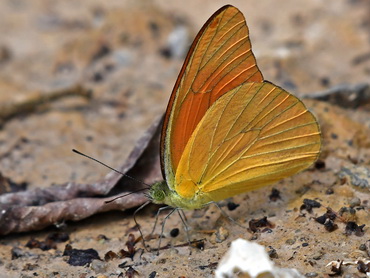 The Red Helen is a spectacular species while the Orange Albatross more of an ID job, this is a male of spp. figulina.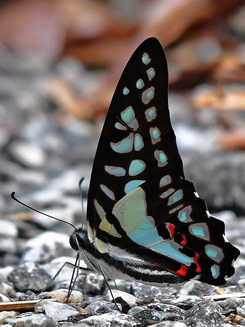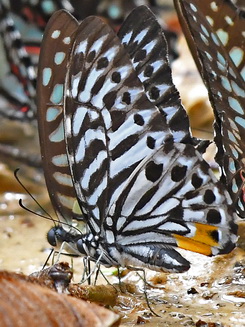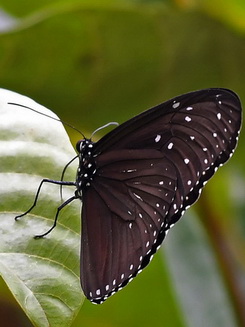 Left; Lesser Jay was abundant at Sungai Relau of Taman Negara.
Middle; This Malayan Zebra was found singly puddling together with Lesser Jay and Common Bluebottle.
Right; The Striped Blue Crow.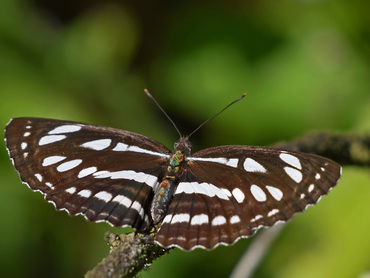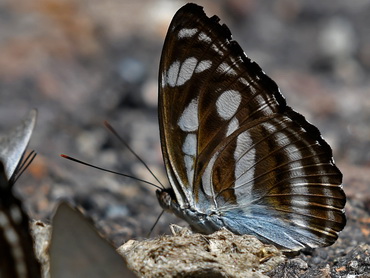 Look how similar this one is to the Lance Sergeant posted a few rows earlier on this page...
No easy identification and it's not even a Sergeant; The Short-banded Sailor.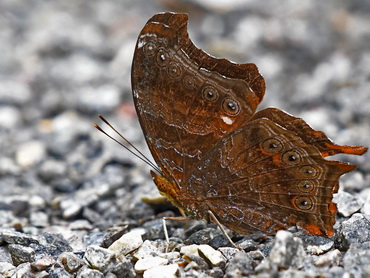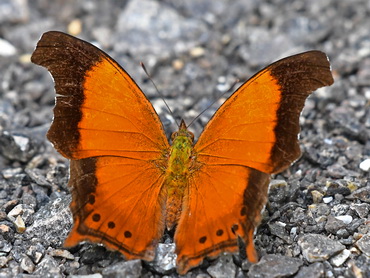 Last shots from this trip; The Wizard. This was a good find as it is an uncommon butterfly in Thailand.
I'll be off to Borneo soon, now just looking forward to the new field guide to come in August 2019;
"A Naturalist's guide to the Butterflies of Borneo" is due to get published by Honor Phillipps.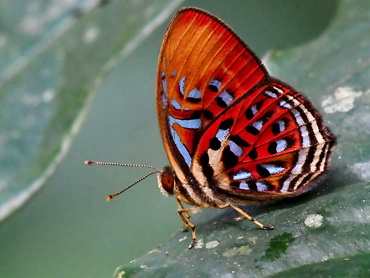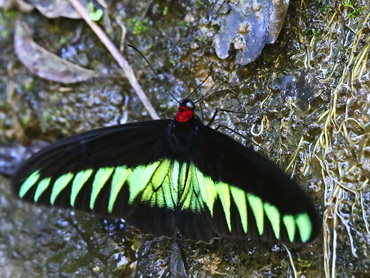 Above are a few older photographs I took in Sabah on Borneo; the gorgeous Red Harlequin from Sepilok is on the left.
On the right is Malaysia's most famous -and also the national butterfly; The Rajah Brooke's Birdwing.
Note this butterfly was named by the naturalist Alfred Russel Wallace after James Brooke, the Rajah of Sarawak.

Links to bird photographs taken on this trip;

Striped Wren Babbler, Large Wren Babbler, Streaked Wren Babbler, Pygmy Wren Babbler, Black Laughingthrush,

Red-headed Trogon, Fire-tufted Barbet, Blue Nuthatch, Malayan Peacock Pheasant, Lesser Shortwing, Green Broadbill,

Crested Fireback, Rufous-browed Flycatcher, Black-eared Shrike-babbler, Common Green Magpie, Slaty-backed Forktail


Mammals; Siamang, White-thighed Langur, Dusky Langur