Stijn De Win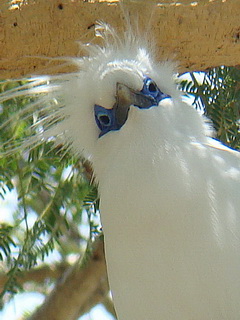 We power your vacation
All birds
photograped
'on this trip'
by
Stijn De Win
A day trip to see Bali Myna in Bali Barat National Park.
What would be the ultimate birders dream? Possibly to find an unknown bird species would do, something science didn't come up with yet? Or rediscover a long lost species must be exciting as well. Unfortunately, as usual with dreams, it wouldn't be feasible to turn this into reality for just anyone… so, better talk about the ultimate birders experience then? Again here, watching displaying Birds of Paradise in Papua or an Antarctic cruise might come way too expensive for most of us and therefore become just inaccessible. Fortunately, talking "ultimate experience", both of the previous perhaps describe mostly beauty. Something ultimate in birding should come with a combination of extreme beauty AND rarity I reckon. Preferably the experience should be had amidst some superb scenery. I guess a tropical setting would do? Clear waters teeming with tropical fish, clean beaches, nice forest, mountain views, plenty good birds around…
What if this comes as an easy day trip from your holiday hot-spot? Yes, as an accessible, affordable and comfortable day trip with start and finish in your beach resort?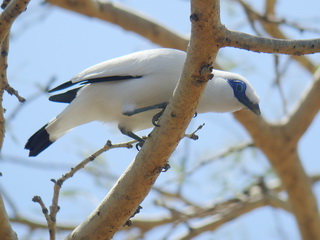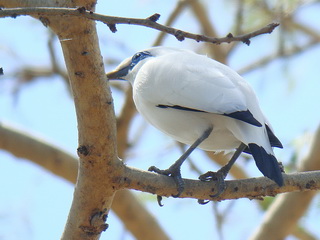 This is what this page all is about. One of only 3 real wild Bali Myna surviving in Bali Barat National Park
and yes, you too can see them, on an easy day trip that is!
I believe this ultimate birding experience could well become reality for you watching the Bali Myna in Bali Barat National Park. At least, for myself, I really can't think of anything that would beat it. It would be hard to do better on rarity… with just 3 real wild birds left we can only hope no other bird species will ever number fewer. Beauty of course is subject to everyone's taste so best to refer to my pictures here. Just would like to add, while watching the birds, I personally thought the Bali Starlings get even better in flight. Possibly has to do with the showing of subtle black edges to wings and tail balanced perfectly in a clean white plumage?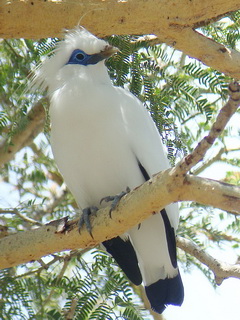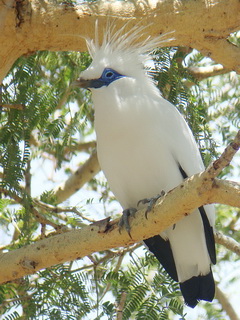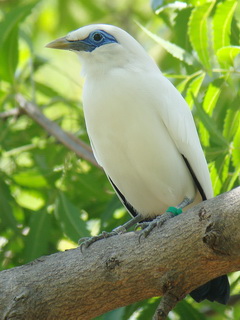 Only the 2 photos in the table above are of originally wild and un-ringed Bali Myna, others on this page picture free flying
project birds raised in the breeding centre. Nevertheless superb birds and your chance to watch, enjoy and photograph
at leisure with birds easy to see near the release site in the national park.
As a little extension to our 2010 Sulawesi & Halmahera scheduled tour, my own Bali day trip on 22nd August started in Kuta where a driver picked me up with a new air-con vehicle for the drive to Labuhan Lalang. Kuta beach is the main tourist area on Bali but also pretty close to the airport and Denpasar and with plenty accommodation options a good base for trips to the hinterland.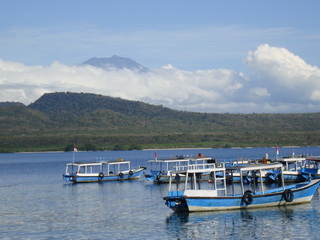 Motorized boats wait at Labuhang Lalang jetty. The beach near Brumbun in Bali Barat while the high
mountain in the background belongs to Java.
Once at Labuhan Lalang jetty, met with the local guide and park ranger for the 30 minute boat trip to the famous Brumbun site within West Bali National Park. On arrival, -that is jump from the boat onto the beach-, we soon got a couple Savanna Nightjar sightings while a group of Ebony Langur appeared only briefly being pretty shy. Cinereous Tit, Crested Serpent Eagle, an immature Changeable Hawk Eagle and White-shouldered Triller all appeared before I realized/worried on how difficult to find and shy Black-winged Starling can be. Luckily also realized soon how invaluable the assistance of the locals proved. They knew we had to find a group of Rusa Deer (Timor Deer), which the Starlings often follow to forage on insects disturbed by the animals. Not that, once we found the Deer, things went easy, but in the end did manage good although brief scope views of 2 birds. After seeing these very shy birds that are listed as "endangered", time to take up things to the next level… -"critically endangered"- you got that right.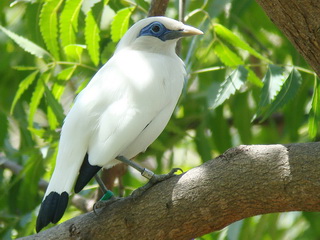 The landscape on this photo is more than just a picturesque part of the national park, its overlooking the exact
place of the Bali Starling release site and the home of the very last remaining wild birds indeed.
According to the local rangers, only 3 real original wild Bali Starling still survive. Brumbun is where they are and this is also the location where birds raised in the breeding centre get released into the wild. These free flying project birds now number about 25 at Brumbun and can easily be viewed in the vicinity of the release centre. All have been ringed before release. Unfortunately, breeding in the wild by these birds isn't very successful yet. It seems the conservation programme needs some more support, which could be provided by more visitors paying for permits and the obligatory donation… Another project, on Nusa Penida island off SE Bali seems more successful now with 100+ birds in the wild inclusive some breeding success. Unfortunately, the place never was within the native range of the species. Which is what probably makes Brumbun to remain extremely important for the survival of the species in the wild?
Anyway, now try to find those 3 wild and un-ringed birds still around. Again, not easy as they remain rather shy, in contrast to the project birds. Again, the locals did a great job. We first heard one bird at a location some distance up the hill slope but could never locate it. Makes you wonder, this is a Starling right, and a bright white one at that? How could it disappear? Anyhow, the level strip of land near the shore is the best spot to look for them and they even forage on the ground at the mangrove edge sometimes. It took a while, but the ranger eventually located one perched into the lush green of a leafy tree. Gave me a brief view before the shy bird took off… makes you wonder why all the other trees around barely have leafs in the rather dry surroundings…the project birds use those –why couldn't this wild bird pose the same way? So, I thought that would be it for the 'twitch' and went to enjoy and photograph the free flying project birds. Good looks and photo opportunities of one of the most beautiful species I've ever seen. After a while though things started to itch and decided to give the quest for 'a wild bird' another try. Unsuccessful. At least that was until we got back close to the release centre were everything came together. An un-ringed wild bird had come in to use the bird bath provided, no wonder as in the dry landscape, this probably is the only fresh water for miles around. Even managed the few photos I had hoped for so much, although didn't get as much time as with the project birds, with pictures to turn out just ok. Another brilliant flight view for me followed as this got the bird back into the bush.
A surprise came with a nice family group of rare Java Sparrow, inclusive plenty young birds. Finally got this bird, listed as vulnerable, to see it in its native… well Bali! With almost the entire remaining population now on Bali and the species as good as extirpated from Java, both my local guide and I would like to propose a name change for the species; Bali Sparrow would do.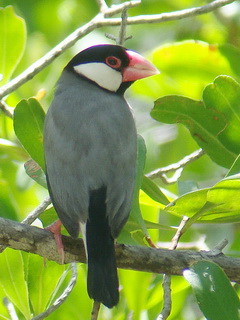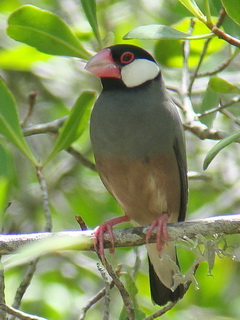 The Bali Sparrow, now largely extirpated from Java, has its last stronghold...
–where would that be with such a name- on Bali indeed. Ha!
After a nice lunch back at the Labuhan Lalang jetty, the afternoon was one to enjoy as well. Even though plenty good birding can be had at other sites in the National Park, with lots of birding done in Asia by myself, only three main targets remained. We successfully located them and first off was Javan Plover. Not all that exiting but still it's a wader and a lifer at that always is welcomed. Next was Green Junglefowl and I must admit, this is the best chicken I've ever seen! I liked the colours better than in Red Junglefowl anyway.
Plenty other good birds were seen on this day trip and I can remember Sunda Woodpecker, Black-naped Tern, endemic Yellow-throated Hanging-Parrot, Fulvous-breasted Woodpecker, Bar-winged Prinia, Chestnut-headed Bee-eater and Lemon-bellied White-eye before we concluded the day at Gilimanuk bay and the last main target, one long wished for.

Back in 2001, I managed 566 bird species on a 3 month hard-core birding trip to Australia, leaving with just about 20 missed species and little reason to visit the country again. Now, as it appears, Beach Thick-knee happened to be one of those missed and you must know that the species would rank "critically endangered" outside of this Australian stronghold. It's also an Asian species and one I had marked to see. Problem is where? The one pair left in Thailand, on Ko Surin, eluded me by way of a heavy storm that picked up on my visit (Another adventure where everyone was rescued from the island by the Thai army providing transport back to the mainland on a warship!) and I've not really come along any other reliable sites for it in Asia… before Bali Barat that is indeed. What a chance to catch up and did so with 3 birds seen well.
Gilimanuk bay also held Great-billed Heron, Little Blue Kingfisher, 6 Lesser Adjudants, Great Crested Tern and distant Large Flying Fox before it was time to head back to the hotel in Kuta.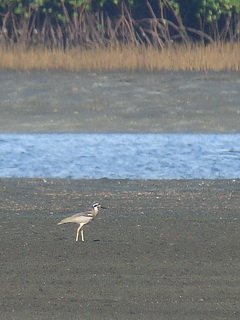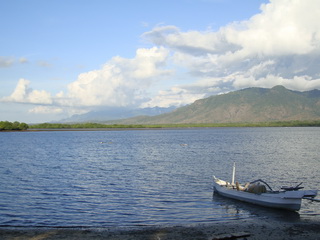 Beach Thick-knee Gilimanuk Bay Great-billed Heron
The Bali Starling. (Leucopsar rothschildi)
Designated the fauna symbol of Bali in 1991, the Bali Starling, also known as Bali Myna, Rothschild's Myna or Jalak Bali for the locals, is critically endangered, hovering immediately above extinction in the wild. According to the local rangers of West Bali NP, now only 3 originally wild birds exist with approx. 25 free flying birds nearby that got raised in the captive breeding centre.
You may read more about the bird and its status on the Birdlife factsheet.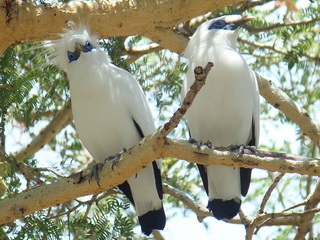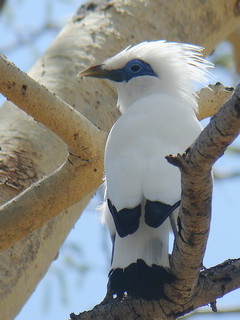 Bali Barat National Park.
One of the most spectacular national parks to visit in the Indonesian Archipelago and located on the western most tip of the island. (map) The reserve, sometimes also referred to as West Bali National Park, was created in 1941 with its main aim to protect the Bali Starling and the last of the wild Banteng on Bali. With over 77,000 hectares, the park amazingly covers almost 10 % of Bali's total land area. Habitats present include a savanna, mangroves, both montane forest and low elevation monsoon forest, coral islands, beaches and mudflats. Besides the 160 or so bird species, the park also is rich in mammals and these include Red Muntjac, Sambar, Javan Rusa, Javan Lutung, Long-tailed Macaque, Ebony Langur, Large Flying Fox, Javanese Stink Badger, Leopard Cat and wild Banteng.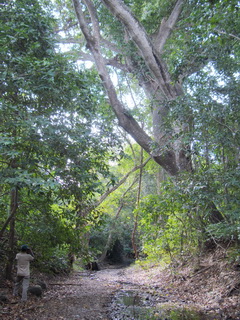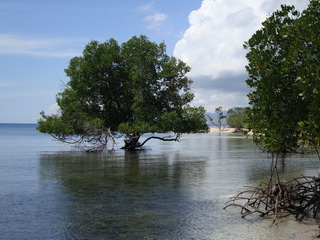 Birding in the monsoon forest. The shores at Brumbun are lined with mangroves.
The Bali Barat day trip.
Let us frankly hope if NOT… however, with just 3 wild birds remaining, the facts point 1 direction –NOW OR NEVER- at least that is for those keen to see the real thing still. The superb Bali Starling deserves your full attention and let me add; you can help the conservation programme, directly and on the spot, as your visit will require you to pay for the reserves protection (entrance fee) and your obligatory donation goes straight into the "Save the Bali Myna" project. Your visit will come with the greatest achievement ever? BALI STARLING FOREVER!
It's amazing isn't it? I mean, Bali Starling barely ever made it in the spotlight of the international birding community in the last 5 years and for birders to go on a trip and actually see the last remaining wild individuals simply hasn't been popular. Why? Perhaps as usual, it's just not enough known that this trip is so easy done and I guess few ever realized how urgent it has become for those wishing to see an un-ringed Bali Starling, a bird raised by nature, not by man in a cage. I do sincerely hope to boost awareness here and as ever, with ecotourism the key to conservation, I believe this must be good.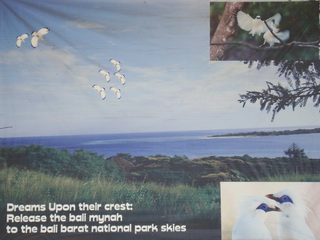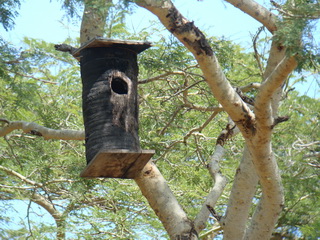 One of the info boards at the release centre. Nest boxes aim to stimulate breeding in the wild.
Day trip practicalities.
Very simple. This trip can be done throughout the year. Just reserve 1 day of your beach holiday on Bali for birding or indeed make Bali a 1 day stop-over (plenty connections via Bali international airport) on your travel in the region.
-Contact local guide Hery Kusumanegara (+62 813 3807 8010, hery_kn@yahoo.co.id) for arrangements and guiding in the National Park.
-Arrange a taxi for the drive to Bali Barat through your hotel or any local travel agency the day before your trip or you may try contact Made Sukanta, a driver recommended by other birders in trip reports on the internet. ( info@bagusholidays.com )
-Check out some other trip reports for Bali;
http://www.surfbirds.com/trip_report.php?id=1921
http://www.surfbirds.com/trip_report.php?id=2106
- Last but not least… don't be late in the morning when the driver picks you up from your hotel or beach resort, then let the locals guide you on an unforgettable day trip. I bet you'll do a beer with dinner in the evening, as something will need celebrated! Cheers!
Below some more photos I made on my own day trip on 22nd August 2010.
At the bottom of the page you'll find my day trip list.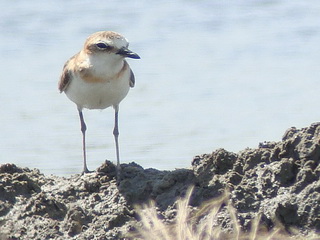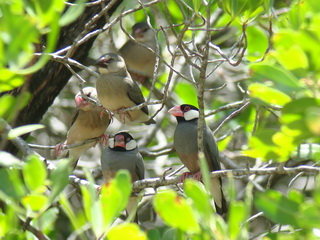 The complete breast band gives away the ID easily; Javan Plover. Java Sparrows.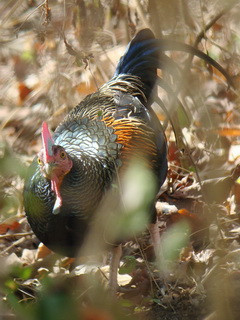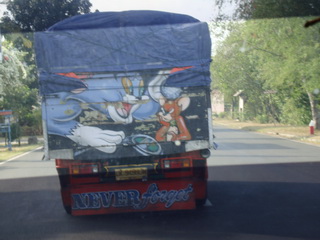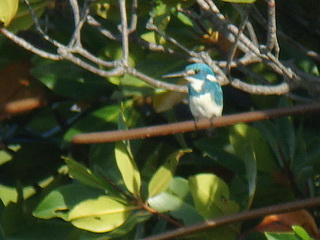 Green Junglefowl. Tom & Jerry! Things rarely get boring on Bali! Little Blue Kingfisher.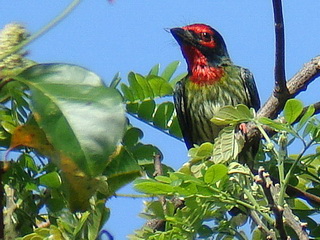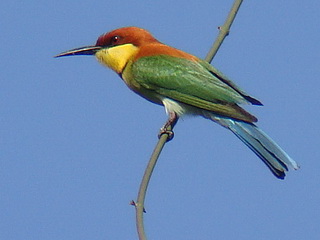 Rosea is one of those nice red-headed subspecies of Coppersmith Barbet. Chestnut-headed Bee-eater.
Great-billed Heron Ardea sumatrana
1 seen Gilimanuk bay
Little Egret Egretta garzetta
Javan Pond-Heron Ardeola speciosa
Striated Heron Butorides striata
Lesser Adjutant Leptoptilos javanicus Vulnerable (VU)
6 birds on mudflats at Gilimanuk bay
White-bellied Sea-Eagle Haliaeetus leucogaster
2 birds seen
Crested Serpent-Eagle Spilornis cheela
1 ad. seen
Changeable Hawk-Eagle Spizaetus cirrhatus
1 imm. seen
Green Junglefowl Gallus varius Country endemic
1 male photographed
Pied Stilt Himantopus leucocephalus
2 seen by guide
Beach Thick-knee Burhinus magnirostris Near-threatened (NT)
3 birds at Gilimanuk bay
Black-bellied Plover Pluvialis squatarola
several Gilimanuk bay
Javan Plover Charadrius javanicus Near-threatened (NT) Country endemic
3 birds on salt pans
Whimbrel Numenius phaeopus
Common Sandpiper Actitis hypoleucos
Wood Sandpiper Tringa glareola
Red-necked Stint Calidris ruficollis
approx. 10 on saltpans
Little Tern Sternula albifrons
Black-naped Tern Sterna sumatrana
at least 2 seen
Common Tern Sterna hirundo
Great Crested Tern Thalasseus bergii
1 at Gilimanuk bay
Lesser Crested Tern Thalasseus bengalensis
5+ seen
Spotted Dove Streptopelia chinensis
Zebra Dove Geopelia striata
Yellow-throated Hanging-Parrot Loriculus pusillus Near-threatened (NT) Country endemic
1 in the monsoon forest
Savanna Nightjar Caprimulgus affinis
a few flushed
Cave Swiftlet Collocalia linchi Near-endemic
common
Edible-nest Swiftlet Aerodramus fuciphagus
few seen
Small Blue Kingfisher Alcedo coerulescens Country endemic
1 seen Gilimanuk bay
Collared Kingfisher Todiramphus chloris
common
Chestnut-headed Bee-eater Merops leschenaulti
few in monsoon forest
Lineated Barbet Megalaima lineata
few seen
Coppersmith Barbet Megalaima haemacephala rosea
few seen
Brown-capped (Sunda) Woodpecker Dendrocopos moluccensis
few seen
Fulvous-breasted Woodpecker Dendrocopos macei
few seen
White-shouldered Triller Lalage sueurii Near-endemic
fairly common
Yellow-vented Bulbul Pycnonotus goiavier
Common Iora Aegithina tiphia
common
Bar-winged Prinia Prinia familiaris Country endemic
fairly common
Ashy Tailorbird Orthotomus ruficeps
few in the monsoon forest
Fulvous-chested Jungle-Flycatcher Rhinomyias olivaceus
heard in the monsoon forest
Fried Pantail Rhipidura javanica
Golden-bellied Gerygone Gerygone sulphurea
Cinereous Tit Parus cinereus
few seen
Scarlet-headed Flowerpecker Dicaeum trochileum Near-endemic
heard
Yellow-bellied White-eye Zosterops chloris Near-endemic
1 flock seen
Black-naped Oriole Oriolus chinensis
few heard
Black Drongo Dicrurus macrocercus
common
White-breasted Woodswallow Artamus leucorynchus
common
Black-winged Starling Acridotheres melanopterus Endangered (EN) Country endemic
2 seen
Bali Myna Leucopsar rothschildi Critically endangered (CR) Country endemic
Of the 3 wild birds remaining (unringed) , 1 or 2 seen (2 sightings of 1 bird) and another heard only in a different location. Approx. 5 free-flying project birds (ringed) present near the release centre.
Java Sparrow Padda oryzivora Vulnerable (VU)
Approx. 20 birds incl. many young birds in 1 flock near the Myna release centre.
This info page published on 24 September 2010 and updated 6 July 2012 by Stijn De Win. Copyright

Birding2asia.com

All rights reserved.