West Papua 15 Sept. - 2 Oct. 2018

A birding tour to West Papua to see the Birds of Paradise is a life-long dream for many. I was given the offer to join the team on this trip (thank you Peter and Sujan) which of course is an opportunity not to be missed. As the tour wasn't organized by B2A this was a rare occasion where I could sit back and watch. All I should note is that the tour was organized very well and ran smooth throughout making it a very enjoyable experience indeed. Secret of our success also lies with the participants and many thanks go out to Graham and the great Finnish group; Erki, Ilpo, Mika, Kim, Marcus and Pekka. We were incredibly lucky with the weather (no rain at all) which resulted in an unusual high bird count for this itinerary and number of trip days. A group total of 317 bird species recorded may be beaten only by the value of this journey; The tour price of 4900 USD with all domestic airfares including from/to Jakarta looks like 3 to 4000 USD less than any similar birding tour I could find posted on the net. I believe a similar tour will run again in September 2019, you may just drop me a message at stijndewin@birding2asia.com and I'll have the contacts for you.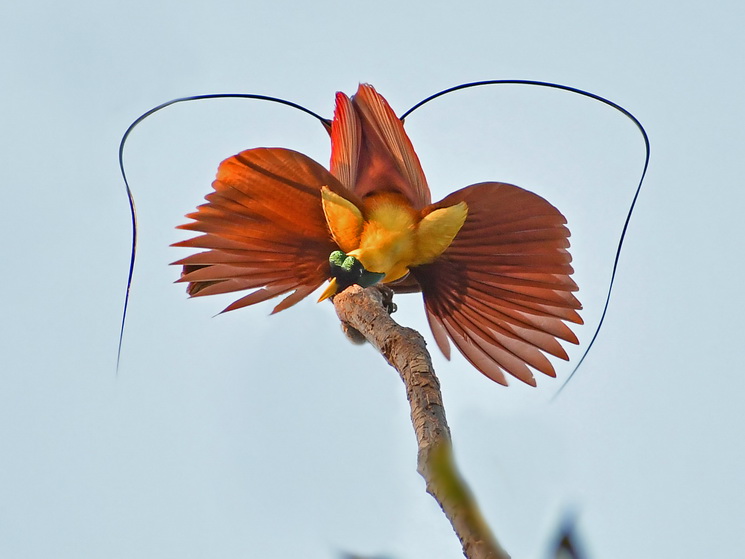 Red Bird of Paradise, our final BoP of the trip, here in full display.

Biak ; Almost Papua!
The Island of Biak in the Geelvink bay is a convenient entry point to Indonesia's Irian Jaya and a very nice birding introduction with a number of endemics. Moreover, the birding is very easy going here with short walks along quiet roads and tracks. We had aircon rooms in a nice resort and food was absolutely great with a number of seafood options. Two days proved enough to find most of the desired targets and some great extras like the flock of Channel-billed Cuckoos going to roost. Other highlights included Glossy Swiftlet, Geelvink Fruit-Dove, Claret-breasted Fruit-Dove, Gurney's Eagle, Biak Paradise-Kingfisher, Beach Kingfisher, Black-winged Lory, Biak Lorikeet, Geelvink Pygmy-Parrot, Geelvink Cicadabird, Biak Triller, Biak Black Flycatcher, Biak Monarch, Golden Monarch and Biak White-eye.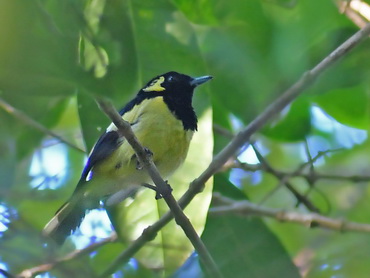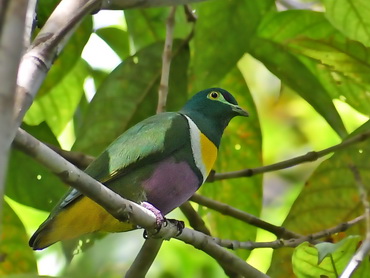 Biak Monarch and Geelvink Fruit-dove!

Nimbokrang; Lowland forest!
This site holds good lowland forest with our first Birds of Paradise on schedule. Each morning we would do a different BoP at its stake-out here. This is also the site often described as hot, muddy, mosquito infested etc. but I didn't find it all that grueling. In fact, the guesthouse was pretty comfortable, food ok, walks fairly easy and I could have managed without the rubber boots although this may be different in less dry weather. Mosquitoes were well survived as it's just a case of long sleeves, repellent and taking the anti-malaria tablets. Apart from the brilliant BoP mornings we also had a couple incredibly productive afternoons here thanks to overcast weather which took out most of the intense heat while birding at the forest edge. List of goodies scored is too long and I keep to name just a few; Eurasian Tree Sparrow, Collared Imperial Pigeon, Papuan Mountain-Pigeon, Papuan Nightjar, Papuan Spinetail, Marbled Frogmouth, Papuan Hornbill, Rufous-bellied Kookaburra, Brown Lory, Papuan King-Parrot, Palm Cockatoo, Lowland Peltops, Golden Cuckooshrike, Sooty Thicket-fantail, Jobi Manucode, Twelve-wired Bird-of-paradise, Pale-billed Sicklebill, Magnificent Riflebird, King Bird-of-paradise, Lesser Bird-of-paradise, Yellow-faced Myna and Grand Mannikin.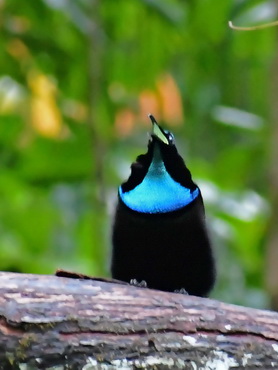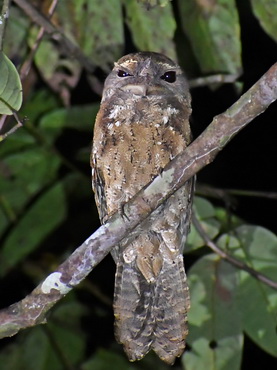 Magnificent Riflebird and Marbled Frogmouth at Nimbokrang.

Arfak; Mountains!
Best part of the trip; Basic living conditions, long and often steep walks, food out of tins… all absolutely worth it. This is the most productive area for birding on the tour with superb mountain forests and cool weather being based in an interesting village with friendly locals. Best of the best is the night up at German camp in the most beautiful mossy forest I have seen in Indonesia. I still don't know exactly why but I had my best night sleep of the trip up there (read bamboo frame, camping mat and sleeping bag). Perhaps the serenity of the place combined with clean mountain air did it. Anyhow, the next morning it's time for the bird of the trip; Black Sicklebill. The sheer size and enormous length of the tail are impressive enough but also it performs an amazingly weird display, I mean funky moves indeed. Still all of that wouldn't make it the top bird for the trip, not in a place like Papua. It is the seriously powerful calls it produces getting it to the top. First time I heard it wasn't at the stake-out (display pole) but just on the trail and the bird came right above me. My gush, the heart skips a beat. The call comes suddenly and clear, loud and non-polluted by any other sounds. Great acoustics in the mossy forest make this very special. Actually at the display site the bird is 20 meters in front and the impact of the sound isn't the same. You have to be under it. Click the player below just to get an idea.
Other good birds seen at Arfak included; Grey Wagtail, Magnificent Bird-of-Paradise, Western Parotia, Long-tailed Paradigalla, Superb Bird-of-Paradise, both Mountain and Vogelkop Owlet-nightjar, Vulturine Parrot, Vogelkop Bowerbird, Papuan Treecreeper, Vogelkop Melidectes, Arfak Honeyeater, Papuan Black Myzomela, Papuan Logrunner, Mid-mountain Berrypecker, Tit Berrypecker, Spotted Jewel-Babbler, Black-breasted Boatbill, Mountain Peltops, Papuan Sittella, Mottled Berryhunter, Rufous-naped Bellbird, Sclater's and Regent Whistler, Northern Variable and Hooded Pitohui, Friendly Fantail, Black-winged Monarch and Grey Crow.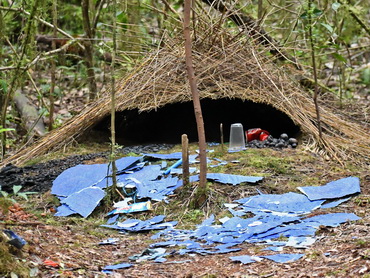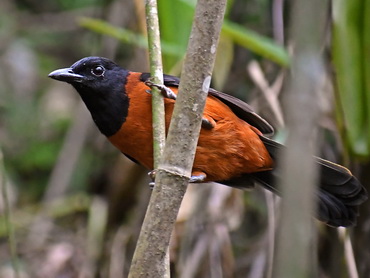 Extravagant! Here lives the Vogelkop Bowerbird. On the right Hooded Pitohui showing from the Magnificent BoP hide.

Waigeo; The beach!
So now you have survived Arfak and you may go on holiday in Raja Ampat in a very nice resort with aircon rooms, good food, white sand beach, a snorkeling paradise from the resort's jetty, Dolphins in the clear waters just offshore… "tomorrow we have breakfast at 3h30 and we leave at 4h00 don't be late". To be honest it wasn't too hard wind oneself up for a couple more days; Wilson's Bird-of-Paradise alone would have done it. Short easy walks on Waigeo along a forest track and trails produced lots of good birds. Red Bird-of-Paradise the unforgettable climax to our BoP quest, Beautiful Fruit-Dove, Yellow-billed Kingfisher, Great Cuckoo-dove display flight, Great-billed Parrot, Wompoo Fruit-Dove, Common Paradise-Kingfisher, Dusky Scrubfowl, Raja Ampat Pitohui, Frilled Monarch…
After lunch relaxing on the room's balcony gave the following birds all good for photo opportunities; Papuan Frogmouth on the nest, Papuan Hornbill, Pied Imperial Pigeon, Torresian Crow.
An afternoon boat trip out to a small island also was very pleasant birding with Spice Imperial Pigeon, White-throated (Metallic) Pigeon, Lesser Frigatebirds… and last but not least an Osprey!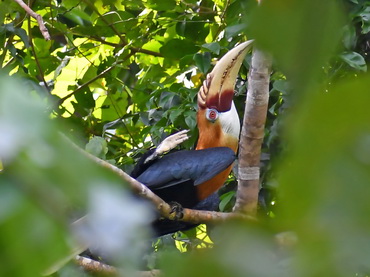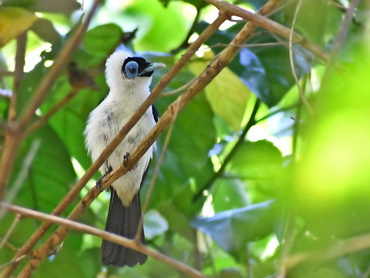 Papuan Hornbill photographed from the beach resort room on Waigeo and a Frilled Monarch puffing up his neck feathers.

-------------------------

All captures below are opportunity shots made on the trip.
Please note I did not have my 500mm birding lens with me on the tour instead I used the
AF-P Nikkor 70-300mm 1:4.5-6.3G ED VR lens from Nikon.
This lens is lightweight (only 415 grams) which suited perfect on the long walks of this Papua trip.
The piece is also very inexpensive (200 - 400 USD) and has a fast and accurate auto-focus. Image stabilization is great
and in the dark forest I was shooting 300mm at 1/30 consistently sharp so I think I'm happy with the results
especially when realizing equal image quality would not have been possible with any similar Canon set up.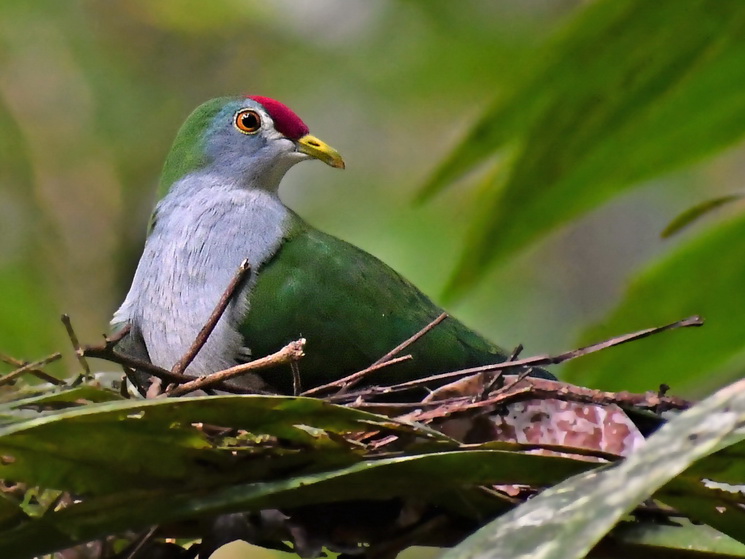 West Papua has a good number of Fruit-Dove species. We found this Beautiful Fruit-Dove on Waigeo.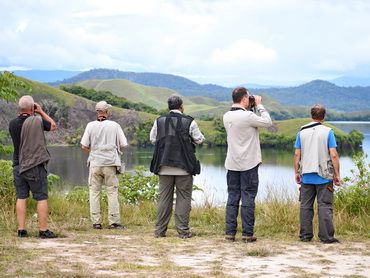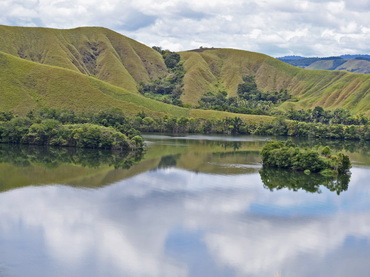 The journey from Sentani airport to Nimbokrang passes by this scenic lake. Some of our group at the viewpoint.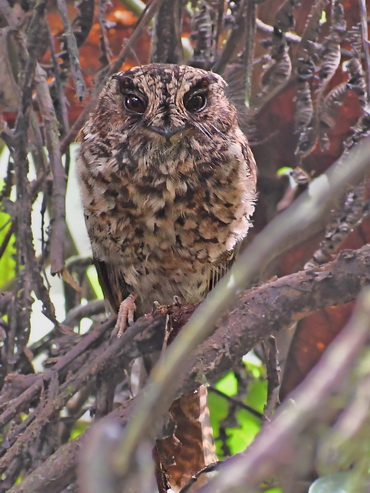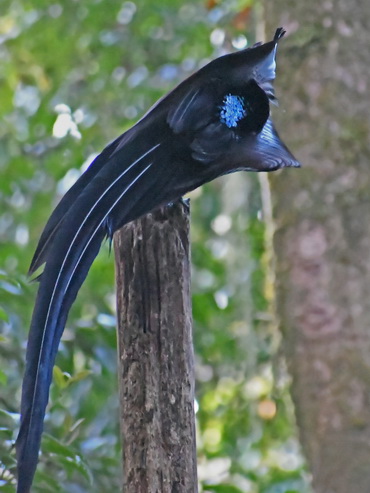 Mountain Owlet Nightjar on day roost and Black Sicklebill in full display were highlights at Arfak Mountains.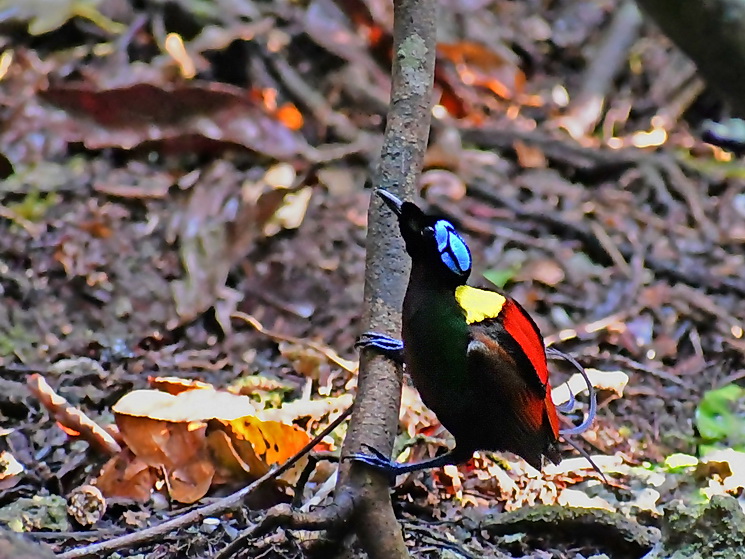 Wilson's Bird of Paradise is an easy to get target bird these days.

Some views on forested hill sides in the Arfak Mountains.

Palm Cockatoo, Papuan Frogmouth and this Yellow-billed Kingfisher -nice to connect again with these superb species
20 years after I enjoyed those on my Cape York trip in Australia, and better still, with photos this time.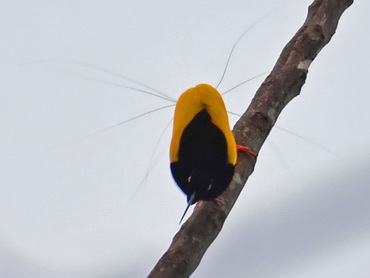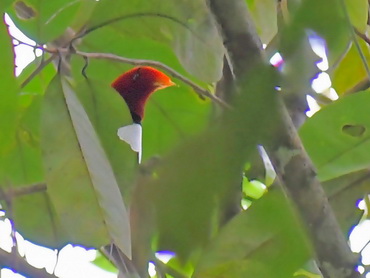 Photographing Birds of Paradise often appears to be a challenge.
Distance to the Twelve-wired BoP and a grey sky background didn't help getting a great shot with a 300mm lens but
I got him in a good/odd pose. We clearly only counted 11 wires... slowly going wireless indeed!!

We did King Bird of Paradise on the same morning at Nimbokrang. Great bird but he's tiny,
high up and always on the move so not usually ideal for photography.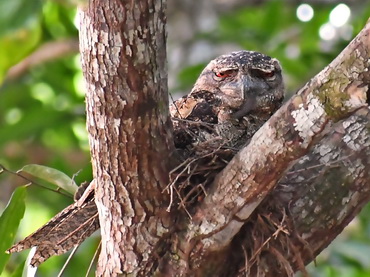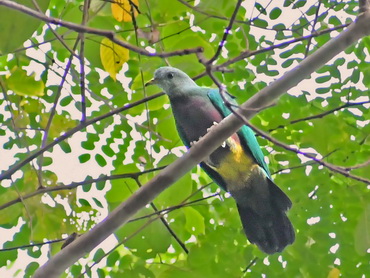 With a coffee in one hand and the camera in the other... this Papuan Frogmouth was photographed on the nest from my
room's balcony at Raja Ampat beach resort. Some luxury birding is possible in West Papua!
This Wompoo Fruit-dove was found along a forest trail on Waigeo. The bird is good size but it was high up and
very much back-lit so it's nice to note this image came out pretty well.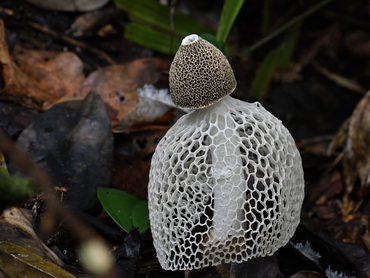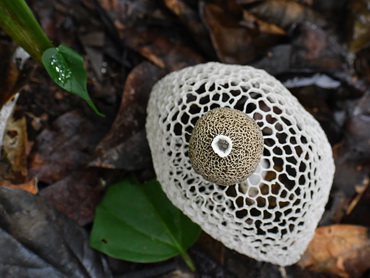 Short break from birding! Phallus Indusciatus, the Veiled Lady or Long-net Stinkhorn must be one of the most beautiful
mushrooms on the planet. We were lucky to find one at Nimbokrang. You don't see them often in full bloom but the
species is widespread and I can remember to have seen them in Laos and at Sepilok on Borneo previous.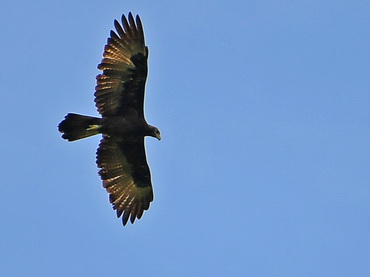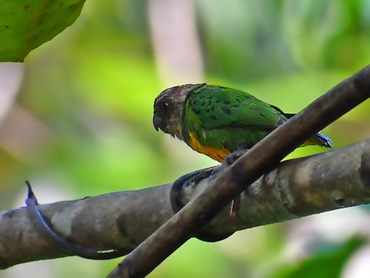 Except for at Arfak, mobile internet works pretty well in most places visited on this tour. One of the email messages I
received was the news that the new "Field Guide to Raptors of Asia" is published now by the Asian Raptor Research
and Conservation Network (ARRCN) and it contains my old Gurney's Eagle photo from Halmahera.
As you can see this raptor is available on Biak as well. Also the Geelvink Pygmy Parrot was a good find on Biak.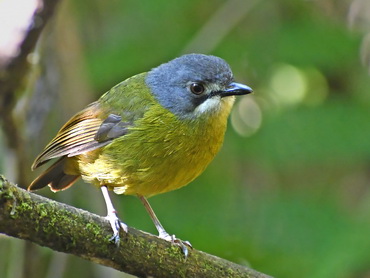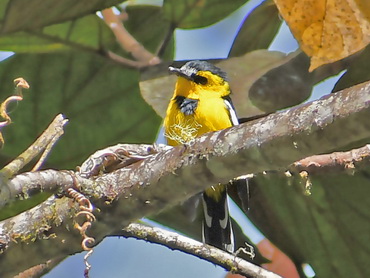 This Green-backed Robin showed very well from Magnificent BoP hide 1.
Also in the Arfak mountains we enjoyed good views of the Black-breasted Boatbill.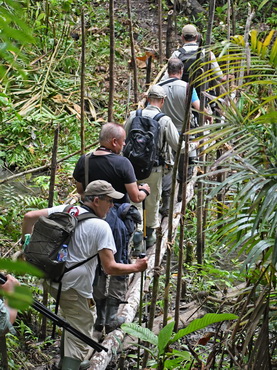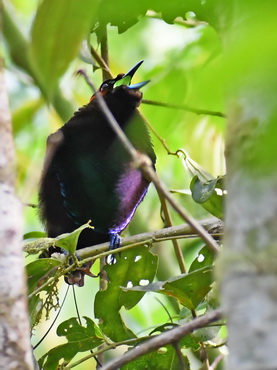 Our group on a log bridge with our first BoP in the bag, the Lesser Bird of Paradise of Nimbokrang.
Magnificent Bird of Paradise was already quite a few BoPs later at Arfak Mountains.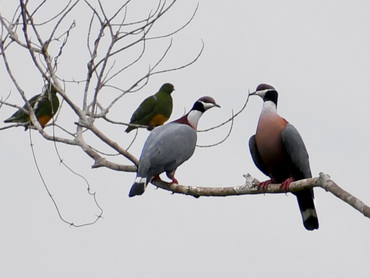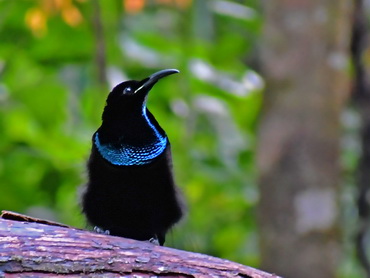 Perched Collared Imperial Pigeons were a very nice surprise find in the afternoon at Nimbokrang.
I post another Magnificent Riflebird photo as it was one of the highlights when we got the full show; the male calling
is already impressive, then female appears, full dance with wing display, then last... jump on!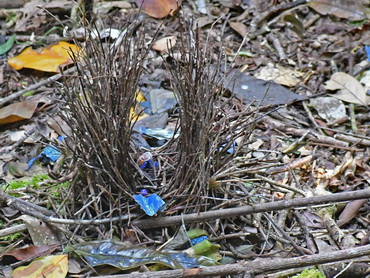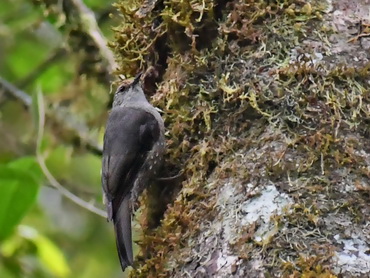 The Masked is a good looking Bowerbird but its construction is rather meager.
Total lack of Woodpeckers... but at least when getting homesick for this reason they have Sittella on Papua (Nuthatch)
and another tree-hugger is this Papuan Treecreeper found in the beautiful mossy forests at Arfak Mountains.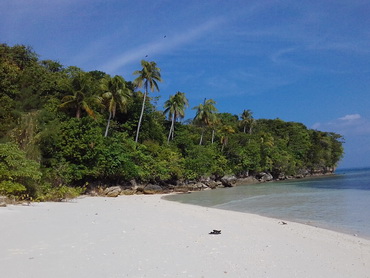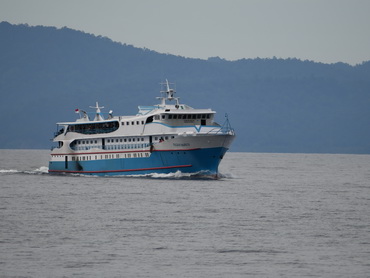 Some good ferries cross between Sorong and Waigeo - Raja Ampat. Next comes birding in a tropical paradise and this
particular spot got us watching both Spice Imperial and Metallic (White-throated) Pigeon with the white sand between the toes.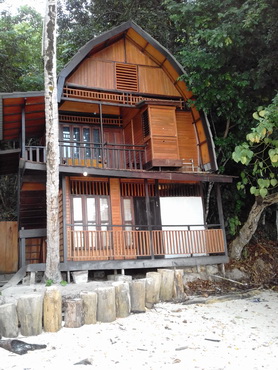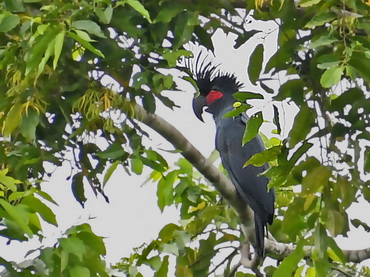 This gives an idea of our accommodation at Raja Ampat beach resort, set right on the white beach and the birding
areas (read Wilson's Bird of Paradise and much more) is just an hour travel away from the rooms.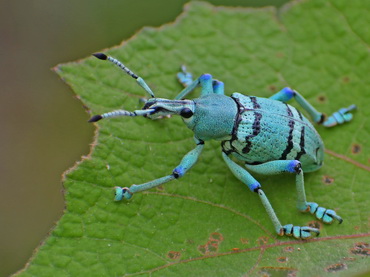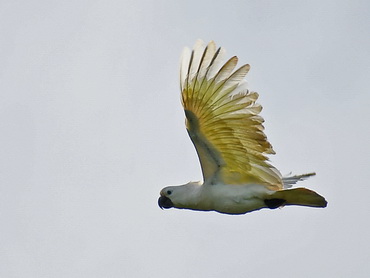 A bit of macro and a flight shot both worked out well with the cheap lens.
The Papuan Beetle is from Arfak Mountains and the Sulpur-crested Cockatoo is still common in most places.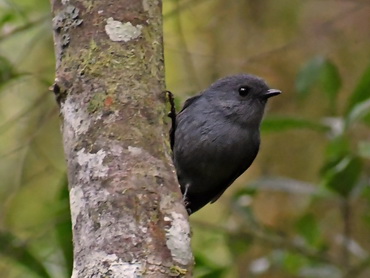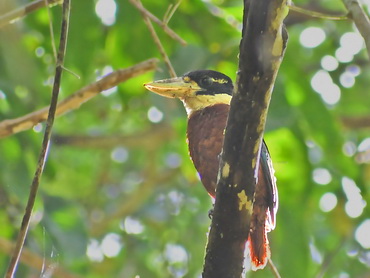 Smoky Robin, an exciting :-) species that hasn't been photographed too often it seems.
Rufous-bellied Kookabura is rather common but not always showing this well.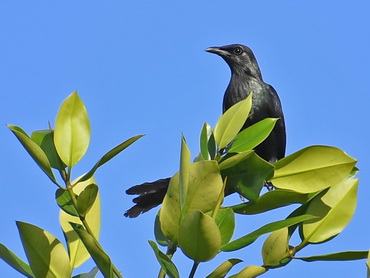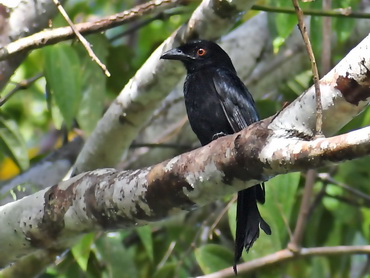 Long-tailed Starling and Papuan Spangled Drongo, both photographed on Biak Island.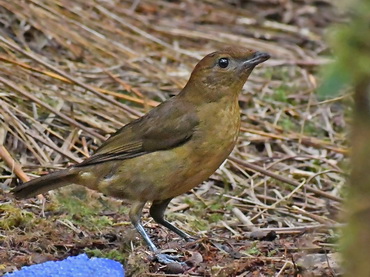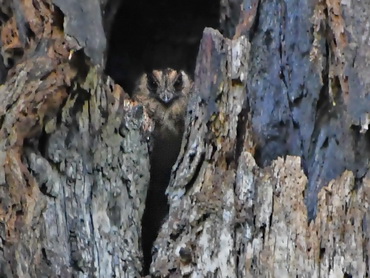 All the extravaganza clearly went in to the bower construction, not the bird colours... Vogelkop Bowerbird isn't
the only bird named after the Vogelkop peninsula. On the day roost here is a Vogelkop Owlet Nightjar.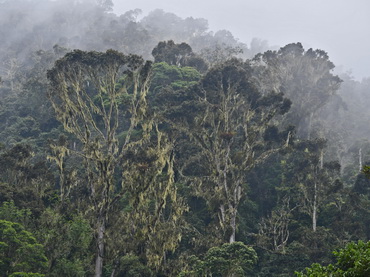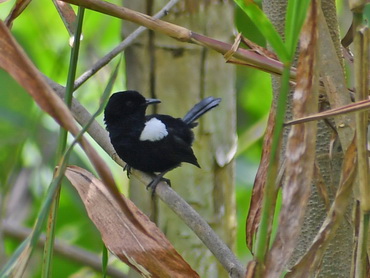 BoP filled forests must be the highlight of any West Papua birding trip. I post another superb forest view from Arfak to get
this gallery to a close. This is not a coincidence as the forest extent still present today must be the single most
important feature on both West Papua and Papua New Guinea. I heard some claims it's got more forest cover left
than the Amazon? Looking out of the windows on the domestic flights I see where it comes from...
Now done with the serious thoughts comes a last photo of a cute little garden bird you
will surely connect with at the lodge up Arfak Mountains, the White-shouldered Fairywren.

Home / Links