B2A's year in review ; 2017 photo report
I have just returned from a fine stay at Mulu National Park, which is a Unesco World Heritage site in Sarawak on Borneo. While watching a Blue Rock Thrush and a Pied Triller from the hotel window, I realize that Mulu was the last birding for the year. Luckily 2018 will start in a few days which means more birding isn't far away - is it ever?
But first I thought it is time to review an excellent year. I would like to do this in this brief photo report, just 1 or 2 images a trip. It appears I have missed doing quite a few trip reports, yes 2017 was busy, busy, busy. It wasn't just scheduled tours and guided trips but also my own trips, travel with friends and some good exploring with Borneo featuring heavily in the last year. Last but not least I enjoyed quite a few superb family trips where I am able to sneak off for some birding and this always resulted in finding some great birds. My hard disk overflows with un-posted photographs and sound recordings from the many trips. I admit this may be a little attempt to catch up. My good intention for 2018 should be doing more work on the computer but it's a hard one as I have planned time for family and also work to do at home already clashing with lots of upcoming travel. Also I am blessed with this unstoppable love for birds going for 34 years now, and it tends to keep me in the field rather than behind the computer screen.
While this page may show the sheer volume of trips and travel it is certainly not my intention to make this a boastful commercial about any rarities we may have scored. To choose just 1 or 2 photos a trip isn't easy so I have just picked those shots that bring back good memories of the past year. Anyhow, here we go trying to capture a sublime 2017 in a brief photo report;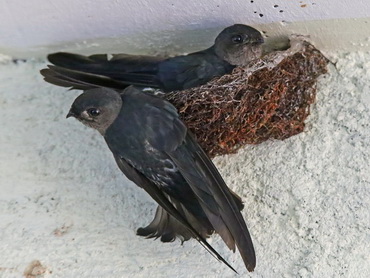 Before posting any trip photos I should note this
as a highlight for 2017; My new Glossy Swiftlet
colony at home. They went from just 3 nests
by the start of the year to about 45 birds
in the colony in December. They are in
my garage and I'm not too sure my
car does like the droppings but I
don't care; Love for Swifts
simply is greater than
love for vehicle ;-)
+
We're growing
Passion fruit in our
garden so you may know
where the dropping -which is an
incredibly powerful fertilizer- will go!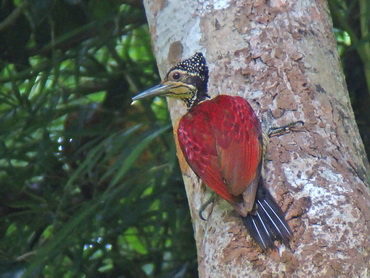 At Subic Bay this lovely Luzon Flameback lived up to
his name showing some good deep-red colours.
We found the pair at the nest hole which
allowed for lengthy observations.

Pleasant birding in a well protected
forest is always a feature at Subic Bay.
This brings back some good memories which
is why I pick this Woodpecker over some other
more obvious and 'bigger' birds seen on the trip.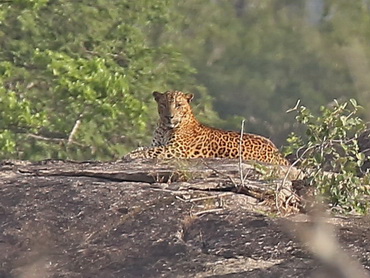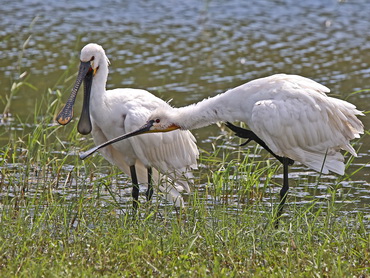 It had been 17 years since I visited Sri Lanka. I did see all the endemics at the time, 'but'; This was at a time when Serendib
Scops Owl had not yet been discovered. Naturally I would have posted the 'lifer' Owl next to the Leopard. If you are
curious you may check more photos from the trip in my report on Sinharaja NP. Here I would like to focus on how
enjoyable the journey was. Watching a 30 minute preening session of this pair Eurasian Spoonbills was a true
highlight. I picked this photo of the birds in action but quite a few of my other photos show the birds preening
each other. The Leopard is another story. In the old days Yala NP and park guides weren't geared so much
for finding Leopards and quite likely I had kept focus on the birds. No Leopards for me either in South
Africa (2 visits), Namibia, Botswana, a few visits to India, 20+ times Kaeng Krachan in Thailand...
a real "bucket list mammal". And nowhere better to catch up than Sri Lanka!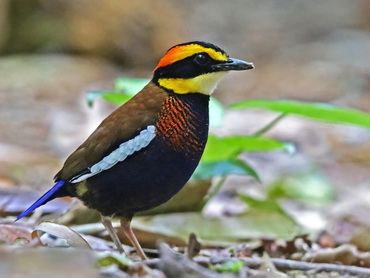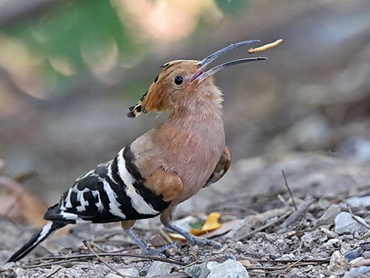 A family trip in Feb-March to South-Thailand. This Malayan Banded Pitta has been showing at Sri-Phang-gna NP for a few
years. I have seen quite a few Banded Pittas through the years but only ever photographed a female. This was a nice
opportunity especially because the rush of photographers getting this bird was over. No hide used,
no feeding, no sound tape, this was just me flat on my belly on the forest floor with the
bird just a few meters away. The shot was a bit more challenging than it looks as
it was early morning in very low light but in the end it turned out fine.
-
In Thailand, unless a rarity turns up, I may not get to see any new birds.
I had set the Hoopoe as a fun target. It's an all time favourite bird and some nostalgia was involved
from my youth when we cycled all over northern France just to find 1 Hoopoe. In Thailand they are a little
easier to find however they can be quite 'flighty' and realizing I had never got any good photos made me dream.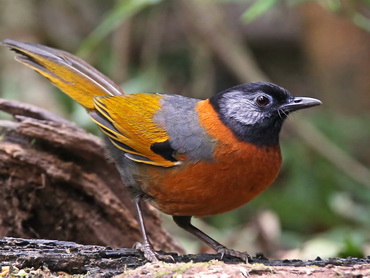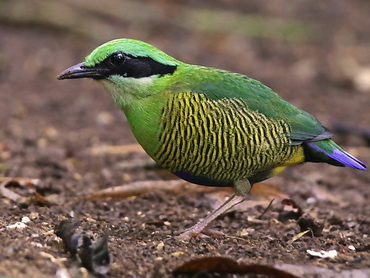 In a more adventurous era North-Vietnam was visited on a motorbike trip. This trip to Cat Tien and Da Lat in the south
was a new area for me and great for a few lifers. I did the trip with my friend Peter Ericcson who had organized
everything locally. If you are interested in a Vietnam birding trip you may contact Peter; highly recommended!
The Collared Laughingthrush is such a beauty and the Bar-bellied Pitta surely is one of the best to get.

Also in Vietnam, at Cat Tien National Park, I recorded my best sound for the year.
Nothing beats the amazing sound of the
Golden-cheeked Gibbon;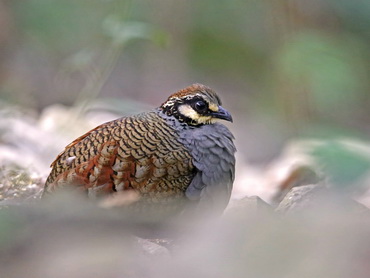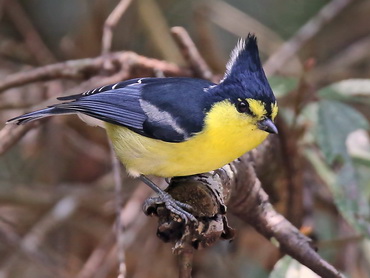 It is impossible to loose the love for Taiwan, yet another fantastic tour in April. Both the Mikado and Swinhoe's Pheasant
would be the obvious top target birds to post, however I'm very happy with this Taiwan Partridge image.
They were easy to photograph all in the open but dropping the angle gave me some nice hazy effect.
I also improved on my Taiwan Tit photos, a fine endemic it is.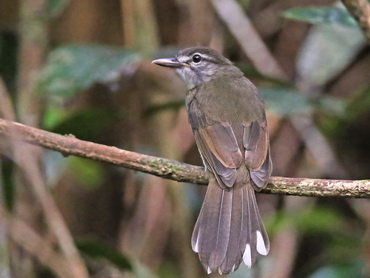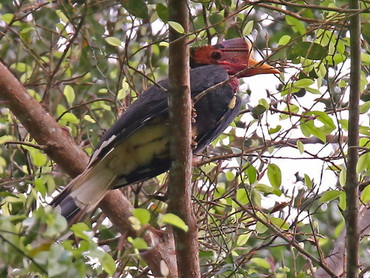 It is late April and I couldn't wait getting started with the first Borneo tour. Hence I did 5 pre-tour days before the start in May
with the Hook-billed Bulbul one of the best birds recorded. I know, not the most colourful of birds but it is scarce
and highly localized as they live in a special habitat only, primary peat swamp forest. Nothing could stop
me from adding extra birding after the tour either. Some good off the beaten track exploring
got me to find a healthy population of the critically endangered Helmeted Hornbill.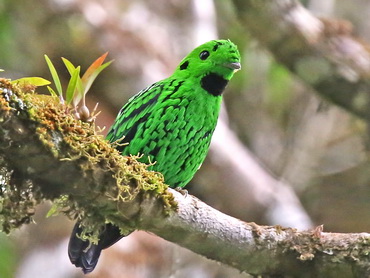 Too hard a choice picking out highlights
of the Sabah tour in May so I ended
up with one of the classic birds;
Whitehead's Broadbill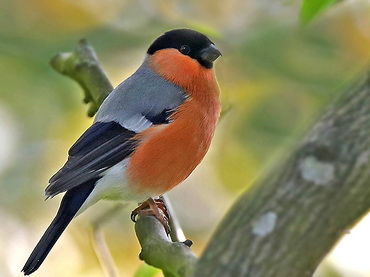 Visiting family in Belgium wouldn't
normally feature any birding.
But then this Eurasian Bullfinch
appeared in the garden...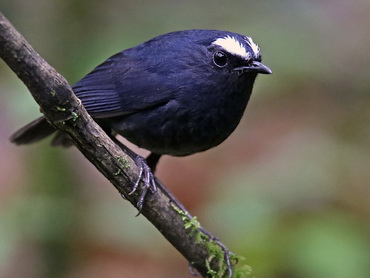 A family trip in June featured both central
and north Thailand. It's not the best season
for birdwatching but there must always be some
good stuff around. And I'm sure this White-browed
Shortwing also liked the lack of crowds on the summit of DI.

The Nightingale of SE Asia!!! My Spot-throated Babbler
recording was voted sound of the month on IBC.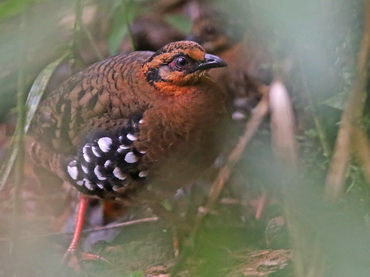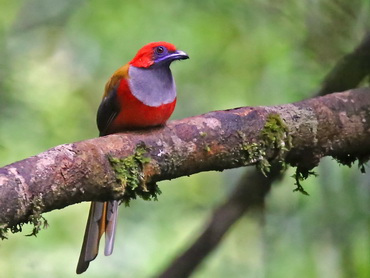 Borneo - Belgium - Thailand and Borneo again all in 1 go without stopping. It was all part of the plan of spending less time
at home this year. From the Sabah tour in June those obliging Red-breasted Partridges bring back good memories. I also
post the Whitehead's Trogon as it was only recorded in 1 location on all 3 tours. Doing trails at Mount Kinabalu for
days wouldn't produce any additional sightings and I still don't know why they were so difficult this year.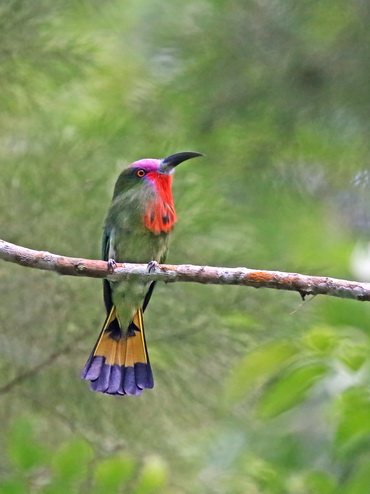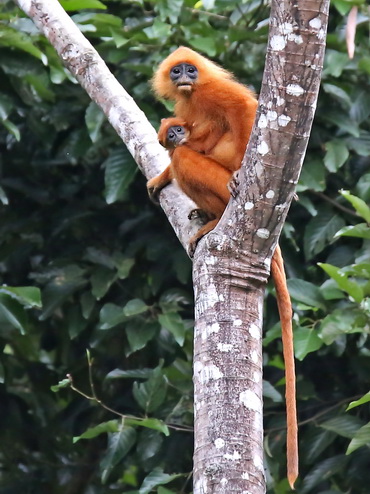 If you love birds what would you do after guiding a good tour?? Yes, go birding!
Tawau Hills National Park in Sabah has been an excellent after-tour choice in June.
I can't find words for these captures. All I know is where I will go after the next Borneo tour!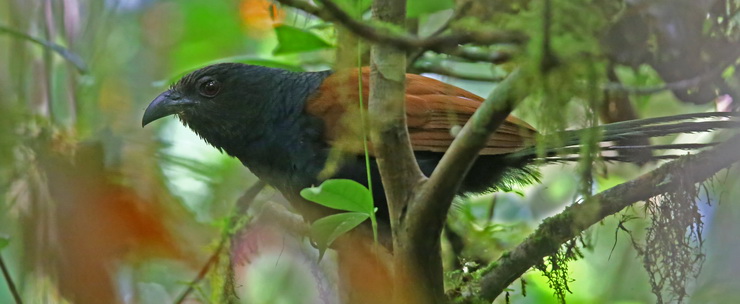 More from Sabah in June; One of the most difficult birds to see let alone photograph. When I was done sneaking up to this Short-toed Coucal in super dense rainforest I was such overheated that I had to jump in the nearby river to cool off.
Afterwards on the computer it became clear how few photos there are on the internet of this species and I also
noticed how often they get misidentified. The elusive Short-toed Coucal lives in the dense undergrowth of
only the best primary lowland rainforests. Any more open habitat such as clearings, road and
riversides or anywhere tall grass has taken hold may see Greater Coucals take over.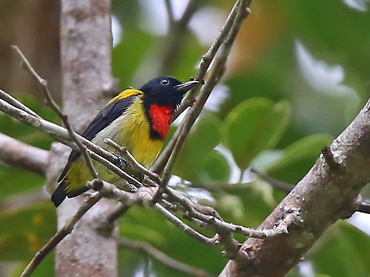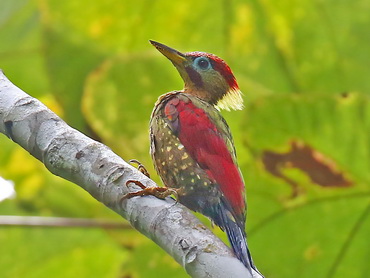 With all the Sabah I thought I needed to Sarawak a little; 5 pre-tour days in August. At Kubah National Park near Kuching a
new Flowerpecker; Scarlet-breasted. And improved shots of one of the most beautiful Woodpeckers; Crimson-winged.
I also visited Borneo highlands on the Kalimantan border. This was a fine stay with Blue-banded Pitta,
Green Broadbill, Bornean Black Magpie and White-crowned Hornbills the highlights.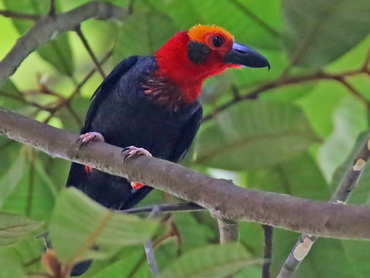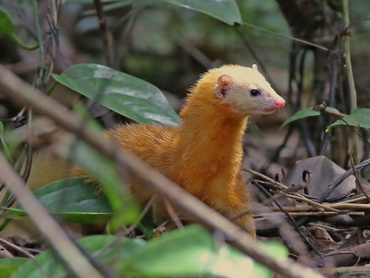 From the Borneo tour in August. It was with great pleasure we found Bornean Bristleheads on the trail at the Rainforest
Discovery Center. Bristleheads remain regular at Borneo Rainforest Lodge and were seen on all trips in Danum Valley.
To find them still at Sepilok was a delight. Then at Poring Hot Springs we struck gold. This 'golden' eh Malayan
Weasel was my first ever sighting of it and voted instantly as 'bird' of the trip :-)
And not unsurprisingly I found another one shortly after in the Crocker Range at Keningau...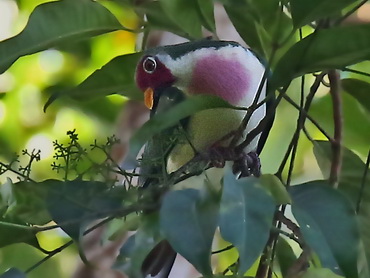 Taman Negara gave me a Jambu Fruit Dove in the old days.
More than 15 years later I connect again. Not unsurprisingly
at a site not regularly visited in Sabah; Tawau Hills.
If you follow the link and check what trees grow at this NP
you may know instantly why I like this place so much. A
perfect after-tour tradition it is for Borneo, also last in August.

One of the most amazing birds sounds in Asia is the song
of the Malaysian Honeyguide. This was also recorded
after-tour, in the Crocker Range.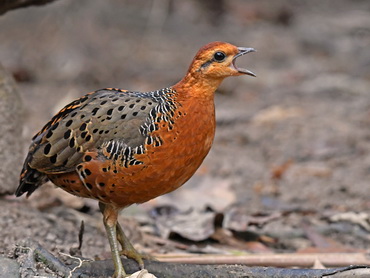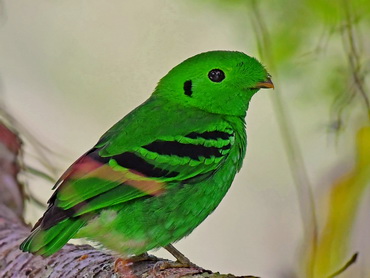 Peninsular Malaysia in Oct-Nov will be one to remember. I'm happy to prove this with results;
The calling Ferruginous Partridge from Bukit Tinggi was voted photo of the month on the IBC website. I also got lucky
with this Green Broadbill visiting a small fruiting tree which was a rare opportunity to get the species down to eye level.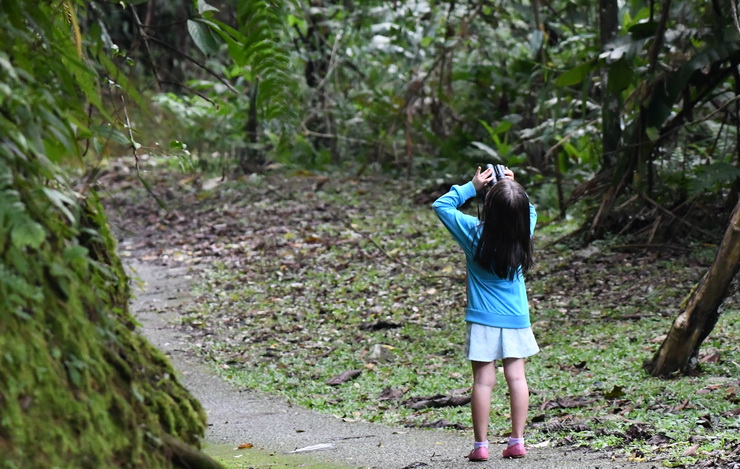 Forget all the above. My daughter is 6 years old, using my spare Leica's and spotting a Lesser Yellownape at Fraser's Hill !!!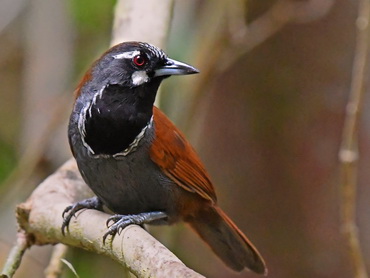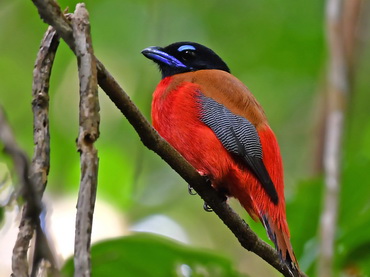 It is always nice to visit a new area even when no new life birds are to be expected.
This December I experienced some fine moments with this Black-throated Babbler at Lambir Hills National Park.
And how kind of this Scarlet-rumped Trogon to pose for me at Mulu NP in Sarawak. A rather perfect year-end thanks.

------------------------------------------------------------
You may have noted my enthusiasm. 2017 was a hugely successful year for us. For making this possible I must
send thanks all our clients, guides, drivers, guests, colleagues, friends, family...everyone ; Thank You!

Very best wishes for 2018 to all.