B2A's year 2018 ; photo review
Amazing to note I'm actually home to put this page together. As usual I've been busy with travel in the last year. Time goes fast when one trip flows into another and the past year went in an instant. Or should I say the last 10 years? Indeed we did celebrate our 10th anniversary last June with a trip to the fantastic rainforests of Tawau Hills National Park on Borneo. Other highlights were the new Sri Lanka tour and another sweet and smooth Taiwan tour. Borneo featured heavily in 2018 with 4 Sabah tours on top of both personal and family trips to Sarawak. Lesser Sundas, Thailand, West Papua… it was an excellent year. Hope this photo report may give some impressions.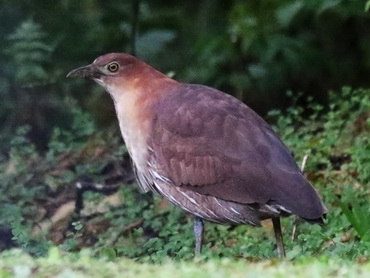 A short stay in Thailand was the first travel for the year but more serious birding only commenced on our Philippine tour.
The Philippine Eagle and Japanese Night-heron are top birds photographed by Pete Simpson on the Mindanao leg of the tour.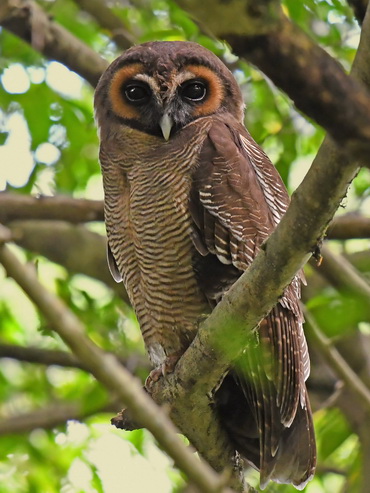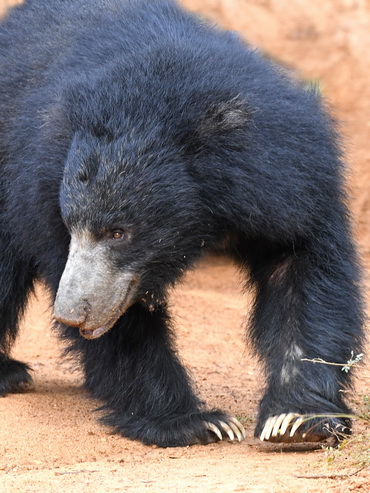 We added a first successful Sri Lanka tour (report) in February; With all endemics seen and even a lifer mammal for me.
Hello Brown Wood Owl at Surrey Tea Estate... nice to reconnect with the same species in exactly the same spot 18 years
after my first trip to the island. And what a superbly close encounter with a Sloth Bear it was!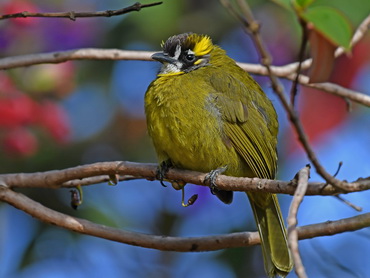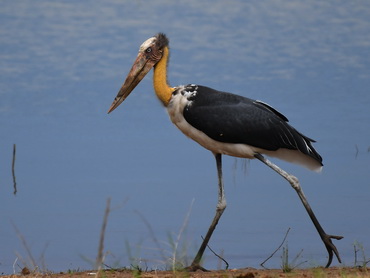 Sri Lanka is a good place for bird photography; Yellow-eared Bulbul from Horton Plains and Lesser Adjutant at Udawalawe NP.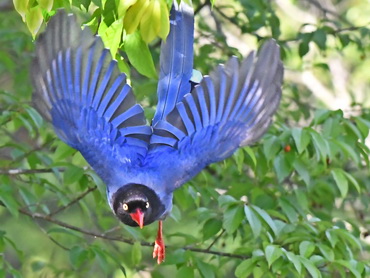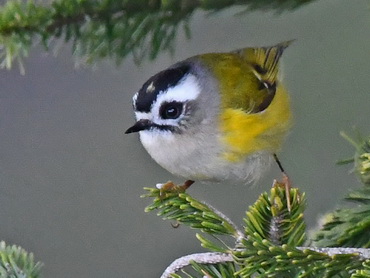 I did a nice little pre-tour in Taiwan with Middendorf's Grasshopper Warbler, wild Mandarin Duck and a vagrant Long-billed
Dowitcher notable sightings. The main tour in March was very enjoyable again with so many superb observations. I post
a little proof with Taiwan Blue Magpie my favourite endemic, and the Flamecrest goes on the list with the cuties.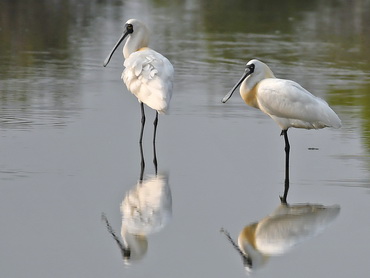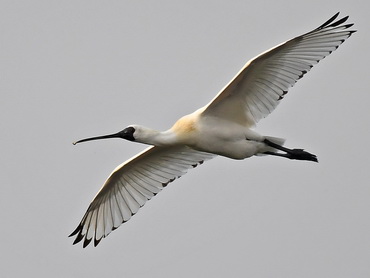 Every single page of this website has 'em on the heading... a B2A icon and I must include some shots
as we had such close encounters with the Black-faced Spoonbills on the Taiwan tour this year.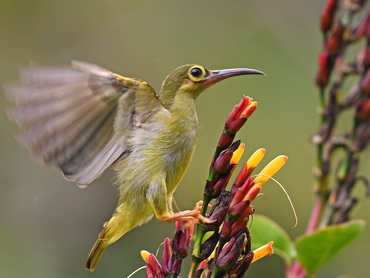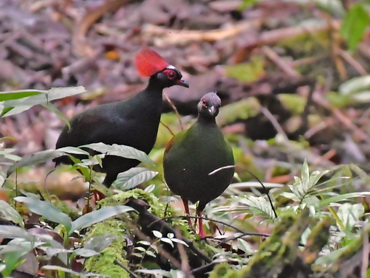 Cheap Taipei - Kota Kinabalu direct flight... why go home??? And I hopped on another flight to Sarawak for some pre-tour
birding at the Borneo Highlands. The Spectacled Spiderhunter on the left got rated some good stars on the Internet
Bird Collection website. It was only afterwards I realized how few Crested Partridge (wild birds) photos seem to exist.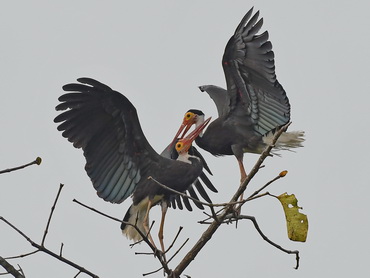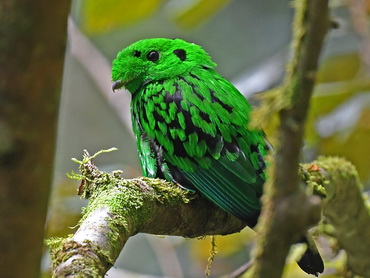 First of 4 Sabah tours in April and a good start! The endangered Storm's Storks are always a highlight on visits to the
Kinabatangan River. And nice indeed to photo them in display. Just meters away, below eye-level; a Whitehead's Broadbill!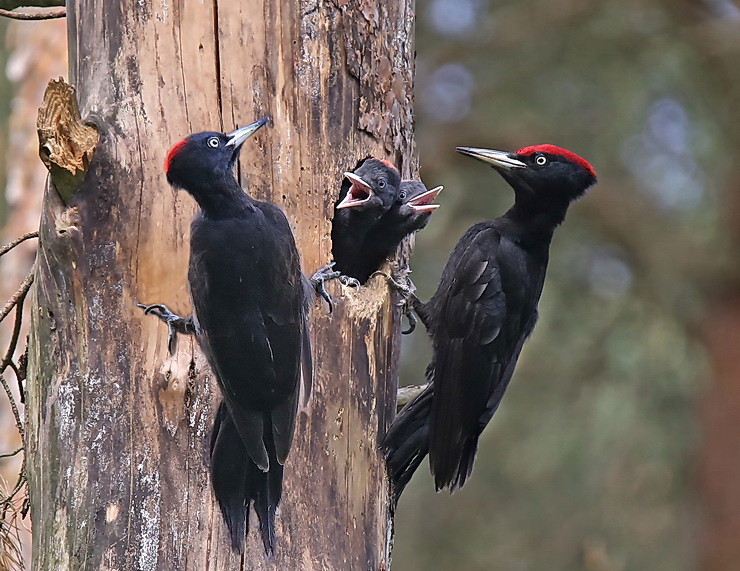 May was the time for a family trip to Thailand and also time to visit family in Belgium with my daughter. No birding lens...
When at my parent's I usually go for short walks in the woods behind the house where there is a resident pair of
Black Woodpeckers. Yes, a childhood bird. I use this opportunity to post what I think is one of my most
rewarding shots ever. A pair with 2 baby girls. Taken when I found a nest a few years back.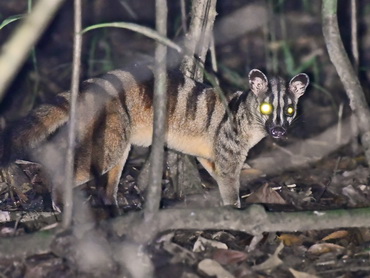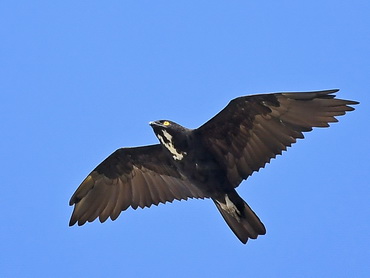 After Belgium and Thailand no time for home, it was straight on to Borneo for 2 more Sabah tours and something special
in between. From the tour in June again photos from the Kinabatangan River and some excellent opportunities happily taken.
The Banded Civet on the night walk behind our lodge was a lifer mammal for me and a pair Bat Hawk
came circling so low above our boat that it wasn't hard to improve on any shots I may have taken previous.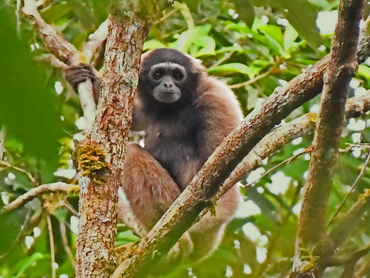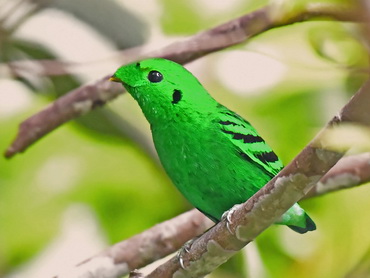 June 2018; Birding2asia's 10th anniversary was celebrated with a completely free guided trip for
3 participants to Mount Silam near Lahad Datu and Tawau Hills National Park, both in Sabah, Borneo.
I post 4 photos from this trip. Above left is the Bornean Gibbon, a difficult one to photograph and no doubt this is my
best shot so far. They are scarce in most of the easy accessible places, very wary and lightning fast. Happy with this
lucky shot indeed. Above right an incredibly close encounter with a Green Broadbill on Mount Silam. What a colour!
Below left on stake-out a drab looking rarity with a fun sound, the Malaysian Honeyguide.
Below right; as expected I couldn't resist posting another Red-bearded Bee-eater, such a beauty.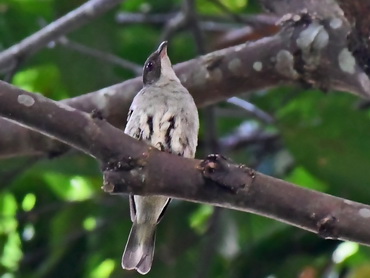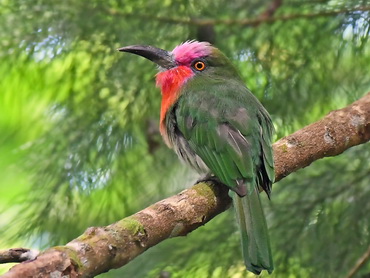 Sound recordings from the July Borneo tour;
On the left the song of a Bornean Ground Cuckoo on the Kinabatangan and next the song of 3 Bristleheads from Sepilok.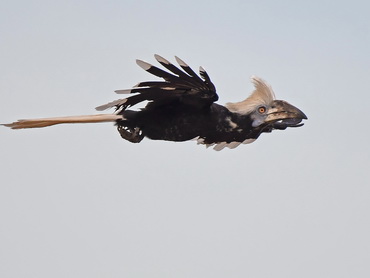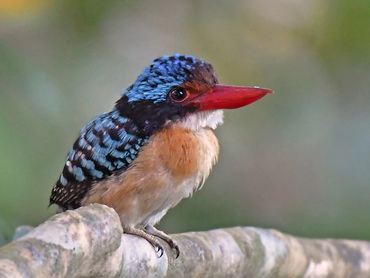 More from July in Sabah; A lucky shot of the "beast", together with Helmeted the White-crowned Hornbill score high
for looking weird and special. The male Bornean Banded Kingfisher was taken at very close range from the
canopy walkway at Sepilok and the only reason it stayed was that is was still almost dark in the very
early morning; A challenging shot handheld with the shutter speed on 1/8 sec.!!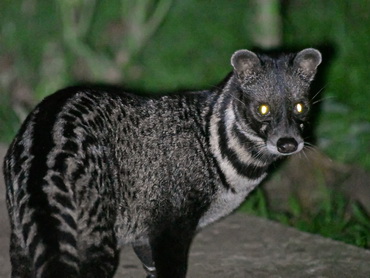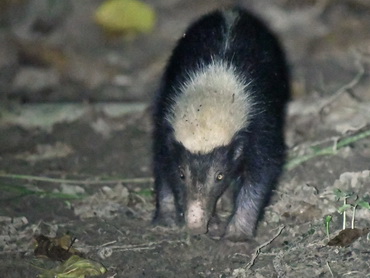 Mammal sightings have been good on the Borneo tours this year. Pygmy Elephants, Orangutan, Proboscis Monkeys,
Maroon Langur, Giant Flying Squirrels, Tarsier... for me personally some of the less spectacular mammals
are no less interesting. Above a Malayan Civet and a Sunda Stink Badger (Skunk) from Kinabatangan.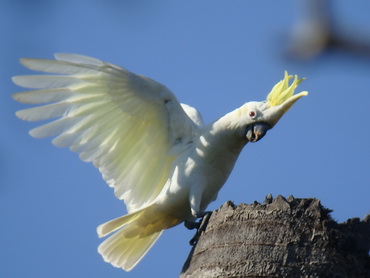 Lesser Sundas + Bali extension in July-August. This was an all return-client tour to a special area that is very
different from other places in Asia. The critically endangered Yellow-crested Cockatoos were
well enjoyed on Komodo Island. Flores and Timor were brilliant and we had a good run on
Sumba with good sightings of all endemics. Above right is a photo of the Sumba Hornbill.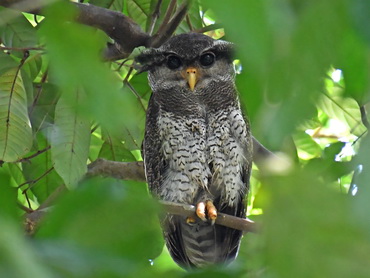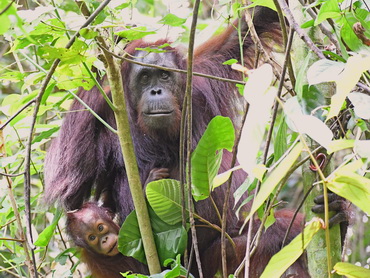 From Bali it was straight on to Borneo again. In April we enjoyed a superb daytime Barred Eagle Owl but I had
left my camera in the car... so I got another chance in August indeed. One of the closest encounters with
Orangutan was also from the August trip. Here a mother and baby photographed at Gomantong caves.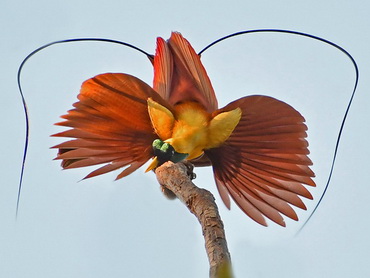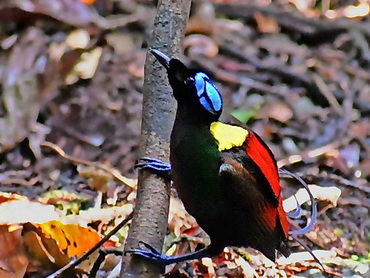 West Papua, (report) not a tour organized by B2A but a personal highlight as it pretty much gave me my
only lifers (birds) for the year. Birds of Paradise of course are the main target and we did very well.
Left Red Bird of Paradise and right Wilson's Bird of Paradise, both from Waigeo - Rajah Ampat.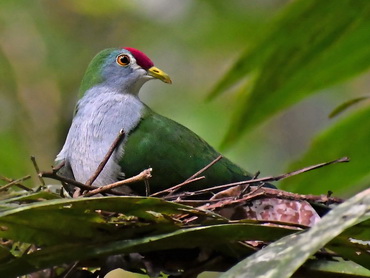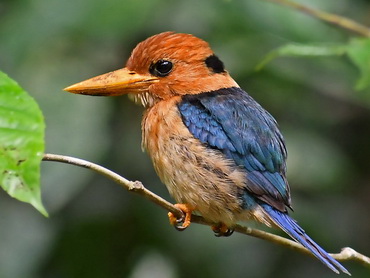 Non-BoP highlights included Beautiful Fruit-dove and Yellow-billed Kingfisher.
Also from West Papua my best sound recording of the year; The powerful calls of the Black Sicklebill at Arfak Mountains.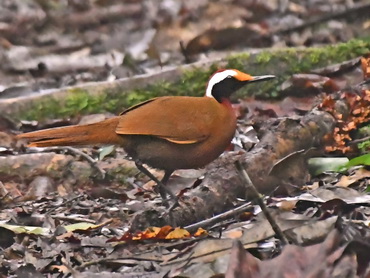 A family trip in late Oct - Nov and we choose going to Sarawak again. At the Borneo Highlands near Kuching I was
fortunate to connect again with one of the icons of SE Asia birding, the Malaysian Rail Babbler. On another morning's
sneak off session I found a nice Siberian Thrush at Kubah NP, a bird with only a handful of records on Borneo.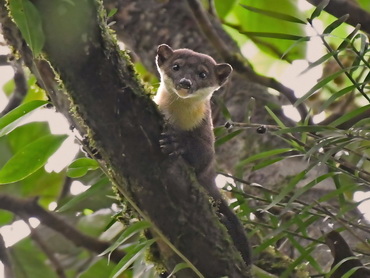 More from Borneo Highlands in November. I have seen Yellow-throated Martens quite a few times but this is my
first ever photo so quite happy with this. "Frogging" seems to be quite popular in Sarawak and if you take
a look at the beauty above it's easy to know why. This is a Black-spotted Rock Skipper found at a waterfall.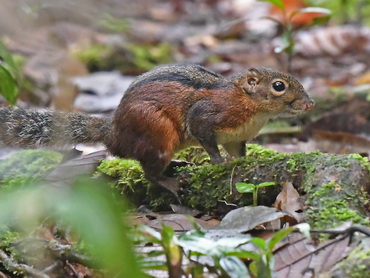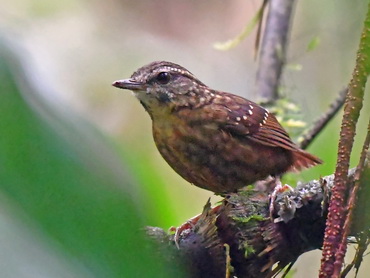 And a couple more photos from Sarawak still. Three-striped Ground Squirrel doesn't occur in Sabah so this was a new
mammal for me while waiting for the Rail Babbler to come out. And Eye-browed Wren-Babbler, my first photos of it.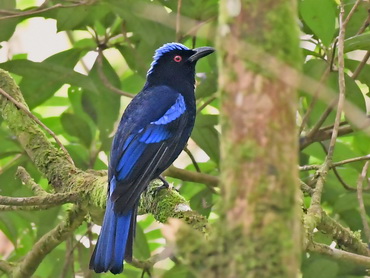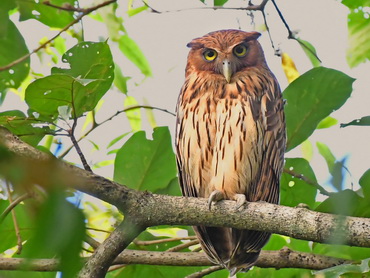 After the family trip in Sarawak a friend and I went on for 3 days exploring at Infanta, a fairly new birding site not
too far from Manila. Philippine Fairy Bluebird isn't easy to photograph so this is another happy shot.
We also made a quick stop at Angono for the Philippine Eagle Owls on the daytime stake-out.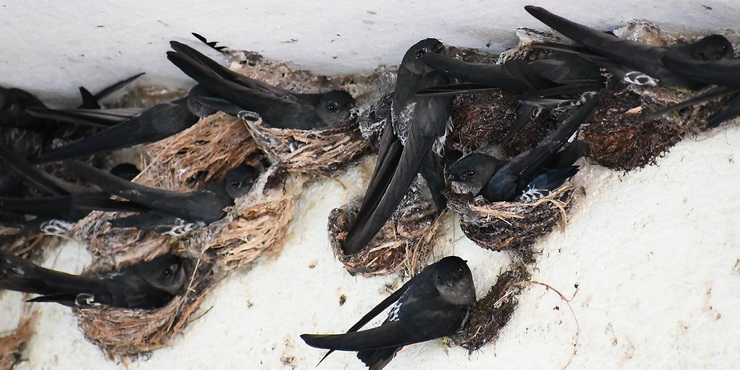 A year ago in the 2017 review I noted 45 birds in my Glossy Swiftlet colony at home. I thought it's quite nice to end this
year with a colony twice as big. I've got over a 100 birds now in the garage (and double the poe on the car ;-)

------------------------------------------------------------
2018 marked 10 successful years of B2A, for making this possible I would like to send many
thanks to all our clients, guides, drivers, guests, colleagues, friends, family...everyone ; Thank You!

We are ready for another 10 years! Very best wishes for 2019 to all.