Where2watch
birds in Asia
Stijn De Win
Laos birding info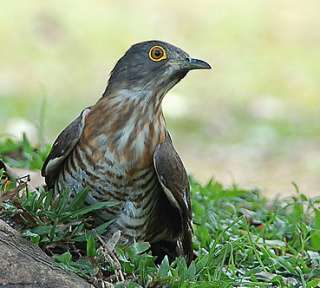 Large Hawk Cuckoo
More info, less2read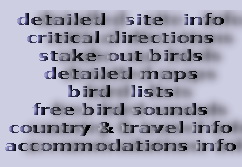 Where2watch
birds in Asia

We power your vacation
All photographs below by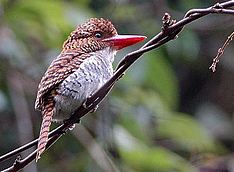 Banded Kingfisher female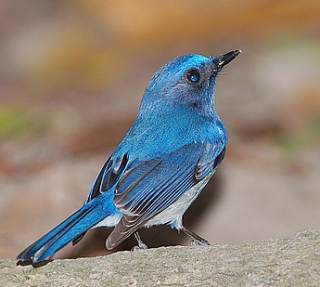 Hainan Blue Flycatcher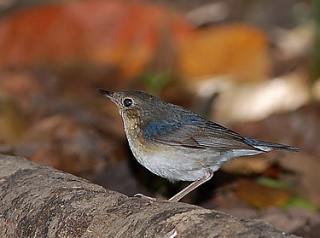 Siberian Blue Robin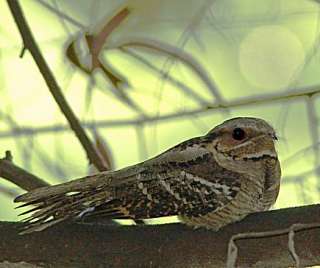 Large-tailed Nightjar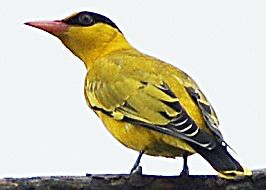 Black-naped Oriole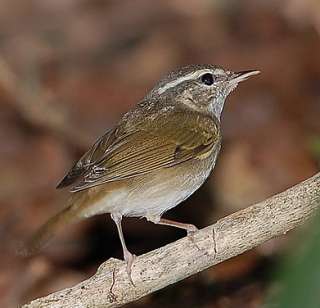 Pale-legged Leaf Warbler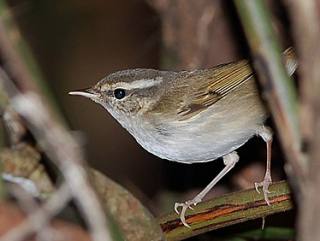 Pale-legged Leaf Warbler 2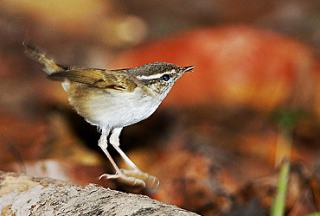 Pale-legged Leaf Warbler 3
Khammouane Bulbul, 16 Aug 09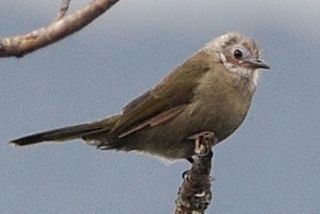 Khammouane Bulbul, 16 Aug 09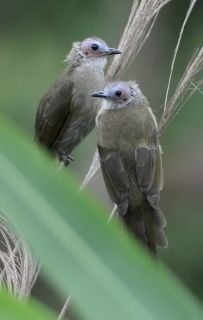 Khammouane Bulbul, 16 Aug 09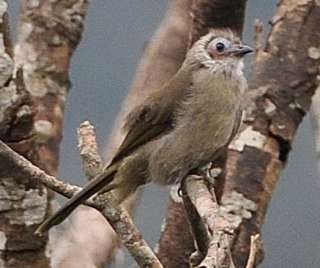 Khammouane Bulbul, 16 Aug 09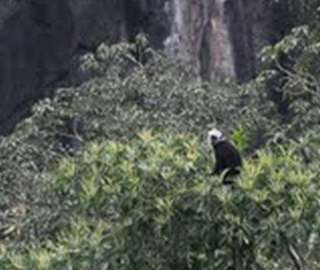 Lao Langur
All photographs by
Na Hin Forest

Laos' first site to get info on target birding.

Na Hin Forest is a new birdwatching site discovered and first explored by Stijn De Win in April 2008. Detailed site info first appeared on Birding2asia in August 2008. Birders visiting remained far and few in between until Stijn discovered the birds that are now known as Bare-faced Bulbul at Na Hin Forest back in December 2008, with the first article ever about this new species, incl. the first ever photographs taken in the field, published on Birding2asia on July 13th 2009.

Few birdwatching sites in Asia can match what Na Hin Forest in Laos has on offer. Three completely different types of excellent and easy accessible forest which supports sought-after bird species, with good accommodation and food nearby, all set in superb scenery and reachable on good, new roads! Level lowland rainforest, beautiful forest on limestone and hill evergreen forest, all reached within minutes from the accommodation, will keep you birding for a couple of days at least.

Key species

It's obvious that such excellent habitats must have special birds. The star attraction at Na Hin is no less than the recently discovered Khammouane Bulbul (Bare-faced) –Pycnonotus hualon, of which my photos below are the first ones ever taken in the field (and the only ones from the field as of time of writing*). Moreover, Na Hin Forest so far, is the only known place in the world with confirmed sightings and where birders can go look for it safely, as the type locality remains littered with unexploded ordnance left from the Vietnam war. This Bulbul is the only bald songbird of mainland SE-Asia and Laos' only endemic bird species.

Red-collared Woodpecker is another superb species found at Na Hin Forest, it's a near-endemic for which very few sightings exist. In neighbouring Vietnam, Cuc Phuong NP is the only (unreliable for Red-collared WP) site that has a few recent sightings and easy access with directions available on the internet. Other sites where it has been seen recently include Phong Nha NP and Dakrong but information to visit the exact spots isn't widely available. If you want to see the species I guess Vietnam is not the place to go, making it somewhat of a birdwatchers endemic for Laos. In fact, Red-collared Woodpecker remains common and widespread across lowland Laos south of about 19 degrees latitude where the forest is evergreen or semi-evergreen. Sooty Babbler is easily found at Na Hin and nearby Ban Naphong (at 18' 08 N, 104' 23 E) on route 8 about 25 km from Ban Na Hin on the way in from Vientiane or Thakhek and the birds are readily found there right besides the HW.

Also the recently described Limestone Leaf Warbler has now been confirmed to be present at Na Hin Forest.

Some of the very best species also recently found at Na Hin Forest now include Blue-naped Pitta, Yellow-vented and White-bellied Green Pigeons, Red-vented Barbet, Spot-bellied Eagle-Owl, Rufous-tailed Robin, Pale-headed Woodpecker, Green Cochoa, Pale-capped Pigeon and Woolly-necked Stork.

Other sought-after species include Eared Pitta, Blue-bearded Bee-eater, White-browed Piculet, Mountain Hawk Eagle, Ruddy Kingfisher, Oriental Hobby, Heart-spotted Woodpecker, Nepal House-Martin, Silver-backed Needletail, Limestone Wren Babbler, Green-backed Tit, Silver Pheasant, Spot-necked Babbler, Fork-tailed Sunbird, Rufous-throated Fulvetta, Wreathed Hornbill, Rufous-winged Buzzard and White-tailed Flycatcher.

Birding

A number of easily accessible tracks and trails run through the lowland rainforest and evergreen hill forest while the superb forest on limestone reaches to the roadsides between km posts 29 to 36.

1 At the km 48,5 marker (exactly 10,2 km from Mi Thuna) a track veers off to the right. Park at the start as it's not

suitable for vehicles. This track has some fairly open forest at the sides with some patches of better forest, bamboo

and a couple of nice fruiting trees. It takes about 30 min. to walk to the end, a 135m ascent in total.

Birds seen along this track include Eared Pitta, Eye-browed Thrush, White-browed Piculet, Indian Cuckoo,

Yellow-vented Flowerpecker, Moustached Barbet, Long-tailed Broadbill, Oriental Hobby and Silver-rumped Needletail.

Just 30m before the end of the track at a weather station, there's a sharp left hand bend where an inconspicuous

trail goes off to the right. For the first 50m or so, it runs through the same more open forest with bamboo found

along the track but then enters excellent forest with huge trees. It's at the start of this good forest that I found

Red-collared Woodpecker and it responded to the recording I made very well.

A bit further on there's a steep descent (40 altimeters) but soon after that the walking becomes flat again. At the

bottom turn left through a dry streambed, where you can continue to follow the trail for some time till it becomes

inconspicuous and harder to follow at about 1 hour from the start at birding pace. Make sure you turn back on your

steps here before getting lost!

2 A small landslide at this spot along the road gives a nice view over the forest. It's the right place to realize how much

pristine forest is still left here! I didn't spend much time here but it should be good to see canopy species and raptors,

I got Mountain Hawk Eagle here.

3 At the km 44,3 marker a dirt track goes off to the left, this one you can drive into if you want. It becomes a dead end

after 2,3 km and has good birding all the way. There's excellent views into the canopy and birds seem to be more

active here than anywhere else with good bird waves coming through. Blue-bearded Bee-eater, Black-winged Cuckoo-

shrike, Bar-winged Flycatcher Shrike, Drongo Cuckoo, Blue-winged and Golden-fronted Leafbird, Raddes Warbler,

Hainan Blue Flycatcher, Grey-backed Shrike…

After the first 200m uphill this track keeps running level. It's a good place for nightbirds too. I got Brown Hawk Owl,

Mountain Scops Owl and Collared Owlet along the first 500m or so.

4 A nice viewpoint looking out over the Phoun Hin Poun National Protected Area. The Sala (shelter) here makes it a

good spot to have lunch, at least if you brought your own pack.

5 The trail to the Nammouang Waterfall is signposted a little past the village. It runs through good lowland forest

with a few streams before you get to the nice waterfall set in beautiful surroundings.

6 Right next to the temple, where you should park your vehicle, a track runs into the flat lowland evergreen forest. It has

a number of side trails for you to explore and after about 1500m the track ends at the bank of a river with huge

boulders in it. This is where the trail to Namsanam Waterfall starts with the WF another 2km away.

Birding in this lowland forest was a bit quiet in April, no wonder because it got unbearable hot by 8am! It's much better

in winter (November till early March) with good mixed species flocks present.

A most notable find was Eurasian (Common) Cuckoo, which, according to Robson's book is a first for Central Laos.

Other birds seen included Ruddy Kingfisher, Greater Yellownape, Barred Cuckoo Dove, Orange-breasted Trogon,

Blue-bearded Bee-eater, Green-billed Malkoha, White-rumped Shama, Collared Owlet, Asian Barred Owlet,

Green-eared Barbet, Lineated Barbet, Asian Fairy Bluebird and Bar-winged Flycatcher Shrike.

7 Cultivation in this area has some species not found in the forest, but again this area is better in winter. Indian

Roller, Oriental Pipit (Paddyfield), Siberian Stonechat, Black-capped Kingfisher, Brown Shrike, Long-tailed Shrike...

8 In the area marked 'forest on limestone' on the map, the roadsides have some very good vegetation in between the

limestone outcrops, including rather big trees present. This is prime Sooty Babbler, Bare-faced Bulbul and Limestone

Leaf Warbler habitat and anywhere between km markers 29 to 36 can be good.

I have also found Limestone Wren Babbler in this area. Sooty Babbler has also been recorded inside the Nam Kading

National Protected area which lies to the North and it is found at Ban Naphong along route 8 and right besides the HW,

this is just 15 km west of Na Hin as the crow flies.

Getting there & around

Ban (Lao for village) Na Hin can be reached with

public transport but it's not easy. Consult your

travel guidebook for it. Once arrived at Mi Thuna

Guesthouse, they have motorbikes for rent to

reach the birding spots, at 10 USD/day, which

includes fuel. Also Xokxay guesthouse has motors.

With your own transport, and having crossed into

Laos from Thailand at either Savannakhet or

Thakhek, it's a pleasant ride on routes 13 & 8

(turn right onto HW 8 at Viang Kham towards

Lak Sao and the Vietnam border). It's paved all

the way, not a single pothole to be found!

Do the same having arrived by air in Vientiane,

where you can rent cars and hit routes 13 & 8,

passing the city of Pakxan.

Laos is heaven for motor bikers, so if there's any

bikers/birders around, this is the place to go.

I visited Na Hin myself on my own motor with a

start in Bangkok. If you're a biker with an interest in birds or visa versa, don't hesitate to contact me for a chat or even to go

for an adventure in Laos.

Accommodation & food

Mi Thuna Guesthouse has 4 comfortable air-con rooms which cost 80000 Lao Kip (6 Euro/300 Thai Baht) in December '08.

The attached restaurant serves very tasty food with good breakfasts. Soda's were sold out at times here but plenty

cold Lao beer was available always, pretty important thing to note because Beer Lao is undoubtly the best beer in Asia.

The shop a little towards the village is well stocked with cold drinks including bottled water.

At least 10 more guesthouses can be found closer to and in the village and these incl. Xokxay and Inthapanya guesthouses.

Sainamhai Resort, 3 km SE of town is another good option if you have your own transport.

There's a few more shops with food and drinks in the village too.

Notes & info

-A photo gallery of the area and Laos can be viewed here.

-No entrance fees to enter the forest. You are free to explore the area on your own, without compulsory guides or restrictions.

-The track and trail (1 on my map) have few leeches while mosquitoes were more present in the lowland forest but

nothing too annoying.

-Mostly easy and flat walking but the track and trail "1" have some up and downhills.

-Best timing would be November till early March with wintering species present, it gets extremely hot in April. Rainy

season is normally May to October.

-I'm sure the forests here do get 'some' protection. The trail to Namsanam WF does has trees labelled with the species name,

a sign this is a reserve not only on paper.

-Please note that completely level lowland rainforest as the one found at Na Hin does not exist anymore in North-

Thailand, neither Vietnam! Na Hin is a special place!

-Lao people are friendly, honest and welcoming. This is a very safe place to visit.

-Malaria: Prophylaxis with Lariam, Malarone, or chloroquine is recommended. However, locals told me the area has no more

malaria these days. I would not take any risks in the wet season though but it might be safe to travel without tablets in

the dry/winter season.

-For detailed travel health information on Laos visit; http://www.mdtravelhealth.com/destinations/asia/laos.php

-There's mobile phone reception throughout most of the area.

-Update as of Feb. 2011; Construction on the hydro project in full swing. The town now has to cater for about 4000 workers

which has turned it into a noisy place! End of construction scheduled for 2013, lets hope peace and quiet may return...

202 species, 1 endemic, 03 near-endemics, 03 threatened species (Updated with another 14 additions 17 August 2011)

This bird list is best viewed using Internet Explorer on a speedy connection.

Feel free to print your checklist for use in the field. Please send us any additions using our online form.

New! Download the Na Hin bird list as a Word.doc for easy printing.

Na Hin bird sounds

-12 bird sound recordings, incl. from Spot-bellied Eagle-Owl, have been included in our Dec. '09 trip report. Free downloadable!

-4 recordings from George Wagner, made at Na Hin in December 2009. Thanks for the contribution George!

-A Limestone Leaf Warbler recording might be useful for your visit as birds are said to respond well to tape playback but can

be hard to find otherwise. This is available from Xeno-Canto Asia;

Other wildlife

-Butterflies are present in great numbers. Especially streambeds in the forest have colourful patches made up by butterflies.

-It is still relatively easy to see the endemic Lao Langur (Vulnerable) at Na Hin and nearby Ban Naphong, which is the

same site to go look for Sooty Babbler mentioned above. It is best to bring your telescope if you wish to search for the

Langurs though, as they live very high (safe!) up on rocky outcrops and slopes with forest patches. Good luck scanning!

I managed to find a couple on my last visit which makes me a member of a "very" exclusive fellowship of Westerners to

have seen this (rare, hard-to-find, restricted range) superb mammal species! He, he, anything to get you jealous is a

good reason to make people go visit Laos!!! You won't regret it and don't forget to drink a Beer Lao on me! Thanks.

-Northern Pig-tailed Macaque is another mammal I've seen in the 'forest on limestone' area and also this one is listed

Vulnerable on the Red List.

-The same spot also held a Stripe-backed Weasel that allowed for good looks once.

-Gibbons have been reported a couple times from the area. Probably White-cheeked Gibbons but it's not confirmed yet.

Trip reports & articles

-B2A trip report December 2009. With updates, notes and free downloadable bird sound recordings by Stijn De Win.

-A few trip reports for Laos can be found here http://www.surfbirds.com/Trip%20Reports/laos.php

-Check the article about Nam Kading NBCA (National Biodiversity Conservation Area), which is the protected area directly

north of Ban Na Hin http://www.ecotourismlaos.com/directory/protected_areas/namkading.htm

-Check the article about Phoun Hin Poun NBCA which is the protected area directly south of Ban Na Hin

http://www.ecotourismlaos.com/directory/protected_areas/phouhinpoun.htm

-New report by John Gregory and Pete Antrobus. Na Hin - September 2009.

-Albert Low's excellent write up from the B2A guided trip to Na Hin in December 2009. Site notes go with the map on this page.

Additional info

I first visited the site twice on exploratory trips to Laos on my motorbike. To be able to write this article on the

first properly documented birdwatching site in Laos for hobby birders, I realized I had to find something really special to attract

any interest for the site (and Laos!) at all. It came in the form of Red-collared Woodpecker, possibly the hardest to get

Woodpecker of Asia and seen by only a handful of birders. The bird made it this way onto the Birding2asia logo!

Additionally, Na Hin Forest proved to be an easy site to catch up with Sooty Babbler, only rediscovered in 1994 in central

Laos after a 74-year absence. Before the publication of this article, Sooty Babblers were only regularly seen at the 1 site

in Vietnam that certainly has seen its share of hassle and restrictions for the visiting birder.

Moreover, I found Khammouane Bulbuls at Na Hin in December 2008, long before the official scientific description of the

species (Bare-faced Bulbul) was out, and Na Hin today remains the only confirmed site where

birders can go look for the species safely.

Updated 29th June 2009, stuff added on July 8th and updated again on 2nd August 2009*.

More photos from Dave Gandy added 26 August 2009. New trip report link + list additions on 20 Sep. 09.

Article updated, trip report incl. bird sounds added and bird list updated on 11th Jan 2010.

Trip report added 20 April 2010. Sounds added 9 October 2010. Bird list and page updated 11 February 2011.

Bird list and page updated again 17 August 2011.

You may post comments or updates for this info page using our online form.
This information page published on 21st August 2008 by Stijn De Win. Copyright © Birding2asia.com

All rights reserved.