Where2watch
birds in Asia
Stijn De Win
Asia birding info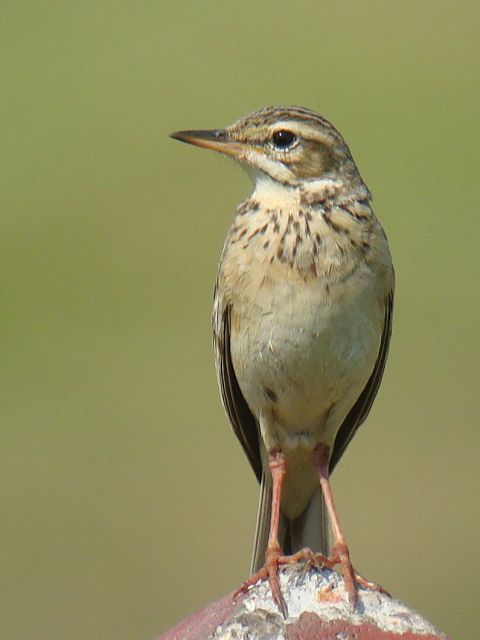 Paddyfield Pipit
More info, less2read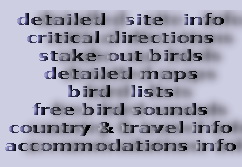 Where2watch
birds in Asia

We power your vacation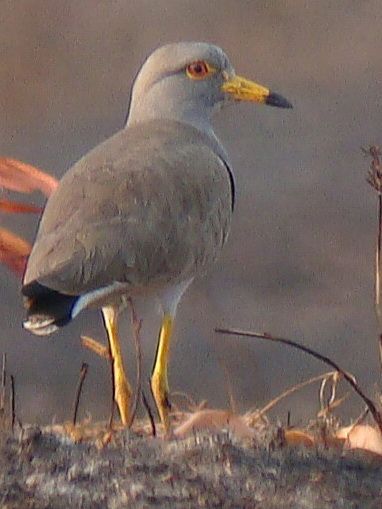 Grey-headed Lapwing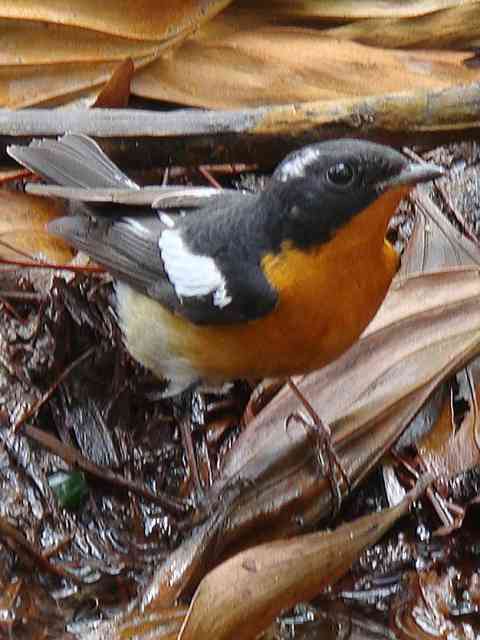 Mugimaki Flycatcher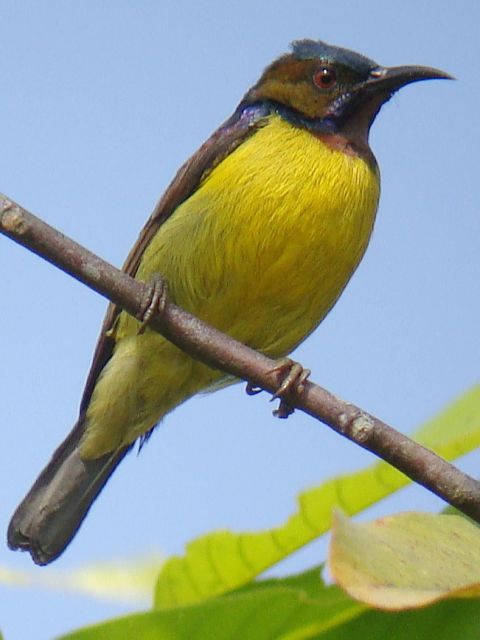 Brown-throated Sunbird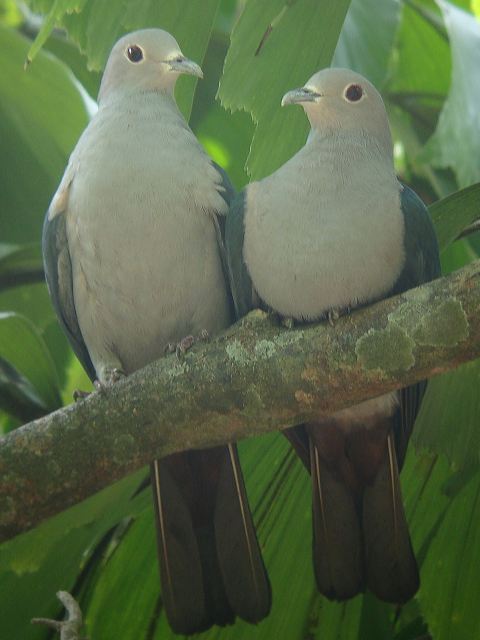 Green Imperial Pigeon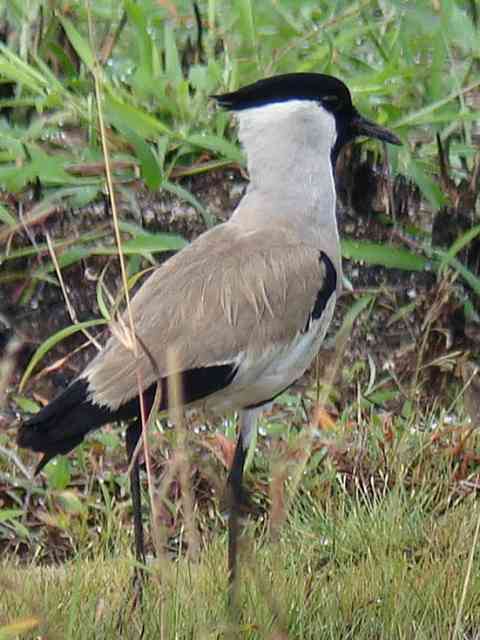 River Lapwing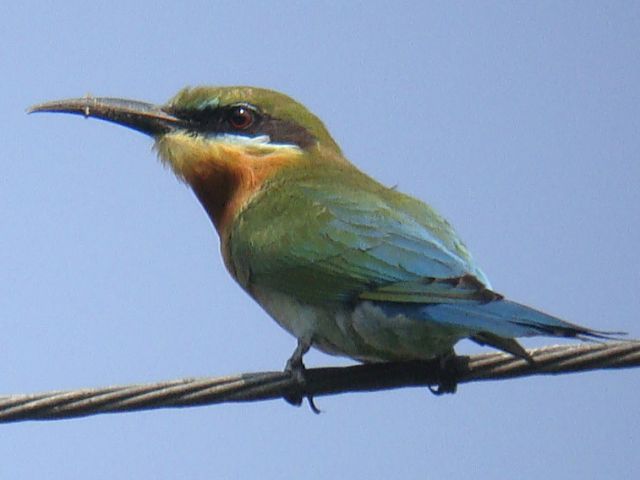 Blue-tailed Bee-eater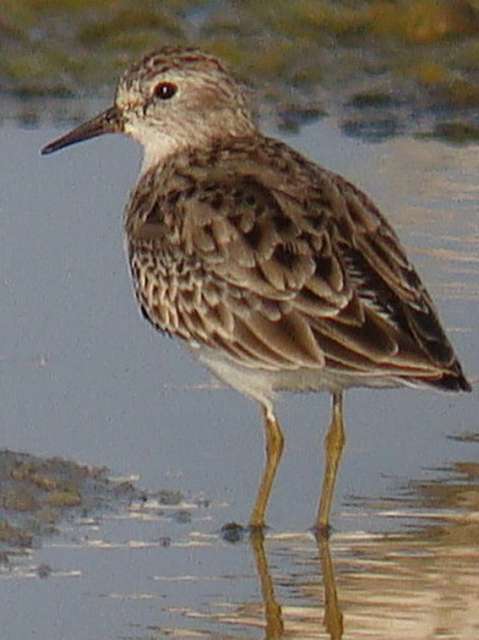 Long-toed Stint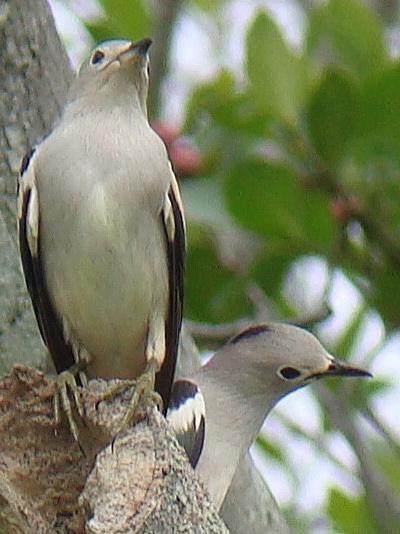 Purple-backed Starling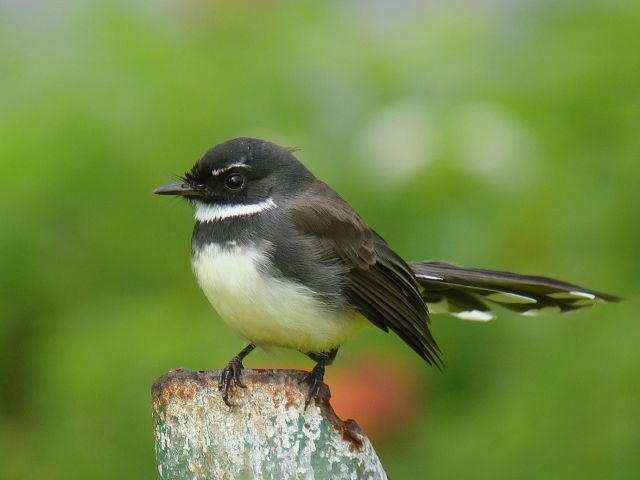 Fried Pantail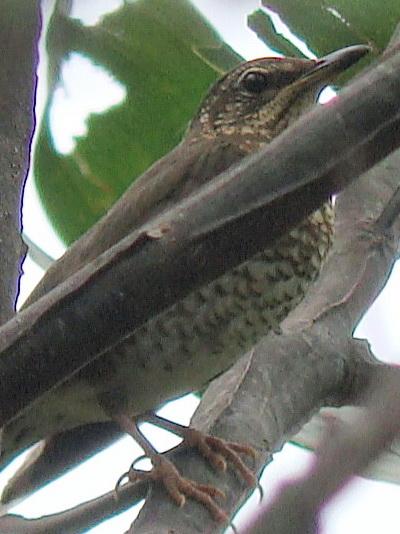 Siberian Thrush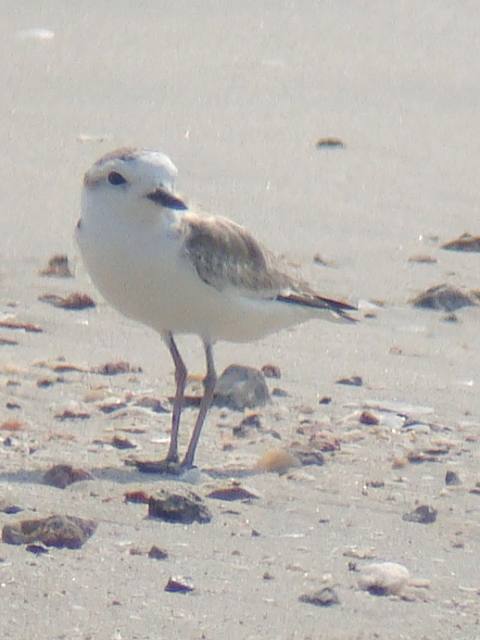 White-faced Plover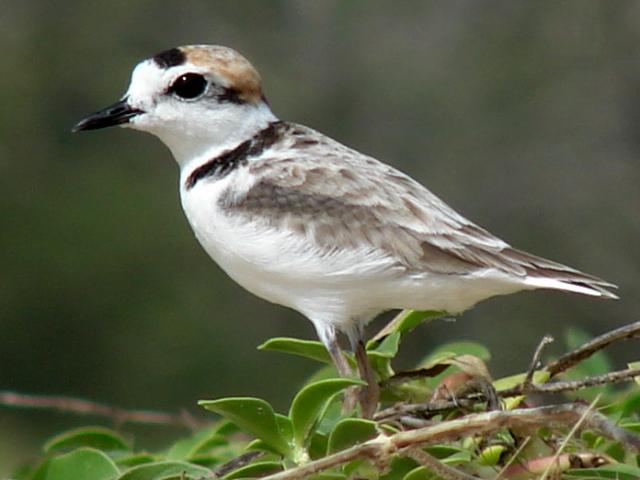 Malaysian Plover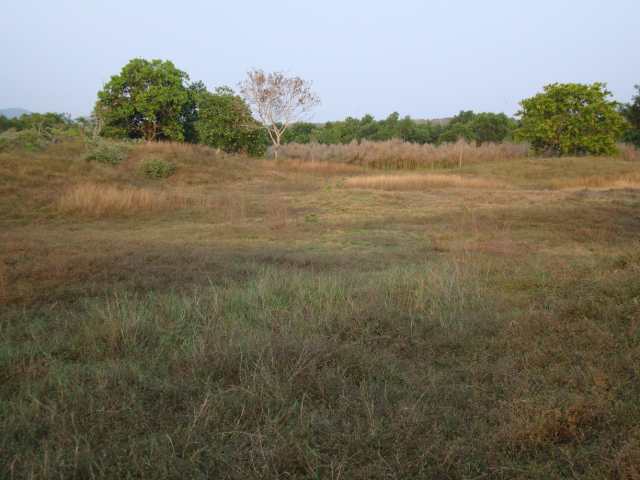 Old golf course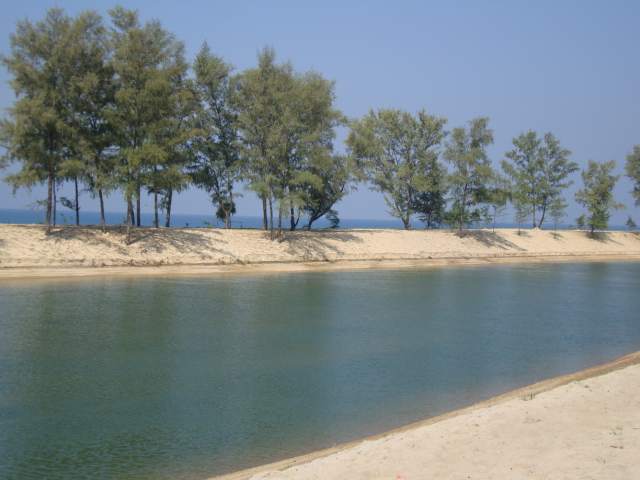 Thai Muang lagoon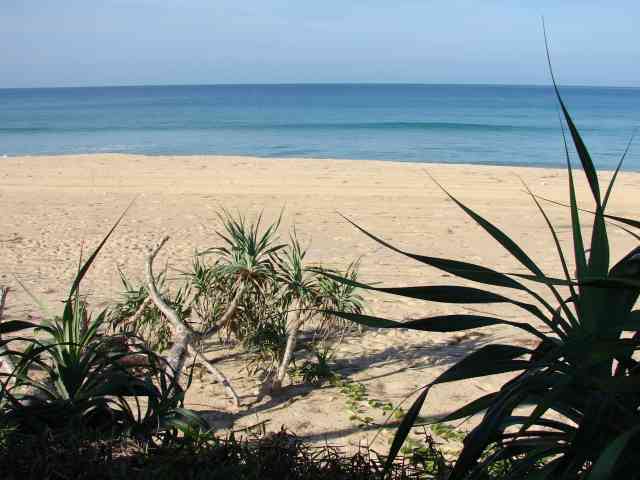 The beach inside Had Thai Muang
National Park -full of ATV tracks...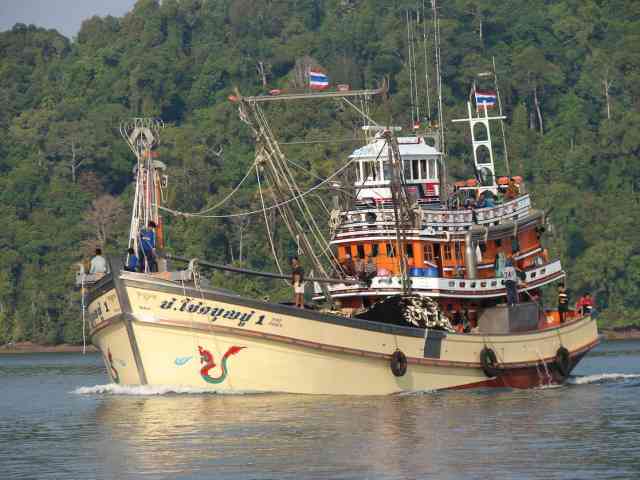 Local fishing vessel, looks
picturesque eh...has 25 crew though
and no dust bin on board...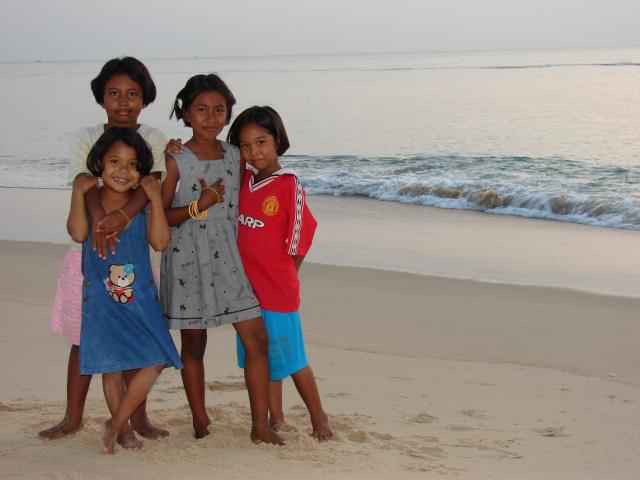 Local kids on TM beach
View from near the lagoon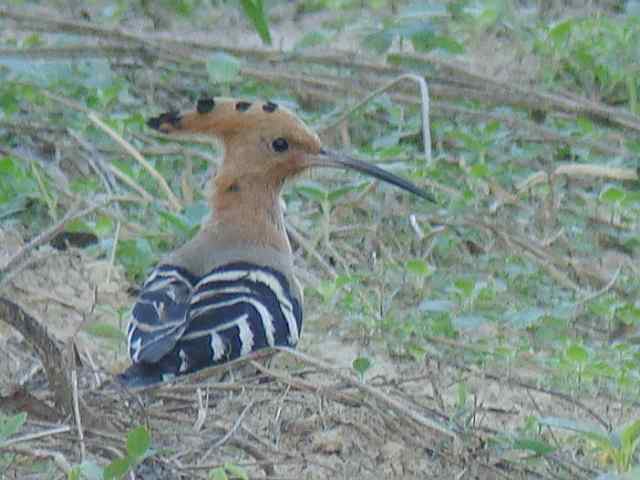 Hoopoe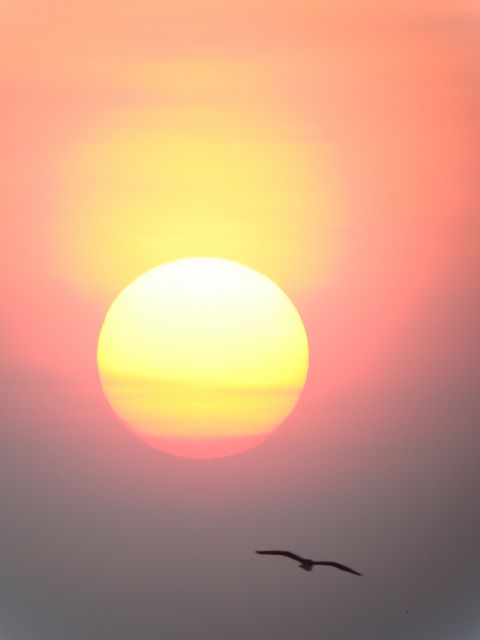 All photos copyright
Birding2asia.com
Thai Muang
Birding the marsh & old golf course in South-Thailand.
Habitats found in the area SW of Thai Muang village in Southern Thailand consist of a marsh which gradually changes into dry buffalo fields towards the seaboard. Several ponds and pools add interest and coastal woodland grows on the dunes that back a beautiful lagoon. A nice white sand beach gives way to the deep blue…the Andaman Sea.
Oh, don't forget what were once the most birdiest greens in the world. The bird list just might prove. 'Birdies' however have long gone. The golf course got abandoned leaving the greens overgrown and yellow. Birdwatching is the main activity these days.
Nobody went birding at Thai Muang…until Stijn came along in the spring of 2006!
As with the now well-known Na Hin Forest in Laos, exploring on the motorbike did the trick and it was actually a Black-winged Stilt (rare in SW-Thailand) that got my attention at first. Soon became clear that this is a special area and it's amazing what excellent species the site has turned up after the discovery back in 2006. Only a few birders have since visited this completely new birdwatching site. No doubt with the first detailed and free info for the birding site made available, on this page, this is about to change.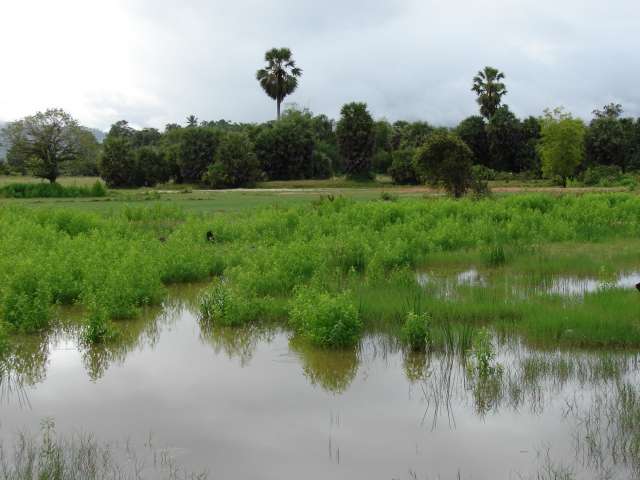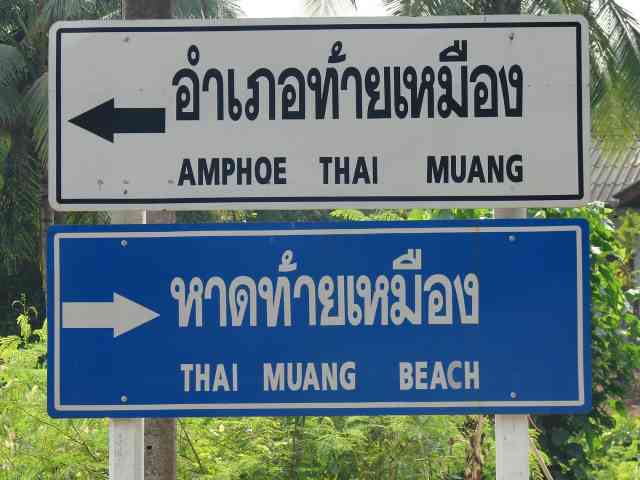 Thai Muang marsh The beach, town…so where IS the marsh, and the golf course??
Key species
A number of resident goodies and regular wintering species inclusive up to 6 species of Starling forms the perfect base for what makes this birding site so interesting –a spot with a high likelihood for rarities to turn up- again here, the list proves.
A remarkable high number of quality and surprise species that turned up opposes a low rate of birding-hours spent so far on the site.
Some of the best birds found include; White-faced Plover, both Great and Lesser Frigatebirds, Black-headed Ibis, Imperial Eagle, Amur Falcon, Pheasant-tailed Jacana, Siberian Thrush, Burmese Shrike and 3 species of Starling rare in Thailand; Chestnut-cheeked, Brahminy and Rosy.
A couple of these sightings are significant. The Burmese Shrike was the very first one to get recorded in the Thai-Malay Peninsula and Thai Muang has had the highest count of Rosy Starling in Thailand ever. (30+) Also 9 White-faced Plovers present in January 2009 might have been the highest count so far for Thailand. A count of approx. 220 (192+) Orange-breasted Pigeons back in January 2007 is no less than 'the' number to beat. An Amur Falcon in Dec. 2010 is a very rare mid-winter record for Thailand and certainly South-Thailand is a long way from the normal wintering range of the species.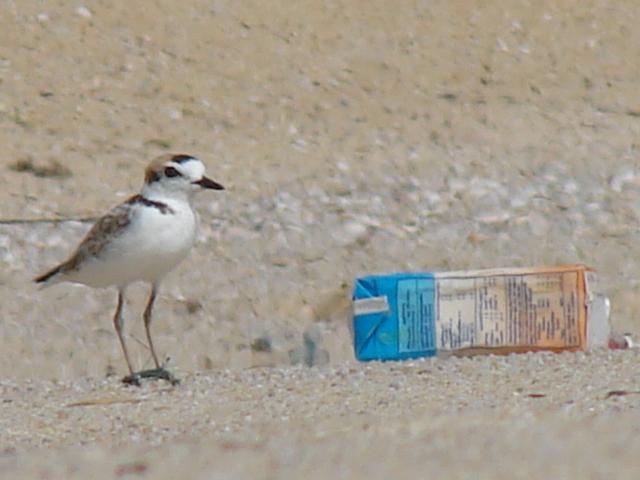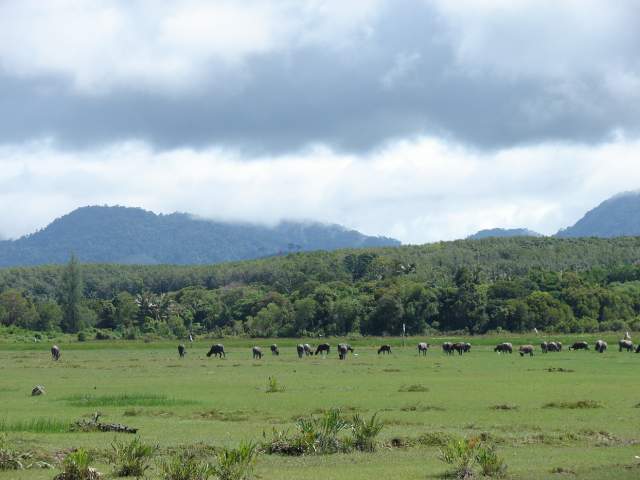 'Rare' (MP) photographed in harmony with 'common', or not? Three Lapwing species, B-b Quail, Pratincoles, Snipes...
Of course, any visit starts with what can be found on a regular basis. Specialities to look for include Watercock, Purple Swamphen, 3 species of Bittern, both River and Grey-headed Lapwings, Slaty-breasted Rail, Blue-breasted Quail, Orange-breasted Pigeon, Spotted Wood Owl, 3 species of Bee-eater, Blue-winged Pitta and of course Starlings. Purple-backed, White-shouldered and Chestnut-tailed perhaps are the most regular. Always look out for migrants, and keep an eye out on the sky for raptors.
Birding
The open surroundings and plenty birds around always make for a nice change to the usually slow forest birding in Southern Thailand. Any visit is likely to turn up a high list total and indeed, Thai Muang is the perfect site to visit in the afternoon after a morning of forest birding. I can think of Tonpariwat Wildlife Sanctuary, Khao Sok National Park and Sri Phang-nga National Park as possible combinations in a single day, all highly likely to get the keen birder a day list well over a 100 species.
Try avoid mid-day hours on sunny days. It can get extremely hot here and shady shelter is only found far and few in between.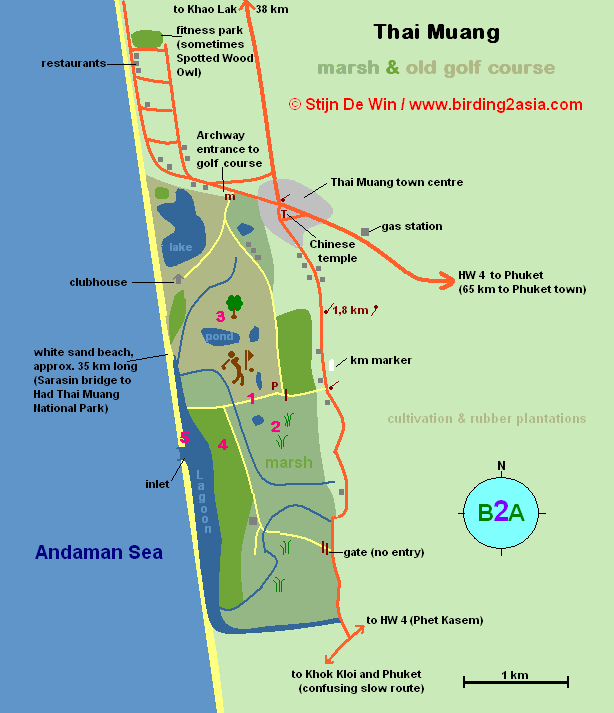 1 The dirt track that runs in between the marsh and golf course probably is the best spot to start your visit. Park just past the gate after you've showed the guard your bird book. "Do knock" might help as this means 'watch bird' in the Thai language.
Once on the track, and immediately on the left after you've left the car, check the high vegetation for reed warblers. Black-browed and Oriental Reed are regular. A pool on the right (golf course) and close to the track is excellent for Watercock and both Yellow and Cinnamon Bittern. Seeing them however, might require for them to get flushed.
2 Further on, scan the marsh and fields, preferable with a scope, for Purple Swamphen and whatever else might turn up. Oriental Pratincoles arrive in March; they breed here and are conspicuous when flying above the expanse.
Closer to the woods ahead and still on the left the marshy area gives way to more dry fields. Check those for both Grey-headed and River Lapwing. If you fail, don't worry, both can also be found on the golf course. When conditions and water levels are right, it is possible to 'walk in' and with luck ('chock dee' might help) flush your Blue-breasted Quail.
3 Anywhere on the old golf course can be good and produce some decent bird species but the 1 area that is highly favoured by Starlings must be around where some huge fig trees grow (3). Make sure you check the waterholes, little woods and bushes, open and overgrown fields, the casuarinas for both Starlings and Orange-breasted Pigeons…just anywhere that looks good to hold birds. You'll find quite a few spots and birds alike. Promised!
4 The woods that grow on the dunes bordering the lagoon are always worth a check for migrants etc. It is here that the Blue-winged Pitta breeds, won't arrive before late April though.
5 The lagoon and beach here are nothing less than superb. I'm merely talking beauty then, although it is here that White-faced Plover and Malaysian Plover have been found. Always check for waders at least. Lesser Sand Plover, Common Greenshank, Kentish Plover and even the 'Common Sandpiper' will bring relief when missed out on the heavy finds.
5,5 Once again, anywhere in the area can turn up good birds so don't refrain from exploring some other spots with time left. It's easy to walk and wander around anywhere here, just take along enough drinking water as it usually gets quite hot.
Pretty sure that a cool dip in the sea will be hard to resist at some point, be aware though that the beach drops steeply into the sea here with dangerous currents quite common. Do not swim if sea conditions look rough, which is more often than not the case. If you still don't get this, try the 'Thai style version' in the photo below. (Watch keeping and reporting for the moving waviness section of mieng island)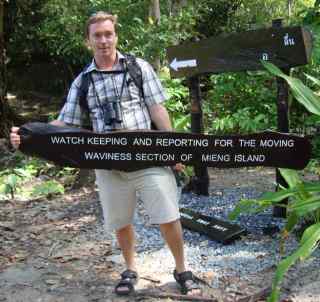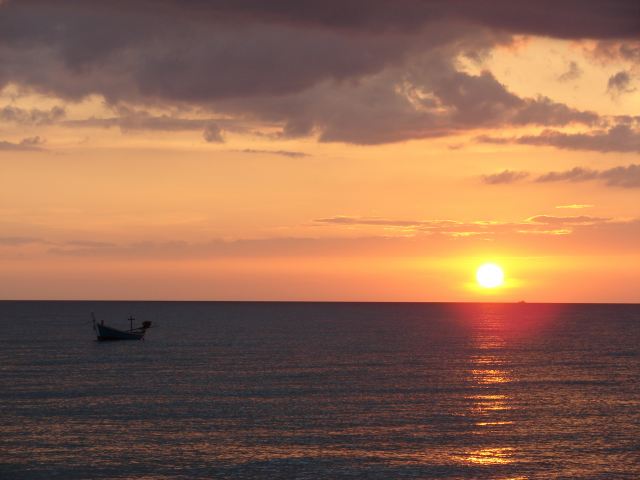 ""Watch sea conditions"" Why not stay after birding? For the sunset, right!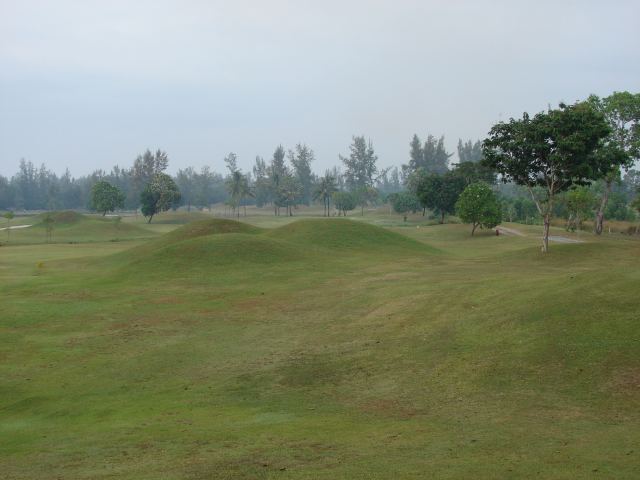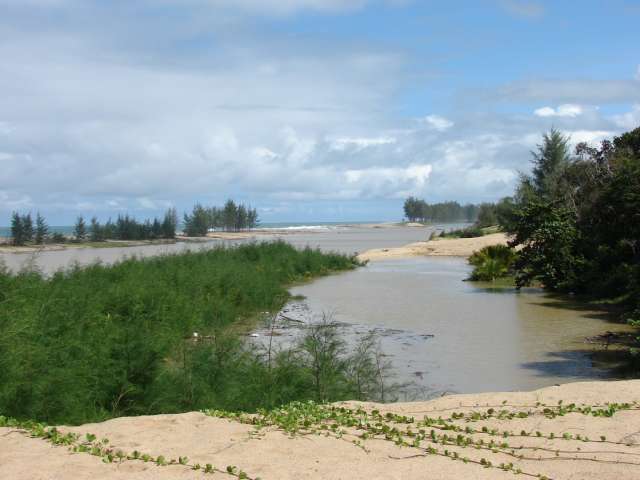 The Golf Course in its glory days. Thai Muang lagoon, also a shot from years ago, the actual
spot it's taken from is private property nowadays…
Getting there & around
As with any birding site in Asia, it is best to have someone with you on your visit, who knows the area and birds. Those with a quest to find such help might just realize they got 'very' close. No need to look further.

Otherwise, -simple and short-, best is to have your own transport. A rental car is easy enough to get but another and cheaper possibility certainly would be to rent a motorbike in Khao Lak for the 38 km to Thai Muang. Which then might come in handy additionally to get around on the site.

Plenty public busses pass by Thai Muang town centre. Most long distance busses however do use a small by-pass to the north of the town so you probably won't notice when you actually got close. Hop off at the right spot from any bus scheduled to ply this route is risky business. Those that manage might then find a local tuk-tuk
or taxi-motorbike in town for the 2 km to the best birding area. To walk from town wouldn't be impossible (enter golf course through archway then) but consider the heat if you set off for the long walk. Take plenty water as there's nothing on site.
162 species, 01 near-endemics, 03 threatened species
This bird list is best viewed using Internet Explorer on a speedy connection.
Feel free to print your checklist for use in the field.
Please send us any additions using our online form.
Download the Thai Muang bird list as a Word.doc for easy printing.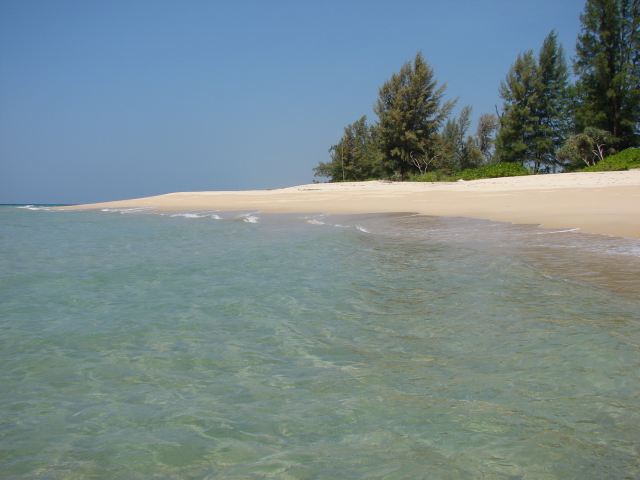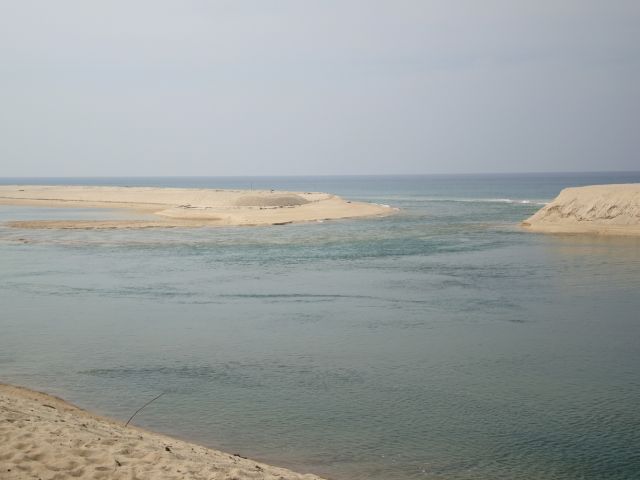 Pristine white sand beach at Thai Muang. The lagoon outlet, beach and Andaman Sea.
Breeding ground for 2 species of Sea Turtle. White-faced Plover, Malaysian Plover...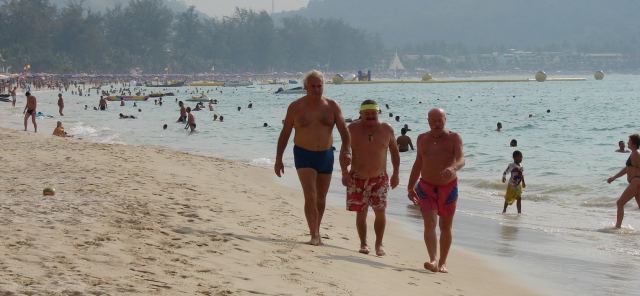 "Meanwhile on nearby Phuket...!"
You may post comments or updates for this info page using our online form.
This information page published 15 May 2010, copyright © Birding2asia

All rights reserved.