Articles
In Focus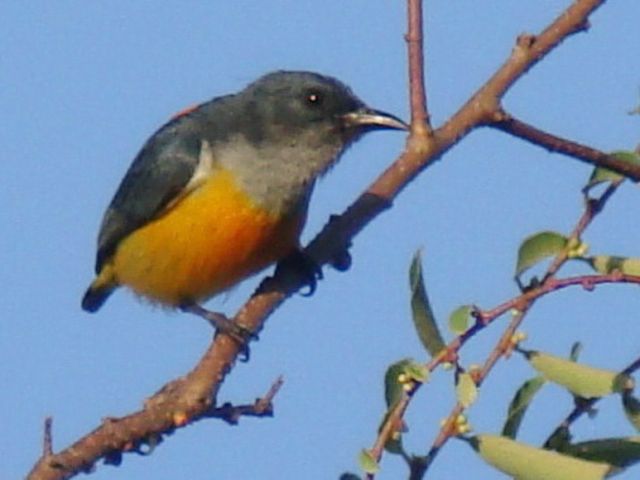 Orange-bellied Flowerpecker
1 out of 5 peckers seen
that morning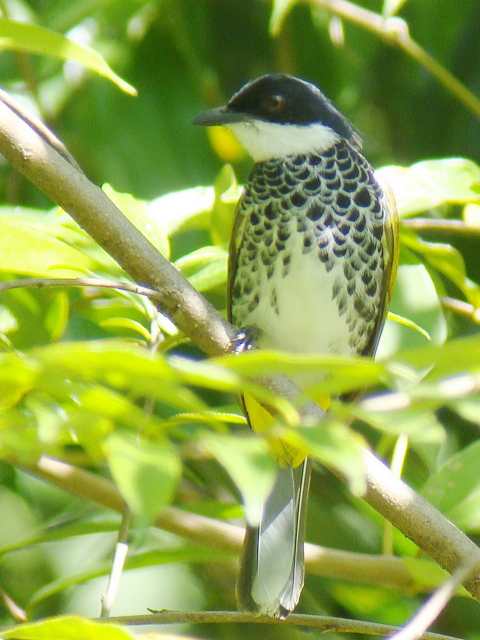 Best looking Bulbul ever?
@
Tonpariwat!
Grey-rumped Treeswift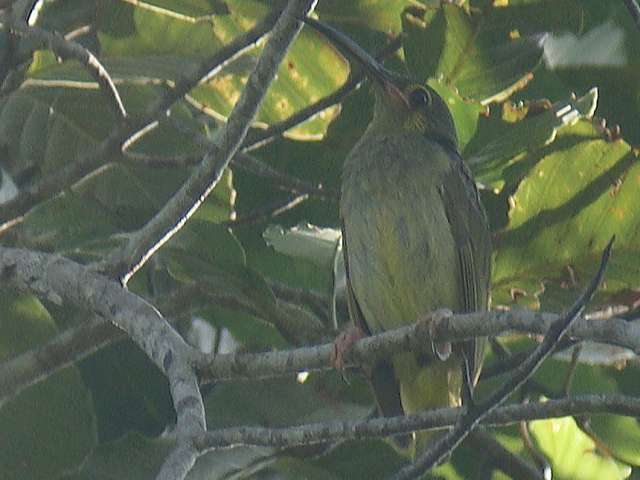 Yellow-eared Spiderhunter
All photos taken at
Tonpariwat WS
copyright
Birding2asia.com

A guided morning birding at Tonpariwat Wildlife Sanctuary, Thailand.
While bird guiding in SE-Asia might be much harder work than many would realize, there's 1 aspect so important that it would make any guide keep going forever…excitement! Yes, we do visit the same areas repeatedly, I reckon some would get bored, but for myself I believe this adds to the intimidate knowledge one gathers about an area and it is sure that no visit can be the same as the previous one. There's always something new and different and I strongly believe that there is no such as a bad morning. All right, the pain wake up even before 5am will always be there but then a positive approach and some fresh enthusiasm takes over soon. A new morning is bound to become good, very good or even better. Excitement fills the air, and then sometimes…very sometimes, it becomes so good you would hardly be able to believe it. Even rarer would be for the impossible to happen, I never thought it would be possible…our morning at Tonpariwat.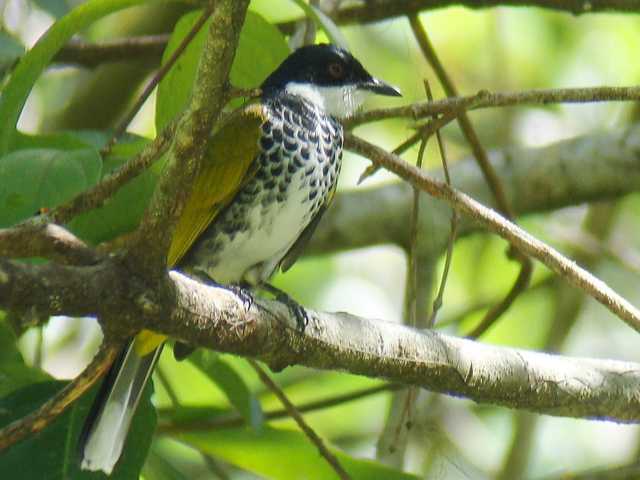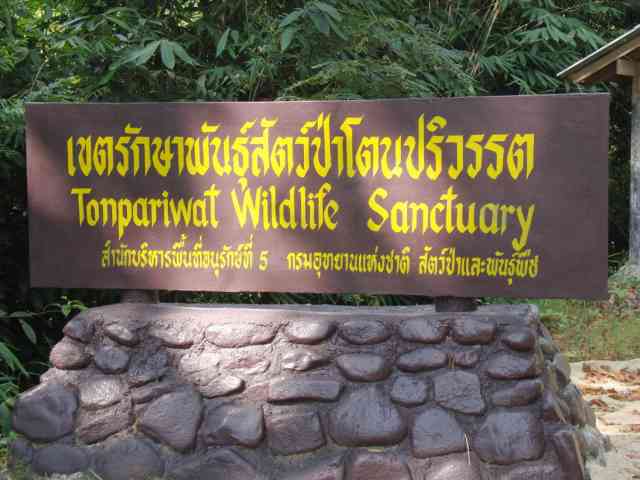 Scaly-breasted Bulbul is one of those excellent specialities regular at Tonpariwat. It's very scarce anywhere else in South-Thailand .
Tonpariwat Wildlife Sanctuary is a large tract of evergreen forest on steep terrain in southern Thailand. The area is largely inaccessible, that is –for everyday visitors and nature lovers- no proper trails, facilities or even forest guards are a feature in many of the smaller reserves in Thailand. So yes indeed, birding is very limited, but the last stretch of road to the headquarters, just about 500m or so, has some of the highest bird activity anywhere in South-Thailand and it is here some excellent roadside birding can be had. The forest immediately next to the roadsides looks like nothing, just second growth with decent trees far and few in between. Yet, this is a special place, and a variety of seeding and flowering scrubs and small trees usually attracts quite a few birds. I might have been over 15 times by now and to compare each of these visits gives one a good insight in what is possible here in a single morning. I would say about 45 species is a nice average score. Fifty would be good and 55 very good. Sixty would be very hard to ever manage and 70 I would have thought impossible…
A single morning birding along a 500m stretch of road, with only a single type of habitat present, yes that is in "slow birding" southern Thailand, and we notched up 73 species…please note that unlimited excitement came to me. Thank you so much!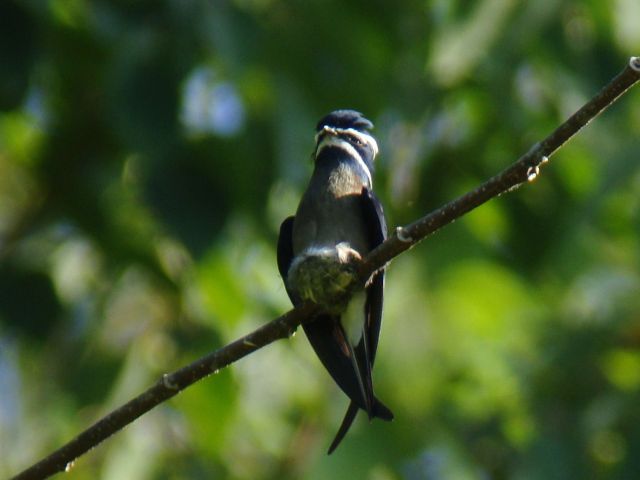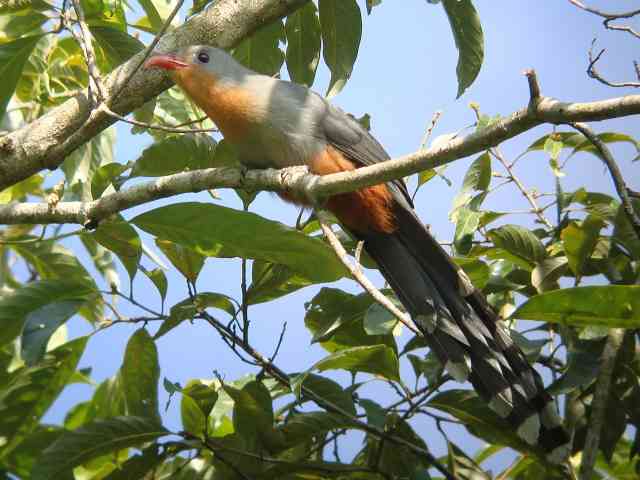 The Whiskered Treeswift breeds at Tonpariwat. We photographed this superb Red-billed Malkoha
If you look carefully, you'll find proof above. on one of our previous visits to the sanctuary.
Seventy-three species simply must include some real goodies and hard to find species! The list is long so will keep myself to a top-ten of favourites. The full morning list can be viewed below.
1) White-throated Rock-Thrush
2) Scaly-breasted Bulbul
3) Red-bearded Bee-eater
4) Green-backed Flycatcher
5) Great Hornbill
6) Banded Kingfisher
7) Dark-throated Oriole
8) Whiskered Treeswift
9) Chestnut-breasted Malkoha
10) Blyth's Hawk Eagle
Aah, can't leave it…too good, here's another half a dozen;
Silver-rumped Needletail, Fiery Minivet, Grey-bellied Bulbul, Mugimaki Flycatcher, Yellow-eared Spiderhunter, Crimson-breasted Flowerpecker.
Coordinates of HQ; 08.36.44 N 98.32.58 E
Altitude approx. 1150 feet / 350 meter

Here's a sound recording I made at Tonpariwat of the superb song of White-handed Gibbon. Usually these can only be heard extremely distant from the birding area. Just once on many visits, on 3 Feb 2010, I was lucky enough to find a single Gibbon right by the entrance. If you didn't believe me so far on high bird activity in the place, listen, you may recognize the odd 10 bird species in the background. Busy spot! You also may have noticed from the sonogram, our Gibbon goes heavy at the end!
Full bird list for 4 hours birding in the morning of 19 January 2010 at Tonpariwat WS, Thailand.
Oriental Honey-buzzard Pernis ptilorhynchus
Crested Serpent-Eagle Spilornis cheela
Blyth's Hawk-Eagle Spizaetus alboniger
Spotted Dove Streptopelia chinensis
Vernal Hanging-Parrot Loriculus vernalis
Banded Bay Cuckoo Cacomantis sonneratii
Chestnut-breasted Malkoha Phaenicophaeus curvirostris
Greater Coucal Centropus sinensis
German's Swiftlet Aerodramus germani
Silver-rumped Needletail Rhaphidura leucopygialis
Asian Palm-Swift Cypsiurus balasiensis
Fork-tailed Swift Apus pacificus
Grey-rumped Treeswift Hemiprocne longipennis
Whiskered Treeswift Hemiprocne comata
Banded Kingfisher Lacedo pulchella
Red-bearded Bee-eater Nyctyornis amictus
Chestnut-headed Bee-eater Merops leschenaulti
Great Hornbill Buceros bicornis
Brown Barbet Calorhamphus fuliginosus
Red-throated Barbet Megalaima mystacophanos
Blue-eared Barbet Megalaima australis
Banded Broadbill Eurylaimus javanicus
Barn Swallow Hirundo rustica
Lesser Cuckoo-shrike Coracina fimbriata
Fiery Minivet Pericrocotus igneus
Bar-winged Flycatcher-shrike Hemipus picatus
Black-headed Bulbul Pycnonotus atriceps
Black-crested Bulbul Pycnonotus melanicterus
Scaly-breasted Bulbul Pycnonotus squamatus
Grey-bellied Bulbul Pycnonotus cyaniventris
Stripe-throated Bulbul Pycnonotus finlaysoni
Streak-eared Bulbul Pycnonotus blanfordi
Spectacled Bulbul Pycnonotus erythropthalmos
Ochraceous Bulbul Alophoixus ochraceus
Hairy-backed Bulbul Tricholestes criniger
Grey-eyed Bulbul Iole propinqua
Streaked Bulbul Ixos malaccensis
Blue-winged Leafbird Chloropsis cochinchinensis
Common Iora Aegithina tiphia
Great Iora Aegithina lafresnayei
White-throated Rock-Thrush Monticola gularis
Eyebrowed Thrush Turdus obscurus
Rufescent Prinia Prinia rufescens
Common Tailorbird Orthotomus sutorius
Dark-necked Tailorbird Orthotomus atrogularis
Yellow-browed Warbler Phylloscopus inornatus
Arctic Warbler Phylloscopus borealis
Pale-legged Leaf-Warbler Phylloscopus tenellipes
Dark-sided Flycatcher Muscicapa sibirica
Asian Brown Flycatcher Muscicapa dauurica
Brown-streaked Flycatcher Muscicapa siamensis
Green-backed Flycatcher Ficedula elisae
Mugimaki Flycatcher Ficedula mugimaki
Verditer Flycatcher Eumyias thalassinus
Grey-headed Canary-Flycatcher Culicicapa ceylonensis
White-rumped Shama Copsychus malabaricus
Black-naped Monarch Hypothymis azurea
Puff-throated Babbler Pellorneum ruficeps
Ruby-cheeked Sunbird Chalcoparia singalensis
Plain Sunbird Anthreptes simplex
Plain-throated Sunbird Anthreptes malacensis
Olive-backed Sunbird Cinnyris jugularis
Eastern Crimson Sunbird Aethopyga siparaja
Yellow-eared Spiderhunter Arachnothera chrysogenys
Yellow-breasted Flowerpecker Prionochilus maculatus
Crimson-breasted Flowerpecker Prionochilus percussus
Thick-billed Flowerpecker Dicaeum agile
Orange-bellied Flowerpecker Dicaeum trigonostigma
Scarlet-backed Flowerpecker Dicaeum cruentatum
Oriental White-eye Zosterops palpebrosus
Dark-throated Oriole Oriolus xanthonotus
Black-naped Oriole Oriolus chinensis
Asian Fairy-bluebird Irena puella
Total number of birds : 73 Check it out; Tonpariwat WS bird list -134 bird species-

P.S. Not about Tonpariwat but on exactly that same day we went for lunch in nearby Phang-nga. Restaurant beautifully set by a mangrove lined channel. Nice food, cold drinks, Mangrove Pitta and Brown-winged Kingfisher calling nearby…and a new sign that made me change my mind about Thailand…I was almost convinced we weren't interested at all in reducing Co2 emissions. We love our gas guzzling massive 4x4s, we do not believe in insulation so the air-cons can keep going at full power…but then, here it is.
We ARE making our contribution after all! Cheers! Love you!
This information page published 27 April 2010, copyright

Birding2asia

All rights reserved.