Birdtours2Asia
Expert guided birding tours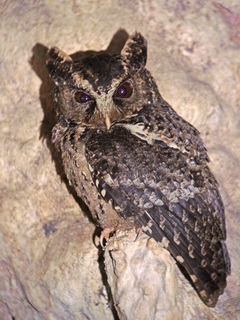 Palawan Scops Owl
Day roost in cave!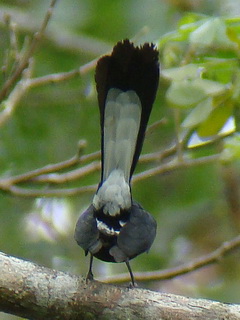 "White-vented Shame"
Irawan Eco Park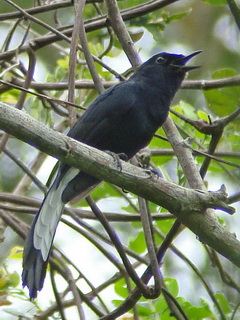 White-vented Shama
Irawan Eco Park
B2A
Join us on a tour and you'll get
Top-quality holidays
Friendly & experienced leaders
Excellent itineraries & trip logistics
Comfortable high quality accommodations
All inclusive competitive tour prices
Small groups - size limit=6
Finest birding in Asia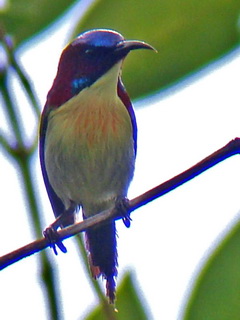 Lovely Sunbird, Sabang

We power your vacation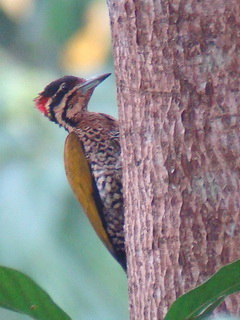 Spot-throated Flameback, Sabang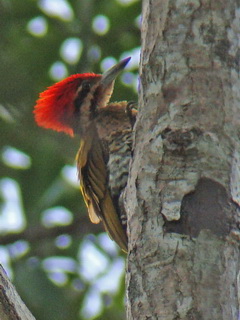 Spot-throated Firecrest, Sabang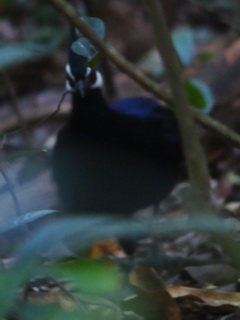 Lurking in the dark!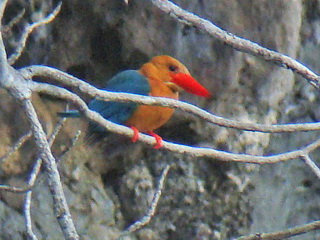 Stork-billed Kingfisher, St. Pauls
All bird photographs taken
'on tour'
are opportunity shots by
Stijn De Win
Copyright © Birding2asia.com

All rights reserved.
B2A Philippines
Palawan extension to our 2013 main tour.
Participants; Jean-Francois Bourhis, Rick Franks,
Colin Lunt, Martin Käch.
St. Pauls Subterranean River National Park, Sabang, Puerto Princesa,
Pandan Island - Hunda Bay, Zigzag Road, Balsahan Trail - Iwahig, Irawan Eco Park
On this page you may find a selection of opportunity shots made on our February 2013 trip.
The classic itinerary of our Palawan trips is posted below.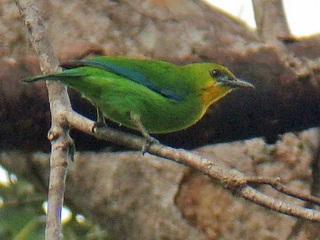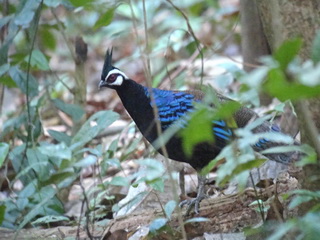 Yellow-throated Leafbird, Sabang

Palawan Peacock Pheasant, St. Pauls NP
Day 1
Morning flight Manila – Puerto Princesa and drive to Sabang with some birding stops on the way. After lunch forest and roadside birding near Sabang incl. visit to 'Cockatoo viewpoint'. Optional nightbirding. Night in Sabang.
Day 2
Boat trip to the Underground River (20 min.) ranger station. The area features some good forest and is home to the Palawan Peacock Pheasant, Philippine Scrubfowl, Stork-billed Kingfisher, White-vented Shama, Hooded Pitta…
Afternoon birding near Sabang, and we have another nightbirding option. Night in Sabang.
Day 3
Last morning birding in St. Pauls / Sabang before the drive back to Puerto Princesa for lunch, with birding stops en-route. Afternoon birding at either Balsahan Trail or Irawan Eco Park. Night in Puerto Princesa.
Day 4
Boat trip out in Hunda Bay where we visit Pandan Island. Mantanani Scops Owl, Great-billed Heron and Grey Imperial Pigeon are the main target species.
Afternoon forest birding at Zigzag Road. Night in Puerto Princesa. (4 day option = evening flight to Manila)
Day 5
Full morning birding at Balsahan Trail – Iwahig Penal Farm. Late lunch in Puerto Princesa and late afternoon flight back to Manila.
Please note that we can arrange similar Palawan trips for a couple or a group of friends at any time of the year. Enquire; info@birding2asia.com

In recent years there has been an excellent chance of finding the critically endangered Philippine Cockatoo at Sabang.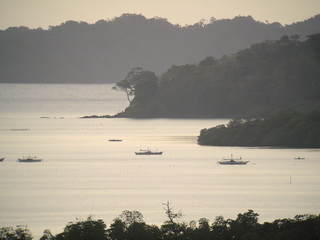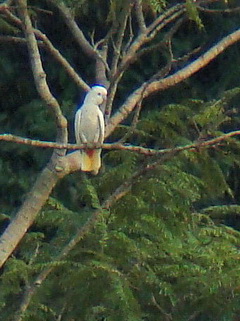 Photographed from the Cockatoo viewpoint near Sabang.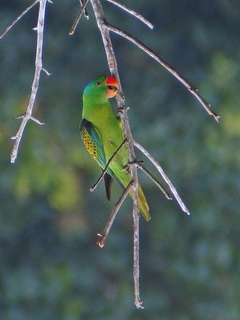 Oeps, posted the same photo twice... sorry to get you confused. Blue-naped Parrot.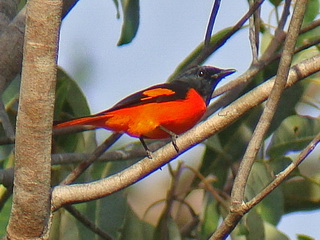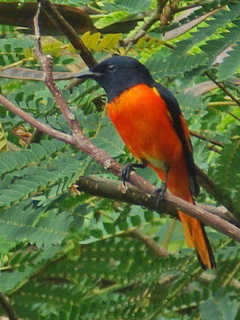 Interestingly, this was a Small Minivet which seems to have transformed at some stage
in a Fiery Minivet... Eh, confused? Me too, no worries! Beautiful bird isn't it!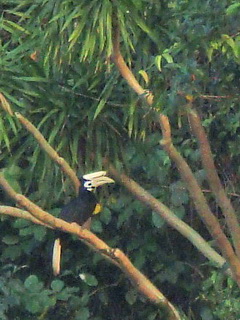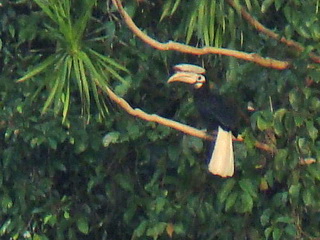 A little distant for superb photos but a good bird indeed, the endemic Palawan Hornbill.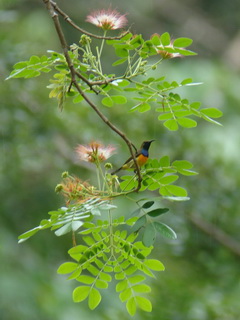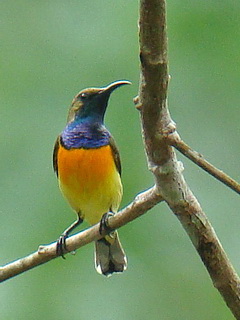 In my humble opinion, "aurora" is by far the best looking Olive-backed Sunbird subspecies.
Here complete with the black border between blue and orange on the breast. (Not shown in the Kennedy fieldguide.)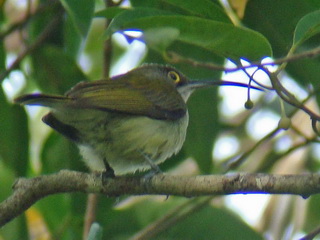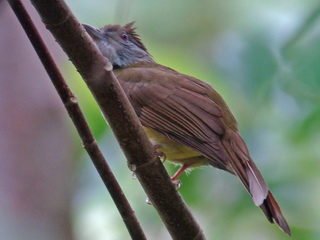 In the category 'recent splits' this Pale Spiderhunter, looking very different from the Little Spiderhunter it used to be.
And the Palawan Bulbul, which looks pretty much exactly the same as the Grey-cheeked Bulbul it was split from...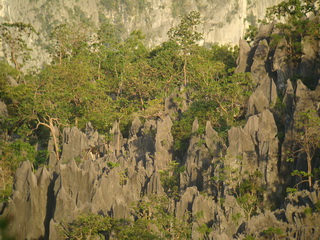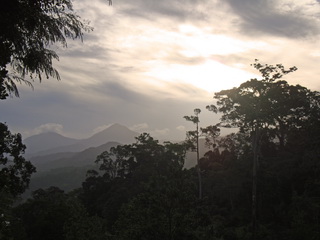 In the category 'Palawan scenery' we have forested limestone karsts looking identical to the ones that feature as Bare-faced Bulbul habitat in Laos...
Palawan has some good forests and plenty mountains.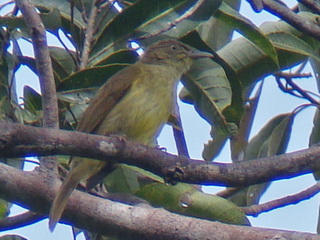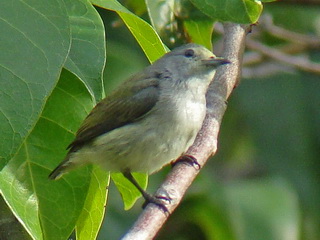 In the category 'dull ticks' we have a Palawan endemic; Sulphur-bellied Bulbul,
and a Philippine endemic, the Pygmy Flowerpecker. Worth the trip alone!!!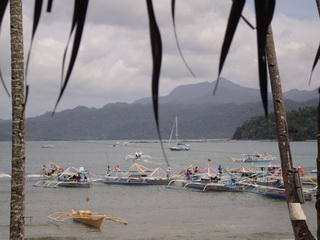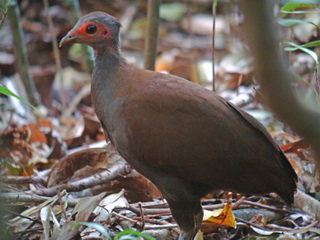 Sabang bay, view from restaurant for lunch. Philippine Megapode, photo not cropped!
Megapode translated from Greek means 'large feet'.
Question remains; Was the bird just close or did
it feature such enormous feet I couldn't fit them in???