Taiwan


Endemics & Black-faced Spoonbills.


Our March 2019 tour reportGroup size max. 5

Sunday 24 March - Tuesday 2 April 2024 ; Tour is full.


Sunday 5 May - Tuesday 14 May 2024 ; Tour is full.


Taiwan is a beautiful, safe and friendly island which offers some of the finest birding in Asia together with some excellent photo opportunities.
Our tour to Taiwan will focus on the many superb endemics and all possible future splits. There's more than endemic taxa on offer though, as Taiwan is one of the best places to see Fairy Pitta and most of the tiny world population of Black-faced Spoonbills winters in the Tsengwen river estuary. (608 seen during our November 2010 tour, which was over 1/3 of the total population at the time.)
Further, there're also a host of more widely ranging but highly-prized species; White-bellied Green Pigeon, Rufous-faced Warbler, Pale Thrush, Ferruginous Flycatcher, White-backed Woodpecker, Collared Finchbill... The rugged mountains of the interior make for some of the most stunning scenery in Asia and the roads, food and accommodation are good with high biodiversity and great habitats another feature. No need to be shy for a statement; Taiwan has it all!!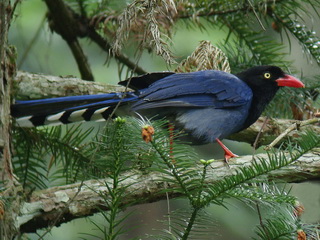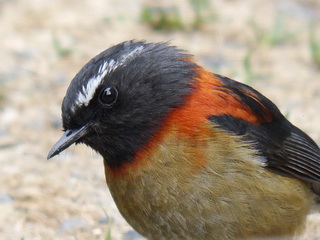 Taiwan Blue Magpie, Huisun Forest Reserve
Collared Bush Robin, Hehuan Pass - Taroko NP
Day 1
Afternoon/evening arrivals at Taipei international airport. The river, rice paddy and fields behind our hotel close to the airport has some very good birding on a quiet road. This may be excellent for those with early arrivals. Birds seen in the area on previous trips include Eastern Water Rail, Siberian Rubythroat, Dusky Warbler, Black-faced Bunting, Oriental Greenfinch, Red-necked Phalarope, Painted Snipe, Taiwan Scimitar Babbler, Pale Thrush, Vinous-throated Parrotbill.

Day 2
After breakfast we'll drive for 2 hours to Anmashan and the famous Dasyueshan Forest where we bird the rest of the day to see our first endemics and more. Besides our first chance to see Swinhoe's Pheasant we should easily pick up Steere's Liochicla, Formosan Whistling Thrush, White-eared Sibia, Collared Bush Robin, Yellow Tit, Flamecrest, Taiwan Yuhina, Taiwan Scimitar Babbler, Dusky Fulvetta...
We spend the night in Dongshih, just down the mountain.
Day 3 + 4
Full days birding Dasyueshan (Anmashan) where we visit the different habitats and ever changing birdlife at various altitudes. We have a first good chance on finding Mikado Pheasant and others to look for include Golden Parrotbill, Taiwan Bush Warbler, White-whiskered Laughingthrush, White-backed Woodpecker, Scaly Thrush, Rusty Laughingthrush, White-browed Robin, Taiwan Barwing...
Day 5
An early start will see us at Huisun Forest Reserve which is an excellent site to find the stunning Taiwan Blue Magpie, Birding2asia's favourite Taiwan endemic. Malayan Night Heron, Red Oriole, Varied Tit, Taiwan Partridge, Chinese Bamboo Partridge and Collared Finchbill are some of the regular goodies at the site. After lunch we will bird at our first site in the Wushe area, Chun Yang experimental Farm which is a site for Rusty Laughingthrush, Vinous-throated Parrotbill, Taiwan Hwamei and Brownish-flanked Bush Warbler. Hotel near Wushe.
Day 6
We spend the morning and afternoon on the famous Blue Gate trail with a visit to some higher areas at the Hehuan Pass in Taroko National Park just before noon. Targets for the day will include Alpine Accentor, Taiwan Barwing, White- bellied Green Pigeon, Brown Bullfinch, Ferruginous Flycatcher, Flamecrest, Vinaceous Rosefinch [formosanus-Taiwan], Taiwan Wren Babbler and Taiwan Shortwing. Same hotel near Wushe.
Day 7
Birdwatching at Bedongyueshan, the best spot for Taiwan Partridge, Rufous-crowned Laughingthrush, Swinhoe's Pheasant and Black-necklaced Scimitar Babbler. A mid-day drive will see us birding in Yushan National Park in the evening. We stay in Alishan, which has hotels in a forest recreation area next to Yushan NP.
Day 8
Full morning birding in Yushan NP with another excellent chance for Mikado Pheasant. Golden Parrotbill and Flamecrest are regular goodies in the park. Collared Bush Robins and White-whiskered Laughingthrush are everywhere and Yushan also is a good place for Taiwan Rosefinch [Vinaceous], Beavan's Bullfinch, Taiwan Wren Babbler and Taiwan Bush Warbler.
In the afternoon we travel to Chiali for the night.
Day 9
Birding the Tsengwen river estuary in the morning; waders, Black-faced Spoonbills... We then move on to Kenting where we bird Longluan lake where Styan's Bulbul is common and this is also a good stake-out for Taiwan Hwamei and Taiwan Bamboo Partridge. We might also bird the Kenting Forest Park, a beautiful area and famous for it's Grey-faced Buzzard migration. Late afternoon return to Chiali town.
Day 10
Today we will have ample time for birdwatching in Huben and surroundings. Good birds in the area include Taiwan Scimitar Babbler, Malayan Night Heron, Besra, Collared Finchbill, Taiwan Partridge, Oriental Cuckoo, Taiwan Barbet and Dusky Fulvetta.
In the afternoon we return to the airport in Taipei to connect with our evening flights.

General info :
Comfortable accommodation in high standard hotels with private facilities. Transport by air-conditioned minibus. Walking is easy and most birding is done on level roadside/tracks/trails. Weather is mild and mostly pleasant, but it can be chilly in the early morning in the mountains. Fog is always a possibility in the mountains and some rain can be expected. Excellent photographic opportunities are a feature on this tour.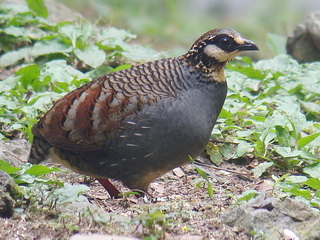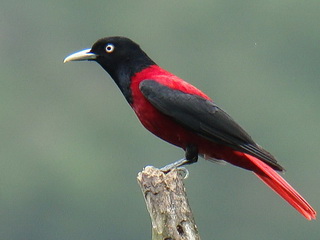 Taiwan Partridge, Anmashan
Red Oriole, Huisun Forest Reserve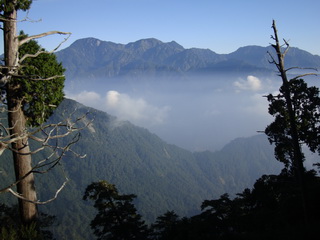 Superb mountain scenery, Anmashan
White-whiskered Laughingthrush, Hehuan Pass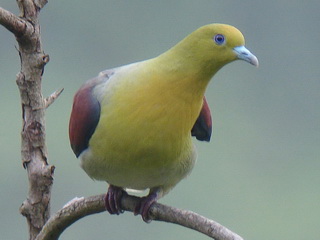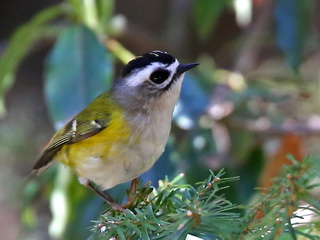 White-bellied Green Pigeon, Wushe
Flamecrest, Dasyueshan Forest Reserve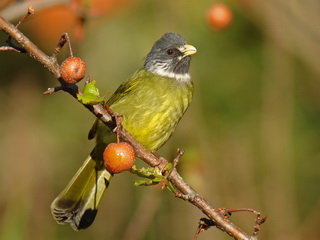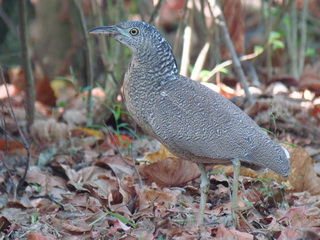 Collared Finchbill, Chung Yang Farm Wushe
Malayan Night Heron, Chuchan Botanical Garden
Home / Top