B

2

A Philippines February 2015 tour report.
Page 2; Mindanao account
Text and photos by Pete Simpson
Mt. Kitanglad, Davao, Picop
Mindanao is a mega diverse island within a super diverse archipelago. For the start of the Mindanao leg the group arrived at the Southern City of Davao and headed straight to Bislig, gateway to the lowland forest of PICOP. Forest birding would wait until our first full day but this first afternoon we spent a relaxed and enjoyable few hours at Bislig airfield. Philippine Duck and Wandering Whistling Duck were seen flying high over the marsh. Yellow, Cinnamon and Black Bittern flying closer and lower. A female Watercock perched obligingly for extended scope views. We had a brief glimpse of a Purple Swamphen but not the Philippine subspecies (some consider it a full species), this was of the black-backed variety. This was a first record for Philippines earlier in the year and the birds here are further evidence of an irruption across Southern Mindanao of these birds from Indonesia or Borneo. Late afternoon the Blue-breasted Quail ran briefly onto the airstrip to feed. An Eastern Marsh Owl gave excellent views in response to Zardo's "distressed small animal" calls. Finally, after the sun set, we had a great encounter with Philippine Nightjar.
Day 2 Owling on the morning of the first full day was frustrating with Giant Scops Owl and Mindanao hawk-Owl heard but not seen. The showy Great Eared Nightjar seen well was little compensation but we would have more dry mornings to try for the endemic owls.
Over breakfast at the Quarry we tracked down the calling Rufous-lored Kingfisher, perched atop a high tree. Soon after 6am we started to walk the quarry trail but were soon into the bushes to track down Azure-breasted Pitta, great views all-round made for an excellent start. It was a glorious sunny morning and the birds were in full song. Philippine Drongo Cuckoo and Philippine Magpie Robin were seen early on. Philippine Leafbird stayed high in the trees but Purple-throated Sunbird were more obliging. The pigeons were vocal and a group of Philippine Green Pigeon were watched feeding in a fruiting tree. Black-bibbed Cuckoo-shrike and Philippine Oriole were picked up on call and seen well. The morning got hotter but the bird activity remained high with Mindanao, Rufous and finally Writhed Hornbill all being seen. Yellow Wattled and Yellowish Bulbul were calling all morning and seen well. From the open forest at the start of the trail we ventured in to the closed forest which gave us Red-bellied Pitta and mixed flocks including Mindanao Blue Fantail. On the way out we had a fly-by White-bellied Woodpecker. Before we headed back for lunch we were treated to a perched Blue-crowned Racquet-tail.
Soon after lunch we identified Philippine Honey Buzzard and later Pinsker's Hawk Eagle, the latter bird calling made that identification easier. Pygmy Swiftlet were common in the area. After the large raptors we spotted the smallest, Philippine Falconet. In to the forest we tracked down Black-faced Coucal, then in a mixed flock, Rufous Paradise Flycatcher and brief views of Short-Crested Monarch. Mindanao had suffered a dry spell from the start of the year but rain during the night had left deep puddles in the rough roads through PICOP. On our drive out we had excellent views of Barred Rail and then Plain Bush Hen bathing in the puddles. Our last stop on the way out was as the pond for Southern Silvery Kingfisher, and the bird did not disappoint. We all got our fill of this little Mindanao gem.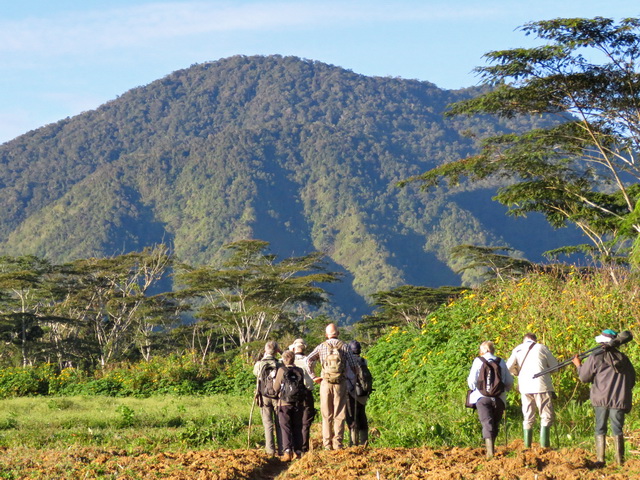 Group 1 in action; Birding on Mount Kitanglad.
Day 3 We made a longer drive for owling on the second morning and were rewarded with views of Mindanao Hawk Owl and Giant Scops Owl. Unfortunately the Chocolate Boobook we heard was too far to respond and show itself. Soon after dawn we headed in to some of the best remaining forest in PICOP, road 42. The babblers were active early on with Brown Tit-babbler, Mindanao Pygmy Babbler and Rusty-crowned Babbler showing well. After some work we coaxed out Black-headed Tailorbird while overhead we had Philippine Needletail bombing through. Philippine Trogon, though widespread, is too beautiful a bird to be ignored and the Scarlet Minivet were worth looking at closely as they are the southern Mindanao race negroleutus with the yellow male. A flowering tree gave us Metalic-winged Sunbird and Orange-tufted Spiderhunter. Blue-capped Kingfisher was tough but eventually showed. Buff-spotted Flameback followed a mixed flock that was led by Rufous Paradise Flycatcher. We heard a major target, Celestial Monarch, but failed to see it on this day. Philippine Fairy-bluebird showed briefly as our PICOP list was getting close to complete.
Day 4 Owling on our last full day was a wash out so birding started at dawn at the cemetery. From the outside a Violet Cuckoo perched and called and once on the trail we all managed to see the skulking Striated Ground-babbler. A mixed flock gave us repeat views of Short-crested Monarch and back outside the forest Naked-faced Spiderhunter perched in the same tree where Violet Cuckoo had been earlier.
On the way to the quarry we were again able to look at the large resident raptors, this time perched Philippine Honey Buzzard and Pinskers Hawk-eagle. At the end of the quarry trail we had a mixed flock that included Yellow-bellied Whistler and our wished for Celestial Monarch. Outside of the forest a fruiting bush held Olive-backed Flowerpecker. To the pigeon list we added Black-chinned Fruit Dove and Pink-bellied Imperial Pigeon on the way out. We were a little disappointed to leave the forest on our last full day without any sign of one of the main targets for PICOP, Wattled Broadbill.
Day 5 It was our last chance, a half morning in PICOP that I had earmarked for a leisurely stroll around the waterfalls at Tinuyan. But we had a gap in our list so hit the quarry trail early, we were on a mission. Time was running out when we clinched it, Mindanao Wattled Broadbill sat quietly just above the path, long enough for good views and even a reasonable record shot. We left PICOP happy with our haul and again had confirmed that despite the ongoing destruction, what remains of the forest here still holds the birds. In the afternoon we transferred to Davao City. While our first tour had managed many of the Mindanao mountain endemics on Kitanglad, we did focus this time on birding near Davao. Until just a few years ago there was no alternative to Mt Kitanglad to see the many high elevation Mindanao endemics, but now there is Davao. While there is great overlap in species between both mountains, it looks like the Philippine Eagle watching is better and less distant here in addition of a few bonus species not otherwise seen at Kitanglad.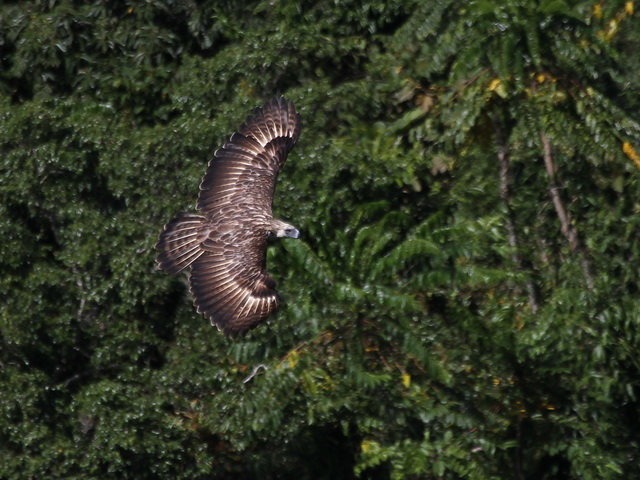 Davao is an excellent place to see the Philippine Eagle as proved on our second tour.
Day 6 From a comfortable hotel on the outskirts of Davao City it was just a short drive and shorter walk to the nest site of Philippine Eagle. We would spend the day on the mid-altitude slopes of Mount Talomo, but within the mount Apo Natural Park. It was just a half hour walk to the ridge line where we looked down into the deserted nest, but we knew in advance that the nest would be empty. Young Philippine Eagles are tended by their parents for more than one full year so a pair breeds only every other year. This nest was active at the start of 2014 and visited by many bird groups and photographers, but few have been since the young bird fledged in May 2014. We knew that the young bird had remained in the area and had a good chance of a sighting, but not guaranteed as it was a year ago. On arrival we waited ten minutes before hearing the plaintive call of the hungry youngster, great to have its presence confirmed. Philippine Eagles can be lazy, a well fed bird can sit hidden for much of the day. That this young bird was so vocal indicated it was hungry so we were hopeful. Hope turned to celebration soon after when we saw "the king of birds" fly across the valley and perch in the open, great scope views all-round. We had assumed this was the young bird but when those begging calls continued from a different direction we realized we were looking at an adult bird, probably the female. The adult bird flew again and was joined by a second adult, and then the young bird flew. We had three of the biggest, rarest and most sought after eagles in the world putting on a show in the valley in front of us, and it wasn't yet 10am. To go with the largest raptor we also saw the smallest, Philippine Falconet, and our first Philippine Swiftlets.
Late morning we moved around the mountain and to a slightly higher altitude where the cool air meant no drop in activity in the mid-day sun. Our target was Whiskered Flowerpecker and with two pairs holding territory it didn't take long before we had them in the scope. In under two hours birding we added Stripe-breasted Rhabdornis, Cinnamon Ibon and three more flowerpeckers - Olive-capped Flowerpecker, Buzzing Flowerpecker and Fire-breasted Flowerpecker.
For the remainder of the afternoon we walked the mountain trail of Eden Resort. The target bird is never easy, being true to its name, but we all got on to the tiny enigmatic Cryptic Flycatcher. We also had Silvery Kingfisher here.
Day 7 A full day on the higher slopes of Mount Talomo. Just forty five minutes walk from the drop point we were in to the forest at 1200masl. Metalic Pigeon was identified as it flew past and returned with a little tape playing. Grey-hooded Sunbird was the first of the Mindanao montane endemics on the list. The walk up was quiet, not a mixed flock in sight, but that allowed us to reach the lunch area at 1500masl well before lunch time. Just as we arrived a mixed flock was passing through with Rufous-headed Tailorbird, Cinnamon Ibon, Mountain leaf-warbler (Negros), Mindanao White-eye, Mountain White-eye, Sulphur-billed Nuthatch and Turquoise flycatcher. While we were sorting through the mixed flock the porters had got the kettle on. After a coffee break we headed up to 1650masl. Here we had amazing perched views of Mindanao Racquet-tail, under the canopy at near eye level. In the same area we encountered a very noisy group of Apo Myna, we had them perched high and then again, down under the canopy. We headed down to 1500masl for lunch but then the rain started. It was a long wet descent but we managed to add Phils Hawk-cuckoo and Flame-crowned Flowerpecker to the list.
Day 8 Our final few hours before the flight from Davao were spent at a small forest fragment at 700masl. Unfortunately pre-dawn rain meant we only got a quick response from the Philippine Frogmouth. Cryptic Flycatcher was seen briefly and we heard the still undescribed subspecies of White-browed Shortwing that is present in lower altitudes only on Mindanao.