B

2

A Taiwan birding tour report.
Endemics and Black-faced Spoonbills, 24 March - 2 April 2019

Participants; return clients Tim Key (UK) and Shane Woolbright (USA),
Pete and Marjolein Lewis (UK), John Drummond (USA) and Stijn De Win (your guide...
Anmashan-Dasyueshan, Huisun Forest Reserve, Wushe area, Tsengwen Estuary,
Kenting, Jiji Endemic Research Gardens, Pingtung county, Yushan National Park
Our 2019 trip marked 10 years of B2A tours to Taiwan after I first explored this beautiful place in 2007. One may get to know the island pretty well, and travel to Taiwan may have become routine but love for "Isla Formosa" and it's birds has not faded a bit. I went to enjoy some pre-tour days again and this time was extra special because the family came along. We did the north and east coasts including the impressive Taroko Gorge. Fewer birds may be found there than on the tour route but beautiful landscapes abound and a few good spots to pick up some migrants are a welcome bonus. I added Japanese Cormorant, the all time favourite Hoopoe and a superb Himalayan Owl to my personal Taiwan list.
The tour, as it's always been, was just as successful and we did well finding all the endemics and some excellent bonus species like Dusky Fish Owl, Mountain Scops Owl with photos, Yellow-throated Marten, Red-flanked Bluetail and a rare vagrant Cotton Pygmy Goose. As in previous years, Taiwan Green Pigeon performed superb again at our mainland stake-out (sorry for Lanyu Island ;-)… If a birding area is in your heart it isn't all that hard to perform well on a tour while it may be very tempting to list all of the highlights. There may be no need, I think people may get the message; must visit Taiwan! It's increasingly popular and super rewarding indeed.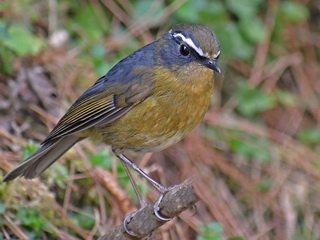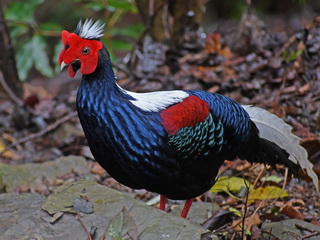 White-browed Robin, Yushan NP

Swinhoe's Pheasant, Anmashan


Many thanks go out to the participants of this trip. To have a group of nice people simply is a key ingredient to any successful tour and isn't it good to note this group again included return clients. Thanks.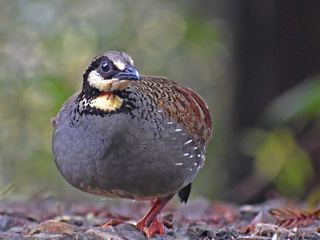 Taiwan Partirdge, Dasyueshan

Taiwan 'Vinaceous' Rosefinch


Some light rain on and off didn't hold us back birding the lower reaches of Anmashan on the first day with some great results. The Anmashan / Dasyueshan areas remain one of the most important birdwatching sites of Taiwan and most of the endemic birds call the place home. Taiwan Hwamei is such an excellent songster and pretty much the first endemic enjoyed. Korean Bush Warbler was a nice find and a good job of our group was also picking up 2 Rusty Laughingthrush such early on the tour. They can be tricky to find so pressure off getting this interesting species. With the time right and 'on' stake-out both Taiwan Partridge (6 birds) and Swinhoe's Pheasant were showing well and of course they proved favourites for everyone in our group.
With the weather cleared towards the evening we were soon in position waiting for a first great bonus on the tour. It wasn't long before Pete first picked up the shape of the Tawny Fish Owl coming in from its day roost. While both Buffy and Brown Fish Owl are reasonably easy and regularly encountered in Asia, the Tawny's status fits that of a big Owl both in size and quality on our list.

Taiwan Blue Magpie, Huisun Forest Reserve

Much improved weather greets us on day 2 and I know immediately Dasyueshan will deliver at the higher elevations. How can it be more perfect, we are on schedule with the target species and have plenty time to enjoy the commoner endemics on our way up; Taiwan Yuhina, White-eared Sibia, Taiwan Whistling Thrush... not forget the many specialities; the only 2 Ashy Wood Pigeons noted on the tour, White-backed Woodpecker showing close-up for everyone, "owstoni" Eurasian Nutcracker... Once higher up the road, Taiwan 'Vinaceous' Rosefinch always is a highlight and we start to see the first Collared Bush Robins. Formosan Rock Macaque and Perny's Long-nosed Squirrel entertain before we put in effort for Taiwan Bush Warbler. First it skulks, then a glimpse, starts singing, then comes out and shows to all what a little character he is. It becomes both the cute and vocal highlight of the tour. I have him as my wake up ringtone on the phone sure enough. Now it's time for lunch in the field but we didn't get the peace and quiet initially expected. Some very friendly Taiwanese birders note a Mikado Pheasant is showing nearby! The sandwich, salad and yoghurt can wait, all run to twitch!!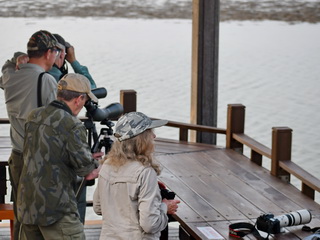 Black-faced Spoonbill hide at Tsengwen lagoon

Mountain scenery, Anmashan


We enjoy a relaxed afternoon in the high mountains and birding is pleasant with some goodies turning up for the crew. The endemic Yellow Tit is not to be missed, an excellent male Red-flanked Bluetail showing in full plumage on a photographers stake-out, White-whiskered Laughingthrush, Rufous-faced Warbler, Yellowish-bellied Bush Warbler. In the evening Savannah Nightjar call overhead as we head for our all fresh cooked Taiwanese dinner (and a beer) in our well know local restaurant. After dinner we have the option to go owling; all "in" of course and with great result; the often difficult to get Mountain Scops Owl showing rather perfect for everyone. This was a great day!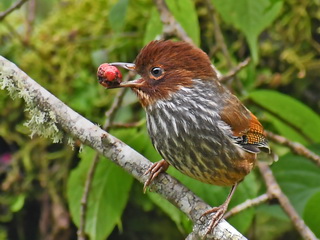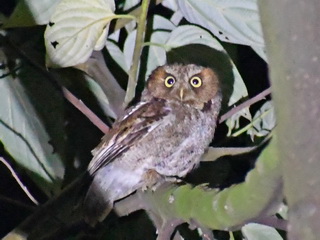 Taiwan Barwing, Wushe
Mountain Scops Owl, Anmashan


Day 3 on Anmashan always needs focus on any remaining target birds. We must get a very few tricky ones and we hit it straight with a couple Black-necklaced Scimitar-Babblers showing at exact the same spot as they did last year. The more common and easier to find Taiwan Scimitar-Babbler wasn't less of a joy nearby while we add both Brown-headed and Scaly Thrush to our lists. White-bellied Pigeons are always nice and easy in Taiwan but usually more difficult elsewhere in SE Asia. Higher up Dasyueshan we experience our first tiny Flamecrests, the scarce "tancolo" Grey-faced Woodpecker and the Northern Wren "taivanus" subspecies. Black Eagle, Collared Finchbill and Silver-backed Needletail are some nice additions on our last Anmashan afternoon.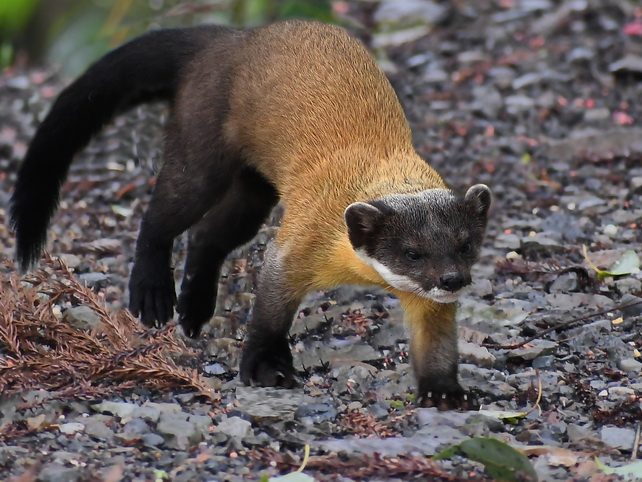 Yellow-throated Marten in Yushan National Park
Huisun Forest Reserve is a special place. Not only does it hold my favourite endemic bird, the Taiwan Blue Magpie, this is a beautiful area of dry pine forests next to a steep gorge including dramatic scenery. I know at least 3 different groups of Blue Magpies in the reserve and we have no difficulty finding them. In fact I'm confident they can't be missed so today is just about the beauty and joy of fine weather at a very pleasant birding site. Our camera shutters keep busy not only with the Magpies, two tricky target birds are on schedule. The handsome Chestnut-bellied Tit comes in unusually low for good photos and the "Red" (Maroon) Oriole, -the site may only have two pairs-, shows well after a bit of effort we put in. It's well worth it, this Oriole simply is one Scarlet gem!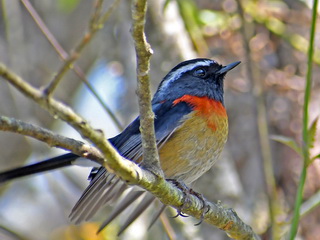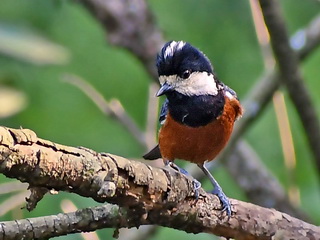 Collared Bush Robin, Yushan
Chestnut-bellied Tit at Huisun Forest Reserve


We're up early for our ascent into Yushan National Park. No, not the tough walk just a bit of a longish drive but on a good road including fantastic landscapes and passing "the" Giant Cypress, been there a 1000 years. Once arrived in our birding hotspot it's an easy stroll loaded with birds. White-browed Shortwing and Owston's Bullfinch are important as is Taiwan Fulvetta and White-browed Bush Robin, all new for the trip. Repeat sightings of Taiwan Rosefinch, Flamecrest and Collared Bush Robins also keep the photographers happy and very busy indeed. Then, out of nothing, appear 2 Yellow-throated Marten putting up an incredible playful performance. I have seen this mammal quite a few times in Thailand and also on Borneo but this is the first time in Taiwan and I'm grateful for my best shots ever while the pair has no effort to entertain all of our group.
In the afternoon we enjoy some very different birding at the Pheasant-tailed Jacana reserve. We count no less than 125 birds, hard to imagine this concentration with no further Jacanas left anywhere else in Taiwan. Then we did find the Cotton Pygmy Goose, an extreme rarity in Taiwan and nice to pick up this vagrant which had already been present in the reserve for a good week or so. About 15 Oriental Pratincoles mark the end of another excellent day.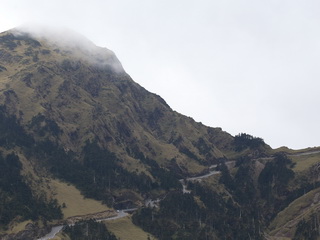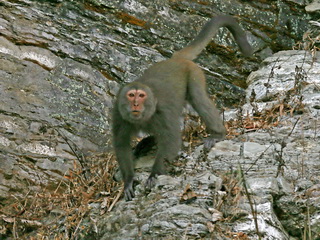 Scenery on the Hehuan Pass of Taroko NP
Formosan Macaque, Yushan


Today we're off to Pingtung and Kenting in the far south of the island. This is the "twitch" day of the trip visiting a few special spots for a couple quality endemics not available elsewhere on the tour. A pleasant walk around a lake reveals a small flock of the highly localized and scarce Taiwan Green Pigeon still present on their wintering grounds. It's said these birds would be off soon to Lanyu Island for the breeding season. Further south another stroll brings us to Longluan Lake. This is an important stronghold for the Taiwan Bulbul which is threatened by interbreeding with Light-vented Bulbuls. Hybrids have now moved as close as a few kilometers drive to the north of this area.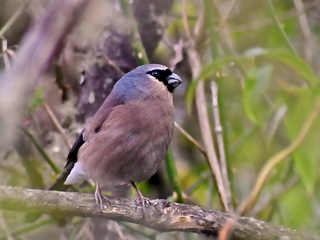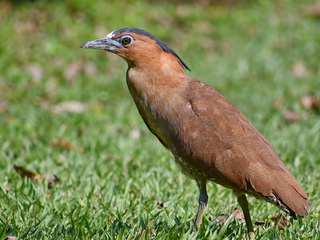 Grey-headed Bullfinch, Yushan
Malayan Night Heron at Huisun Forest Reserve


Our morning at the Tsengwen estuary area may be dedicated to the wintering Black-faced Spoonbills indeed. On this trip we even witness display when some Spoonbills perched in a tree with Sacred Ibis nests seem to get into breeding mood. Anyhow, all of the area is teeming with birdlife; waders, ducks, terns, skylark, kite- let me just mention the scarce Chinese Egret while Ring-necked Pheasant didn't get much attention until noted that these might well be the first truly wild ones our group members have ever seen, and it's an endemic subspecies; formosanus.
During lunch we experience some extraordinary honesty and helpfulness of the Taiwanese people when I get a phone call; a handbag including passports and money was left in the hotel now 2 hours drive away... Some quick arrangements and all got delivered to our hotel near Wushe complete with the last penny intact and we loose no birding time. Taiwan is an incredible friendly place as indeed it wouldn't be hard to imagine a very different outcome if similar would happen in some other corner of the globe.
In the afternoon a good walk at Chungyang tea farm failed to produce Vinous-throated Parrotbills, good to note, as literally we're going to keep this one as a last minute bird for the trip, yes near the airport. Black-faced Buntings, Striated Prinia and Rusty LT are the rewards of the walk instead.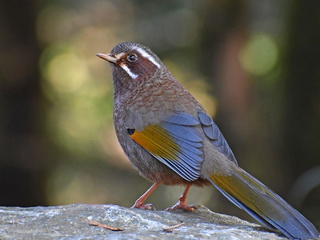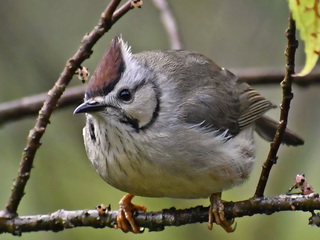 White-whiskered Laughingthrush
Taiwan Yuhina, Bedongyueshan


Rain this morning made us change plans quickly. Rather than more exposed areas higher up in the Wushe area we visit Bedongyueshan first. The tall sheltered forests here always provide, yes they did, in the rain we find the only target left for us at the site; Rufous-crowned Laughingthrush. Later in the day we do the high Hehuan pass. At 3400masl this is good spot to catch the distinct form of Alpine Accentor, and again it was our only target left, we did so well early on in the tour.
On the last morning, in better weather again, we manage Brown Bullfinch and Taiwan Wren Babbler at the well known Blue Gate Track before we made our way back to the airport and a last stop by a river just minutes drive away from the airport terminal. Vinous-throated Parrotbill had been on our minds for a while and here they were, showing well in the tall grass by the water edge. A beautiful final to a tour well enjoyed by all participants. Can't wait to be back.
Home / Reports / Taiwan Tour Page