B

2

A Central Thailand 2013 tour report.
Kaeng Krachan and Khao Yai National Parks, 26 April - 4 May
Participants; Shaun Wells, Sally and Anne. Tour leader; Peter Ericsson
Laem Pak Bia, Pak Thale, Petchaburi area, King's Project, Ban Maka, Ban Khrang,
Panoen Thoeng, Khao Look Chang, Khao Yai, Bang Poo, Muang Boran fish ponds.
This was a custom tailored trip upon request. Sally and Shaun had some work to do for British Council and decided to extend their stay with a birding holiday. Their friend, Anne, flew in from Britain. The birding was to be at a slow but steady pace. I met them at Novo Airport hotel at 5 am. This is a great hotel right next to the airport. Since Spoon-billed Sandpiper and Nordmann's Greenshank no longer were in Thailand we didn't just rush of to Baktaley. Instead we stopped at some fields of Petchaburi and got to see many common species. Within a few minutes we had seen Asian Golden, Baya and Streaked Weavers in separate colonies.
A lone Yellow Bittern flew by. A pair of Plaintive Cuckoos played chase along the reeds. Asian Openbills were everywhere. Asian Koels were calling and giving flight views. Lots of Pied Starlings, Great and Common Mynas around as well. Green Bee-eaters were on wires along with Plain-backed Sparrow. A Bronze-winged Jacana with its feet hanging down flew along the reeds.
We kept driving towards Baktaley but no waders around. The tide had gone down very early. We did see Painted Storks and Indian Cormorants though along with a fly by Gull-billed Tern and many Little Terns in breeding plumage. Quickly we got on to our boat man and went through the mangroves out to the sand spit. Since Chinese Egret and White-faced Plover had left already the target birds were Malaysian Plover and the dark morph of Pacific Reef Egret. Well, we got both with ease! On some exposed sand banks a lot of Caspian Terns, Common Terns, Little Terns, Great Crested Terns and a single Lesser Crested Tern. There were also a few Brown-headed Gulls lingering.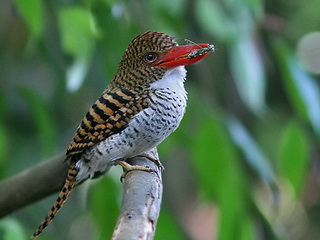 Banded Kingfisher female, Kaeng Krachan
Silver-breasted Broadbill
As we disembarked a pair of Racket-tailed Treepies showed very well in a tree. A brief visit to the King's project at noon added the ever so charming Golden-bellied Gerygone and Paddyfield Pipits. Other 'newbie's' were Wood Sandpiper, Long-toed Stint and Red-wattled Lapwings. I took a side road in-between the salt pans and came upon a group of 8 Spot-billed Pelicans. Where have they been all winter? A flock over 20 Pied Avocets was another surprise. We had also seen Common Greenshank, Greater Sand Plover, Marsh Sandpiper and Whimbrels on the exposed mudflats. Our only Kingfisher at the seaside was Collared.
After a sumptuous lunch we headed towards our lodging at Banmaka Resort near Kaengkrachan National Park. A stop along the way gave us views of Indo-Chinese Bushlark and White-throated Kingfisher. Only raptors for the day were Black-winged Kite and Brahimy Kite.
Then in the late afternoon we spent a little time checking out the area near our resort but things were going slow. Greater Coucal, flight views of Chinese Francolin got on the list. Scarlet-backed Flowerpecker and Eurasian Hoopoe also gave good views along with Bronzed Drongo and Greater Racket-tailed Drongo. There were other common birds along the way and it had been a pretty good introduction to birding in Thailand.
As everyone settled in their rooms I decided to try for a Blue-winged Pitta that was calling at the resort. It proved surprisingly easy to see well. These birds had recently arrived from their wintering grounds and were setting up territories. As I am writing Banded Bay Cuckoo and Lineated Barbet is calling. So is Hooded Oriole. We should have a good day tomorrow!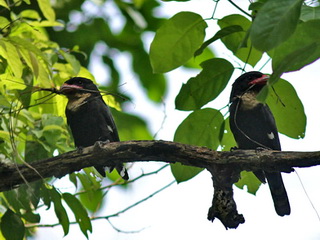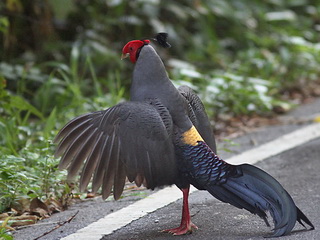 Dusky Broadbills, Kaeng Krachan
Siamese Fireback display at Khao Yai
Day 2 It is 4 pm and I am sitting on the veranda at Ban Maka resort. In front of me both Lesser and Greater Necklaced Laughingthrushes are moving about in the rain. At 2 pm it started to rain heavily at Bankrahang so we decided to go back to the resort.
After breakfast we drove to Kaengkrachan National Park. Along the way a Lesser Coucal crossed the road before entering the park. We soon came upon a small party of Forest Wagtails. These great little birds with their sideways swaying motion are such a delight to watch. They often gather in groups before they migrate to their breeding grounds. Not much else along the road besides a pair of Red Junglefowls and several Greater Coucals.
Soon after that I spotted fallen fruits on the ground. Looking up a flock of a dozen Pied Hornbills were having a feast. Out came the scope and great views of the colorful Thick-billed Pigeon followed. Both Green-eared and Blue-eared Barbets took part of the feast but the best bird for me was a male Violet Cuckoo in a nearby tree. We continued driving till the 2nd stream. This is where the day roost of White-faced Scops Owl is. A number of folks had dipped on the birds of late but we were fortunate enough to have them show in bright daylight. Not far from the Owls a Dusky Broadbill nest was hanging lower than the usual 20m up. Had great views of these birds as about 4 of them helped each other to construct the nest.
Not long after that I heard Silver-breasted Broadbills and they quickly came in to play back. Then a pair of colorful Crimson-winged Woodpeckers showed real well. This followed by a single Streak-breasted Woodpecker so we were off for a good start. Then our 2nd Owl: Asian Barred Owlet on a branch. Other 'distractions' were calling Blue Pitta and Great Slaty Woodpecker but no sightings.
There were lots of photographers and birders around the streams as this is nesting season and it was Saturday. Thus we went a bit further along the road to a quiet and idyllic trail along a stream. It was a bit quiet but eventually some birds performed: Scarlet Minivet, Large Woodshrike, Ochraceous Bulbuls, Greater Racket-tailed Drongos, Greater Yellownape and a Drongo Cuckoo. A Blue-winged Pitta flew across the trail and an adorable Black-backed Kingfisher kept flying by and briefly perched next to the stream. After lunch at Bankrahng we set down for a rest. Suddenly an Orange-breasted Trogon showed in a tree in the middle of the campground. How's that for a treat?
Day 3 Another day at lower levels. The main highlight of our morning was per suing a Hooded Ptta inside of a trail. Eventually we were successful which meant our day would be good no matter what would happen there after. It started to rain at 14.00 pm but we braved the drizzle this time and managed to pick up some good ones in spite of the rain: Blue-bearded Bee-eater at a nesting hole, Green Magpie, a pair of Wreathed Hornbills and Crested Serpent Eagle were our reward. A small party of Golden-crested Mynas defying the rain perched nicely in a barren tree.
Day 4 An early start without breakfast saw us at Panern Thung by 7 am. It is a long and rather arduous drive up the hill. Took one and a half hour from BanMaka. The mountains are simply 'out of this world' up there as everything is pristine and untouched. The 'sea of clouds' were all over and the 'singing monkeys', the gibbons, were heard all over the tree covered valleys. Little by little did we start to see some birds not found on lower levels: Flavescent Bulbul, Blue-throated and Great Barbet, Black-throated Sunbird, Streaked Spiderhunter, Grey Treepie, Ashy Bulbul, Mountain Bulbul etc etc.
Since this is the breeding season for resident birds we went for a known nest of Banded Kingfisher. This enigmatic bird is worthy of your time and sure enough, both male and female Kingfisher showed with prey in their beaks for their eagerly waiting chicks. Onwards we moved to another stunner: Red-bearded Bee-eater. This bird breeds in the same area annually and is very unafraid of your presence. Simply a superb being! It started to rain at 1Pm and didn't stop by 4 pm so we decided to go down the mountain. Once down we spent some time with the many butterflies but didn't' see any new birds.
Day 5 After having looked over our choices we decided to do the lower levels again. Some of the secondary growth along the access road has nice open views with tall trees. Common Flameback, Greater Yellownape and a Black-thighed Falconet were found in this habitat. The streams did not yield anything new except for our 1st Great Hornbill in rather poor flight views.
After lunch we walked around the area across the stream from the visitor center. Finally we got good views for everyone of the Blue-winged Pitta. Also Greater Flameback and Velvet-fronted Nuthatch gave good views. Superb views of White-handed Gibbons as well as Dusky Langurs. At 3 o'clock it was decided to go back to the resort for some chill time.
Day 6 Wat Khao Look Chang some 45 minutes drive from Banmaka was our destination. The forest was more quiet then normal but we did get great views of our target bird, the Black-headed Woodpecker. Also Lineated and Coppersmith Barbets plus Red-breasted Parakeets were new for the tour.
A long journey to Khao Yai National Park followed. We did manage an hour of birding before dusk and saw many Red-breasted Parakeets as they came in to roost for the night. Hill Myna also showed well.
Day 7-9 These two days were spent at a variety of places within Khao Yai park. We soaked up everything we could but especially tried to find things not seen at KK. It was very hot so after lunch saw us resting a couple of hours. Here are some additions: Gold-fronted Leafbird, Heart-spotted Woodpecker, Red-headed Trogon, a pair of Blue-eared Kingfisher, Moustached Barbet, stunning Long-tailed Broadbills, a group of Siamese Firebacks, 2 Silver Pheasants, and best of all: a female Blue Pitta next to the road. Bright-headed Cisticola in breeding plumage, Barred Cuckoo Doves, Grey-eyed and Puff-throated Bulbuls, Sultan's Tit, Mountain Imperial Pigeons, Great Eared Nightjar, a herd of Gaurs, Elephants, a Porcupine, loads of Pig-tailed Macaques.
We left Khao Yai mid morning and arrived at Bangpoo pier in Samut Prakan ready for some sea food. There were still a couple of hundred Brown-headed Gulls around. A few Black-headed Gulls as well. Equal numbers of Whiskered and White-winged Black Terns in breeding plumage. The White-winged are such striking birds. New waders were Lesser Sand Plovers, Common Redshank, Black-tailed Godwits and Pacific Golden Plovers.
After lunch we headed to Muang Boran fish ponds. Got there at 3. Loads of Pheasant-tailed Jacanas with young. Several Bronze-winged as well. In spite of it being midday and very hot several White-browed Crakes showed well. Our only ducks for the trip were to be the enigmatic Cotton Pygmy Goose. Several pairs around. Long-tailed Shrike was our only one for the trip. Same with a flock of Oriental Pratincoles showing well. A surprise Indian Pond Heron was another treat.
We said goodbye at the airport. It had been a good trip without much stress. Of course many more birds were seen then those just mentioned in this report. Anne, Sally and Shaun all enjoyed the birds at a leisurely pace and I won't be surprised if they will be back!