Where2watch
birds in Asia
Stijn De Win
Philippines
birding info

We love the Philippines!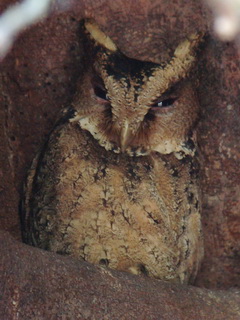 Everett's Scops Owl
photo Stijn De Win
More info, less2read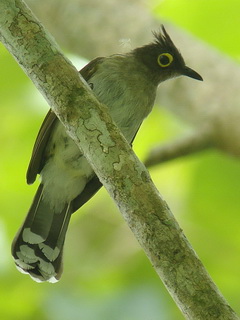 Yellow-wattled Bulbul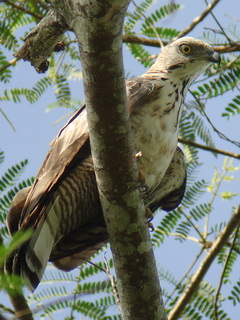 Barred Honeybuzzard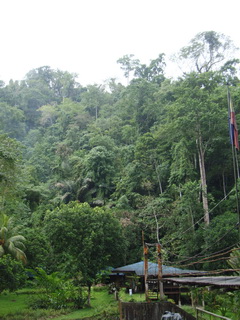 Forest at 88 station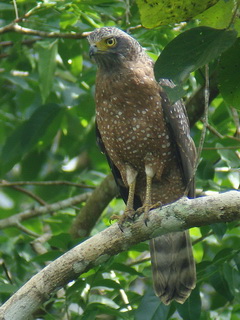 Philippine Serpent Eagle

We power your vacation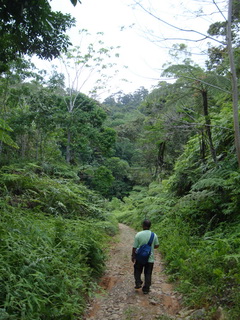 Birding on the track at Baluno.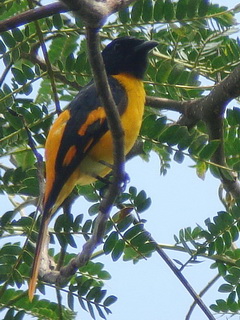 [Mindanao] Scarlet Minivet (male)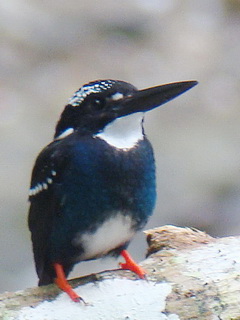 Silvery Kingfisher -Canucutan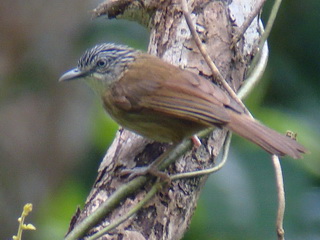 Brown Tit-Babbler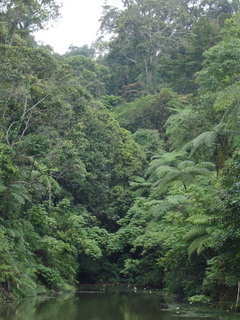 Pond and forest at Baluno.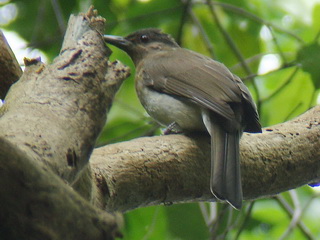 Zamboanga Bulbul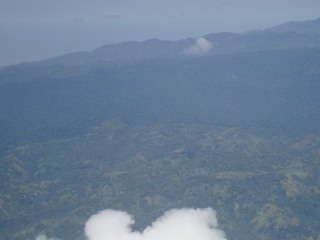 The darker area is part of the
forest at Pasonanca as
seen from the air.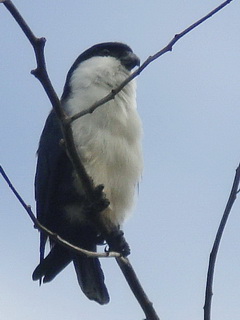 Philippine Falconet -Baluno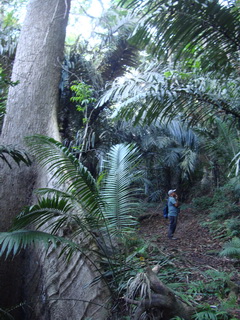 Birding at Canucutan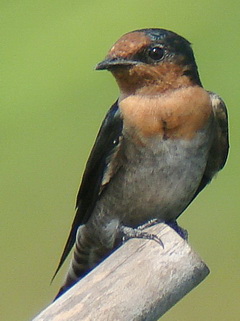 Pacific Swallow -Bog Lake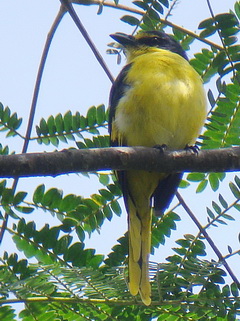 Scarlet Minivet (female)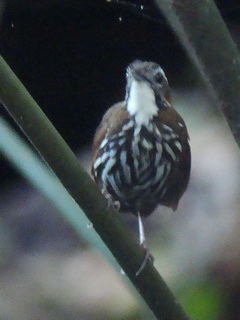 Streaked Ground-Babbler
(Striated Wren-Babbler)
Canucutan
Zamboanga Bulbul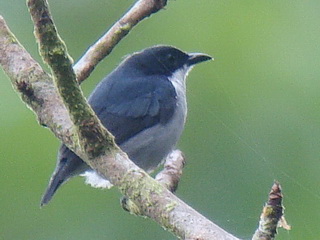 Red-striped Flowerpecker
All photographs taken in
Zamboanga - Pasonanca
by Stijn De Win
Pasonanca Natural Park, Mindanao, Philippines.
Zamboanga's Protected Watershed
Pasonanca has the potential to become the most important site for lowland forest birding on Mindanao.
A couple excellent birding spots within the reserve appear surprisingly easy to access and this National Park is designated a strict protection zone as a watershed which sets it safe for the future while for example the forests at the well known Picop logging concession continue to degrade with both birding and access becoming more difficult by the year. In fact, one may start wondering why Pasonanca so far hasn't been popular with (overseas) birders. Possibly, in the past, safety issues* may have discouraged birders from visiting and a lack of information** about the former as well as the birding possibilities incl. access and expectations certainly must have played a role. Today, some superb forests and good birding are waiting for you.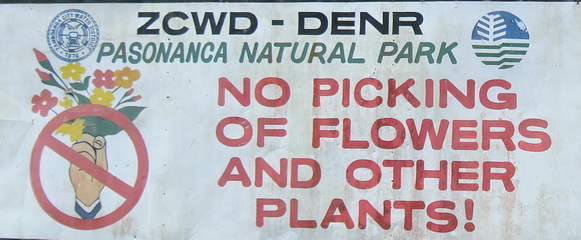 Key species
-Looking at the important Mindanao lowland bird species, Pasonanca I would say is near-complete! As compared with stuff found at the famous Picop logging concession in eastern Minanao, all of the same species seem to be present but of course Black-headed Tailorbird of eastern Mindanao is replaced here by White-eared Tailorbird.
Additionally there's of course the restricted range Zamboanga Bulbul which is easy enough to find. Other species that do occur and are not or seldom recorded at Picop are Mindanao Bleeding-heart, Cryptic Flycatcher, Mc Gregor's Cuckooshrike, White-browed Shortwing, Goodfellow's Jungle-Flycatcher, Mindanao Miniature Tit-Babbler and Whiskered Flowerpecker. And there's been recent sightings of Philippine Eagle!!
-However, not all bird species on the reserve's list are available at the 2 easy accessible spots described on this page which makes it necessary for expectations to be adjusted. Cabonegro is one such spot within the reserve currently only accessible by trailbike (too rough for 4WD vehicle…) which has excellent forest (and a track too badly overgrown for birding) which, if opened up, could make for extra species to become available (Writhed Hornbill, Blue-capped Kingfisher…).
-So, what is there then at Canucutan (Intake) and Baluno? What is readily available and makes your visit worth it?
-Most important probably are the 2 regional endemics; Zamboanga Bulbul and White-eared Tailorbird, both of which are fairly common and easy to find.
-Further on, chances on finding Philippine Dwarf Kingfisher are good. This Kingfisher might be more widespread but is very rare and seldom encountered elsewhere.
-Mindanao endemics to look out for are Little Slaty Flycatcher, Mindanao Hornbill, Mindanao Wattled Broadbill, Mindanao Pygmy Babbler and Rusty-crowned Babbler.
-Superb species mostly shared with Bohol, Leyte and Samar (Eastern Visayas) are Black-faced Coucal, Giant Scops-Owl, Everett's Scops Owl, Pinsker's Hawk Eagle, Philippine Needletail, Silvery Kingfisher, Rufous-lored Kingfisher, Steere's Pitta, Streaked Ground-Babbler, Philippine Leafbird, Rufous-fronted Tailorbird and Blue Fantail.
-And of course there are some more widespread but nevertheless impressive endemics and other goodies; Philippine Falconet, Barred Honeybuzzard, Yellow-breasted Fruit-Dove, Blue-crowned Racquet-tail, Philippine Trogon, Rufous Hornbill, Philippine Woodpecker, Sooty Woodpecker, White-bellied Woodpecker, Red-bellied Pitta, Philippine Oriole, Philippine Fairy-Bluebird, Rufous-tailed Jungle-Flycatcher, Stripe-headed Rhabdornis, Rufous Paradise-Flycatcher, Short-crested Monarch, Naked-faced Spiderhunter, Bicolored and Olive-backed Flowerpecker…
-Besides the forest birding you may also want to visit 'Bog Lake', which largely covered with lilies support the rare and endemic 'pulverulentus' Purple Swamphen as well as Philippine Duck and Wandering Whistling Duck.
Birding
Two sites with excellent forest birding are currently within easy reach of Zamboanga city and both can be visited as a day trip from your hotel. Each site is worth 2 days birding in my opinion so might be good to recommend 4 days in the area.
Please note the entry regulations described in the 'getting there & around' section on this page.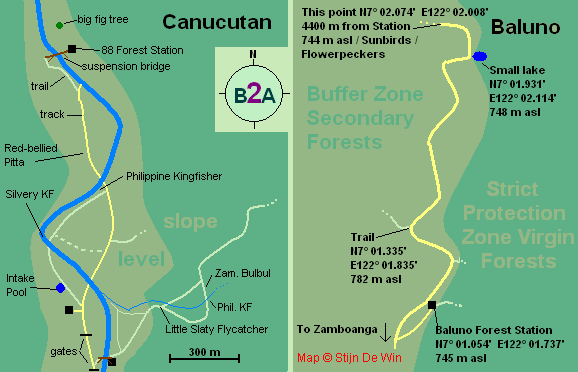 1) Canucutan (the area around the city water intake) is just 7 km north of the city on a good paved road. Excellent lowland forest (95m asl) provides good birding at both sides of the river that runs through the area while the river itself has Silvery Kingfisher, Stork-billed Kingfisher and Rufous Night-Heron. The area has some good trails the first of which can be reached by crossing the river on a wooden walkway#. Sign at the guard station, then continue first on level ground, then up on the slope. This trail forms a loop but it is possible to continue some way beyond that where Mindanao Wattled Broadbill has been recorded. Other birds to specifically look for in this area are Little Slaty Flycatcher, Philippine Kingfisher, Streaked Ground Babbler, Zamboanga Bulbul, Black-faced Coucal and White-eared Tailorbird.
Beyond this spot if you continue on the road through the gate you'll reach a forest station next to the water intake pool. From here it's possible to continue on either the track or trail but both require you to cross the river. It's knee deep and on a stony river bed. Bare-foot was ok for myself but definitely easier would be on sandals. Use a stick or your tripod for balance. Now, your effort and getting wet feet was worth it because you'll find yourself in excellent primary forest on level ground. Continue looking for the same species as on the first trail and this is another good area for Philippine Kingfisher.
Then, another river crossing, from where you have good views of the canopy (Philippine Leafbird…) brings you to the last stretch of the track which soon ends from where a short trail leads to the 'double 8' forest station. I got Red-bellied Pitta and another Silvery Kingfisher along this stretch and birding around 88 may be good. Philippine Needletails and Orange-tufted Spiderhunter on my visit but I've noted some big fig trees just behind the station. If these are fruiting…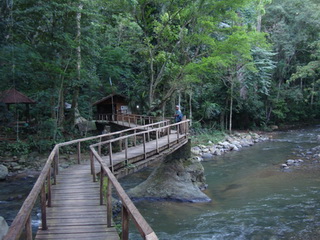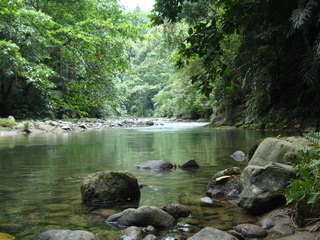 #Good birding here in the forest across the river while the river itself has Silvery and Stork-billed Kingfisher.
2) Baluno Forest Station is a good 25 km from your hotel in the city and takes less than an hour to get to by car or motorbike. The last 5 or 6 km are unpaved and require 4WD. The track continues beyond the forest station and is good for roadside type birding which is quite nice and different from the closed canopy experience at Canucutan. As the track only skirts the actual preserve not all habitat is pristine forest. Secondary forest, cleared patches and plantation border the track as well but lots of good forest is always nearby so it is expected that plenty species dependent on pristine forest can still be found along the track. The altitudinal range on the track is between 730 and 820m asl which also helps you get some different species than those found at the Intake site. Most notably these are Rufous Hornbill, Steere's Pitta, Giant Scops-Owl, Sooty Woodpecker, Rusty-crowned Babbler, Olive-backed Flowerpecker, Philippine Falconet, Pinsker's Hawk Eagle, Blue Fantail…
The area is excellent for Sunbirds and Flowerpeckers and the more open nature makes it good for spotting raptors. You may also expect to find some nice feeding flocks in the area. And also here, both the regional endemics, Zamboanga Bulbul and White-eared Tailorbird can be seen along the track so no need to panic yet if missed previous at Canucutan.
There's at least 3 short trails (in poor condition) you may try to bird as well. One starts from below Baluno ranger station and a further 2 are found further on the track. Your trailguide can help you locate and navigate those.
Try to make it at least up to the pond about 4 km beyond the station. It's an immensily picturesque spot with superb forest all the way from the high ridge down to the waters edge. Additionally this area is best for Rufous Hornbill.
If you are on a daytrip from Zamboanga city it is possible to stay after dark for owling only if you have come with a car. Navigate the road back down on a motorbike in the dark is too risky. Otherwise it is possible to stay for the night at Baluno station with some basic rooms available for guests. Bring all your food and water and this may include some for your guide and the rangers at the station who can cook it for you as well.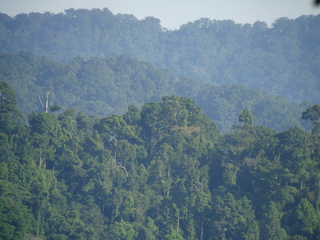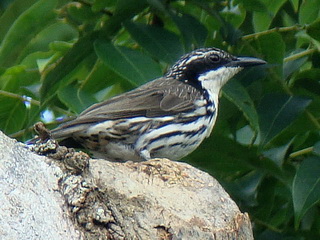 Forested ridges as seen from the track at Baluno and this Stipe-sided Rhabdornis was found in a mixed species feeding flock.
3) The Bog Lake near Zamboanga golf course is nice to visit in the afternoon when light conditions from the viewpoint are best. It's easy to pop in here for an hour after birding the forests at the previous 2 sites. This is the only site which does not require a permit and guide. Anyway, as you'll probably have Joel to guide you in the forest he'll be glad to show you this place as well as the route isn't easy to find. On a motorbike it's possible to drive all the way up to the viewpoint in the middle of the marsh but you'll probably have to park and walk for a kilometer or so if with a car. On my visit, only a little bit of open water was present in the sea of lilies but this was good for both Philippine Duck and Wandering Whistling Duck. It took a while before a Purple [Philippine] Swamphen popped up from the dense vegetation. Further on the regular marsh birds; Purple Heron, Yellow bittern, Javan Pond-Heron, Pheasant-tailed Jacana, White-browed Crake, Pacific Swallow, Lesser Coucal, Clamorous Reed-Warbler…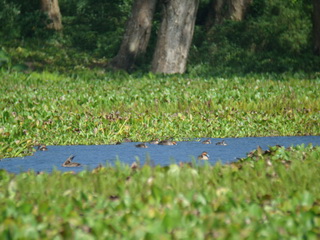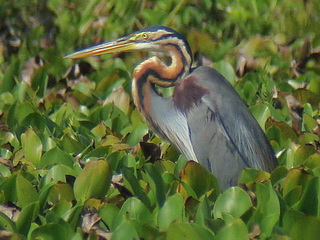 Philippine Ducks and a Purple Heron at the Bog Lake near Zamboanga city.
Getting there & around
-Zamboanga is a long long long uncomfortable and potentially risky journey by road from… ah well anywhere! And that's why you will fly! The main Philippine air carriers provide a good service and have daily flights to Zamboanga from Manila as well as from Cebu city and Davao. Cost is very reasonable and the flight time from Manila is a good 1,5 hours, less from Cebu or Davao. On arrival the city centre and thus your hotel will be just 10 min. away. Forest birding can start after half an hour drive… anyway, it does make sense that Zamboanga, -in the past-, did always got visited on "remote" Philippine trips and tours… cheers!
-Both Canucutan area and Baluno station are within the Zamboanga city watershed which is a strict protection zone and entry regulations are in place. A permit is required for birding and a guide from the Department of Environment and Natural Resources (DENR) has to accompany you. You may well note that my maps on this page only serve to give you an idea of the area up front, not to find your way around as you'll have a guide with you at all times. No need for me to write the extra directions on this page as there's simply no point doing so. Permit and guide have to be arranged before arriving in Zamboanga. Joel Baysa is the assistant superintendent of the protected area and he can help you prearranging the permit as well as transport and I did certainly enjoy his company as a guide on my own trip. In fact it was heartening to experience Joel's enthusiasm about the reserve and its protection. He has been birding for several years and does know the important species and calls. I have to be careful though with my words and put birders up with the right expectations. Therefore, one should not expect/demand for Joel to be a professional guide having all the birding gear and bird calls to show you every bird possible. The guide fee is minimal and there's no need at all to put any pressure on this most friendly and helpful fellow! I made a photo of his name card which is below so no-one may think I'm posting the wrong email or phone number in case things don't work. Additionally I have copied for you the "Useful Contact" as it appears in the book 'Birdwatching in the Philippines' Vol II. And if all of that fails there's always stijndewin@birding2asia.com
DOT-Regional Office IX

Lantaka Hotel By the Sea

Valderosa Street

7000 Zamboanga City

Tel.: (+6362) 992 6242

Fax: (+6362) 993 0030

Email: dotr9@pldtsl.net
Accommodation & food
-Easy chapter to write for me. Just check the website below. A comprehensive list of hotels and guest houses etc. complete with telephone numbers and hotel websites if available; http://www.zamboanga.net/Accommodation.htm
-Food options are plenty in the city. Do take packed lunch for in the forest and enough drinking water as it might get hot during the day. You may want to bring the extra lunch for your guide! As for early morning starts I've noticed some small bakery shops and fast food restaurants in the city are open 24/7. It's very unlikely you'll be able to get a breakfast arranged early enough at your hotel.
-For those that wish to stay overnight at Baluno forest station remember that it is basic. Mosquito net and things might come handy. Cost is only 100 Pesos per person a night. Bring all your food and drinks as well as for your guide and some for the rangers at the station.
185 species, 78 endemics, 10 near-endemics, 30 (near)-threatened species
This bird list is best viewed using Internet Explorer on a speedy connection.
Feel free to print your checklist for use in the field.
Please send any additions to stijndewin@birding2asia.com or by using our online form.
New! Download the Zamboanga bird list as a Word.doc for easy printing.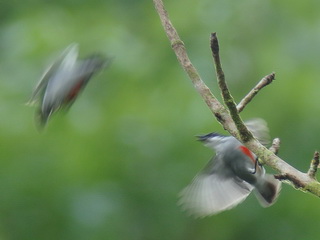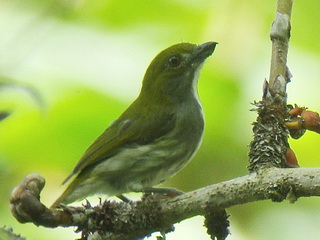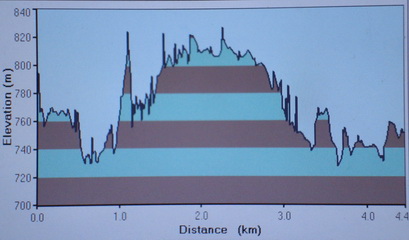 The track beyond Baluno Ecological Research and Training Center is a good place to watch Flowerpeckers and Sunbirds.
I have captured some action by a pair Red-striped Flowerpeckers and on the left is a scarce Olive-backed Flowerpecker.
On the right is a GPS created elevation graphic of the track up to 4,4 km beyond the station.
But don't worry, the walking is a whole lot less steep than it looks from the image!
Bird sounds from Zamboanga
I have uploaded my recordings made on my own trip in Sept. 2011 on Xeno-canto;
Further on there's numerous other recordings from this location on XC. Click direct link.
Safety* and information**
Mentioned in the intro and pretty important, I do feel now that it is necessary to give some more information/background if Pasonanca is to become a birding site visited more often, what of course would add to the value and protection of the place.
I would like to refer for both issues to the 2010 trip report from George Wagner;
Safety
Briefly mentioned by George and words well written;
"In the past, political unrest in the western parts of Mindanao has discouraged birders from traveling here. In my opinion that concern is less valid today and visiting Zamboanga can be very rewarding. I saw quite a few westerners arriving at Zamboanga on my flight from Manila."
I can personally totally agree with this but I know it's probably not enough to convince everyone that Zamboanga is safe enough to visit these days. Certain is that local knowledge is invaluable in this matter. I've asked the locals! Zamboanga and its immediate surrounding incl. Pasonanca Natural Park has been good safe for years now. Anyway, check again (Joel will know) before you go as things might change. Further, I am under the impression that travel advice by your department of foreign affairs often is a generalized view which puts in this case half of Mindanao under travel warning while certain places might well be very safe. -Or definitely much safer than other places where apparently no advice against travel has been issued for that is-. Just in case you aren't sure yet and would rather follow government travel advice, I have randomly picked the UK Foreign and commonwealth office website (FCO) for some comparison and facts (all at the time of writing).
Birding information
Selected individuals have visited Zamboanga for birding since at least 2006 while a few organized tours went starting in 2008. However, it took until George Wagner's trip report for any birding/travel information to be shared in public. I am indebted to George as he made my own trip to Zamboanga possible. And therefore you should rather thank him as this page would not be without George in the first place. A big thank you goes out for his initial information on birding Pasonanca and I would certainly recommend you have a look at his excellent trip report as there's more good information present. For example a trip to go see the recently discovered Calayan Rail looks like a good possibility now.
Notes and additional info
-Pasonanca Natural Park, as per presidential proclamation No. 132 and dated July 5, 1999 has a total area of 17.414 hectares. Of this 12.107 ha forms the strict protected area while 5.307 ha were designated as a buffer zone. Within the core zone 9.440 ha is virgin dipterocarp forest while most of the remainder is made up of mixed residual and virgin forest and there's a little grassland and old coconut plantations. Elevation range within the reserve is 80 – 1360 meters above sea level.
-The reserve should not be confused with the more popular Pasonanca Park which is a picnic and swimming facility for the locals.
-Important Bird Area (IBA) http://www.birdlife.org/datazone/sitefactsheet.php?id=9812
Home / Top / Locations / Visit Philippines
This information page published on 4 November 2011 by Stijn De Win. Copyright © Birding2asia.com

All rights reserved.