Articles
In Focus

Birding in the Philippines; Picop or Banaue/Mt. Polis anyone?
Our 3rd Philippine tour for 2012 was a custom made itinerary but still included all the usual birding locations; Palawan, Subic, Makiling, Bohol, Cebu and Mt. Kitanglad. This page isn't about report on birding at these sites. I could just say it all went very well and the participants were a group of friends from Spain. Young people still and very keen birders with some special targets on mind, "The Eagle" on top of those. But at the same time they definitely weren't desperate on getting everything. Keen yet relaxed, I believe the boys owned a very pleasant approach to birding.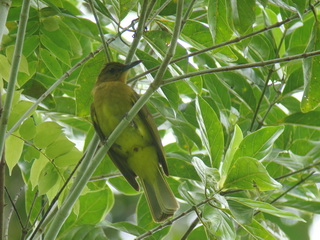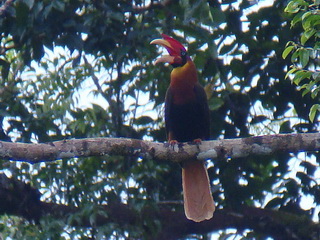 Yellowish Bulbul, Picop Rufous Hornbill (crying out for help?)
This tour was customized to include Picop and Mt. Polis. I would like to write and try give people a better insight in the experience visit these places. This has not been written properly about I believe. The thing is both sites feature some excellent bird species yet I wouldn't personally rate them suitable for any regular scheduled tour. Our recent visits did nothing but confirm this statement. That's what I believe at least if a tour has to be something to enjoy rather than a tiresome routine getting numbers for a collection/list. Picop belongs to a remote Philippines tour and Mt. Polis would be a nice extension only to any tour. Nothing else. Let's see possibly why;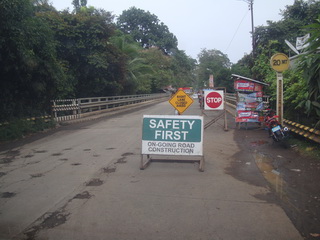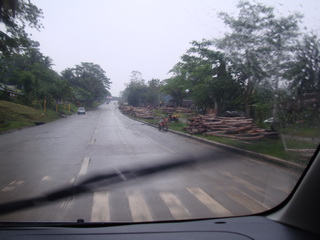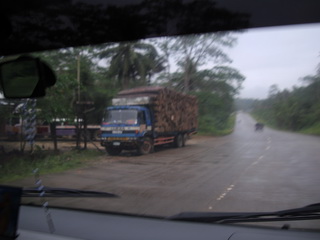 Enroute to Picop. A long rainy day full of roadwork, logs beside the road and truckloads with …
PICOP
Getting there and away;
-Usually follows after Kitanglad on the tour itineraries. We made good time. Having had breakfast and 30 min. of birding in the morning (the latter basically worthless) made it time urgent to leave from Del Monte back down to the highway and our van waiting. This takes about 1 hour. Next is the drive to the hotel in Bislig, the town that doesn't really put you anywhere 'close' to the birding areas except the airfield. We arrived after dark of course. It took 10 and a half hour. Half hour for lunch and only 1 puncture on those horribly bad roads. We made good time. It had been 12 and 14 hours with the same drivers on other tours this year. There's nothing on the way to be seen. I mean except for lots of logs by the side of the road and lots of logs travelling on trucks in the opposite direction. This is not forest cut. There isn't any around. They're just busy taking out a tree here and there from an enormous wasteland of scrub and left over lone trees. First feel of depression lurks in your mind. Only thing to do is dream about tomorrow's birds. You will need those birds to keep it up. Hope it doesn't rain. It often does in these corners. In the end this first full day on your Picop leg is a day of travel. Nothing to get happy about. A day which will cost you about 250 USD on average on any organized tour. Birds tomorrow will be good! You'll need them.
-Having based yourself in Bislig, a jeepney will pick you up no later than 4am in order to reach the birding sites. A jeepney is needed to navigate the rough roads around the logging concession. All tour groups use them. Don't expect such wreck of a vehicle to be anything like comfortable. There's only 2 birding sites left really, 2 you should focus on anyway for the best results on your list. Road 1-4 with the quarry trail and severely degraded forest takes 1h15 min. to reach for the trail or 1h45 for the roadside birding. Road 4-2 with the only real chance on Celestial Monarch will take 2h20 min. of hanging on in the back of the jeep. Eh, that would be 5 hours of good uncomfortable travel after a day of up to 14 hours of travel? You may start to realize just getting there may by now start give the feel of a 'remote' place? Birds are good though!
-On the last morning we managed, I forgot, about 2 hours of birding I think it was. We saw some good birds though. Anyway, it was 2,5 hours getting back and forth from the Paper County Inn to the quarry trail. Then from the hotel it was said to be 5 hours to Davao airport, which took 6 hours. Check-in time (airport dinner), flight, pick-up, drive to hotel. Anyway, we reached Cebu some good hours after dark. At least we had a couple of hours birding on this day. A report from another tour this year mentions they did some pre-dawn owling, then travelled to Butuan for a flight to Manila in order to reach Subic after dark. I bet they did some owling in Subic… cost 250 USD.
-I bet people on a remote Philippines tour only would be willing to spend 2 full days of travel and for that spend 500 USD each just to get to a single birding site. No?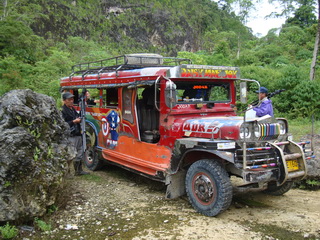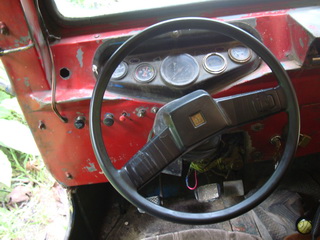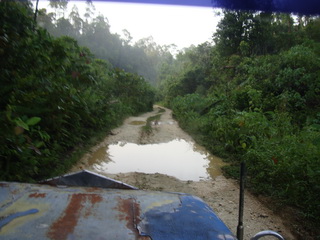 Our wreck called 'transport', driver's seat view and a feel for the roads to the birding areas.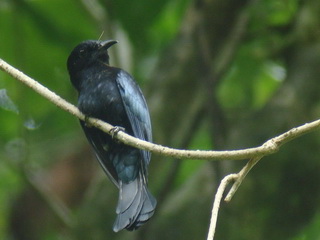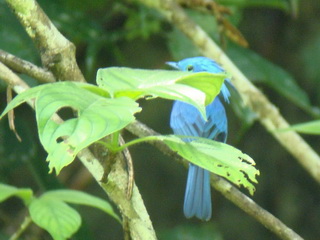 The Philippine Drongo Cuckoo, 1 of many birds at Picop easily available at much nicer places to visit.
A glimpse of the Celestial Monarch, which you may or may not, is what it is all about though!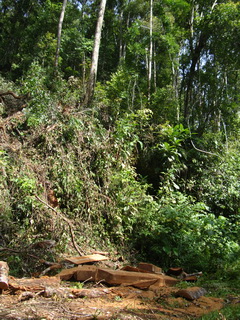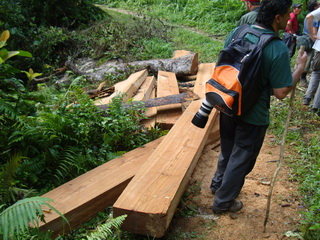 Very nice scope views we had of a Steere's Pitta in the trees straight up from the freshly cut boards.
In the next picture more boards at the same spot. As the story goes, the previous birding group had failed to see Celestial Monarch because of continuous chainsaw noise cutting the tree these very boards were made of. Ironically, we sat on them for lunch while playing tape in the quiet surroundings. Celestial Monarch eventually came in. For some it's a cruel world birding out there at Picop…
Birding;
-I'll do this chapter first before the general experience of your visit because really, the birds are good. Where I did fail, for good reason you may have noted, to get anywhere positive on all the travel getting there, this must be a love story… For us at least it was. 95 species on the first day. We did get Celestial Monarch. This is the top target for the simple reason that it is actually quite straightforward to see any other of Picop's birds at other sites. I mean nice places to visit and well protected. (Pasonanca NP, Rajah Sikatuna NP…) The irony goes that most groups do miss Celestial Monarch. It's not that easy. I needed to play tapes, I kept playing around for hours. I played again while sitting on some freshly cut logs while having lunch. Zardo picked up response! Finally. It took 20 more minutes of playing tape and frustration indeed to get the bugger show for a few seconds only. Three had been flitting around like crazy. Blue flashes is all you get. I know, Celestial does give an aggressive response to tape playback, and I know this prolonged playing of tape is enormously disturbing to the birds. We did basically pull them out the forest. They weren't close to start with. But what can you do? This is getting birds at Picop! We got most species indeed. I dare to say we did basically clean out the place of targets in 2 days and a couple hours on the last morning. Don't try this at home… hehe. Usually 3 days and a morning is needed, and as scheduled on most tours. With my Dutch friend Henk, we did the same years ago. Saw just about everything incl. Celestial but in 4 days. Reason the weather had not been as good as it was on this visit.
-Besides getting Celestial Monarch, the good thing about Picop is that the birds are 'still' there. Since the early days (15 years ago?) we have been told to 'go now' before its all gone. But it is all there today. Not that things get easier and that they aren't busy cutting the last bits of forest down. Because so few trees are left Picop provides forest birding with a difficulty level similar to open country birding. Additionally, because so little forest is left, birds can't go anywhere and you may expect a concentration of birds competing for a few bits of habitat left. Birding is easier here than in any proper forest in the Philippines. It's highly rewarding. The experience of getting the birds more easily than you normally would in nature is great. After all we do like collections ha. Just back from a family visit to the zoo actually… Got all the Hornbills that occur in Thailand in 5 minutes. Great stuff. You know, if you go Bohol and Zamboanga, where you can visit the properly protected forests mentioned earlier in this chapter in about the same time frame as a Picop visit, you would still get your Azure-breasted Pitta, Rufous Hornbill and Little Slaty Flycatcher but it's going to be more like the normal slow forest birding. Ha, compare it with business. Picop is short term high profit. The short-sighted greedy kind of thing. To visit and therefore contribute to the protection of a National Park would be more sustainable with a better overall experience but of course less immediate profit.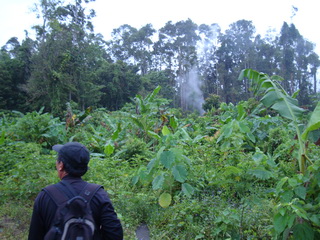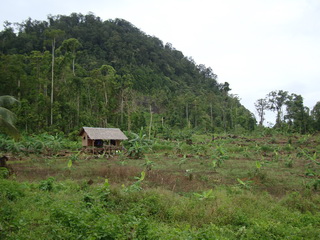 Zardo, the local guide is an excellent birder and highly recommended. He told me his son is doing studies at university. He told me that if his son doesn't graduate he could become a guide…. study my boy!!! I've got Zardo pictured here with his forest smoldering in the background. Very near the same spot I made this photo of a new house. I'd like to include the photo of this shack for the reason that I can clearly remember this exact spot. This is where I saw Azure-breasted Pitta 4 years ago!!! Gush.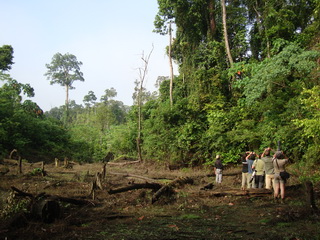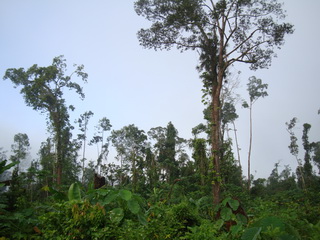 A patch on the right, stumps on the left and lone trees straight on. Philippine Oriole in this spot of "habitat".
The Picop experience;
-Excellent! I mean Zardo Goring, the local guide. Besides the birds his knowledge and company are the big + of any Picop visit. If not essential to have Zardo along, highly recommended indeed! http://www.facebook.com/zardo.goring
-Absolutely depressing and daunting! Please don't forget to take antidepressants along against total forest destruction and extreme poverty. I'm serious about this. You will need them if the birds seen can't take you up. Picop is the ugliest birding spot in Asia I do strongly believe. At the birding sites expect chainsaws, cutting, hunting, people living in shacks wearing rags and desperate to eke out a living, bad roads… expect either rain or very hot conditions, after all there will be no forest canopy to protect you from the scorching sun. I should not forget to mention malaria is in the area. Falciparum. The one that may kill you. At least Zardo told me it did kill a farmer near Bislig recently. Picop has it all you see. Take your pills!!! The birds are good.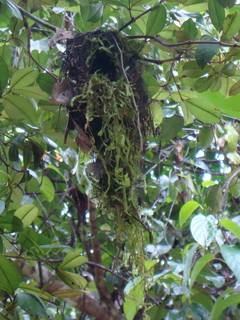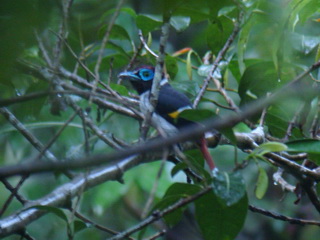 We were very lucky Zardo had Mindanao Wattled Broadbill staked-out by the nest. I'm pretty sure we would otherwise have missed it. You on your future visit to Picop, indeed will have a very good chance to miss it…
On the other hand, just got reported that Cabonegro in Pasonanca NP near Zamboanga has opened up for birding.
A recent visit reported daily sightings of Mindanao Wattled Broadbill… no nest site needed.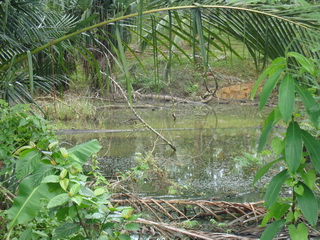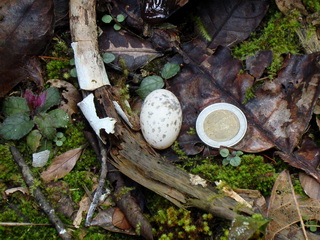 The murky pool with the Silvery Kingfisher! But that's another story. A good record; Philippine Nightjar nest.
The birds at Picop are good, although personally, I would not really recommend anyone to visit. Yes the birds are good (true). Don't go there (joke). When planning your visit to this wonderful country, please remember the Philippines does has properly protected nature reserves who I rather would like people to end up with having experienced in the country. So far my contribution. Cheers!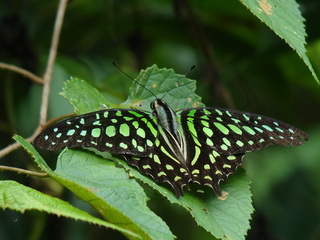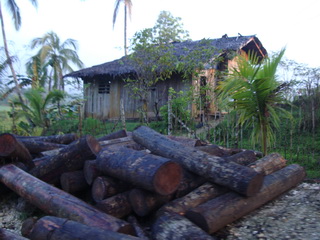 The beauty and the beast! Available in Picop!
and
The sound of Picop. Available on B2A :
Banaue and Mount Polis
Nothing to worry. Mt. Polis actually is quite a nice place once you get there although a bit tricky on the weather. I'm sure my guests on this trip weren't impressed with continuous rain and mist, neither the rice terraces…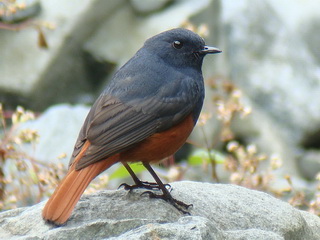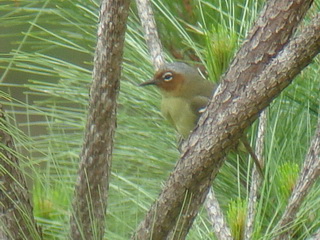 Luzon Water Redstart Chestnut-faced Babbler
Ok, the weather was just bad luck. The thing with Mt. Polis is the long travel time from Manila (from anywhere) –9 hours at least- combined with very few extra bird species one can get. Almost 2 days of extra travel for just about 6 or 7 birds not otherwise seen on a tour is a bit much I reckon. Mt. Polis is a nice extension for those keen to get a few extras or see a new place.

-Luzon Water Redstart ; Best bird around and guaranteed.

-Yellowish White-eye ; Also good possible on Makiling.

-Chestnut-faced Babbler ; Common but also much closer to Manila at Bangkoy Kahoy. Abundant on Mt. Mayon.

-Luzon Bush Warbler ; Quite easy and pretty brownish.

-Long-tailed Ground Warbler ; On Kitanglad

-Blue-headed Fantail ; Also at Subic, Bangkoy Kahoy, Makiling, Mt. Mayon, Negros, etc. etc…

-Mountain Shrike ; Normally easy but obviously doesn't show in poring rain… it's on Kitanglad as well.

-Benguet Bush Warbler ; Skulker and you may glimpse it. Responds very well to Russet Bush Warbler tape...

-Island Thrush ; Not seen on this trip. Sometimes seen on Kitanglad. Common on Mt. Mayon.

-Citrine Canary Flycatcher ; Same as the Thrush.

There's a few more but don't put your expectations too high, bring some luck instead;

-Flame-crowned Flowerpecker ; 50% chance, we got a female on this trip

-Flame-breasted Fruit-Dove ; 30 % maybe

-Luzon Scops Owl ; 20 % and a bit of a pain be up there at night

-Luzon Racquet-tail ; Not even sure what your chance would be; slim!

-Whiskered Pitta? ; Better forget it. (Hamut camp and recently discovered on Mt. Banahaw/Bangkoy Kahoy)

Anyway, 6 extra species on average as I said earlier. Count down to 3 if talking real goodies. With all the extra travel it should be offered as an extension so people have a choice. See if it is worth it. Hope it doesn't rain.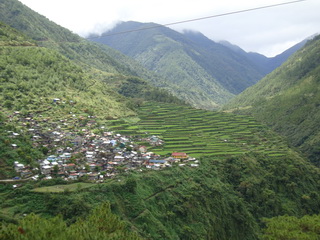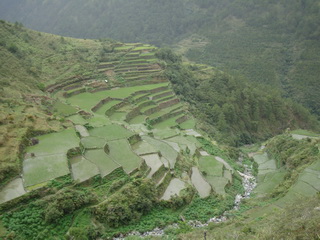 Bay-yu village (Water Redstart site) with a much nicer view on the rice terraces as compared with those in Banaue.
On the other hand, these aren't carved out in a steep hillside, just located on a gentle slope.
Little art in the construction of those. A tourist attraction? Really? Just only rice fields if you ask me. Focus on the Redstart yeah!
Apart from birds you must have heard about the Banaue rice terraces. Touted as one of the must see tourist attractions in the Philippines... I personally have a very hard time trying to appreciate them. The rice terraces simply fail to impress. They look like destroyed hillsides to me, slopes I would rather wish to see forested. Banaue is a long way from Manila mostly on a bad road. The town is a mess, nothing nice or cozy one would expect for a tourist destination. It is just ugly promised. I feel pity for the tourists that made it all the way up there because I know upon arrival they may get disappointed. Those tourist authorities desperate to promote things with the sole intention to bring in cash! You know, in the first place, unlike with for example temples or some other historic buildings, the reason for the rice terraces to have been created is nothing but about people having tried to eke out a living. Reminds me so much of Picop. It doesn't sound much interesting or exciting and I'm not impressed. Anyway, that's just me. Sorry! (May I suggest you visit Ankor Wat instead?) Or, -if you stay in Philippines but it won't be man made- Mt. Mayon, majestic volcano... impressive, great, mighty!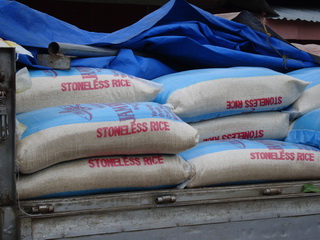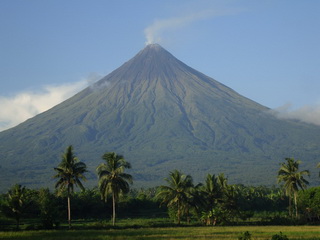 Copyright

Birding2asia.com

All rights reserved. Published 29 April 2012.