Borneo; Sabah, 12 - 29 August 2023.


Mount Kinabalu, Sepilok Forest Reserve, Crocker Range NP,
Kinabatangan, Gomantong, Tawau Hills NP, Danum Valley

Participants; Elena & Dave Keeling (USA), Alfred Raab (Canada), Stijn De Win (Belgium)


We're in the turboprop edging the summit of Mt Kinabalu on our way back to Kota Kinabalu after another successful Borneo tour. The weather is clear and this is a truly impressive sight with our pilot confirming this in a special announcement. No wonder as Malaysians in Sabah do love their mountain. And we do love Borneo! Incredible diversity on offer both in the mountains and in the rainforest was well enjoyed on a trip that ran very smooth again, it's all we need. Thanks go to our participants and the friendly people of Sabah.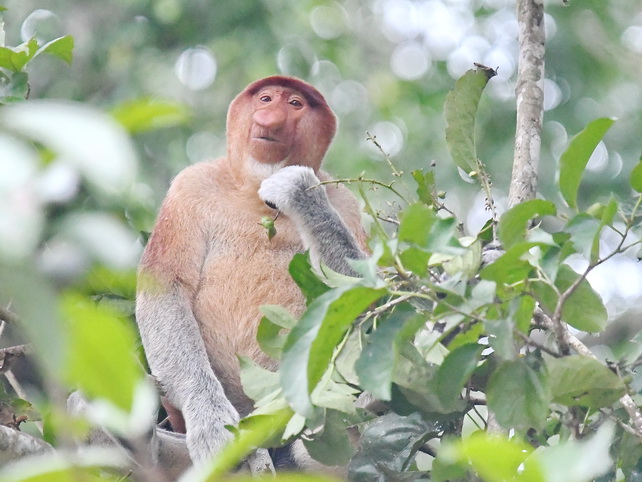 No birding tour on Borneo would be complete without some fantastic mammal sightings!
A dominant male Proboscis Monkey on the Kinabatangan River... something special!

This trip was set to go with a maximum of 4 participants. Unfortunately, a few days before the start our friend Fritz, from Switzerland, had to cancel due to health concerns. So, with our group even smaller we set off for the Crocker range. A good breakfast in the field had to wait until after Bornean Leafbird, Bornean Bulbul and Chestnut-hooded Laughingthrush while we kept hearing Bornean Barbets. Long-tailed Broadbill, Sunda Bush Warbler, Mountain Warbler and Mountain Barbet by the nest hole were other nice ones and we did well finding Bornean Falconet on the drive to our accommodation on Mount Kinabalu! First fantastic mountain views from our rooms!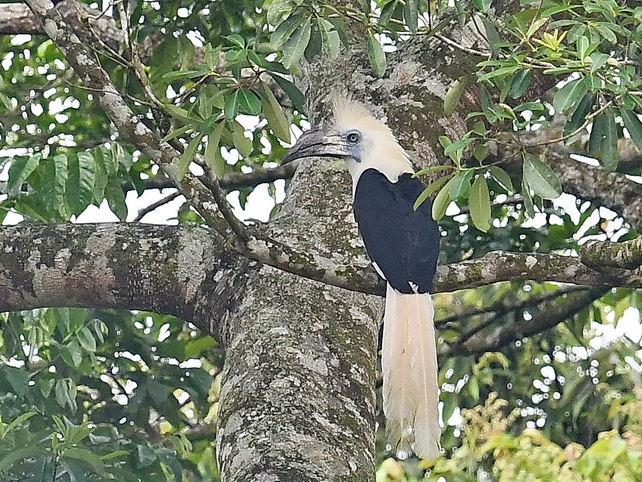 Hornbills! Borneo! This good looking White-crowned Hornbill is one of 8 species recorded on our trip.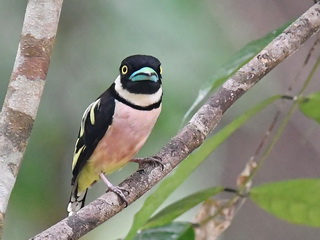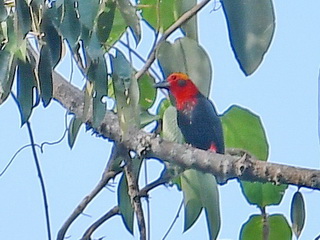 Black-and-Yellow Broadbill, Sepilok
Bornean Bristlehead, a group of 7 in Sepilok.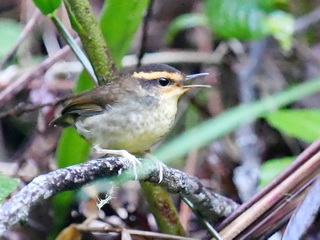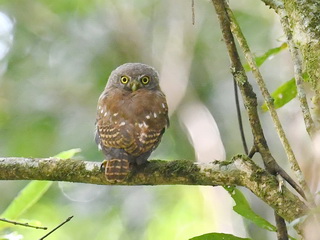 An exceptional performance of the Bornean Stubtail
Sunda Owlet, great find Elena!
From Mt Kinabalu we must remember the beautiful mossy forest, mountain views, cool temperatures and some good exercise working the trails hehe. And we won't forget excellent sightings of Whitehead's Trogon, Bornean Stubtail, Bornean Green Magpie, Orange-backed Woodpecker, Sunda Laughingthrush, Collared Owlet... We even managed the Whitehead's trio in 1 morning even though Spiderhunter wasn't the best views. It had proved a bit difficult to get this time and no other birding groups we met had seen it. Whitehead's Broadbill was better and we all enjoyed Bornean Treepie, the Whistling Thrush, Forktail and Bornean Shortwing.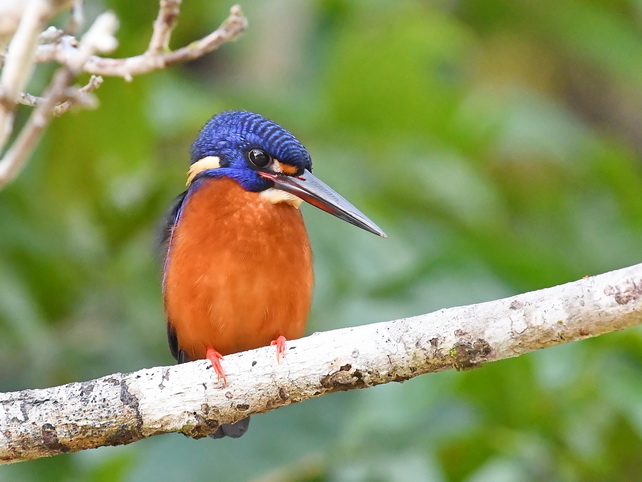 Sorry, need to show off a little colour, Blue-eared Kingfisher!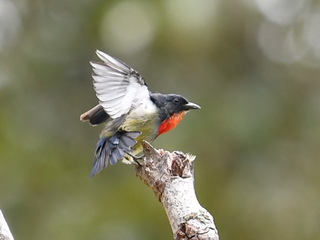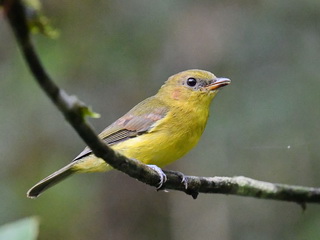 Adding to the array of endemics, Black-sided (Bornean) Flowerpecker and Bornean Whistler!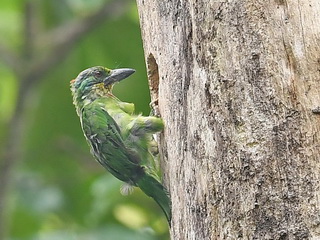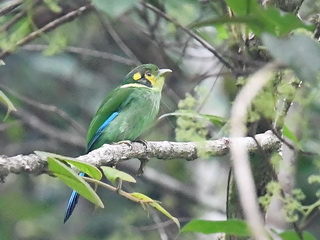 Mountain Barbet, Crocker Range.
Long-tailed Broadbill, juv., Crocker
Our morning birding at Poring Hot Springs was hard work. This sometimes happens in the lowland rainforest and with the overcast weather condition that day no real surprise. Nevertheless it still was a day full of excitement as this was our first birdng in the lowlands. Silver-rumped Needletails in the parking lot is always a good way to start. We can't complain either with both White-crowned and Chestnut-naped Forktails, our first White-crowned Shama, Banded Broadbill and Fulvous-chested Jungle Flycatcher. Both 12cm Moellenkampi Beetle and 60cm Rafflesia blooming added something "big" to the day.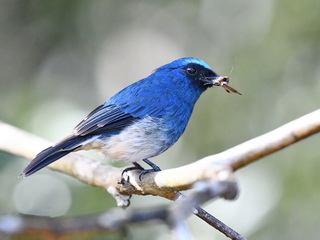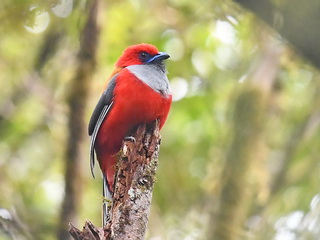 Indigo Flycatcher, Mount Kinabalu
Whitehead's Trogon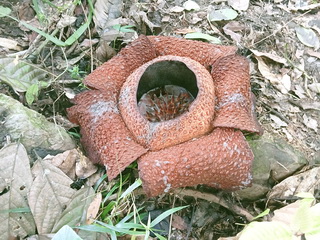 We had time for some good extras at Poring Hot Springs. Rafflesia, world's biggest flower.
And we were lucky to find the titan of the Beetles. A truly impressive 12cm Moellenkampi!

On our last day in the Borneo Rainforest Lodge in Danum Valley Alfred let me know he thought Sepilok was the most enjoyable place visited on the tour. It certainly has less (almost none) leeches as compared with the Danum and one of the best canopy walkways in the world. To see the primary forest come to life in the early morning from 40 meters up is a truly awesome experience. If this includes sightings of Bornean Gibbon, Orang-utan, Rufous-collared Kingfisher and Rhinoceros Hornbill all in the first hour of daylight it certainly becomes hard to beat. Even the afternoon produced with a group of 7 Bornean Bristleheads. These are never easy to find but such special they rank top on many birder's wish list in Sabah. Success!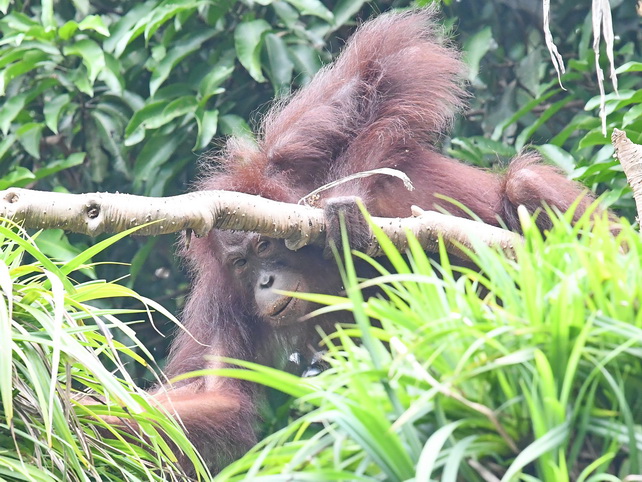 Haha, also this time got the usual pre-tour email asking; Will we see Orang-utan? Yes we will!!!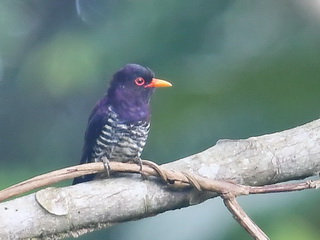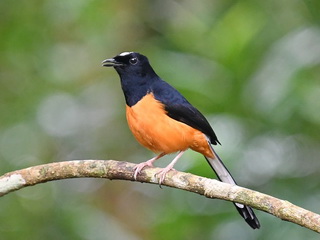 Violet Cuckoo, Sepilok
White-crowned Shama, Kinabatangan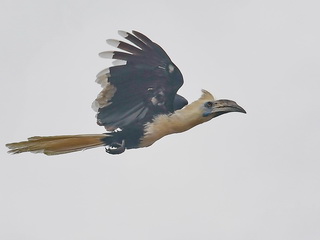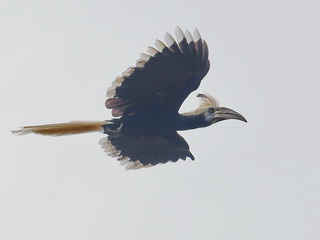 Pairs White-crowned Hornbills stay together for life!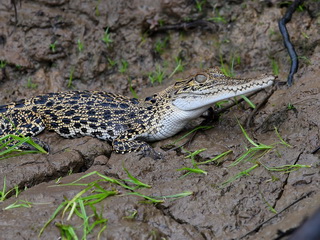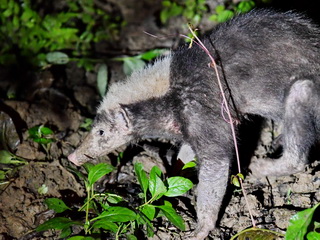 Salt Water Crocodile, Kinabatangan
Sunda Skunk, Kinabatangan
The Kinabatangan was brillant as ever. We did no less than 5 boat cruises and had very nice aircon rooms in a resort full of Elephant prints and dropping... yes they walked right true the day previous to our arrival, wildlife is all around here. Truly wild Orang-utan, Silvered Langur, Sunda Skunk and of course Proboscis Monkeys were top. Birding was excellent too with White-crowned, Rhinoceros, Black and Wrinkled Hornbills, Storm's Stork, Lesser Adjutant, Cinnamon-headed Green Pigeon, Wallace's Hawk Eagle, White-bellied Woodpecker, White-chested Babbler and even a vagrant Rainbow Bee-eater.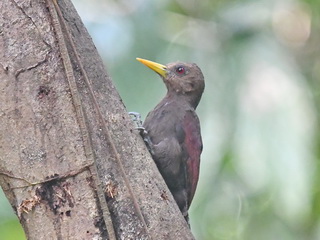 Araotes lapithis, common name; "The Witch"
Maroon Woodpecker
After a last boat cruise on the Kinabatangan River we birded the 4 km entrance road to Gomantong caves before our journey to Lahad Datu (gateway to Danum Valley). This road has some good forest but time of the day wasn't ideal even though Wreathed Hornbills were very active calling and doing brief flights making us suspect breeding activity. Black-and-crimson Pitta was heard calling in the middle of the day and a good looking male Grey-and-buff Woodpecker made a brief appearance.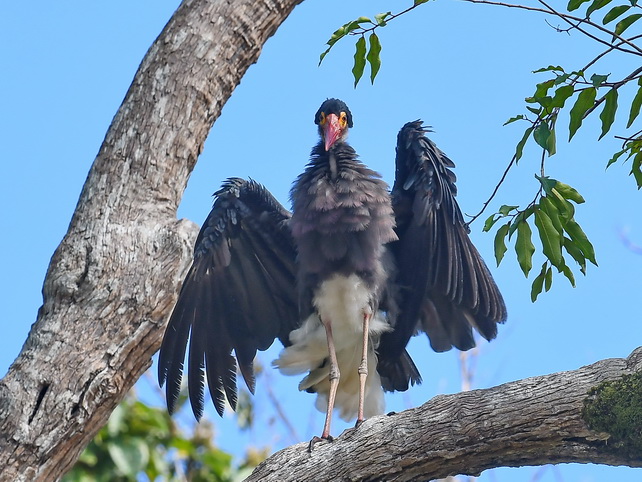 The endangered Storm's Stork has a stronghold in the Kinabatangan Wildlife Sanctuary.

-------------------------------------------


View our photo page of the Tawau Hills NP and Danum Valley extensions of this tour.