Birdtours2asia
Expert guided birding tours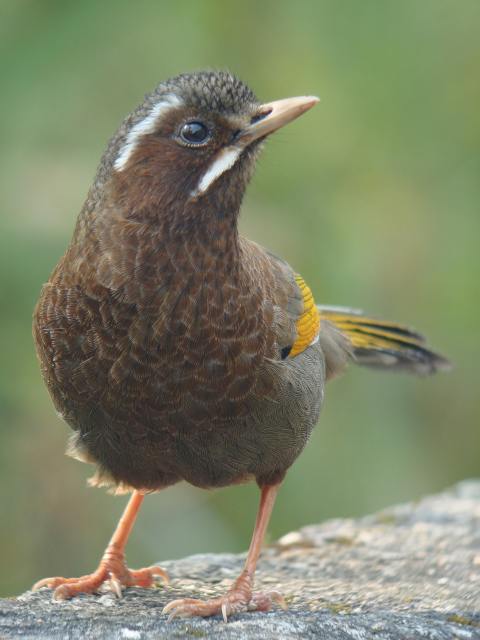 White-whiskered Laughingthrush
Yushan National Park
Note- For this year's tour report, I have chosen to simply follow taxonomy as it appears in the best field guide for use in Taiwan to date "Birds of East Asia by Mark Brazil". Those that wonder why I post this important note may learn more on –taxonomy, endemics and species splits- in our article here.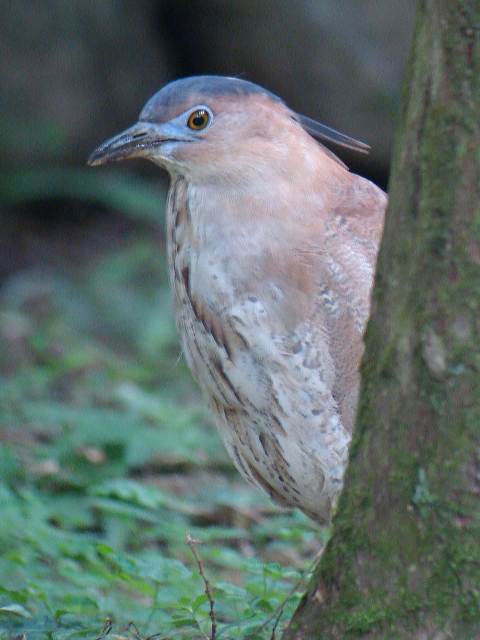 Malayan Night Heron
Hard to find in SE-Asia, easy on Taiwan!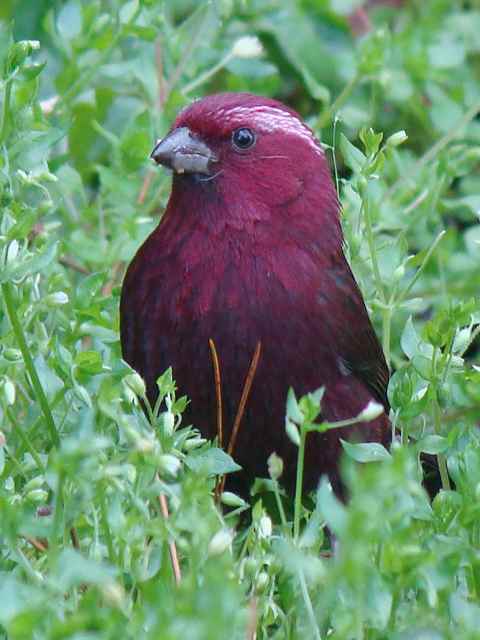 Vinaceous Rosefinch
Superb non-endemic speciality!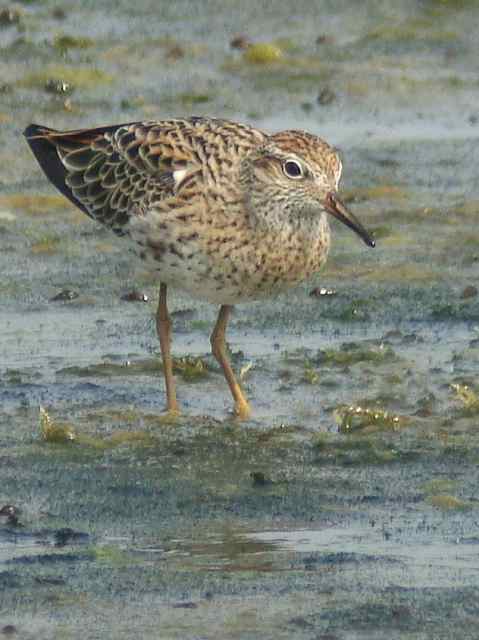 The Tsengwen estuary always holds
some good waders, here a
Sharp-tailed Sandpiper
Birdtours2asia
Join us on a tour and you'll get
Top-quality holidays
Friendly & experienced leaders
Excellent itineraries & trip logistics
Comfortable high quality accommodations
All inclusive competitive tour prices
Small groups - size limit=6
Finest birding in Asia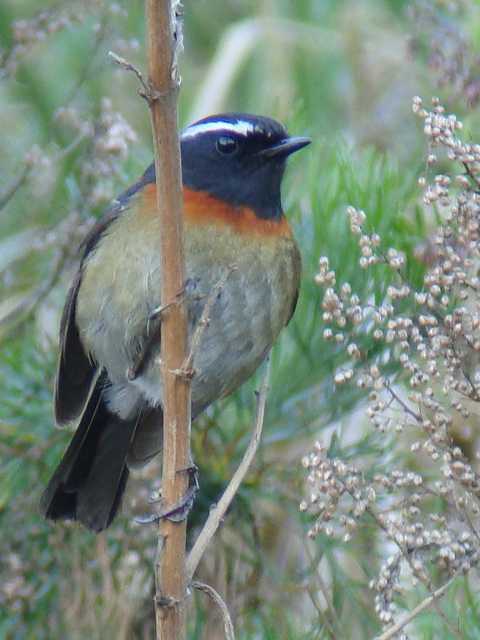 A classic goodie and always good for
photos, the Collared Bush Robin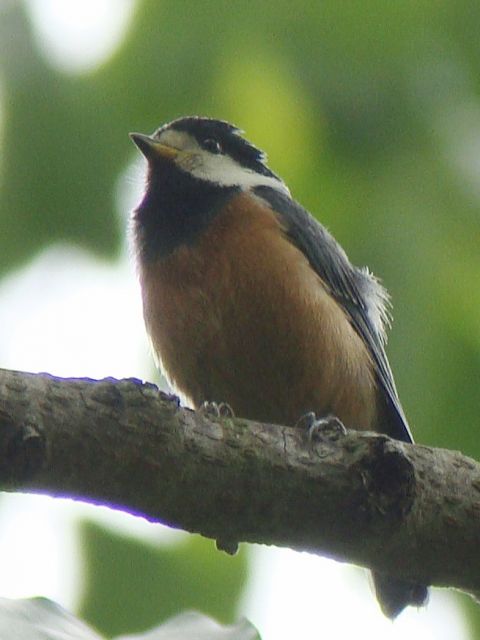 Much harder to get a good shot of,
the Varied Tit

We power your vacation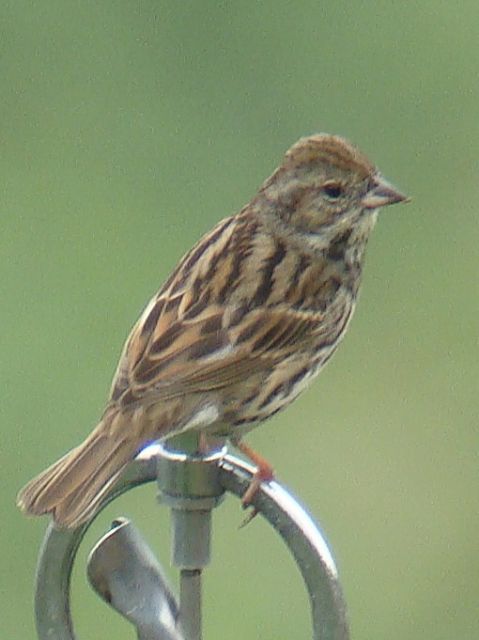 Black-faced Bunting, Chung Yang Farm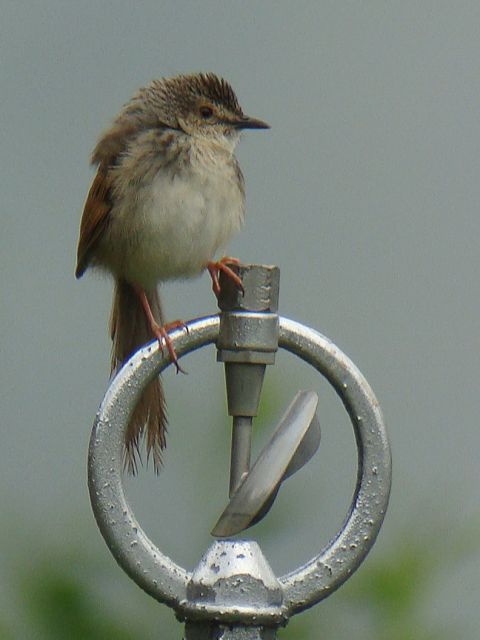 Another "sprinkler bird",
the Striated Prinia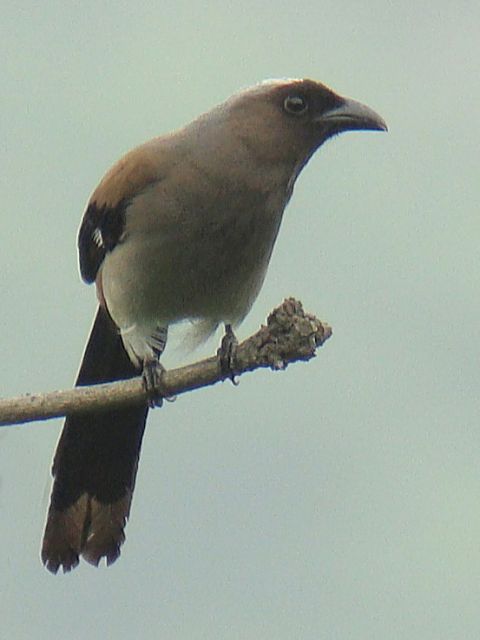 Grey Treepie, Anmashan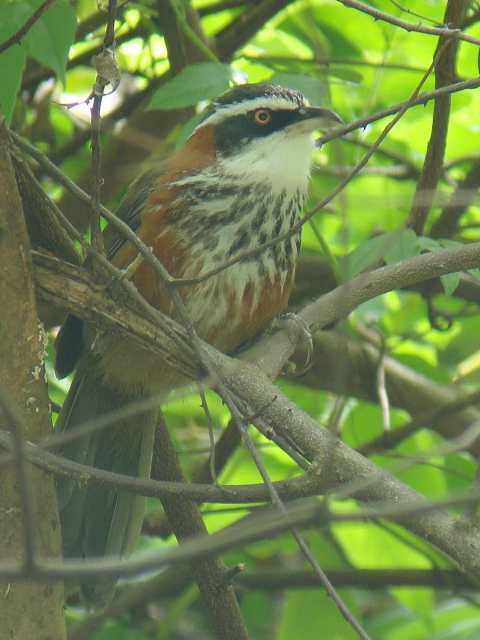 Taiwan Scimitar Babbler, Anmashan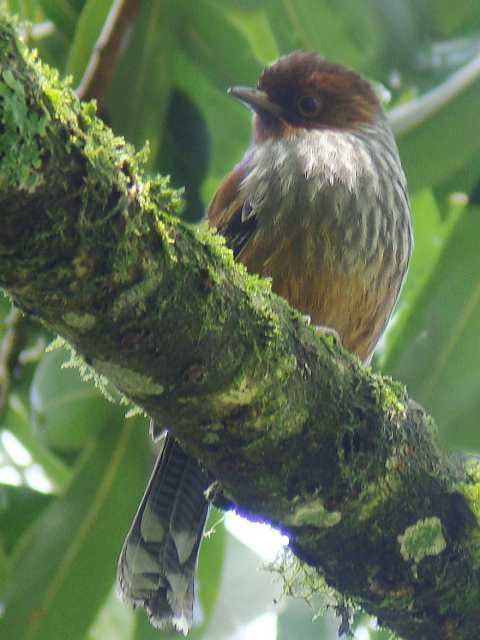 One of our 3 Taiwan Barwing encounters
was good for photos,
this at the Blue Gate track near Wushe.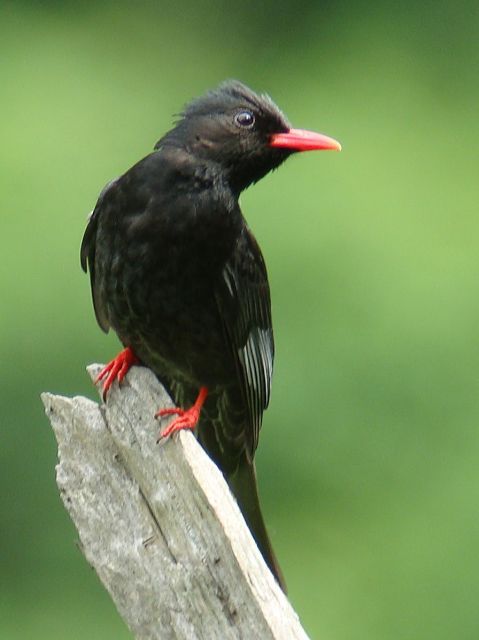 Always nice, Black Bulbul, at Huisun FR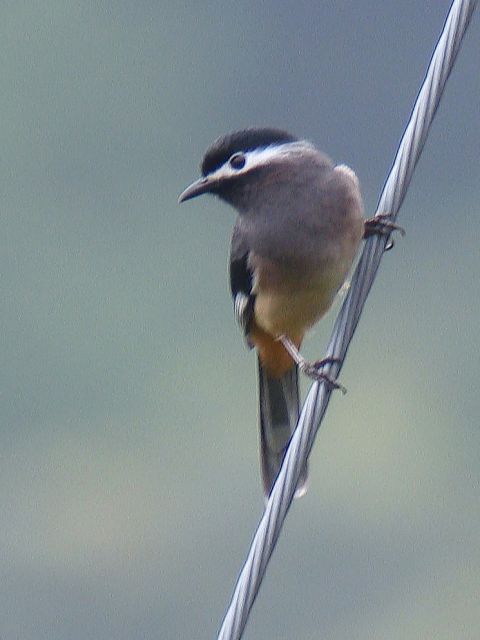 White-eared Sibia, Chung Yang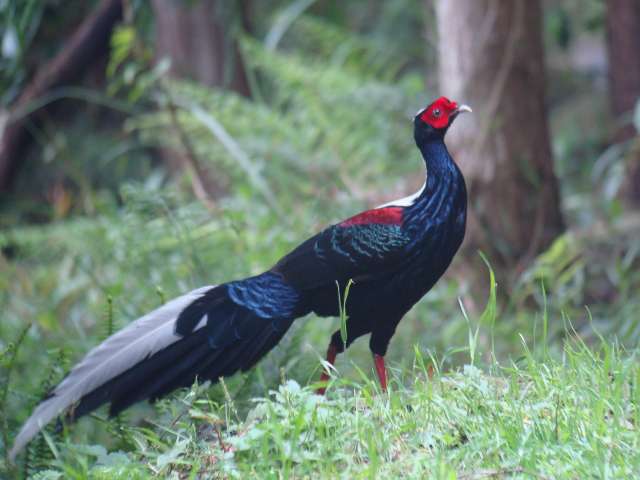 Only on Taiwan!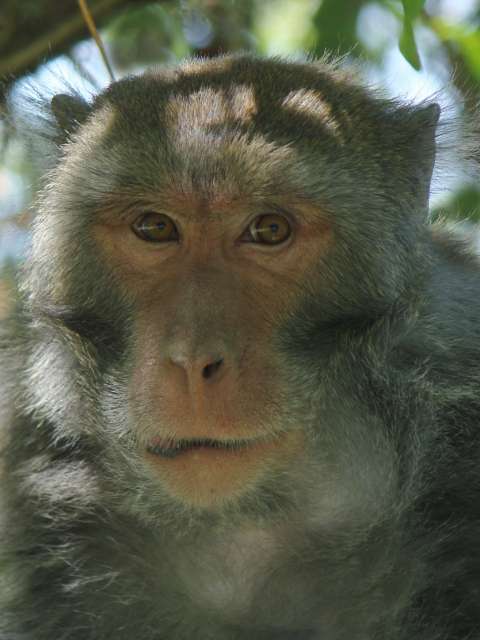 Formosan Macaque, Yushan NP.
All bird photographs taken
'on tour'
are opportunity shots by
Stijn De Win
B2A - Taiwan 2010
Endemics quest (all of 'm)
2 - 10 April
Participants ; Chuck and Jacqui Probst
Tour leader ; Stijn De Win
Text and tour photos by Stijn
Taiwan is 'the' perfect location for a most enjoyable and rewarding shorter birding holiday. Enjoyable because Taiwan has plenty enormous and well preserved forest areas set in fantastic mountain scenery, enjoyable for it's modern infrastructure with good access to all birding sites, good hotels, safe roads, friendly people… It's highly rewarding because the birds are superb with the endemics and plenty distinct subspecies to add interest, rewarding because one can find all endemics in a single short visit, as we did on this tour.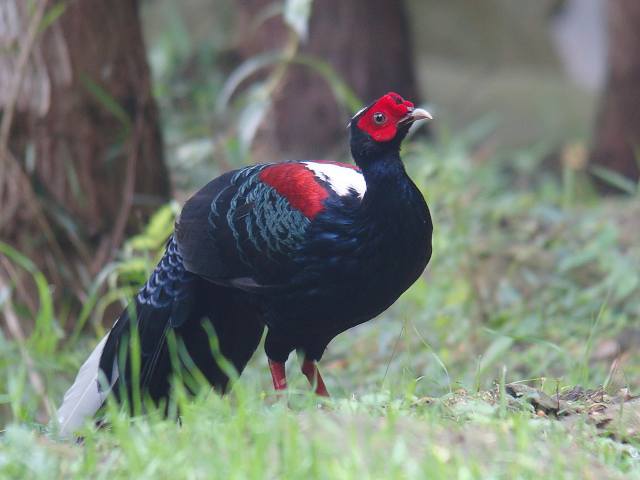 The Swinhoe's Pheasant, one of Taiwan's star attractions, and seen on no less than 5 tour dates!
It is clear, after this trip that we enjoyed so much;
I can highly recommend any birding trip to Taiwan with a big portion of fresh enthusiasm!
It would not be possible of course, to force anyone to believe my words, therefore, if I may, I would like to note again that all images on this report's pages have been taken 'on' the trip and as you may know, my photographs don't lie!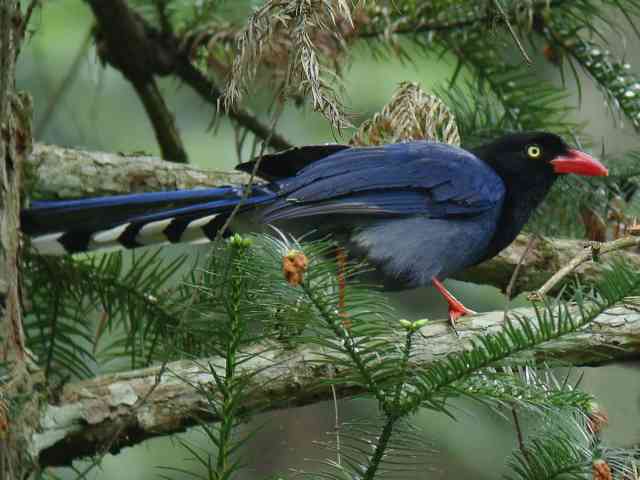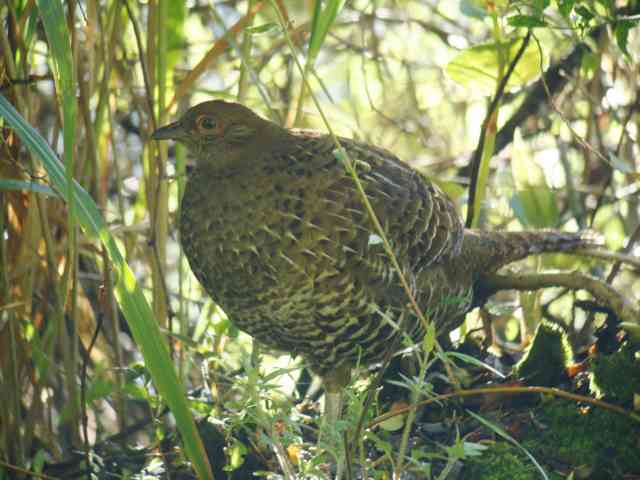 Two more top-endemics, Taiwan Blue Magpie –my favourite-. And Mikado Pheasant –possibly the most wanted species-.
Birding2asia does like a good start to a trip. I can remember how Shaun, straight from the airport and on his first afternoon birding in Thailand, got brilliant views of Blue Pitta at Khao Yai. Great Philippine Eagle, on our first full day birding in Philippines, 2010 tour. Spoon-billed Sandpiper, 'straight on' always, on all of our Thai guided trips in both winters 2008-2010. For Jans, 61 Vinous-breasted Starlings even before we reached our site to visit, Krung Ching…
Anyway, back to Taiwan and what we did on our first day is drive from Taipei to Dongshih, then on our first afternoon birding Anmashan, saw no less than 10 of the 15 traditional endemics! That these must include some of the trickier to find species is clear, most notable Taiwan Barwing, which I have noted being missed by tour groups in the past. The other nine notched up were the delightful Yellow Tit, Flamecrest, Formosan Whistling Thrush, Taiwan Bush Warbler, Collared Bush Robin, White-whiskered Laughingthrush, Steere's Liocichla, White-eared Sibia and Taiwan Yuhina.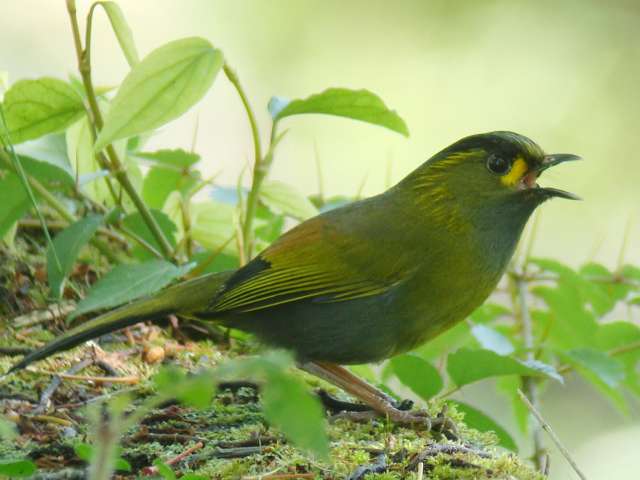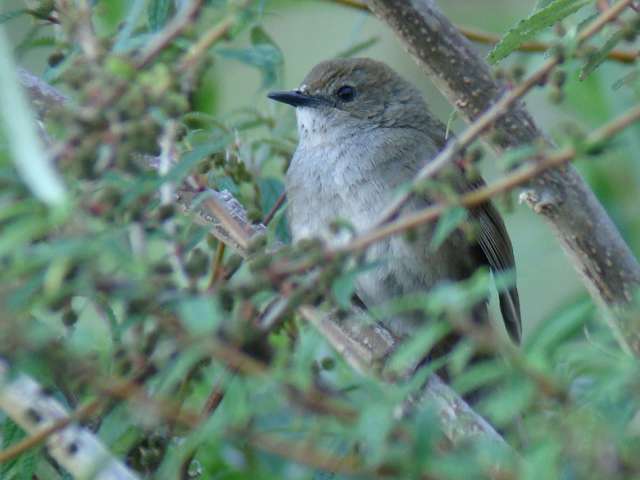 Both the Steere's Liocichla and Taiwan Bush Warbler live up the mountains with some exceptional song.
Furthermore, we recorded a great number of the more recent splits and superb specialities, all in this first single afternoon; Taiwan Scimitar Babbler, Dusky Fulvetta, Brownish-flanked Bush Warbler, White-bellied Pigeon, rare in Taiwan Mountain Hawk Eagle, two Black Eagles, Taiwan Barbet, Scaly Thrush, Rufous-faced Warbler, Little Forktail, Rufous-crowned Laughingthrush and the Eurasian Nutcracker which on Taiwan, would be hard to call with the alternative name 'Spotted' Nutcracker.
What a day trip from Taipei would that have been! But, we continued of course and pretty much throughout the tour, kept well ahead on schedule seeing all the wished for avian delights that Taiwan is rich. Here we have it –no pressure- just relax and enjoy Taiwan is the message!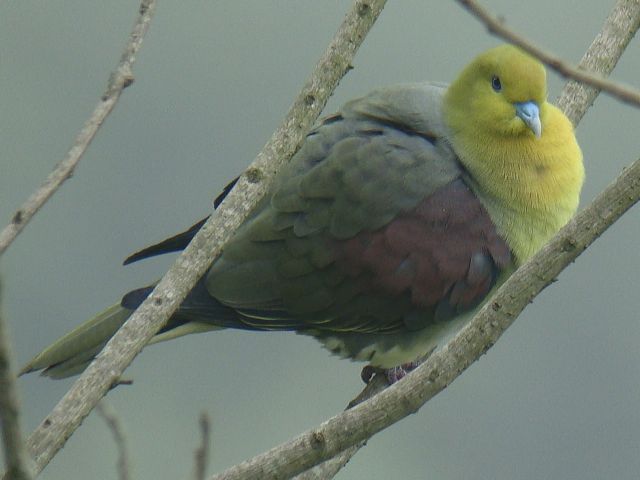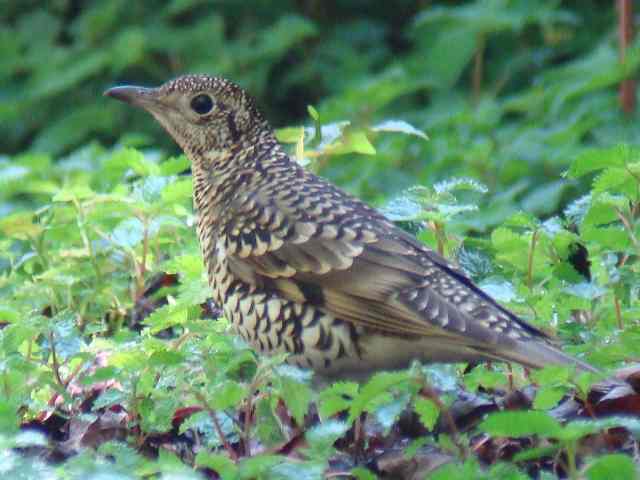 The White-bellied Pigeon is more reliable on Taiwan than anywhere else in Asia, same applies for Scaly Thrush.
Additional days birding at Dasyueshan didn't disappoint us for a moment, despite the weather which was not always favourable. Some absolute highlights include our first Mikado Pheasant, a female, and this superb male Swinhoe's Pheasant that posed for photos by the roadside for a full 5 minutes, a little flock of those cute Golden Parrotbills that so often can be hard to find, a White-backed Woodpecker that came in to show on an exposed treetop, plenty more Scaly Thrushes, both Chinese Bamboo-Partridge and Malayan Night Heron by the roadside, Taiwan Fulvetta, Oriental Cuckoo good for photos, and Taiwan Shortwing did show well after quite a bit of persuasion as did a pair White-browed Robin.
Not that we didn't enjoy the Jays, Winter Wren, Coal Tit and another Nutcracker that we watched taking a bath. A few others gave only rather brief views to start with on this trip, the scarce tancolo spp Grey-headed Woodpecker, Yellowish-bellied Bush Warbler and Rusty Laughingthrush.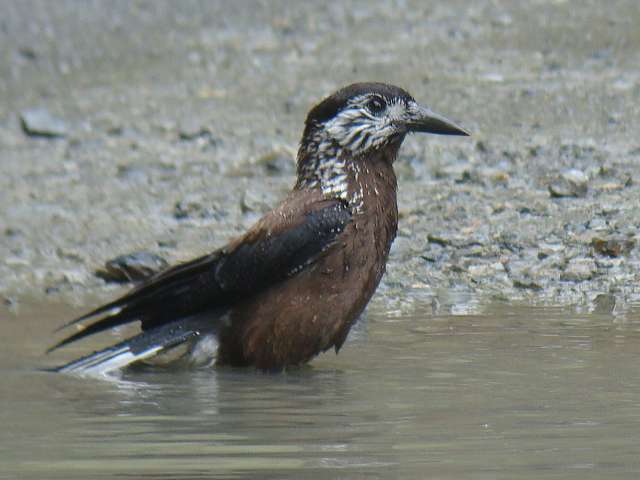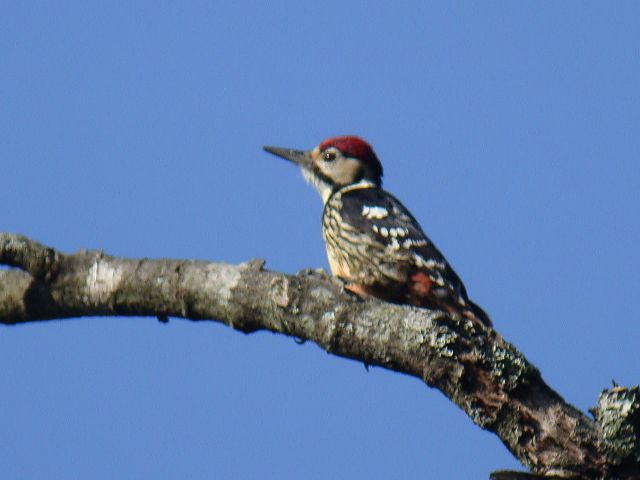 How do you like Taiwan's "non-spotted" Nutcracker? With declining populations in Europe, White-backed
Woodpecker now has an important stronghold in Taiwan.
The excellent Huisun Forest Reserve was next to visit and this is an area I like for the simple reason it never fails to deliver on it's specialities. Especially the Taiwan Blue Magpies are just birds to love and the Varied Tits of the area are always nice to see, that is to see -as indeed they are a challenge to get a good shot of. Both Jacky and myself gave it a good try but I guess the perfect shot has to wait again for the next visit. Another story came with the beautiful [Red] Maroon Oriole, both Jacky and myself were way to slow to get the perfect shot of a bird perched at close range and almost at eye-level, in such that it did add to the amusement of Chuck. Oh well…and then...how many times does one get a second chance to get 'the' perfect shot? The bird simply came back to perch at the same spot a little while later. Wffff...see below!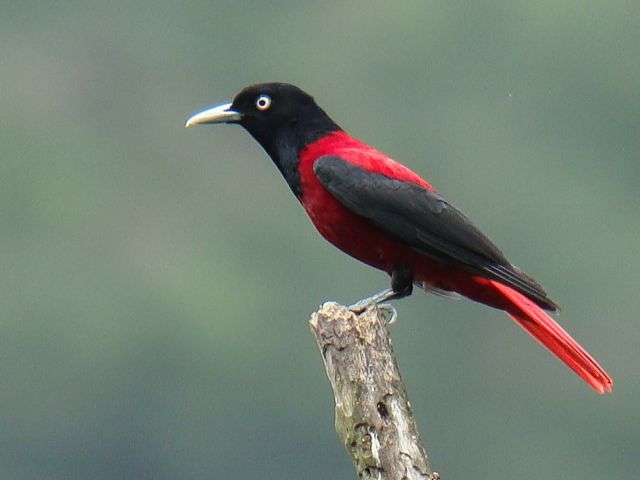 What do you want me to say? Maroon Oriole, Red Oriole, Black-and-Red Oriole, Ivory-billed Oriole, White-eyed Oriole…
or simply 'photo of the trip'.
On to the Wushe area, good as always, despite tick fog for most of the time. It kept us from the fabulous mountain scenery on Huhuan pass but not the Alpine Accentor as we found 1 bird by the first parking lot. The beautiful forests at Bedongyueshan are situated at a lower altitude, thankfully, and without the fog a problem at the site, we managed all the specialities of the area. Our first visit revealed a Taiwan Partridge that sat in the open by the roadside, unfortunately only seen by Stijn as the bird disappeared rather quick and before Chuck got onto it. We later, on a second visit, accidentally flushed another Partridge from its roost up a tree and yet another bird proved very responsive to tape, we came 'very' close anyway. Then later at the same spot, yet another (yes they are common here) simply flew in to a tape recording and gave tickable flight views for Chuck in the end. We also saw a total of 3 different males and 1 female Swinhoe's Pheasant at this site. Together with a male seen at Yushan NP later on in the tour, gave us sightings of this superb (yes confirmed, more stunning than Mikado) Pheasant on 5 different tour days. NOT…bad at all I must say…hehe!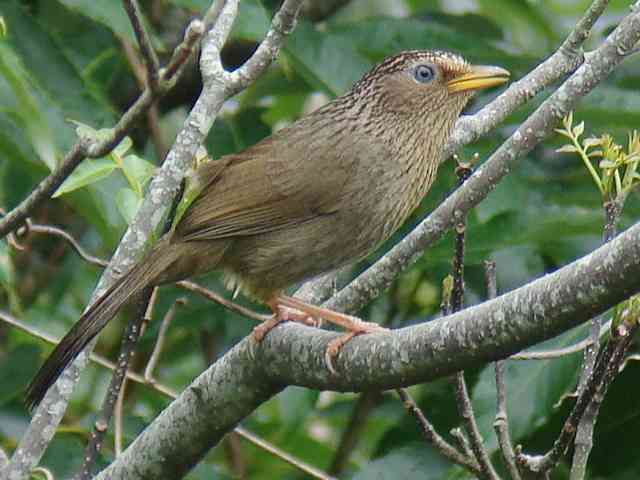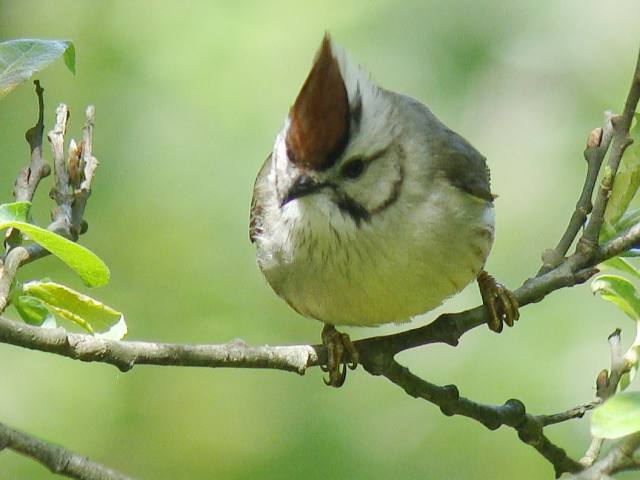 Without the eye-brow, Taiwan Hwamei. Lively flocks of Taiwan Yuhina are always a joy to watch.
Rufous-crowned Laughingthrush are plentiful at Bedongyueshan and impossible to miss I reckon. The Rusty Laughingthrush that gave splendid views in the open is much scarcer and only 2 birds showed. Another real speciality of the forest here is the Black-necklaced Scimitar Babbler but these can be tricky to get. I can remember only brief views last year and I still don't understand why they were so extremely responsive this year. Oh man, best views ever.
The Wushe area has 4 different good birding sites, we had HehuanPass and Bedongyueshan above so lets move on to Chung Yang Farm. Chuck had set his hopes high on seeing Vinous-throated Parrotbill, well, this is the spot. Our first visit got us Taiwan Hwamei to perform, Brown-headed Thrush, Black-faced Bunting…but not the Parrotbills. Second visit then. We missed photographing one that sat on a sprinkler (see Bunting and Prinia photos), then tracked it down again somewhat higher on the slope where 4 birds attracted by a freshly made recording got us plenty decent looks.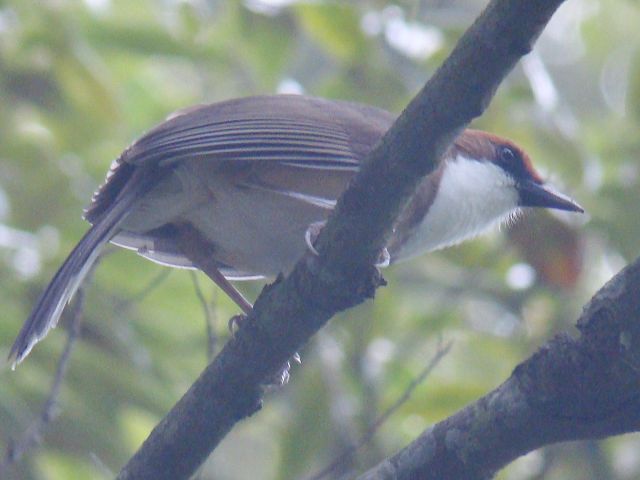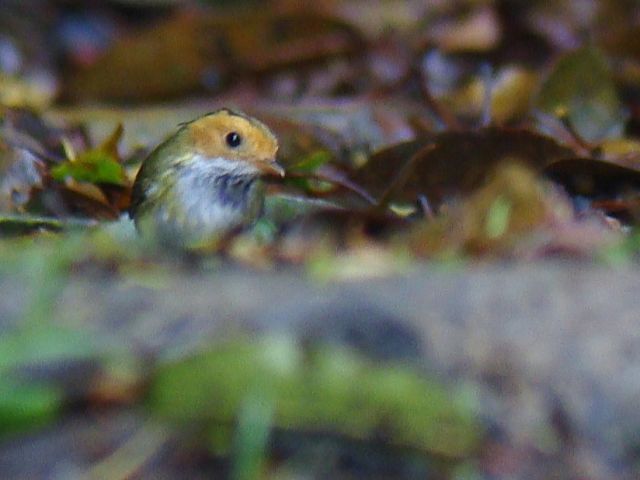 Rufous-crowned Laughingthrush –Bedongyueshan. Rufous-faced Warbler –Blue Gate track Wushe.
A last site near Wushe, and famous enough, is the Blue Gate track. We were lucky to be welcomed by a clear and sunny morning, allowing for some real nice scenery and views over the forest. Birds didn't disappoint and before we actually reached the start of the walk got Brown Bullfinch and Ferruginous Flycatcher. On the track itself, Taiwan Wren Babblers weren't singing but play-back at a stake-out did the trick for good views of this tail-less cutie. In exactly the same spot a pair Snowy-browed Flycatcher did show while a singing Taiwan Shortwing stayed concealed. Another Shortwing furter on along did show though and we got another Brown Bullfinch perched for scope views. The Blue Gate always is a good site for Taiwan Barwing and Yellow Tit, and both of them did just that! Show!
Another White-backed Woodpecker turned up and both White-tailed Robin and Rufous-faced Warbler hopped around on the track to feed in the leaf litter giving us even more photo opportunities.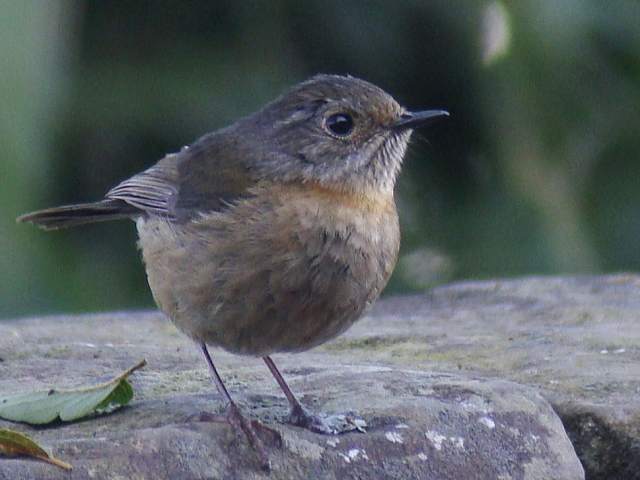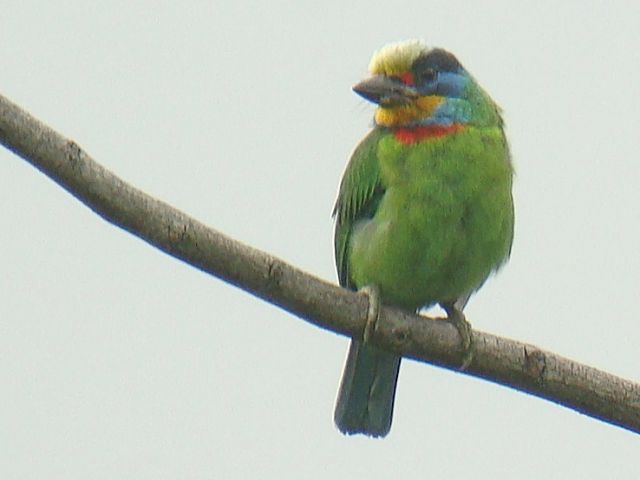 Female Collared Bush Robin –Yushan NP. Taiwan Barbet –Anmashan.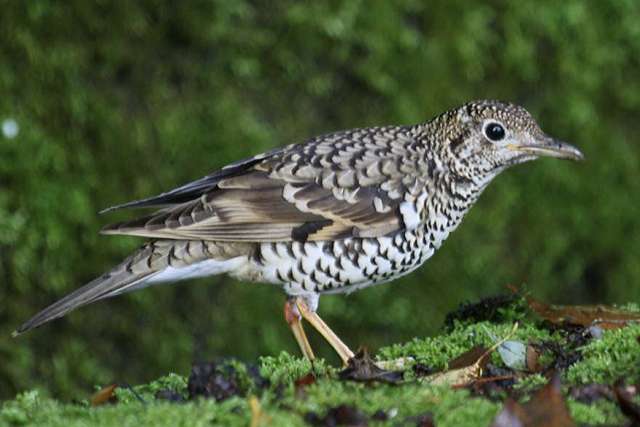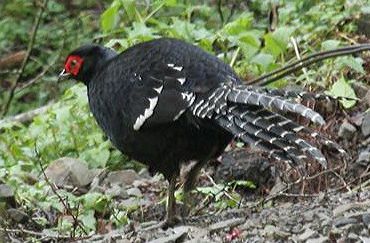 Two superb photos taken by Jacqueline Probst on this trip.
Scaly Thrush at Anmashan and male Mikado Pheasant at Yushan NP, well done!
Not sure how I must describe our day at Yushan NP, 'easy' perhaps, it just proved so easy this morning, I'm talking get Mikado Pheasant as seeing a male was still high on our wish list. We woke to a brilliant sunny day, and for the first time this trip the weather had greatly improved. It wasn't before long, a first pair Mikado Pheasant showed feeding by the roadside and they did that well for over a minute before moving on into the bush. Longer to show was a female we found little later and this bird even got digiscoped from the car…scope hand-held! Two sightings, 3 birds, but another male at yet another spot decided even that wasn't enough for us. Lucky lucky lucky.
With pleasant sunny weather and very little traffic on a weekday, birding at Yushan is a delight. Collared Bush Robins, White-whiskered Laughingthrushes and Steere's Liocichlas are just everywhere and incredibly common. Goodies we got include Vinaceous Rosefinch, our third Taiwan Barwing sighting of the trip and more Rusty Laughingthrushes, Taiwan Bush Warblers to perform, another Nutcracker, more Flamecrest, Golden Parrotbill, 2 sightings of Pale Thrush, White-browed Robin, Scaly Thrush, Taiwan Fulvetta and a Formosan Macaque that did steal our lunch…Mmm.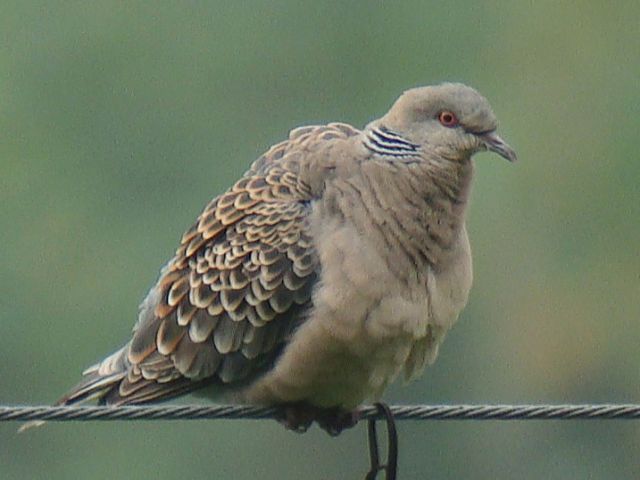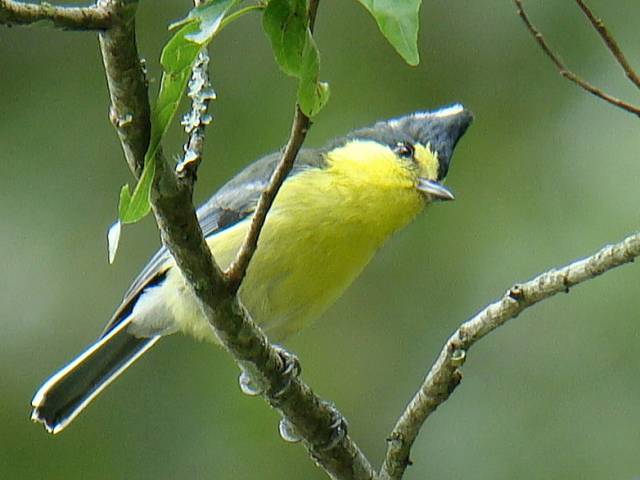 The Oriental Turtle Dove is common on Taiwan. Yellow Tit is 'only' on Taiwan.
Chuck and Jacqui had seen Styan's Bulbul on a little pre-tour extension to Lanyu and Taitung, and with a couple good Taiwan Hwamei sightings on the main tour so far, both important targets for the Kenting area had been seen so we opted out with the Tsengwen estuary our last birding spot to visit. Also here our visit was rather brief as Jacky had set hopes high on a more cultural activity for the afternoon. Funny enough, it was just the afternoon we needed for seeing the Spoonbills as they had not been at the usual spot in the morning of our visit due to changing tides with birds feeding elsewhere. Locals assured us they would come again to the lagoon in the afternoon, but then again, Chuck had seen Black-faced Spoonbill previous in Vietnam and Japan, so wasn't high on his list and therefore decided to leave early for a more 'touristy' but indeed enjoyable visit to the aboriginal cultural villages near Sun Moon Lake.
Nevertheless, our morning at Tsengwen held some excellent sightings and especially waders were of interest. Grey-tailed Tattler, Great Knot, Sharp-tailed Sandpiper and Far-eastern Curlew are most noteworthy. Both Yellow and Cinnamon Bitterns are always nice and of course we did a great job for the trip list…Little Grebe, Common Kingfisher, Whiskered Tern, Garganey, Black-crowned Night Heron…you know, the kind of thing that tour companies like to fill their tour lists with…whhhh! Anyway, it didn't make our morning's birding anything less than enjoyable so we were completely ready for the somewhat different afternoon program. Just rest me 1 bird to mention. The Malayan Night Heron in the cultural park. Here you go!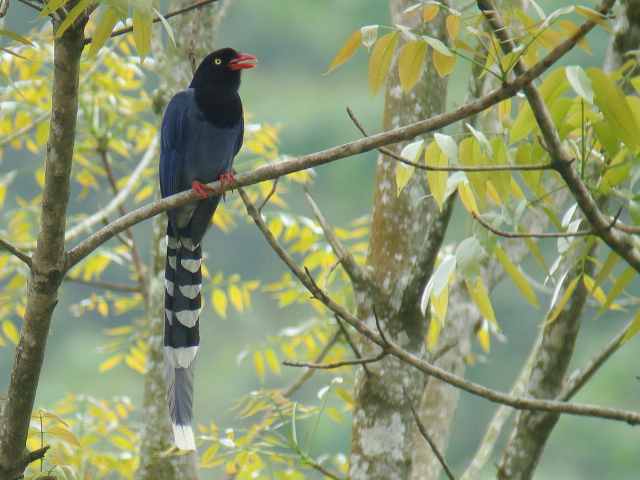 Waiting for you on the island, Taiwan Blue Magpie!