B

2

A Thailand birding trip report.
Central plains and NP + mountains of the North, 10-24 January 2019

Participants; Rosemary and David Jackson (UK), Richard Muise (Canada), Rose Newsom (UK)

Khao Yai and Kaeng Krachan National Parks,
Laem Pak Bia and Pak Thale wader areas, Doi Inthanon,
Doi Ang Khan, Doi Lang, Mai Hia, Doi Chiang Dao, Thaton, Doi Lo
Thailand remains a very rewarding destination (for us since 1997) and the reason is simple enough. With some good effort put in, this tour always makes for happy participants. (see client feedback below) Our group recorded 382 bird species, a high total for a short tour in mid-winter. (We'll aim 400+ in March 2020 when wintering birds are still present in combination with early breeding season activity.) Features of this successful tour were well enjoyed. We visited interesting places with lots of birds present everywhere and this means we don't need to rush around for getting the numbers we do. Beautiful weather and scenery, smooth running logistics, easy walks and a very comfortable journey overall were other great features present on this trip. Thailand just will never lose its appeal. We enjoyed visiting pleasant birding sites with great nature and an interesting culture, friendly people, good facilities and great food... It's a feel good place and we can't wait to get back so looking forward to making more happy birders on the many Thai tours to come.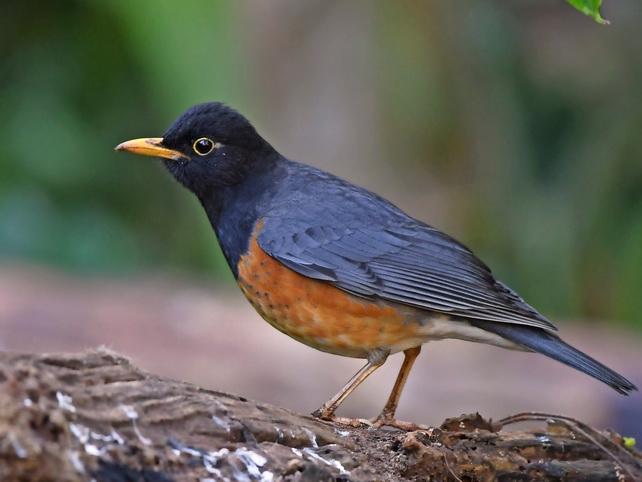 The now famous Black-breasted Thrushes at Doi Ang Khan... Thailand is about quality birds, about fantastic
photo opportunities, enjoyment with birds showing well and close-up, good numbers... Thailand has it all!
Our stay in the wader areas of Pak Thale and Laem Pak Bia was a great start of the tour. Based in a new seaside resort with swimming pool it's only short drives away to the wader hotspots. We were successful finding all the targets with good views of Nordman's Greenshank, Great Knot, Asian Dowitcher, White-faced Plover and many more. Last minute, we did connect with Spoon-billed Sandpiper when a newly drained pond attracted huge numbers of shorebirds. We had found the same pond totally flooded the previous day with waders spread out elsewhere and over a big area. This shows how tricky it sometimes can be to seek out the Spoonie. Anyhow, our last minute find was well within the original schedule without using any of our backup time for this important target so all went very well.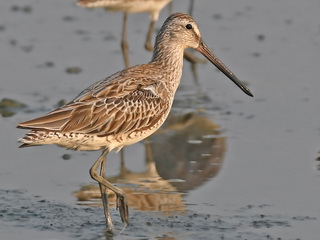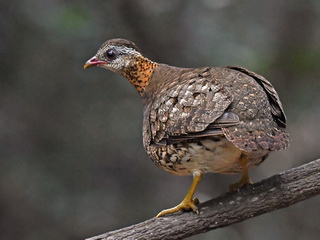 Asian Dowitchers showed well at Pak Thale
Scaly-breasted (Green-legged) Partidge at Lung Sin hide
Dry fields and marshes in the hinterland of the Petchaburi wader areas provided us with some spectacular species. A couple Greater Spotted Eagles were joined by a single Steppe Eagle and also Booted Eagle was on show. Peter did a great job seeking out a Pallas's Grasshopper Warbler which was calling then gave some brief but satisfying good views for such a skulker. Stijn pointed out a fine Eurasian Wryneck while Rose did very well with perfect views of the Asian Golden Weavers. A Freckle-breasted Woodpecker was only heard but of course it isn't always about targets and in such a "birdy" (not the ice coffee brand this time) area we all enjoyed numerous tropical sweeties; Oriental Pratincole, Blue-tailed and Green Bee-eaters, Cinnamon Bittern, Purple Swamphen, Grey-headed Lapwing, Bronze-winged Jacana, Black-shouldered Kite, Painted Stork…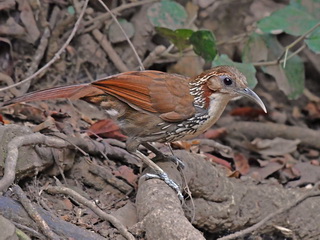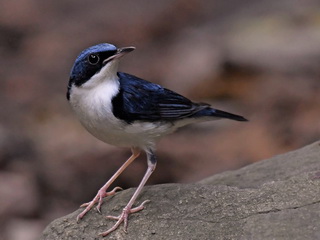 Large Scimitar Babbler, Kaeng Krachan
Siberian Blue Robin, Kaeng Krachan
From the one birder's paradise to the next is only a short drive in Petchaburi Province of Thailand. I would like to point out that an amazing total of about 500 bird species have been recorded in this single province alone. We stayed in the excellent Baan Maka Nature Lodge at Kaeng Krachan National Park. Lung Sin's hide is a permanent set up at a waterhole and a heaven for both bird watching and photography alike. This was an afternoon of close encounters with Large Scimitar Babbler, Siberian Blue Robin, Scaly-breasted Partridge, Silver Pheasant, Greater Necklaced Laughingthrush, Chinese and Tickell's Blue Flycatcher, Abott's Babbler, while Lesser Mouse Deer, Grey-bellied Squirrel and Northern Treeshrew added to the mammal list.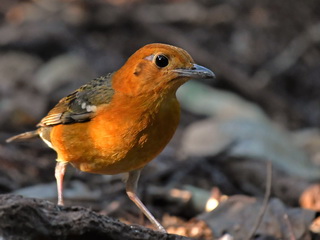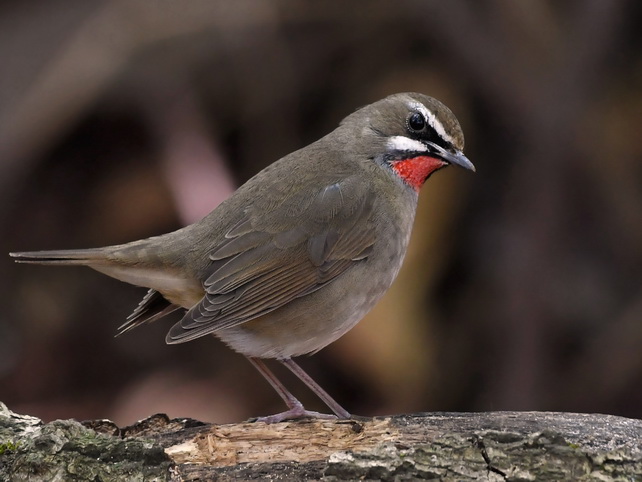 Orange-headed Thrush, Kaeng Krachan
Siberian Rubythroat, Kaeng Krachan
Kaeng Krachan was good for Siberian Rubythroat and Orange-headed Thrush at a stake-out and we enjoyed Black-tighed Falconets, Black-and-Red Broadbill, Wedge-tailed Green Pigeon, Rufous-bellied Eagle and Green-eared Barbets. The Stump-tailed Macaques are certainly interesting if not weird looking animals and still I haven't seen them anywhere else in Asia… a KK speciality! On the last evening we spent some time at the starling pre-roost. Many hundreds Chestnut-tailed Starlings mixed with Black-collared and Asian Pied Starlings are a spectacle to watch. We knew we had to look out for Spot-winged Starling but so far there had been no sightings this winter. I didn't want to give up so easily on this one and when most of the group was packing up did 1 last scan through the Chestnut-tails –and yes- first 1 Spot-winged Starling was found then another bird nearby. This nomadic species is tough to get anywhere and must be the surprise/bonus species of this tour. Peter may have an enormous Thai list but this was only his third encounter with the species in Thailand. What a nice end to our Kaeng Krachan visit.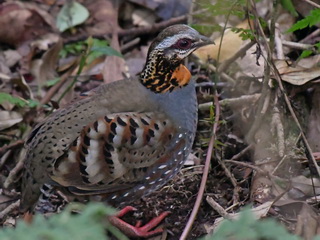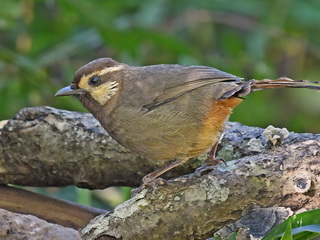 Rufous-throated Partridge, DI
White-browed Laughingthrush, Doi Lang
As Thailand's oldest and most popular National Park Khao Yai may get busy with visitors at times but our well planned itinerary allowed us to find many of the classic birds of the area. We did well with both Red-headed and Orange-breasted Trogon, Siamese Fireback, Banded Kingfisher, Heart-spotted Woodpecker, Wreathed Hornbill… Brown-backed Needletail swooping down for a drink is a not to be missed spectacle etc. The localized Limestone Wren Babbler of Wat Phra Phuttabath Noi was another speciality in the bags we needed to pack up that same morning for our flight to Chiang Mai.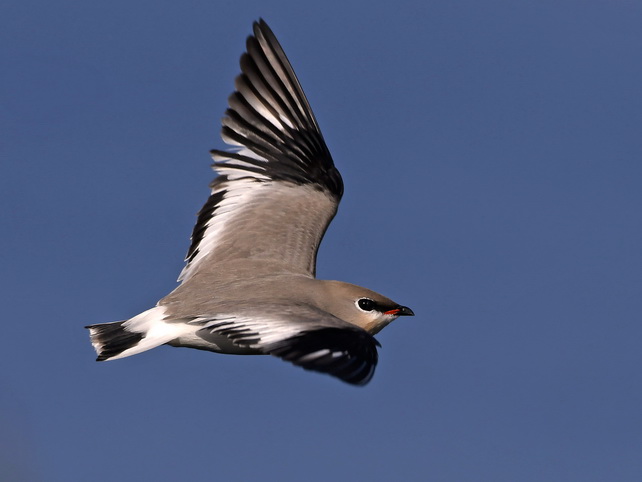 Small Pratincole! One of 100+ seen at Doi Lo.

In the north we started with Doi Inthanon. On the summit we did well finding Rufous-throated Partridge in the undergrowth of the beautiful mossy forest. We also added many of the regular goodies up here before it was time for the famous fresh coffee and hot chocolate sold on the top. This is always a welcome sight on a chilly morning at 2565 masl and today was extra special… (my birthday!) Of course we explored all other areas on the mountain thoroughly. Km 34 is a beautiful and peaceful area and the only other people one may usually meet here are other birders. On our walk we encountered a huge flock containing Clicking Shrike-Babbler, Brown-throated Treecreeper and Asian Emerald Cuckoo together with many commoner species. Beyond the NP campground a small road continues through orchards, strawberry farms and various good bird habitats and it proved very productive for us in the afternoon. Orange-bellied Leafbird, Grey-sided Thrush, Streaked Spiderhunter, Grey-backed Shrike, Burmese Shrike, White-browed Scimitar-Babbler, Wedge-tailed Green Pigeon, Stripe-breasted Woodpecker, Blue-throated Barbet and more. Some flowering trees I had found pre-tour got us very nice White-headed Bulbuls on a second attempt. These are a nomadic species and didn't seem very easy to find this season. The dry forest at km 13 appeared very quiet but we did find our target Black-headed Woodpecker in the end. Violet Cuckoo and Common Hill Mynas also showed here but we couldn't find again the Black-backed Forktail I had seen here pre-tour.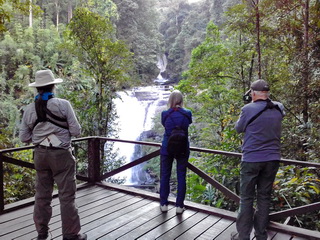 Group at Doi Inthanon waterfalls
View on Doi Chiang Dao from our resort
On our way back to Chiang Mai we made a quick stop at Doi Lo. This was well worth the little detour for the Small Pratincoles as it is possible here to approach them very close with the car and without disturbing them. We also stopped at Mae Hia good for a huge flock of Lesser Whistling Ducks on the wing and a perched Rufous-winged Buzzard. A last stop on our way to Fang got us a pair of localized Wire-tailed Swallows.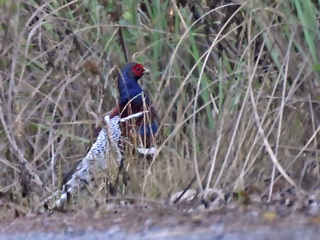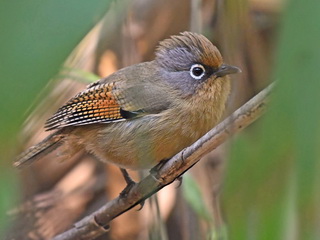 Hume's Pheasant, Doi Lang
Spectacled Barwing on Doi Lang
Doi Lang features a long list of quality birds and combined with easy access, superb scenery, peace and quiet and beautiful weather this is a favourite birding site everyone loves. Oh, and in this season; Cherry blossoms as far as the eye can see. And yes they are a magnet for many bird species. The flowers attract many Sunbirds and Blue-winged Minla. Chestnut-flanked White-eyes love them and Warblers dart around. On this tour we also witnessed a flock of Spot-winged Grosbeaks munching away on the still green cherries. Hume's Pheasant and Giant Nuthatch may be the most wanted birds on Doi Lang and finding both went well. Chestnut Bunting, Cutia and White-bellied Redstart are good ones to point out but the list of quality sightings is long; Spot-breasted Parrotbill, Rusty-cheeked Scimitar Babbler, White-browed Laughingthrush, Sapphire Flycatcher, Spectacled Barwing, Cook's Swift, Chestnut-bellied Rock Thrush, Mountain Bamboo Partridge, Slaty-blue Flycatcher, Black-throated Tit, White-gorgeted Flycatcher…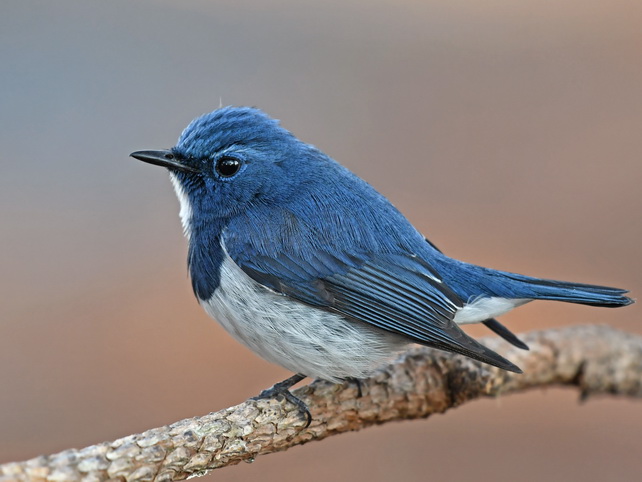 A few Ultramarine Flycatcher winter yearly on Doi Lang and this bird has been on stake-out since 2014!
Our morning on Doi Ang Khan was another highlight in the north with very pleasant birding and many confiding species showing well. Black-breasted Thrushes were ridiculously easy with more than 10 birds present, the best number I have recorded here. A male Daurian Redstart entertained as well as many Gould's and Black-throated Sunbirds in the cherry blossoms. Maroon Oriole kept calling but never came out. About 15 Spot-winged Grosbeaks feeding low on green cherries was absolutely fantastic providing with perfect photo opportunities for everyone. We also added White-tailed Robin, Slaty-backed Flycatcher, Eastern Buzzard, Brown-breasted Bulbul and White's Thrush to our ever growing list. We must be getting near 400 by now.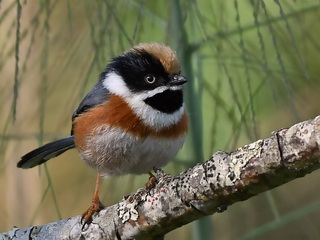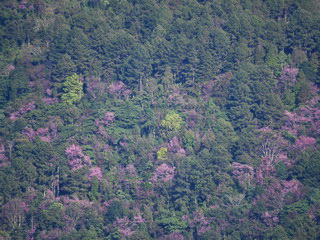 Black-throated Tit, Doi Lang
Cherry blossoms add colour to the forest, Doi Lang
Last morning of the tour we visited a Buddhist temple set in the forest at the foot of Doi Chiang Dao. With such a huge bird list by the end of our tour we struggled a little adding any new species but we did enjoy watching plenty good birds anyhow. Green-billed Malkoha, Violet Cuckoo, Verditer Flycatcher, Scarlet Minivet and Black-winged Cuckoo-Shrike showed well while Banded Bay Cuckoo and Streaked Wren Babbler were heard only. On our way back to Chiang Mai we made a last stop at the Wire-tailed Swallow stake-out for better views than we have had previous and I think it's a good bird to end the tour with. Our trip total was 382 species recorded of which a few were heard only. I haven't had the time to do the list for the website. For a comparable list (379 species) you may check the report of a tour we did run in January 2014.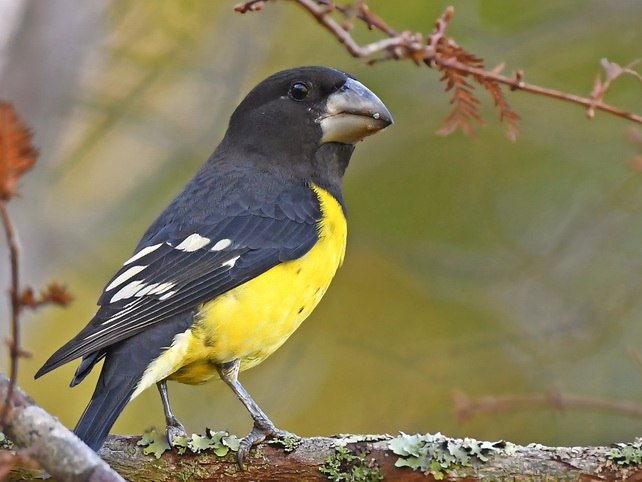 Spot-winged Grosbeak male on Doi Ang Khan
Above two sound recordings made on the tour. Also shared on Xeno-Canto and the Internet Bird Collection.
On the left is a group of Small Pratincoles from Doi Lo. Right Chestnut-capped Babblers from Mae Hia.