Birdtours2asia
Expert guided birding tours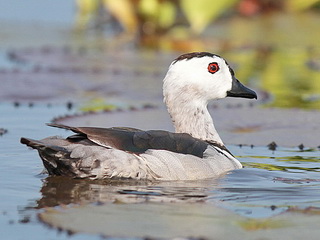 Cotton Pygmy Goose
Thale Noi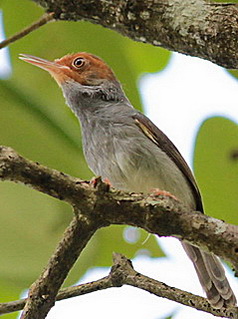 Ashy Tailorbird
Ao Phang nga NP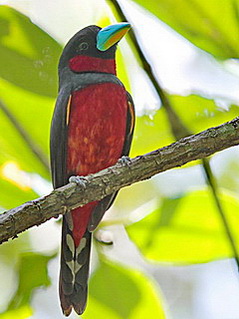 Black-and-red Broadbill
Phang-nga Mangrove Park
Birdtours2asia
Join us on a tour and you'll get
Top-quality holidays
Friendly & experienced leaders
Excellent itineraries & trip logistics
Comfortable high quality accommodations
All inclusive competitive tour prices
Small groups - size limit=6
Finest birding in Asia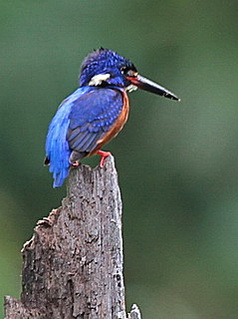 Blue-eared Kingfisher
Khao Sok National Park

We power your vacation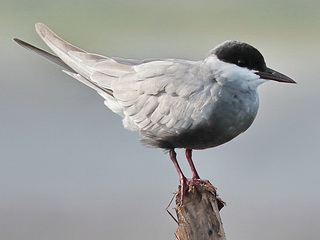 Whiskered Tern
Thale Noi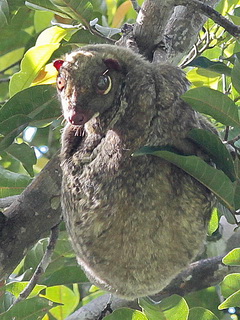 Colugo
Ton Pariwat Wildlife Sanctuary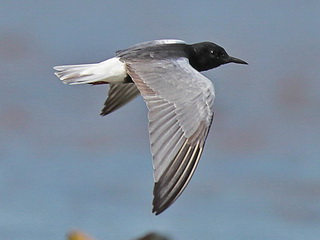 White-winged Tern
Thale Noi
All bird photographs taken on
the trip are opportunity shots.
Copyright Punjapa Phetsri
and Birding2asia.com
Check out our trip list;
Lesser Whistling Duck
Cotton Pygmy Goose
Little Grebe
Yellow Bittern
Striated Heron
Chinese Pond Heron
Eastern Cattle Egret
Purple Heron
Great Egret
Little Egret
Little Cormorant
Western Osprey
Crested Honey Buzzard
Brahminy Kite
White-bellied Sea Eagle
Lesser Fish Eagle
Crested Serpent Eagle
Crested Goshawk
Shikra
Black-thighed Falconet
White-breasted Waterhen
Purple Swamphen
Common Moorhen
Black-winged Stilt
River Lapwing
Red-wattled Lapwing
Pacific Golden Plover
Pheasant-tailed Jacana
Common Sandpiper
Oriental Pratincole
Whiskered Tern
White-winged Tern
Spotted Dove
Common Emerald Dove
Thick-billed Green Pigeon
Vernal Hanging Parrot
Greater Coucal
Lesser Coucal
Raffles's Malkoha
Chestnut-breasted Malkoha
Chestnut-bellied Malkoha
Asian Koel
Plaintive Cuckoo
Square-tailed Drongo-Cuckoo
Great Eared Nightjar
Grey-rumped Treeswift
Whiskered Treeswift
Germain's Swiftlet
Silver-rumped Spinetail
Brown-backed Needletail
Asian Palm Swift
Orange-breasted Trogon
Rufous-collared Kingfisher
Banded Kingfisher
Brown-winged Kingfisher
Ruddy Kingfisher
White-throated Kingfisher
Collared Kingfisher
Blue-eared Kingfisher
Red-bearded Bee-eater
Chestnut-headed Bee-eater
Bushy-crested Hornbill
Oriental Pied Hornbill
Great Hornbill
Red-throated Barbet
Blue-eared Barbet
Brown Barbet
Rufous Piculet
Maroon Woodpecker
Buff-rumped Woodpecker
Green Broadbill
Black-and-Red Broadbill
Black-and-yellow Broadbill
Malayan Banded Pitta
Gurney's Pitta
Hooded Pitta
Blue-winged Pitta
Mangrove Pitta
Golden-bellied Gerygone
Bar-winged Flycatcher-shrike
Large Woodshrike
Common Iora
Great Iora
Scarlet Minivet
Brown Shrike
Black Drongo
Ashy Drongo
Crow-billed Drongo
Greater Racket-tailed Drongo
Pied Fantail
Black-naped Monarch
Asian Paradise Flycatcher
Large-billed Crow
Grey-headed Canary-flycatcher
Black-headed Bulbul
Black-crested Bulbul
Scaly-breasted Bulbul
Puff-backed Bulbul
Stripe-throated Bulbul
Yellow-vented Bulbul
Olive-winged Bulbul
Streak-eared Bulbul
Cream-vented Bulbul
Asian Red-eyed Bulbul
Ochraceous Bulbul
Grey-cheeked Bulbul
Yellow-bellied Bulbul
Hairy-backed Bulbul
Buff-vented Bulbul
Streaked Bulbul
Pacific Swallow
Red-rumped Swallow
Rufous-bellied Swallow
Yellow-bellied Warbler
Arctic Warbler
Rufescent Prinia
Common Tailorbird
Dark-necked Tailorbird
Rufous-tailed Tailorbird
Ashy Tailorbird
Grey-throated Babbler
Chestnut-rumped Babbler
Chestnut-winged Babbler
Rufous-fronted Babbler
Pin-striped Tit-Babbler
Fluffy-backed Tit-babbler
Streaked Wren-babbler
Abbott's Babbler
Moustached Babbler
Scaly-crowned Babbler
Ferruginous Babbler
Puff-throated Babbler
Black-capped Babbler
Oriental White-eye
Asian Fairy-bluebird
Velvet-fronted Nuthatch
Asian Glossy Starling
Common Myna
Siberian Blue Robin
Oriental Magpie-Robin
White-rumped Shama
Chestnut-naped Forktail
Fulvous-chested Jungle Flycatcher
Dark-sided Flycatcher
Asian Brown Flycatcher
Brown-streaked Flycatcher
Ferruginous Flycatcher
Hill Blue Flycatcher
Tickell's Blue Flycatcher
Lesser Green Leafbird
Blue-winged Leafbird
Yellow-breasted Flowerpecker
Crimson-breasted Flowerpecker
Thick-billed Flowerpecker
Orange-bellied Flowerpecker
Scarlet-backed Flowerpecker
Ruby-cheeked Sunbird
Plain Sunbird
Brown-throated Sunbird
Red-throated Sunbird
Purple-naped Sunbird
Van Hasselt's Sunbird
Olive-backed Sunbird
Crimson Sunbird
Little Spiderhunter
Grey-breasted Spiderhunter
Eurasian Tree Sparrow
Forest Wagtail
Grey Wagtail
Paddyfield Pipit
----------------------------------
Six Day Tour of Central Peninsular Thailand
21st – 26th April 2011
A trip run by Birding2asia and guided by Games (Punjapa Phetsri). Before the trip started the itinerary had to be changed due to Khao Luang Krung Ching NP being inaccessible after flooding.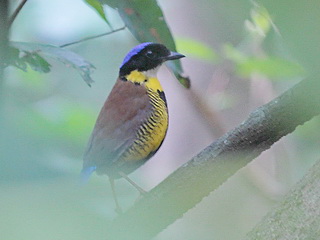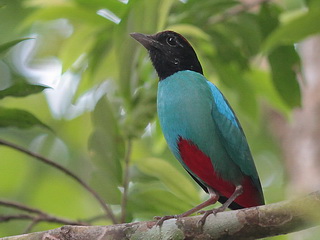 No less than 5 Pitta species were seen on the trip incl. these superb male Gurney's and lovely Hooded Pitta.
Martin and Angel from Hong Kong were the guests. Both were birders rather than photographers. Martin had done a fair amount of birding in South-East Asia but Angel was new to the area. They had requested that we concentrate on forest birds rather than waders and open area birds.
The tour started and ended in Phuket although no birding was done on the island. The provinces of Phang Nga, Surat Thani, Krabi and Phattalung were visited.
Day 1
Ton Pariwat
The guests were picked up from their hotel in Phuket before dawn and driven to Ton Pariwat WS. We walked the entrance road to the park for three hours and birded along the way. As usual, the best represented type of birds were the Bulbuls with Black-headed Bulbul, Black-crested Bulbul, Scaly-breasted Bulbul, Stripe-throated Bulbul, Ochraceous Bulbul and Streaked Bulbul all seen.
Vernal Hanging Parrots moved noisily from tree top to tree top. Dark-necked Tailorbird and Common Tailorbird moved through the same hedgerow and allowed Games to show the guests the key differences.
Brief views were seen of the skulking Grey-throated Babbler and Rufous-fronted Babbler.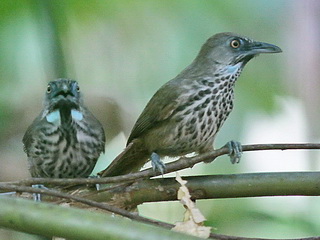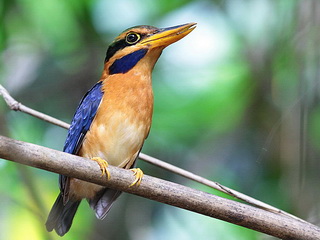 Plenty other hard to find goodies from the forests of the South were enjoyed as well.
Here Chestnut-rumped Babblers and a male Rufous-collared Kingfisher.
A mixed flock of Germain's Swiftlet, Whiskered Treeswift, Silver-rumped Spinetail and Brown-backed Needletail were picking off insects in flight.
The usual Crested Serpent Eagle showed up. A family of Scarlet Minivets passed through near a fruiting tree which the Bulbuls were visiting along with Asian Fairy-bluebirds.
A good selection of Sunbirds and Flowerpeckers were also seen.
Bridge
On the way to Sri Phang Nga we stopped off at a bridge to see what was on the river's sand banks.
This is our best site for River Lapwing now that Thai Muang Golf Course is currently out of bounds. Two River Lapwings were seen in the distance through the scope. Also around were some Pacific Golden Plover.
On the way back to the car Games heard a Blue-winged Pitta which reacted to call but didn't show well.
Hotel
After lunch at the Kuraburi Greenview Resort we had a walk around the grounds. A pair of Lesser Green Leafbirds andsome Buff-vented Bulbuls were active. A Blue-eared Kingfisher was patrolling the stream and a Little Spiderhunter visited the ginger flowers next to our rooms.
On the way to the car we found a Paradise Tree Snake on a dead stump.
Sri Phang Nga
We spent the afternoon at Sri Phang Nga NP. We stopped before the entrance gate to look at some Chestnut-headed Bee-eaters and a Great Iora.
We parked up at the open area near the main signpost. We tried calling some Pittas but nothing responded. We did though find a brown morph long-tailed Asian Paradise Flycatcher and a Yellow-bellied Warbler.
A little further down the track Games speculatively played a Rufous-collared Kingfisher call. To our surprise a male flew in and showed very well. A Green Broadbill called but didn't come out.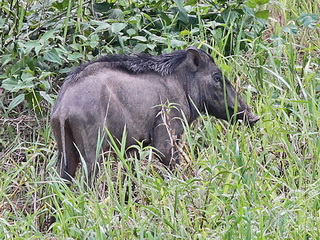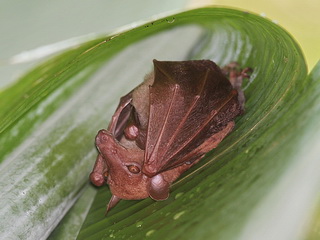 Also mammals were of interest. Here an Eurasian Wild Pig in Khao Sok NP and a Long-tongued Nectar Bat.
Up at the car park we found a Buff-rumped Woodpecker nest high up in an ant's nest. The female poked her head out.
Martin found a Ferruginous Flycatcher hawking from a low perch.
On the way back to the car we managed to call out a pair of Banded Kingfishers which landed next to each other on a branch overhanging the road.
We'd seen a few great birds but for me the highlight of the afternoon was a bat. Games found a Long-tongued Nectar Bat in a folded banana leaf. She was cradling a youngster to her breast.
We tried for Owls and Frogmouths after dusk but had no luck.
Day 2
Sri Phang Nga
We spent the first thirty minutes at the HQ area looking for Hornbills and were rewarded by a group of Bushy-crested Hornbills moving along the mountainside.
Forest Wagtails were seen at the edge of the lawns.
Up at the car park a White-handed Gibbon was swinging around the trees. Large Woodshrike, Velvet-fronted Nuthatch and Blue-winged Leafbird showed well. Around the corner at the salas Games called in some Black-and-yellow Broadbills.
Along the waterfall trail we found a very confiding Black-capped Babbler and hopping up the trail was a Siberian Blue Robin. A Chestnut-naped Forktail was feeding at the edge of the waterfall pool.
Back at the car park we found Ruby-cheeked Sunbirds and a Plain Sunbird.
Along the road while we were trying to get onto a Green Broadbill we found an Abbott's Babbler and a Red-throated Sunbird.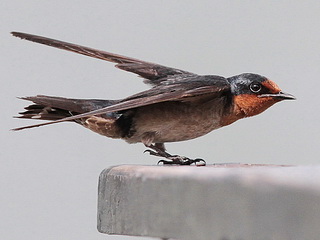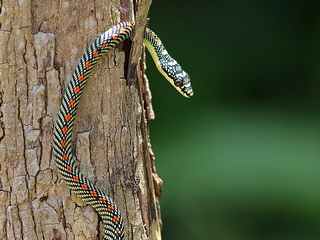 Pacific Swallow are common in Ao Phang-nga NP and this beautiful Paradise Tree Snake found at Ton Pariwat.
Khao Sok
After lunch at the park we drove up to the reservoir at Khao Sok NP. We spent the next four hours enjoying the scenery and looking for birds on the many snags at the back of the lake. We had great views of Western Osprey, White-bellied Sea Eagle and Lesser Fish Eagle. A Crested Goshawk was seen chasing a group of Oriental Pied Hornbills out of a tree.
A Blue-eared Kingfisher posed nicely near some Eurasian Wild Pigs.
On the way back a pair of Great Hornbill flew overhead.
Day 3
Khao Sok
We started off the day with a short walk along the 99 km marker trail. This trail is an old logging road used to bring out logs before the valley was flooded. It is now an area of secondary growth and bamboo but we usually see some good birds here.
As we were getting our equipment ready we heard a Hooded Pitta calling from nearby. It took a while but it eventually flew up to an open branch and we all had good views. As we walked up the trail we came across a few Rufescent Prinias. In the bamboo section we heard a Red-bearded Bee-eater calling and soon got onto it. Other good birds seen along the trail were Chestnut-breasted Malkoha, Orange-breasted Trogon, Hill Blue Flycatcher, Tickell's Blue Flycatcher and Purple-naped Sunbird. The best find though was a pair of Fluffy-backed Tit-babblers which got very excited and started bobbing up and down and flashing their blue and white throat spots as they called. Well done to Games for recognizing the call and getting them out.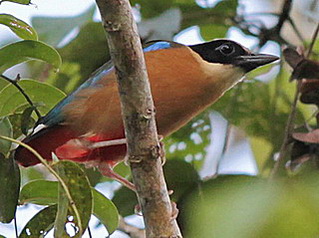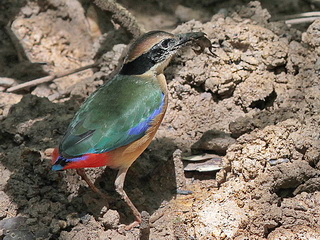 More Pittas! Blue-winged Pitta was found at KNC and Mangrove Pitta at Phang nga mangrove park.
Phang Nga Mangroves
The afternoon was spent in the three mangrove walkways in Phang Nga.
Phang Nga Mangrove Park
At the car park a Black-thighed Falconet was perched up on an aerial. It was probably one of the pair that roosts in a hole in a cliff across the road in Queen's Park.
As we walked into the mangroves we could hear a Ruddy Kingfisher calling. We had a good look around and found a pair of them. As usual we managed to call in a pair of Black-and-Red Broadbills too. It was proving to be a very good day's birding. Next up was a Mangrove Pitta. Games found it after it started calling. You have to love Pitta season.
Also seen were Ashy Drongo, Pied Fantail and Olive-winged Bulbul.
Ao Phang Nga
We had less luck at Ao Phang Nga NP where the only mangrove specialist found was an Ashy Tailorbird.
Baan Bang Phat
At Bang Phat we brought in a Brown-winged Kingfisher as we entered the walkway. The day was very hot and the birds were less than active. Mangrove Whistler was only briefly seen. Chestnut-bellied Malkoha showed well as did Pied Fantail and Oriental White-eye.
Day 4
KNC
The morning was spent getting to, and at, our usual Gurney's Pitta site.
Along the way we found a pair of Blue-winged Pittas that flew into a close tree to state their claim on the territory.
A couple of Crested Honey Buzzards flew by and some Thick-billed Green Pigeons flew into the same tree. A Rufous-tailed Tailorbird showed momentarily.
Along the track we heard a Ferruginous Babbler calling. As we were looking for it we also saw a Puff-throated Babbler.
At the hide we were told by the farmer that he had not heard the Pitta for a while. This is rather worrying as a nearby rubber plantation was recently cleared causing a lot of disturbance.
In the forest we got onto a Green Broadbill, a Grey-cheeked Bulbul, a Yellow-bellied Bulbul, some Hairy-backed Bulbuls and some Scaly-crowned Babblers. Unusually a group of Chestnut-rumped Babblers came low and showed well, behaving very similarly to the Fluffy-backed Tit Babblers of the previous day.
A Square-tailed Drongo-Cuckoo flew into view on the way back to the car. A pair of Grey-and-Buff Woodpeckers were also in the area but were only seen in flight.
After lunch at the Morakot Resort we went to the HQ to look for sunbirds. We found a good variety including Purple-naped Sunbird and Van Hasselt's Sunbird.
Birding at KNC in the afternoon is always very difficult so we flitted about trying to pick up a bird here or there. We managed to find Plaintive Cuckoo, Golden-bellied Gerygone, Cream-vented Bulbul, Thick-billed Flowerpecker and Grey-breasted Spiderhunter.
At dusk we found a Great Eared Nightjar near the resort.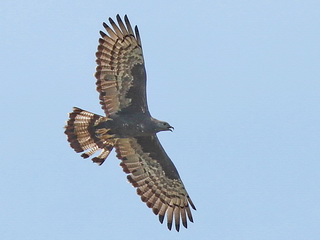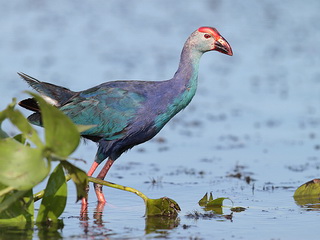 Oriental Honey Buzzard photographed at Tone Pariwat and Purple Swamphen from the boat trip on Thale Noi.
Day 5
KNC
We decide not to return to our Pitta stake out but rather to walk the trails and hope to good luck. Good luck we got.
On the way to the trail we found a Brown-streaked Flycatcher feeding it's young.
As we approached the bridge at the start of trail "B" we heard a Malayan Banded Pitta calling. As we approached we also heard a Gurney's Pitta calling. We found ourselves in the middle of a border dispute between the two birds. The female Banded called from the forest floor on the left of the path while the male Gurney's stood on a fallen log to the right and shouted back. We couldn't have asked for better views. Five Pittas in five days – remarkable.
We walked through "C", "D" and "E" trails which were all in a pretty bad state with many fallen trees blocking the way. Along the way we found Raffles's Malkoha, Maroon Woodpecker, Puff-backed Bulbul, Moustached Babbler and Fulvous-chested Jungle Flycatcher.
Thale Noi
The last two hours of the afternoon were spent in a little boat on the lake at Thale Noi NP. Nothing special was seen but everyone enjoyed the trip as it provided a nice change from walking the forest trails.
The more interesting birds seen were Cotton Pygmy Goose, Pheasant-tailed Jacana, Oriental Pratincole, and White-winged Tern.
Day 6
Khao Pu Khao Ya
Martin had been ill overnight but still wanted to go birding. After a couple of hours it was clear that he was still feeling pretty bad so we stopped birding and drove him back to his hotel in Phuket.
Before we left we had seen a trio of Barbets with Red-throated Barbet, Blue-eared Barbet and Brown Barbet.
We called out the location's target bird fairly easily and enjoyed watching a pair of Streaked Wren-babblers bouncing around.
A Rufous Piculet called and was found while a Blyth's Frogmouth responded to call but didn't show.
It was a pity we had to shorten the last day's birding and miss out on another visit to the Phang Nga Mangroves and Queen's Park but we had had a good trip and seen some excellent birds.
Related page; Birdwatching Southern Thailand Other B2A trip reports