Birdtours2asia
Expert guided birding tours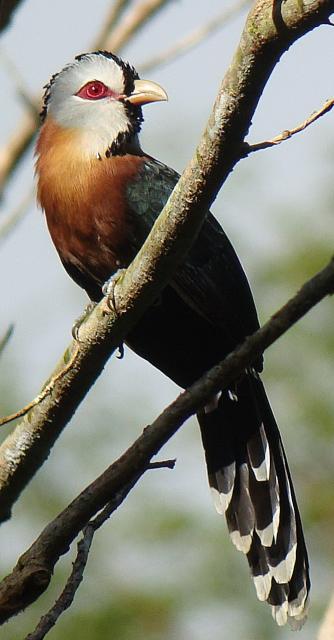 Scale-feathered Malkoha
Luzon, Mt. Makiling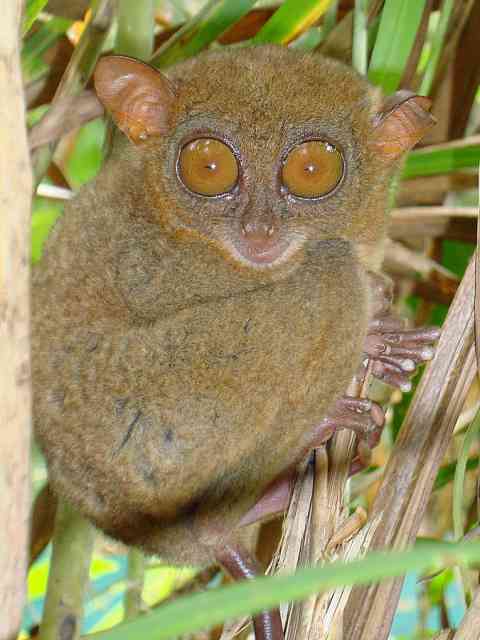 Philippine Tarsier, Bohol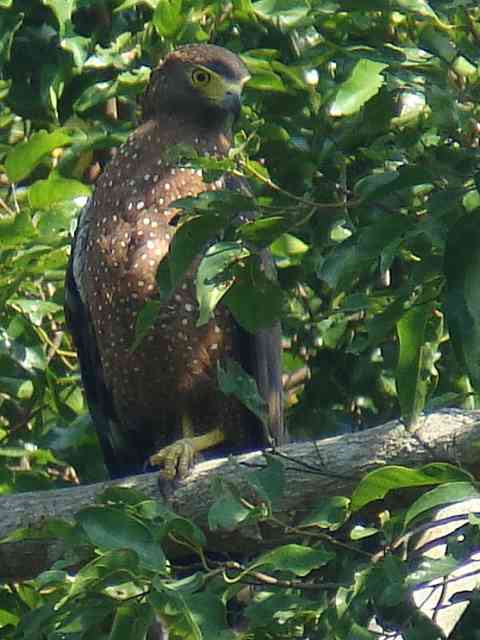 Philippine Serpent Eagle
Subic Bay, Luzon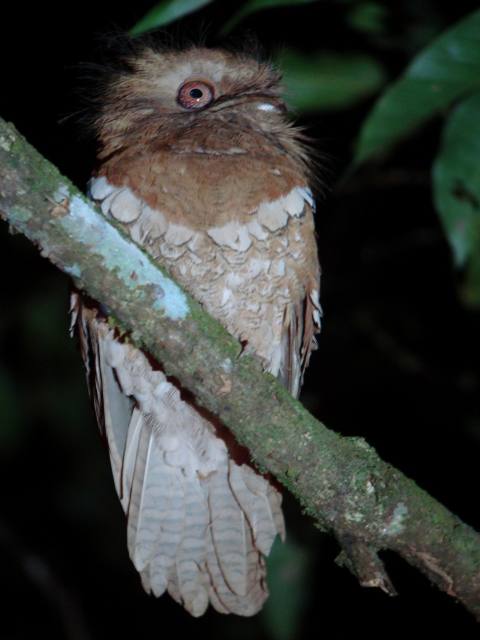 Philippine Frogmouth
Mt. Kitanglad, Mindanao
Birdtours2asia
Join us on a tour and you'll get
Top-quality holidays
Friendly & experienced leaders
Excellent itineraries & trip logistics
Comfortable high quality accommodations
All inclusive competitive tour prices
Small groups - size limit=6
Finest birding in Asia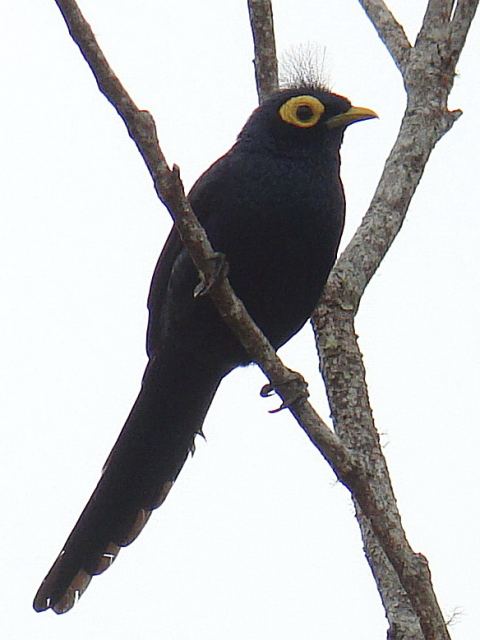 Apo Myna
Mt. Kitanglad, Mindanao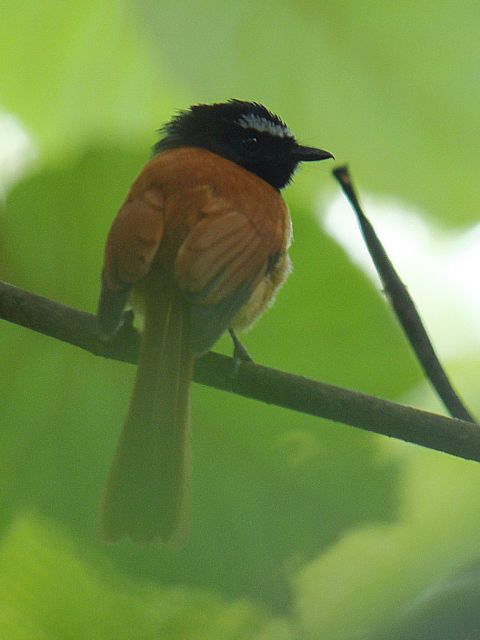 Another beauty from Kitanglad,
Black-and-cinnamon Fantail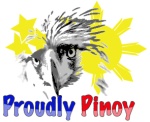 We love the Philippines!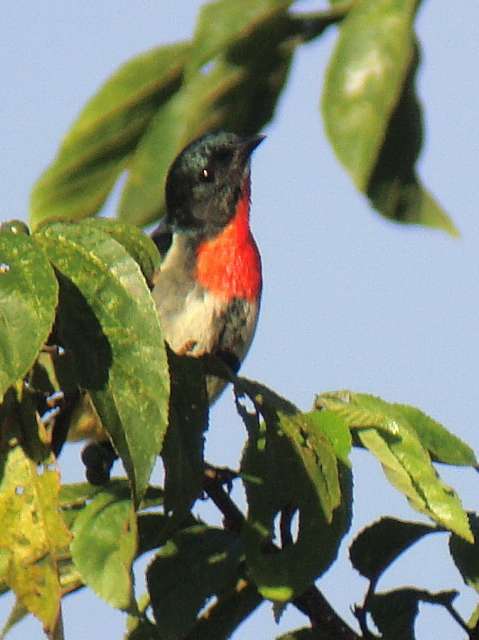 Fire-breasted Flowerpecker
Mt. Kitanglad, Mindanao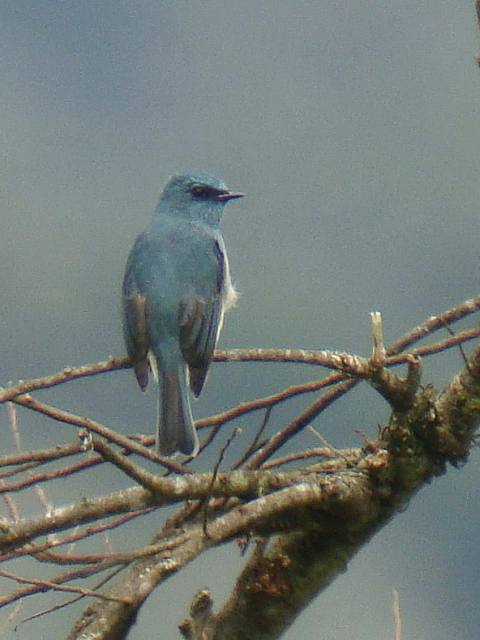 Mountain Verditer Flycatcher
Mt. Kitanglad, Mindanao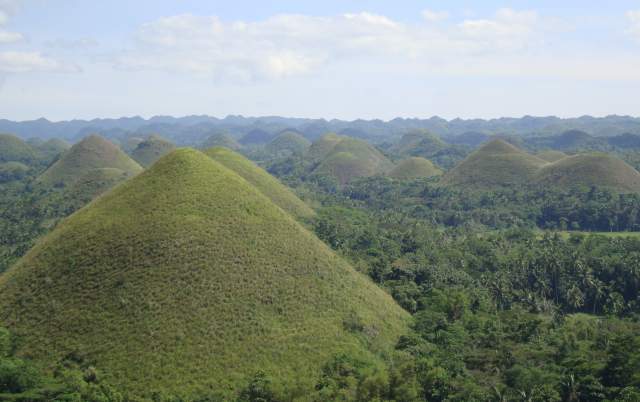 The Chocolate Hills, Bohol.

All bird photographs taken
'on tour'
are opportunity shots by
Stijn De Win
B2A - Philippines 2010
Mindanao, Cebu, Bohol & Luzon
16 February – 1 March
Participants ; John Tomkins and Tony Hukin
Tour leader ; Stijn De Win
Text and tour photos by Stijn De Win tour report page 1
This year's tour took off with our successful visit to Mt.Kitanglad and consequently scored on 'the' Great Philippine Monkey-eating Eagle right away on the first full birdwatching day on the mountain. Excellent start and together with plenty other highlights inclusive Red-eared Parrotfinch, Apo Myna and Sunbird, White-cheeked Bullfinch, Blue-capped Wood Kingfisher, Mountain Shrike, Bukidnon Woodcock and an incredibly obliging Philippine Frogmouth, left Mindanao to pick up the endangered Black Shama on Cebu. We did extremely well on Bohol and simply confirmed Rajah Sikatuna Protected Landscape has some of the very best and enjoyable birding in the Philippines, not to be missed on any Philippine tour. Our Bohol list is long; Mindanao Bleeding Heart!!!, Visayan Wattled Broadbill, Steere's Pitta, Rufous-lored and Silvery Kingfishers, Yellow-breasted Tailorbird, Philippine Fairy Bluebird, Striated Wren Babbler, Black-chinned Fruit Dove, Black-faced Coucal, Samar Hornbill, Chinese Egret, Grey-tailed Tattler…and of course Philippine Tarsier!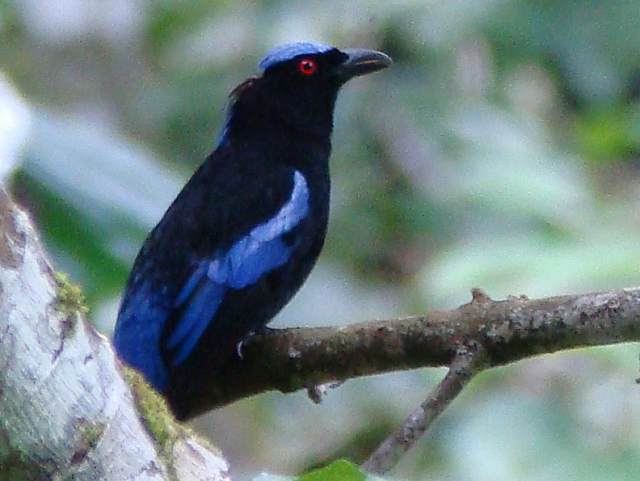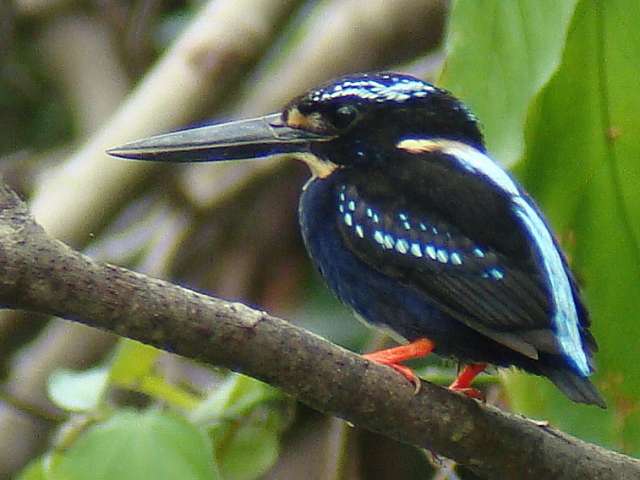 Philippine Fairy Bluebird – Rajah Sikatuna Protected Landscape, Bohol – Silvery Kingfisher
Birding Subic Bay, good as ever, produced the probably 2 most difficult targets of the area on our very first walk, White-lored Oriole and White-fronted Tit. Moreover, we got the second ever sighting for Philippines of Black-winged Cuckoo-shrike, a pair of which gave good scope views at Hill 394.
Candaba Marsh is always a pleasant site with a nice change from forest birding and the birds equally good, endemic Philippine Duck, the scarce Island Collared Dove, Purple [Philippine] Swamphen, Eastern Marsh Harrier…
Also Mt. Makiling didn't let us down on targets, and delights included superb looks of Spotted Buttonquail, Indigo-banded Kingfisher, Spotted Wood Kingfisher and a rare non-skulky Scale-feathered Malkoha soon became 'photo of the trip'.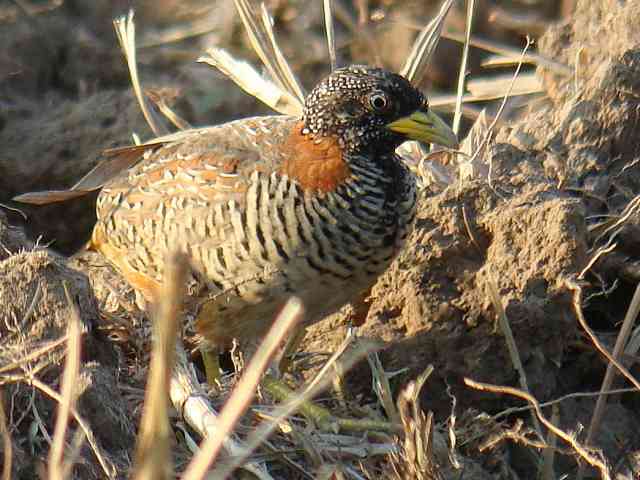 Barred Buttonquail – Mount Makiling, Luzon – Spotted Wood Kingfisher
Thanks go out to the friendly people and excellent local guides of the sites visited. Carlito and family on Mt.Kitanglad, Oking and Lushela Son of Tabunan Forest and Ryan from Rajah Sikatuna in particular were very enjoyable company to go birding with. Thanks.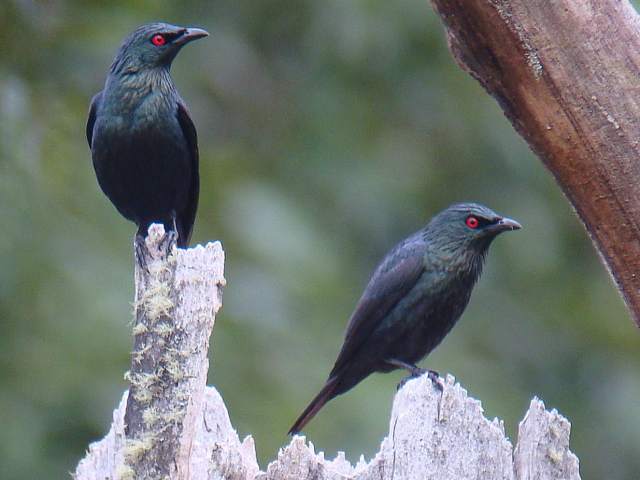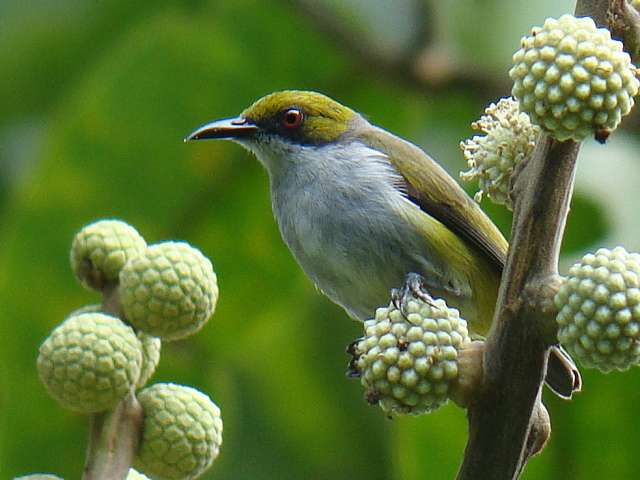 Short-tailed Starlings – Mount Kitanglad, Mindanao – Olive-capped Flowerpecker
Tuesday 16 February 2010
Meet in the new Manila terminal for coffee and cakes before our morning flight to Cagayan de Oro. From here by minivan to Damitan from were we birded our way up to Del Monte lodge. Red-stiped Flowerpecker our first endemic. Bird activity was high on our walk up despite being mid-afternoon. Philippine Bulbul, Pied Triller, White-bellied Munia, Philippine Swiftlet, Little Pied Flycatcher, plenty Eye-browed Thrushes, Colasisi…
On arrival at the lodge, Elegant Tit and Mindanao Hornbill showed in the clearing and after lunch a first very nice flock contained Sulphur-billed Nuthatch, Cinnamon Ibon, Black-and-cinnamon Fantail, Spangled Drongo and of course plenty Mountain White-eye. At dusk the Bukidnon Woodcock showed straight away in the spotlight as it flew-by at close range. Then Philippine Frogmouth…well, it just sat there half an hour, check the pictures on this page!
Wednesday 17 February 2010
We made it fairly quick up to the Eagle viewpoint this morning. The 2 hour wait before 'whaaw' actually wasn't a wait but filled with Stripe-breasted Rhabdornis, philippensis Oriental Honey Buzzard, Crested Goshawk, Philippine Serpent Eagle, Philippine Hawk Eagle, Mindanao Racquet-tail and Mountain Verditer Flycatcher. Then, soaring just above the canopy and at eye-level for us, Great Philippine Eagle!!! At 10 am already, we had 'the' Philippine national bird in the bag and although this felt as 'pressure off', the day was far from over and the number of Kitanglad specialities and other goodies we ended up with today perhaps simply astonishing…White-cheeked Bullfinch, Apo Myna, McGregor's Cuckoo-shrike, Mount Apo Sunbird, Rufous-headed Tailorbird, Mountain Warbler, Philippine Falconet, Olive-capped Flowerpecker, Grey-hooded Sunbird, Sulphur-billed Nuthatch, Black-and-cinnamon Fantail, Short-tailed Starling, Black-masked White-eye, Mugimaki Flycatcher, Philippine Cuckoo-dove, Mountain Shrike…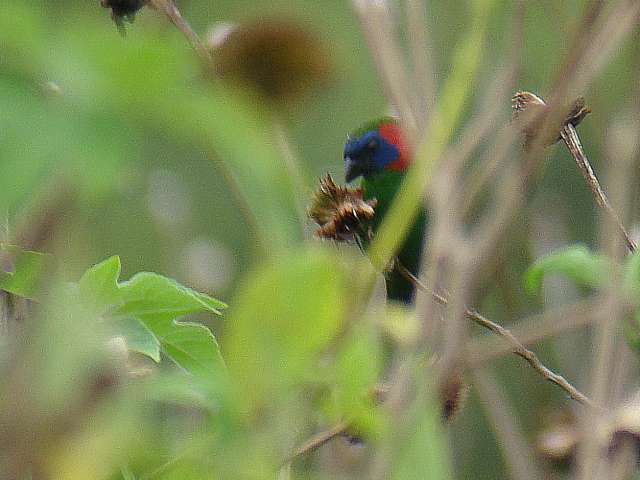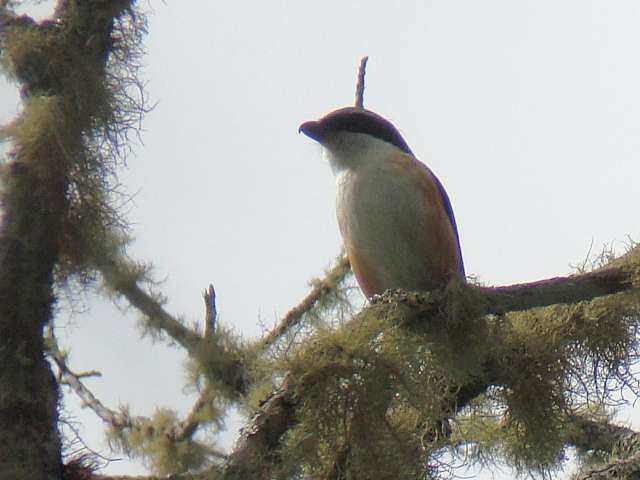 Red-eared Parrotfinch – Goodies from Kitanglad! – Mountain Shrike
Thursday 18 February 2010
Few targets to look for still after yesterday's success with the most important bird needed perhaps Blue-capped Wood Kingfisher. They are certainly scarce and increasingly difficult to find according to Carlito. Nearly always missed at Picop these days… At a first stake-out, which took some effort to get to being on a steep slope, no response at all but persistence paid for us in the end and at another spot a male proved very responsive but still it took some patience before we got superb looks as it came in and perched in the open twice.
The rest of the day was spent birding very relaxed with better looks of several species seen earlier and a couple new ones; Buzzing Flowerpecker, Philippine Woodpecker, Greater Flameback, Philippine Coucal…
Friday 19 February 2010
Our last morning on Mount Kitanglad and a last bird to look for. Red-eared Parrotfinch is never easy to find but after a while searching for it in the right place a nice adult showed in the scope to the delight of all.
Tony had missed the Mindanao Hornbills on our first day…so today throughout our last lunch at the lodge, a female was perched up in the open on a bare branch, regularly calling and actually visible from our table for half an hour!
Time then for our walk down, transfer to Cagayan airport and the short hop by plane to Cebu. A glorious sunset greeted us on our way into town.
Saturday 20 February 2010
An early start,1 hour drive and a Barred Rail en-route got us arrive at Oking's house in Tabunan for breakfast. A little later on our walk towards the forest Pygmy Swiftlet, 2 birds of the 'red-headed' and endemic 'cebuensis' subspecies of Coppersmith Barbet and 'white-bellied' Balicassiao before we heard the first Black Shama singing. Then, positioned in the forest at the best spot for Shama, it didn't take long before 2 different birds gave prolonged views. White-vented Whistler is another speciality at Tabunan, twice a bird made an appearance before another one posed for all to see. Philippine Blue Flycatcher showed well and Streak-breasted Bulbul was heard. From the viewing platform we spotted Eastern Crimson Sunbird and Brush Cuckoo with more Black Shamas heard.
In the afternoon, a very comfortable ride on the Supercat got us to Tagbiliran city on Bohol for dinner.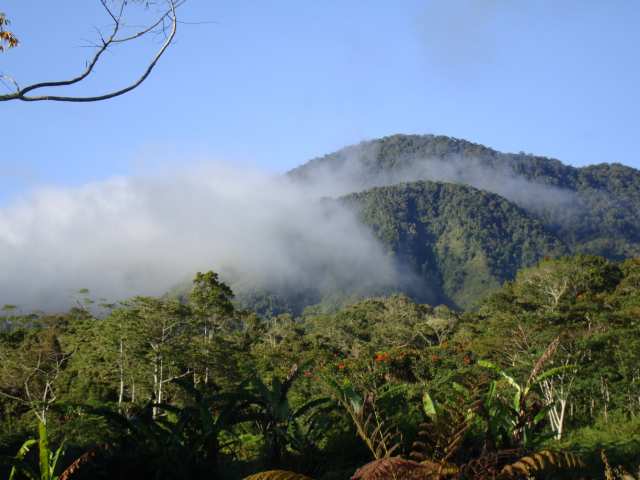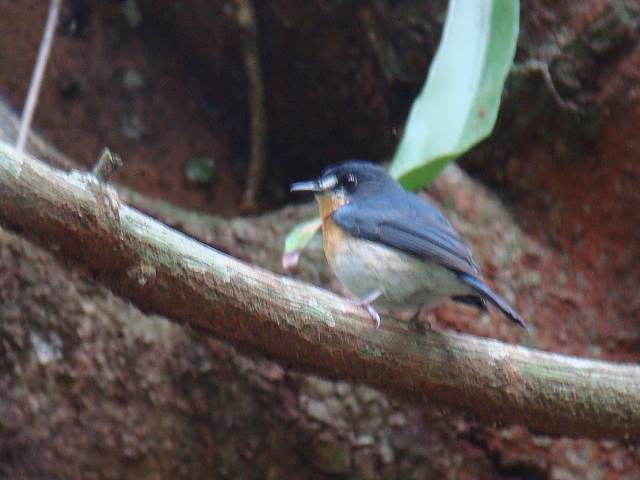 Kitanglad forest, Eagle territory! 'Philippine Blue Flycatcher', Tabunan Forest!
Sunday 21 February 2010
Easily voted island of the trip…Bohol!!! Peaceful safe surroundings, friendly people, a relaxed atmosphere and some of the very best and most enjoyable birding in the Philippines at Rajah Sikatuna Protected Landscape always make our visit a highlight on the tour. It certainly produced 'the' surprise of the trip as on our first walk we got a bird rarely ever seen…Mindanao Bleeding-heart!
Other birds seen on our first morning include the Visayan endemics Yellow-breasted Tailorbird and Samar Hornbill, Philippine Trogon which is fairly common here, Black-crowned Babblers, Metallic-winged Sunbird and Brown Tit Babbler were all in and around the forest clearing at Magsaysay Park. On the trails in the forest interior a first exciting feeding flock hosted Blue Fantail, the endemic boholensis race of Rufous-tailed Jungle-Flycatcher, Yellow-bellied Whistler, Philippine Leaf Warbler, Rufous-fronted Tailorbird and more Black-crowned Babblers. We found a Philippine Colugo and a White-bellied Woodpecker showed briefly nearby before we lured our staked-out Striated Wren Babblers across the trail for views in the open. Black-faced Coucal and a prolonged posing Philippine Fairy Bluebird were other delights before we set off seeing the fantastic Silvery Kingfisher just outside the reserve before having lunch in the nice settings of the Bilar butterfly garden.
In the afternoon a short visit to Loboc Watershed reserve soon produced the anticipated target species. Some fruiting trees always attract Bicolored Flowerpeckers here and we soon found a pair of which the male gave superb long scope views. About 20 Coletos were around, always a nice endemic to see.
A good 30 min. drive later got us to see 3 Philippine Tarsiers and "wondering how one could ever visit Philippines without seeing" these incredibly cute creatures! The nearby trail didn't produce much but both Fruit-doves are always commonly heard here. Easy to figure best views into the canopy can be had from the clearing and it was here we found a beautiful Black-chinned Fruit-Dove for walk-away scope views.
In the evening, mangroves near Tagbiliran got us a Rufous Night Heron and a couple Whimbrel before watching 3000 Asian Glossy Starlings coming into roost at the town square.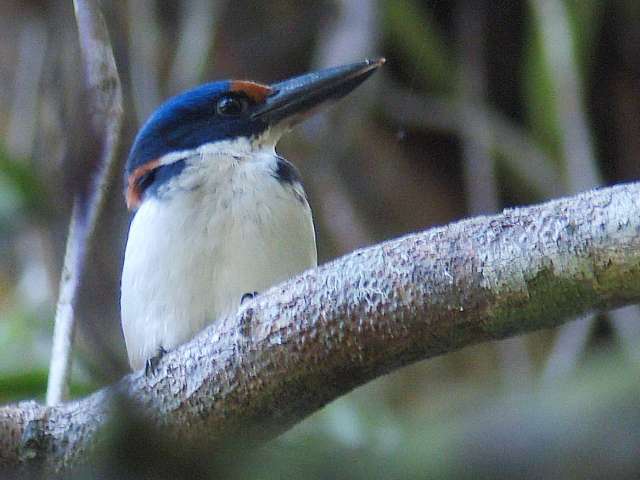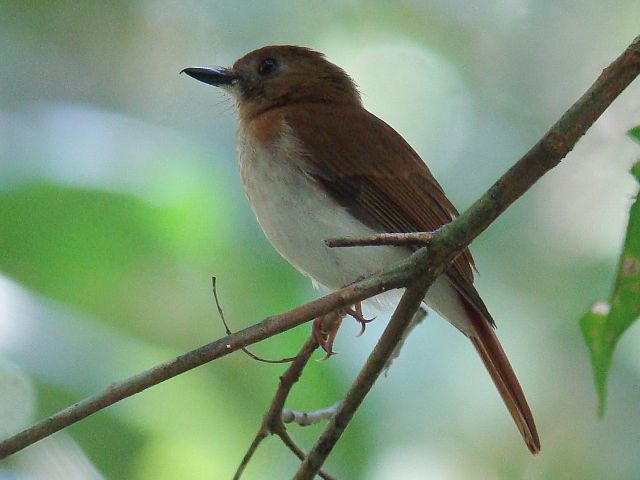 Rufous-lored Kingfisher – Rajah Sikatuna Protected Landscape, Bohol – Rufous-tailed Jungle-Flycatcher
Page 1 top This report has 3 pages. Go to next page.