Birdtours2asia
Expert guided birding tours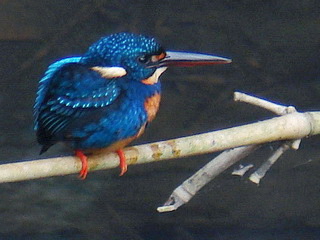 Indigo-banded Kingfisher
Luzon, Mt. Makiling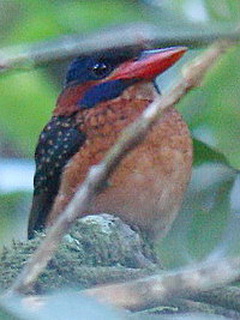 Blue-capped Kingfisher, Kitanglad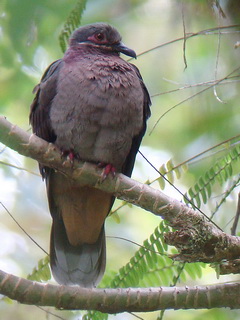 Another goodie from Kitanglad,
the Amethyst Dove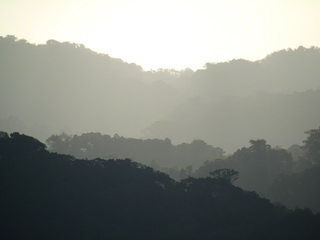 A lookout on the forests of Mt. Makiling.
Birdtours2asia
Join us on a tour and you'll get
Top-quality holidays
Friendly & experienced leaders
Excellent itineraries & trip logistics
Comfortable high quality accommodations
All inclusive competitive tour prices
Small groups - size limit=6
Finest birding in Asia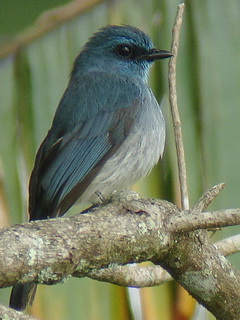 Mountain Verditer Flycatcher
Mt. Kitanglad, Mindanao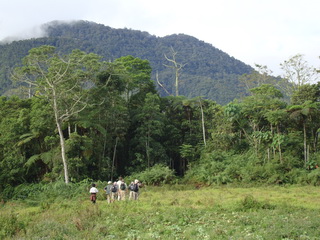 Our group on the way to Eagle viewpoint
on Mt. Kitanglad -Mindanao.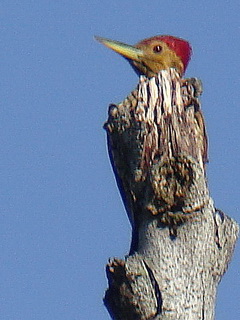 Greater Flameback, Mt. Kitanglad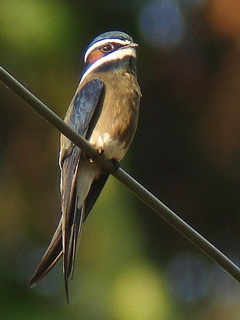 Always a favourite at Subic,
the Whiskered Treeswift.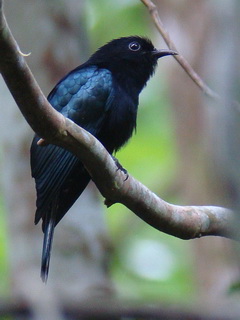 Philippine Drongo-Cuckoo, Bohol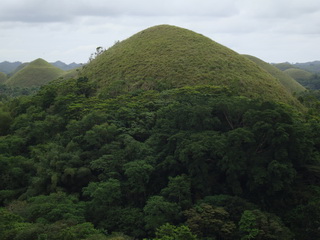 Peculiar 'Chocolate Hills', Bohol.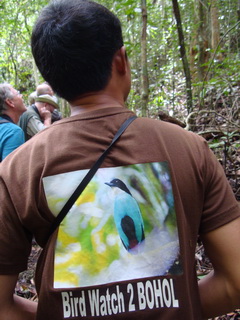 We did not see it only on Ryan's T-shirt!
Here watching the Ruddy Kingfisher
from below though.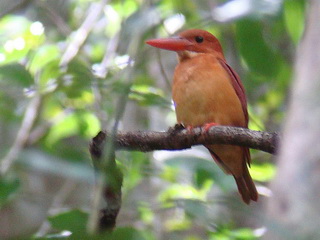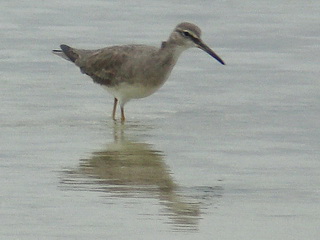 The shores on Bohol usually hold
some good wader species as
this Grey-tailed Tattler.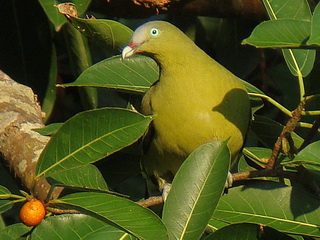 Philippine [Pompadour] Green Pigeon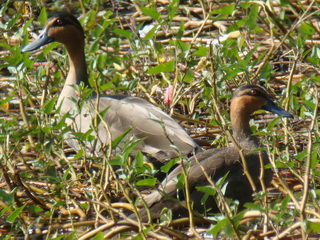 Candaba's Philippine Ducks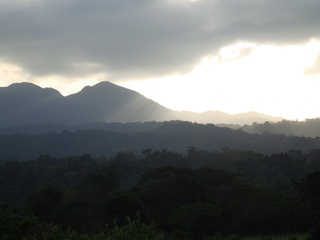 Mt. Makiling summit and forested slopes.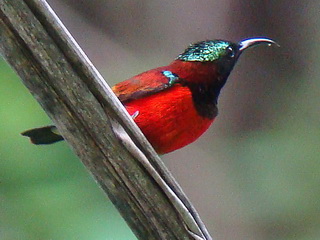 Colour! Purple-throated Sunbird, Bohol.
All bird photographs taken
'on tour'
are opportunity shots by
Stijn De Win
B2A Philippines 2011 tour report.
20 February - 5 March
Participants ; Noel Lock and Jill Gillman, David Branagh,
Bill Glanz, Lyle Babberl and Koen Job
Tour leader ; Stijn De Win
Luzon, Bohol, Cebu and Mindanao
Text and photos Stijn.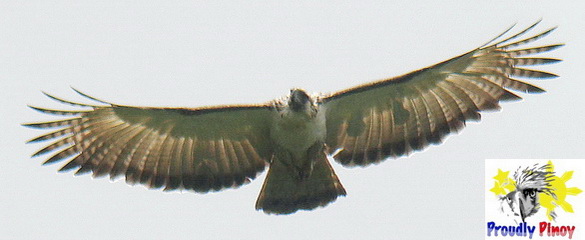 This is 'the' Eagle, Carlito's Eagle, 'our' Eagle, national bird of the Philippines
and photographed on this tour at 11h45 on the 3rd of March,
shortly after the birth of my beautiful little daughter in the Philippines!
Something special, something fresh and different! I would think it's probably best to describe our tour as something that simply worked. A great success again for various reasons. A focus on a combination of enjoyment and keen birding. Intensive during the good hours with high bird activity and super relaxed while its hot and the birding slow. Rather than missing good species everywhere in a rush-over throughout the county, we were keen to avoid the excessive travelling again on a smart itinerary and just as last year; we did extremely well on all the important target birds at all sites visited! Our group was a key factor as well. We had as many nationalities on board as we had participants, and with the level of experience varying from joining a first birding tour up to a top word lister, I must say the group was very diverse. I must say we had a lot of fun. Although it was booked full, a small group with just 6 participants works great, simple as that. Also for our tours in 2012 and beyond, Birding2asia will keep focus on this small group quality. Six participants remains our maximum and moreover, there'll be no tour price increase. Cheers!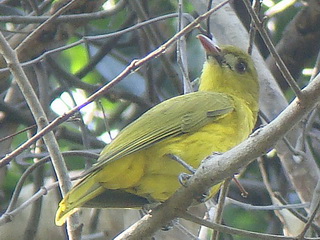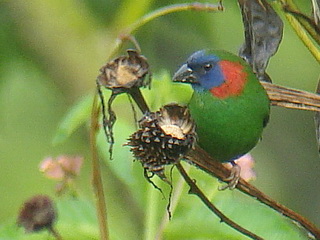 An excellent find at Subic was this rare White-lored Oriole. Mt. Kitanglad held this Red-eared Parrotfinch.
All right, we went birding and you might be interested in what we actually got. Here's a summary of some highlights; Candaba Marsh made for a good start of the tour with Philippine Duck, Barred and Buff-banded Rails, White-browed Crake, Painted Snipe, Pheasant-tailed Jacana, Eastern Marsh Harrier, Island Collared Dove, Oriental Pratincoles and a surprise Black Bittern showing well.
On to Subic were we managed another clean sweep of all specialities; White-lored Oriole (with some rare photographs taken), White-fronted Tit, Green Racquet-tail, Blackish Cuckoo-shrike, Sooty Woodpeckers, Rufous Coucals and Blue-naped Parrot. Of course the regulars (Luzon Hornbill, White-browed Shama, Guaiabero, White-bellied Woodpecker, Philippine Falconet…) didn't disappoint and we had a good night birding session with Philippine Nightjar and Philippine Hawk Owl successfully spotlighted.
A brilliant Spotted Buttonquail and Spotted Wood Kingfisher performance were the highlights at Mt. Makiling and it really was hard to tear away from this little gem showing so well, the Indigo-banded Kingfisher. Scale-feathered Malkoha is not to be missed so what about a record 8 birds showing in one morning?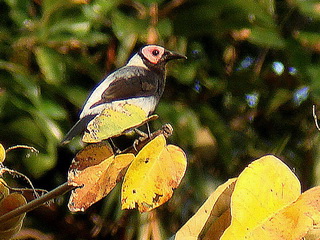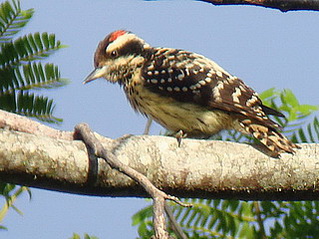 A couple good looking more widespread endemics. Coleto at Subic and Philippine Woodpecker, Kitanglad.
I actually just noticed on the internet for Bohol to be included on a "remote" Philippines tour advertised for 2012 so perhaps our highlight at the excellent Rajah Sikatuna National Park was just that it is so easy to access. Good roads all the way to the ranger station, proper trails, short walks, good restaurant in the nearby town and all this just 1 hour away from Tagbiliran city on a scenic drive. Let's not be disappointed with the 'remote feel' then; what you want is to score on the 'oh' so difficult to find Visayan Wattled Broadbill, which we did exactly right. Repeated luck from last year I guess. Also positive is that we got the pitta in the end. Steere's Pitta had proved extremely difficult during the time of our visit with no birds found anywhere close to the trails. Still we managed. The protected landscape held more goodies though; Rufous-lored Kingfisher, Samar Hornbill, Yellow-breasted Tailorbird, Philippine Fairy Bluebird, Silvery Kingfisher, Black-faced Coucal, Philippine Trogon, Metallic-winged Sunbird, Streaked Wren Babbler, Blue Fantail…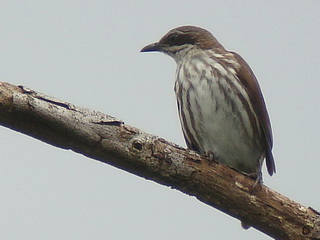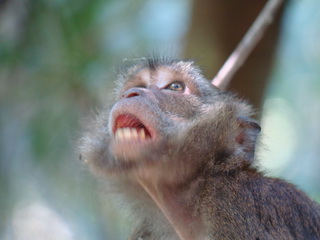 Quite scarce but not to be missed on Kitanglad from Philippine Macaque entertain at Subic.
the only endemic bird family in the Philippines,
the Stripe-breasted Rhabdornis.
Cebu as ever is a convenient little stop-over on the way to Mindanao from Bohol, avoiding going through Manila again and the perfect opportunity to catch along a single island endemic; the endangered Black Shama. To find the rare Blue-crowned Racquet-tail on Cebu probably was the surprise and bonus of the trip although that might be said also from the localized and seldom seen "katanglad" subspecies of Island Thrush that showed for us on the Apo Sunbird walk on Mount Kitanglad. However, I don't think that any of the above would beat our Eagle sighting. It just has to be 'bird of the trip' right! The Great Philippine Eagle. Brahminy Kite dwarfed by its size…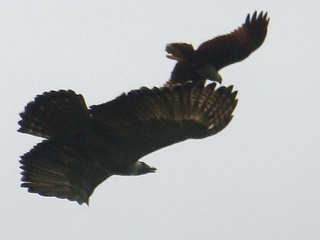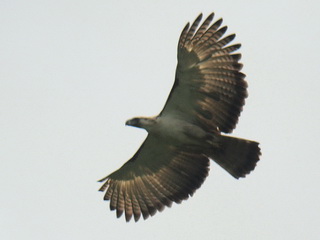 Our tranquil wait at the viewpoint on Mt. Kitanglad traditionally interrupted by excited shouts; EAGLE!!! Last year it was Danny to give alarm first, this year Carlito's son. Last year we looked out above the forest canopy, this year we looked… UP! I've never seen this gigantic Eagle closer, it must have been at 30 meters distance max. circling above our heads where it suddenly appeared and stayed long enough gaining height slowly to allow for some photographs –digiscoped yep-. In fact, Carlito's Eagle kept showing on the wing for a full 7 min. (11h45 – 11h52) until it went to perch on the forested mountain slope opposite the viewpoint…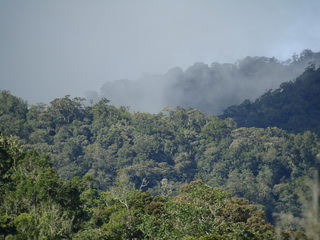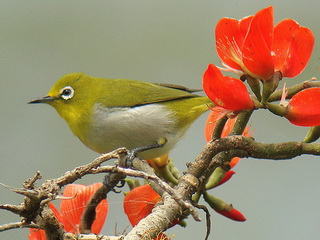 The superb mossy forests on Mount Kitanglad are home to this lovely Mountain White-eye.
Kitanglad is home to a whole set of other goodies and it is the superb mossy forest to hold these excellent birds. We enjoyed sightings of Stripe-breasted Rhabdornis, White-cheeked Bullfinch, Red-eared Parrotfinch, McGregor's Cuckoo-shrike, Mountain Shrike, Amethyst Dove, Rufous-bellied Eagle, Black-and-cinnamon Fantail, Cinnamon Ibon, Bukidnon Woodcock, Philippine Frogmouth, Apo Sunbird and Apo Myna, Buzzing and Olive-capped Flowerpeckers, Sulphur-billed Nuthatch, Rufous-headed Tailorbird, Mindanao Racquet-tail, Mugimaki Flycatcher, Eye-browed Thrush, Mindanao Hornbill, Steere's Honey-Buzzard, Philippine Woodpecker…
And below is a little note on our final and 9th Kingfisher of the trip; Blue-capped Wood Kingfisher is one of the hardest to get target birds on Kitanglad…
Carlito had a new stake-out near the lodge for this one. Reluctant but faithfully nevertheless left it in his hands to wait until the last morning as on the full days we had some important stuff to handle further up the mountain. (Eagle, Parrotfinch, Apo's…) So when this last morning arrived, expectedly without much else to look for still, went on the trail and played the tape… to no response. All right, this bird is increasingly difficult and it's not a shame to miss it, we wouldn't have been the first group. Play! Play he said. Play again! Carlito usually knows what he's doing. Softly at first, then closer and more clear. Calling from the dense undergrowth, ever elusive. Keep playing! A flash and there it was! This brilliant male in full view. Briefly though as just another flash and gone. Whow. Everyone got that? Big smiles and 1 disappointed face… You know, whenever possible we take it to different
| | |
| --- | --- |
| lengths getting good views for everyone and this time it really wasn't that easy. Apparently 2 Blue-capped Wood Kingfishers were around but they just didn't play it again. One kept calling from high up, the other from dense undergrowth. I think half the group went back to the lodge for coffee and packing up for the walk down. Perseverance! Keep trying and then suddenly another good response from a bird close by. Carlito was the one to point it out again! Scope views, photographs, enjoying the superb views of a fine male perched at eye-level. "The" perfect end to another immensely successful Philippines tour deserves a special note indeed. | |
No Philippine tour report can be complete without a big thank you! First of all to our guests who made for such good company and enjoyable birding. No more PP for me with the dinner, it must be 'Red Horse' from now on. Cheers and looking forward to birding together again.
And of course a warm thank you goes out to the local guides who made our visits to Cebu, Bohol and Kitanglad so special. Carlito, Danny and the family at Del Monte lodge who looked so well after us. We enormously enjoyed the hospitality of Oking and Lushela at Tabunan and I hope to see Bohol and my friend Ryan again soon. Link to the trip list below the photo gallery.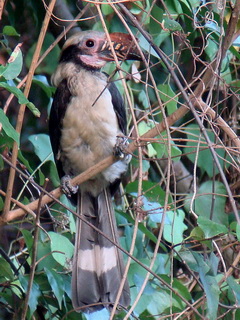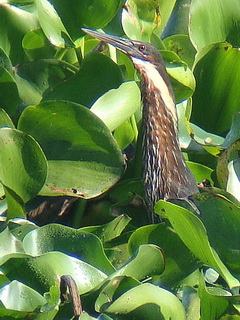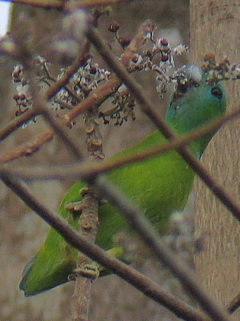 Luzon Hornbill, Subic Black Bittern, Candaba Marsh Guaiabero, Subic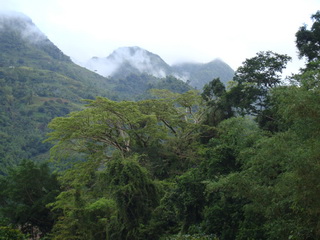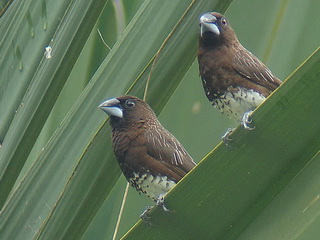 Near the forest at Tabunan, we found these cute White-bellied Munias nesting.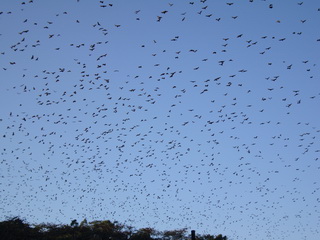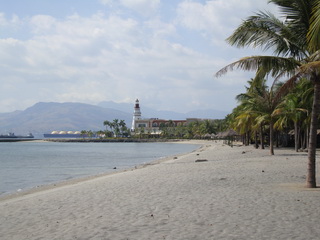 An unbelievable spectacle at Subic provided by the Let me include a photo of the beach just
10000s Philippine Fruit Bats returning to roost complete opposite the road from our hotel in Subic.
with two White-bellied Sea-Eagles attending nearby.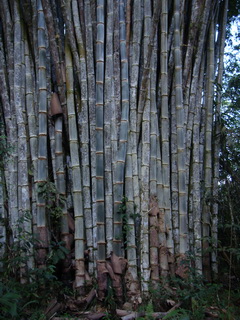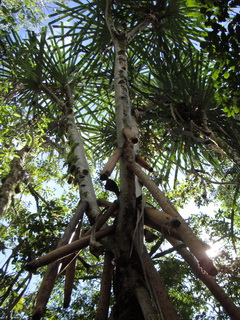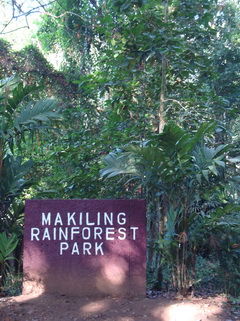 Massive bamboo stand near the lodge on Kitanglad where also found these impressive Pandanus.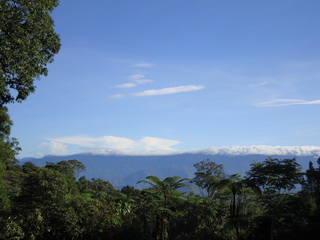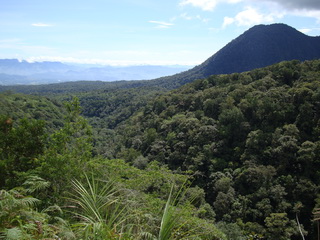 This actually is the view across the valley from Del Monte Lodge. Image above taken from Eagle viewpoint.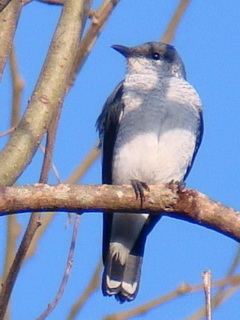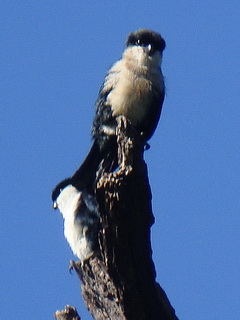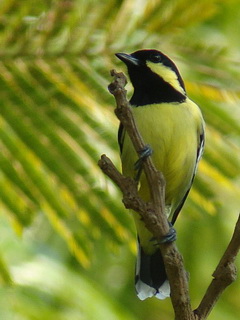 A last set of endemics. Black-and-White Triller from Makiling, Philippine Falconet and Elegant Tit, Subic.
Home / top / other B2A reports Philippines report 2009 / 2010 Full trip list with more photos.