Birdtours2Asia
Expert guided birding tours
Sulphur-billed Nuthatch
Mt. Kitanglad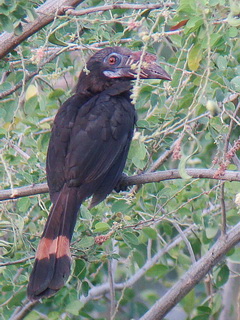 Luzon Hornbill, Subic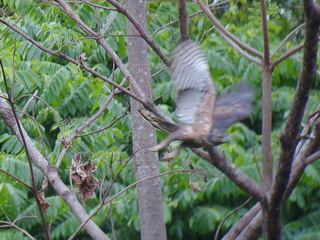 How often does one manage a
Luzon [Phil.] Hawk Eagle
perched for good views?
Here's a shot just as it flew off.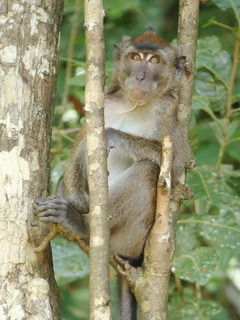 Philippine [Long-tailed] Macaque, Bohol.
B2A
Join us on a tour and you'll get
Top-quality holidays
Friendly & experienced leaders
Excellent itineraries & trip logistics
Comfortable high quality accommodations
All inclusive competitive tour prices
Small groups - size limit=6
Finest birding in Asia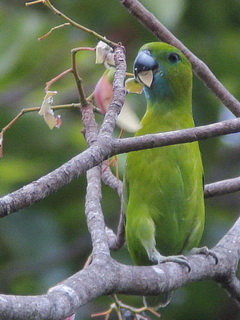 Guaiabero, Subic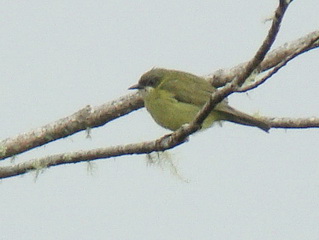 Black-masked White-eye
Mt. Kitanglad -Mindanao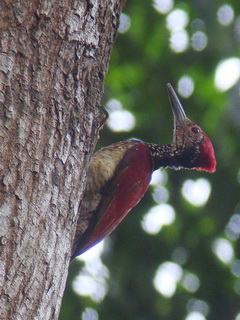 Luzon Flameback, Subic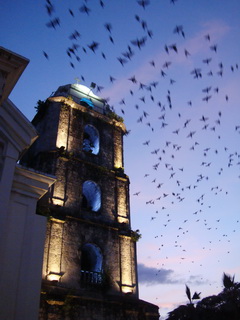 Church and Asian Glossy Starlings,
Tagbiliran town square, Bohol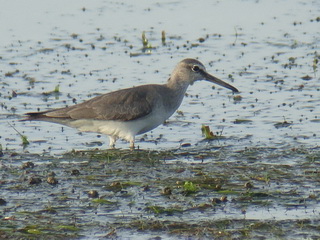 The shores on Bohol usually hold
some good wader species as
this Grey-tailed Tattler.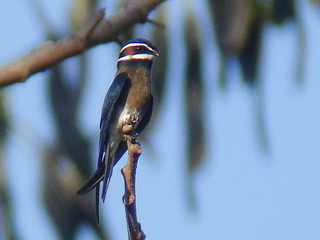 Whiskered Treeswift, Subic
All bird photographs taken
'on tour'
are opportunity shots by
Stijn De Win
Copyright © Birding2asia.com

All rights reserved.
B2A Philippines 2012 tour report.
4 - 17 March
Participants ; Iain Robertson, Rob Fray, Paul Harvey,
Erkki Virolainen, John van der Woude and Nollie Marissen
Tour leader ; Stijn De Win
Luzon, Bohol, Cebu and Mindanao
Text and photos Stijn.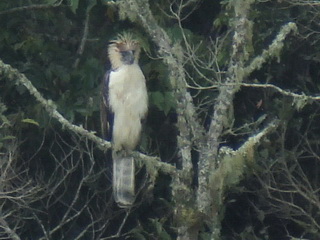 This is... !
I remember this tour as the trip with the daytime Frogmouth, the Philippine Eagle perched close-by and surprise Black-bibbed Cuckoo-shrike on Bohol. Birding at Subic and Makiling went smooth and easy with both the weather and bird activity back to normal as compared with last month. Bohol was good as always (especially Oriole trail…) and on Cebu we got Black Shama within 5 minutes of having parked the van. Trails on Mt.Kitanglad were a bit muddy by the start but with beautiful sunny weather things improved quickly and the mountain again let us experience some excellent birding.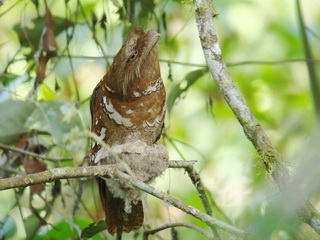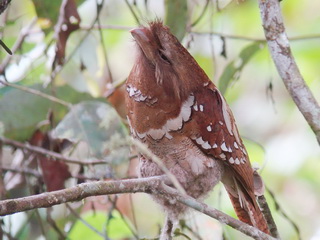 The same Philippine Frogmouth ; different pose and different day.
Simple, we had this bird for as long as we wanted, whenever we wanted, as it was just
sitting undisturbed on its nest next to Del Monte lodge during our stay.
B2A was the first company to offer the shorter 2 week scheduled tours in the Philippines. Focus on enjoyment in a combination with keen birding. Getting numbers on a list?-No, not really. Get numbers at any cost, definitely not. Others may do that. What we do is spend decent time at all sites visited which always results in a good score and with a smart itinerary all the excessive travel is avoided. I can remember John to note at the end of this tour; "Yes, it is possible indeed to see a great deal of the endemics on an enjoyable 2 week trip." (John did a trip report from this tour on his website and this includes some nice photos and downloadable sound recordings.)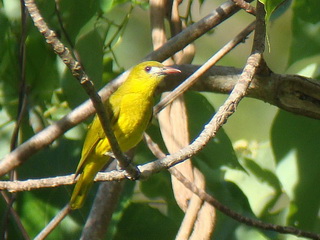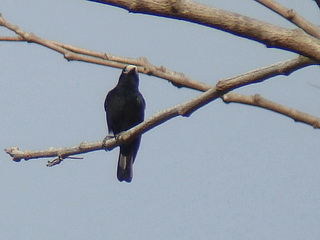 Subic top targets and usually pretty hard to find.
Just as in previous years, both White-lored Oriole and White-fronted Tit were seen on all 3 tours this year.
Of course I can only agree with John. With a very nice group of keen birders, a good itinerary, all arrangements that went smooth as always on our tours, mostly good weather, a couple good local guides and safe travel one may just have experienced the ingredients for a successful trip. Even the birding itself felt reasonably easy this time. And that, apparently, isn't always obvious in a country mostly renowned for its tough going.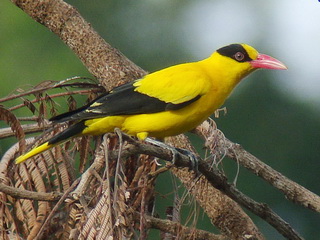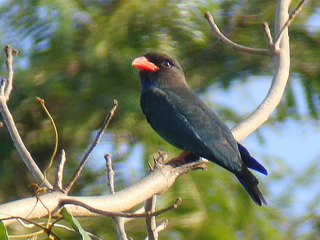 Why would it be hard to appreciate some of the commoner birds if they come as colourful
and brilliant as this Black-naped Oriole? The Dollarbird is another favourite attached to a red bill.
You know, sometimes I get this feeling our guests regard everything going good on tour as for granted. Of course they may, I guess that's why one would like to join a tour and I'm sure that's what all the hard work doing these tours is for. Get rewarded with happy guests! Really, when for example things in Thailand are straightforward always, things don't easily work that well in Philipines. Here you rather "have to make things work". That goes from birding to transport and hotels, to deal with the locals and arrange food… I even managed for the guys at Rajah Sikatuna to clear the badly overgrown Oriole trail. And I'm sure my guests on this tour enjoyed the much easier walk although they never actually realized. No, that's just a detail, what I really want to say is, birders end up in the wrong places at the wrong time quite often it seems. Here's a few recent ones;
-2 weeks of incessant rain and 40 hours straight travel
-Kidnapped in a place one should not go and now responsible for adding to the bad image Philippines already has despite so many birding areas being perfectly safe.
-And last without a link but as reported by Lushela, the daughter of the guide at Tabunan; It appears that on the same day we got Black Shama within 5 min. after having parked the vehicle at Alcoy, another group had failed to sort out proper logistics and had wished to quickly twitch the Shama along on a Cebu stop-over. I heard that by the time they reached the forest, way too late in the day, it had started poring rain and they never saw a bird. I guess they blamed the rain… Sorry!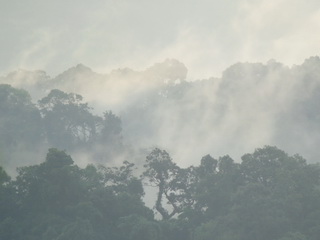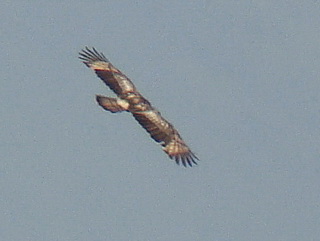 The superb misty forests on Mount Makiling. Oh yes, believe it or not; this is an Oriental Honeybuzzard!
Anyway, stories stories. Gush, I'm writing a trip report. I need to tell everyone we saw all those rare birds with great ease, writing in good tour-company trip-report style. Mmm. 'Made on tour' photos on this page? Full trip list. List February tour. List 2011. Report 2011. Feb '12 tour report. Or even better some pages resulted from this year's tours; Subic / Mt. Dulang-dulang / Picop or Mt. Polis anyone?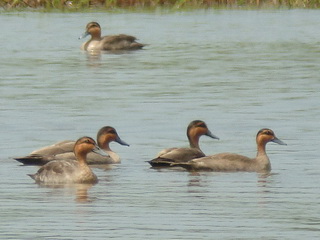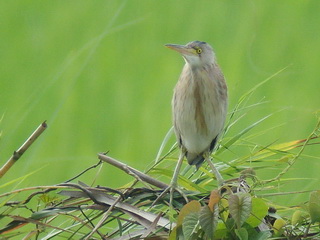 Candaba's Philippine Ducks. At least 1000+ on this tour! Also Yellow Bittern is common at Candaba. (20+)
I would like to add that by the end of this tour, after final birding near Del Monte lodge, and after some guests had left back down Kitanglad, I needed to walk up from Del Monte lodge on my own to catch up with other guests at the Eagle viewpoint. I did time my walk… 18 minutes to Red-eared Parrotfinch stake-out, 42 minutes to the lower viewpoint from which Philippine Eagle had been seen on numerous occasions on all 3 tours this year and it took me only just 1 hour to reach the main Eagle viewpoint. I mean, you may want to do this more relaxed and in a couple hours with birding on the way but what I really want to note is the accessibility to everyone. If the theory goes that a 42 minute walk could give you the Great Philippine Eagle…!!! There's nothing tough on our tours. Nobody should be worried. The Philippines is waiting for you and I'm pretty sure you may be ready for the Philippines. Cheers!!!
Both tour 2 + 3 groups here

together on Kitanglad for some

Philippine Eagle and Philippine

Falconet watching from the

same viewpoint!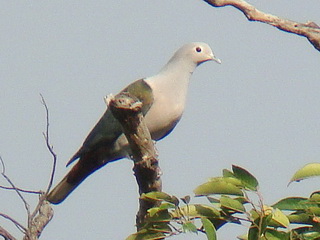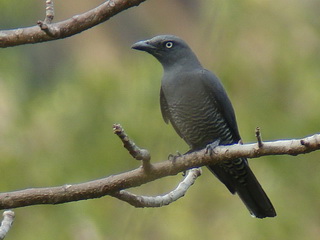 Green Imperial Pigeon, Subic Beer-bellied Cuckoo-shrike, Subic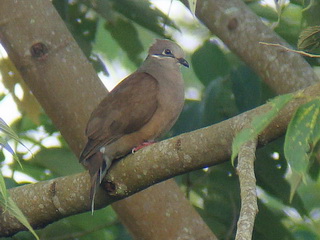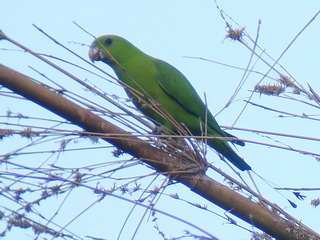 White-eared Dove, Kitanglad Green Racquet-tail, Subic
Home / top / other B2A reports Philippines report 2009 / 2010 / 2011 / Feb 2012 Full trip list