Birdtours2asia
Expert guided birding tours

We power your vacation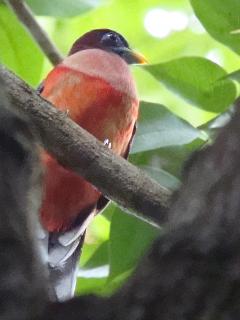 Philippine Trogon -Mt. Makiling
Birdtours2asia
Join us on a tour and you'll get
Top-quality holidays
Friendly & experienced leaders
Excellent itineraries & trip logistics
Comfortable high quality accommodations
All inclusive competitive tour prices
Small groups - size limit=6
Finest birding in Asia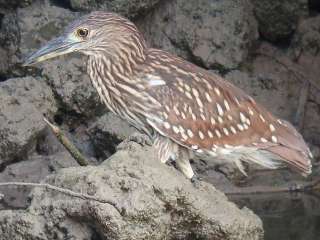 Rufous Night Heron juv. -Bohol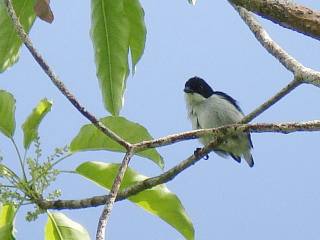 Bicolored Flowerpecker -Bohol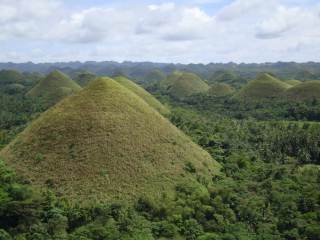 Chocolate Hills -Bohol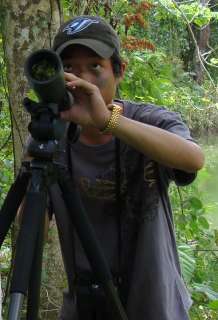 Local guide Ryan in action.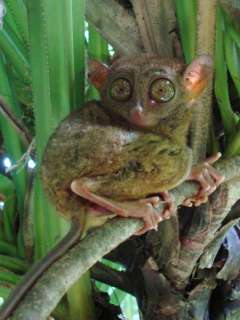 Philippine Tarsier -Bohol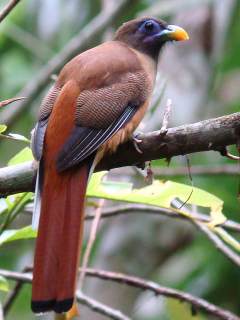 Philippine Trogon female -Bohol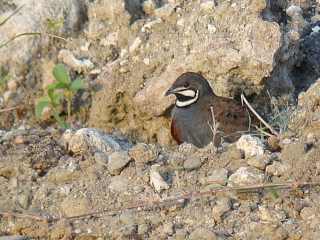 Blue-breasted Quail -Cebu
Crimson Sunbird -Tabunan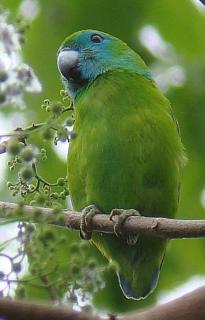 Guaiabero -Subic
All birds photographed 'on tour'.
are opportunity shots by
Stijn De Win
Copyright © Birding2asia.com

All rights reserved.
Philippines Tour report page 2

Luzon, Bohol & Cebu

23 February – 5 March 2009

Text and tour photos by Stijn De Win go to page 1

Silvery Kingfisher -Bohol Whiskered Treeswift -Subic

Friday 27 February 09

The forest along the main track up Mt.Makiling looks impressive but birding is usually a bit slow. No different this morning but we still managed to see some very good birds.

Spotted Wood-Kingfisher is an important target species at this site and we got rewarded

with scope views of this elusive forest dweller.

Little later came a Philippine Trogon in for some digi-scoping while Grey-backed Tailorbird

kept calling from dense undergrowth but didn't show.

We enjoyed the song of White-browed Shama again and a Red-bellied Pitta kept calling from

a dense gully all the time while it refused to come in.

One spot along the track had lots of activity around some flowering trees; 2 males and a female Bicolored Flowerpecker were the best finds, a Handsome Sunbird showed briefly while Pygmy Flowerpecker and Purple-throated Sunbird both allowed for prolonged looks, a

small flock Ashy Minivet favoured the area and Streak-breasted Flycatcher hawked for

insects from its perch high up in the canopy.

A pair Elegant Tits was around while we had a break but it wasn't until after I made a

recording we could lure them in for excellent scope views.

In the afternoon, we visited the botanical garden and the rather miserable looking collection

at the raptor centre. Birds outside cages were far and few in between but we managed our

only Grey Wagtail of the trip. No hoped for Indigo Banded Kingfisher though.

In the evening we took on a stroll near the animal husbandry for some more easy open country birding. Striated Grassbird, a nice Long-tailed Shrike, Stripe-sided Rhabdornis and a brief scope view at a Spotted Buttonquail were the best sightings here with lots Striated Swallow, Pacific and Barn Swallow, Asian Palm Swift and Glossy Swiftlets to fill the air.

Saturday 28 February 09

Transfer to Manila airport for our flight to Tagbilaran on Bohol were a 3 minute ride got us to the hotel for lunch. All went smooth and easy but I should not forget to note the 1 Eurasian Kestrel

seen from the plane while taxiing at Manila airport, rare enough in Philippines –the Kestrel eh,

not the plane.

In the late afternoon we set out for some exploring in the area of the nearby Panglao bridges

which soon got our Bohol list going. After about Striated Heron, Pied Triller and Pink-necked Green Pigeon however the heavens opened which made us to sit it out in the car for half an hour. Sunny again after that and in the newly refreshed air we found some quality birds in the form

of a Grey-tailed Tattler and a juv. Rufous Night Heron. More Pied Trillers and Pink-necked Green Pigeons flew around while we enjoyed some of the commoner birds; Collared Kingfisher, Pacific Swallow, Olive-backed Sunbird and Whiskered Tern.

Time to add some numbers must our driver Ryan has decided as he brought us to an Asian Glossy Starling roost in Tagbilaran. Well, seeing them coming in, thousands of 'm, and swarming around while they settled for the night under an amazing noise was a major

spectacle and a real highlight on this tour. A realistic estimate would be 20.000 I guess, but

maybe I'm too prudent.

Sunday 1 March 09

It's a pity Bohol doesn't feature on most tour-group's itinerary as, with Rajah Sikatuna NP it has some of the most enjoyable and rewarding birding on offer in the Philippines.

The well-protected forest here seems always to have lots of bird activity and make for some superb birding along good trails.

We made the perfect start to birding the National Park this morning with one of the first birds encountered a very showy Azure-breasted Pitta (Steere's Pitta) allowing for prolonged scope views and some fine digi-scoping.

A couple Striated Wren Babbler (Streaked Ground-Babbler) came in to tape, crossing the

trail a couple times. A nice mixed flock contained Blue Fantail, Arctic and Philippine Leaf Warbler, Yellow-bellied Whistler, Black-crowned Babbler, Brown Tit-Babbler and Black-naped Monarch.

It took some finding to get the calling Philippine Fairy Bluebird into view but we persisted

and were rewarded with some fine views.

Brief views of Samar Hornbill and a few calling Philippine Trogon –common here- later we l

eft the trail to go look for Yellow-breasted Tailorbird at Ryan's stake-out. And yes, a fine

male performed well although Clare must have been looking from the wrong angle as she

missed seeing it completely. We'll have to try again later as this bird refused to come in

twice for now.

Silvery Kingfisher! One star of a bird and it's easy to see on Bohol! So we did shortly

before noon with a bird perched at the rivers edge for about 10 min.

Lunch with a view; "the" view perhaps as we were looking out on the extraordinary and weird formed 'Chocolate Hills'. I never understood about the name though as they look brightly

green under the sun.

In the afternoon, Ryan had a nice fruiting tree on offer for us at the nearby Loboc Watershed Reserve. No less than 3 species of Flowerpecker were attending with 5+ Bicolored, a single Red-striped and 2 Orange-bellied Flowerpeckers all for scope views.

Approx. 30 Coletosflew in and out this tree too.

I had more or less promised on Chinese Egret on the way back, tricky enough as this is

a rare species but my stake-out near Baclayon didn't fail to deliver and 1 bird was seen

very well. Other shorebirds here included our second Grey-tailed Tattler, Grey Plover, Little Ringed Plover and Lesser Sandplover.

A long day, -a brilliant day with superb birds- yep, it got us pretty tired but as always in

Philippines there's San Miguel, coffee and a nice dinner to bring relief.

Monday 2 March 09

We took it easy this morning at Rajah Sikatuna NP, keeping to the more open roadsides and clearing in the vicinity of the HQ. This usually produces less birds than going out on the trail,

still we got some good sightings with a Rusty-breasted Cuckoo (Brush Cuckoo) calling vigorously and flying from perch to perch, showing a couple of times in the process.

Ryan found a Yellow-wattled Bulbul and managed to put the scope on it, well done as this endemic is not common at all.

Yellow-breasted Tailorbird started calling nearby but we never got more than a glimpse of it in flight. Philippine Drongo Cuckoo did call from high in the canopy where it was extremely

difficult to locate and only Stijn got to see it in the end. A couple Spangled Drongo

performed better and showed well for all.

A Rufous-lored Kingfisher started calling from the trees right above the HQ but it failed

to show despite trying for more than half an hour. I made another tricky statement here

–"I will find it"- mmm, I did but not today though!

Paul had some difficulties walking the trails, as they were slippery enough in places. We

therefore decided not to try walking them at night spot-lighting but as we were certainly keen

on seeing one of the most amazing mammals on earth, the Philippine Tarsier, we decided

to visit the Corella Tarsier conservation project where the funny little things live 'semi-wild' in

an enclosure set in the forest.

Three different Tarsiers and plenty pictures later, we made an early return to the hotel for

some rest and dinner.

Tuesday 3 March 09

We took on the trail again at Rajah Sikatuna NP this morning, walking the route in the

opposite direction as we did on the first day.

We firstly enjoyed watching a mixed flock again with Blue Fantail, Black-crowned Babbler

and Brown Tit-Babbler the best birds, while a couple Philippine Pygmy Squirrels played around in the trees. Unfortunately, Paul didn't got onto these mammals which he decided on

to be his biggest dip of the tour!

Next was my chance to keep up on promises when a Rufous-lored Kingfisher started to

call little further along the trail. We moved in a bit closer and little later got a female

showing well for 15 min. in the scope.

Black-faced Coucal, another priced endemic and very beautiful bird you may not wish

to visit the rather ugly Picop concession on Mindanao for moved slowly up in the lower

canopy allowing for excellent looks.

We posted near a fruiting tree next and this produced some more good birds.

Possibly best was a Philippine Oriole showing well and we got better looks at Samar

Hornbill. Others around were Philippine Fairy Bluebird, Pompadour Green Pigeon,

Bicolored Flowerpecker and a Metallic-winged Sunbird.

We got better looks at the Striated Wren Babblers and found a Philippine Colugo

hanging upside down from some twigs on the way out before we went for a long lunch

break at the Butterfly Garden.

In the late afternoon we paid another visit to the Silvery Kingfisher stake-out where we

got to see and photograph 2 birds this time. Pygmy Swiftlet was another endemic to

add to our list from this area.

A stroll along the entrance road to the NP got us prolonged views of a pair Philippine Trogon. We even saw them mating here and we got another Philippine Colugo, which we saw gliding

in between the trees this time.

Our night bird session proved a bit less successful and we only got to hear the present

Philippine Frogmouth and Philippine Hawk Owl while a Philippine Scops Owl just

called once.

Wednesday 4 March 09

We didn't had to get up early this morning for a smooth transfer to Cebu, where we checked

in and had lunch before meeting with Lushela. We visited the Cebu South Reclamation

Project this afternoon where the best sighting was a male and 2 female Blue-breasted Quail. Possibly not very rare but how often do you get this species in the scope long enough to make pictures?

Other birds around were 3 Java Sparrows (introduced), 100s Eastern Yellow Wagtail,

Chestnut Munia, Oriental Reed Warbler, Barred Rail, Kentish and Little Ringed Plovers

and good numbers Red-necked Stint.

Thursday 5 March 09

A visit to Tabunan forest on Cebu on our last day proved successful in the end although we

left a little late and struggled to get the main target, Black Shama, into view.

We were lucky to have good weather at this site, as the trail isn't easy to walk here and often

very muddy.

New birds for the tour-list came in soon with nice scope views at Tawny Grassbird and

perfect looks at 'brilliant-red' Crimson Sunbird.

We soon heard 2 different Black Shamas but failed to get them into view so far.

A Mangrove Blue Flycatcher was more cooperative and showed well.

It was late morning by now with only 1 hour of birding left before we had to start on the

long walk back to the road for our drive back to town, as we had to catch flights in the afternoon. Pressure on as our first 2 Black Shamas failed to respond to tape. This is when we got some excellent help from Oking who took us to see Black Shama in less than 5 minutes. Little later and together with Oking did we see White-vented Whistler, another site speciality and Stijn got a brief scope view of a wintering Eye-browed Thrush.

Time to take on the slippery trail back to the car with a pair Elegant Tit showing along.

Back in Cebu city we had the time to clean our muddy shoes and take a shower before

having lunch which marked the end of our successful tour.

Go to tour report page 1 Full trip list + more tour photos top page 2

Note :

Hopefully, and rather than just to be a commercial for Birdtours2asia, will this report

promote birding in the Philippines and more precisely at the superb forest sites of Subic on

Luzon and Rajah Sikatuna NP on Bohol where excellent and very enjoyable birding are the

norm. All this supporting local communities in the process with ecotourism the key to

conservation.

Please visit our Subic information page, have a look at the page with recordings made

on this tour and enjoy birdwatching in the Philippines!